Offering an excellent customer experience is a way to increase customer loyalty, boost sales, and grow your market share. We'll explore what makes for a good customer experience and how you can improve the CX for your business.
What does Customer Experience (CX) mean?
CX refers to how a company engages with its customers at every stage of the customer journey at every touchpoint.
Simply put, it's the sum of all the customer's interactions with your brand.

"80% of CEOs believe they deliver superior customer experience. Only 8% of their customers agreed. "

BAIN
What's the difference between Customer Experience and Customer Service?
Often these can be easily mistaken to mean the same thing. On one side, experiences are the interactions that impact a customer's feelings and emotions. On the other side, customer service is the support they received in getting help and advice over a particular issue.
Is this quote Experience or Service?
"We see our customers as invited guests to a party, and we are the hosts. It's our job every day to make every important aspect of the customer experience a little bit better."


Jeff Bezos, CEO of Amazon.
Experience is an ongoing process where Service is reactive.

A proactive approach is necessary in improving experience and service and both of these can be examined at various touchpoints of the customer journey giving you the ability to effectively measure your customer satisfaction from these interactions.
What does Employee Experience (EX) mean?
The Employee Experience (EX) covers all stages of the employee's career path: job interviews, onboarding, integration, daily management, career development, up to the employee's departure.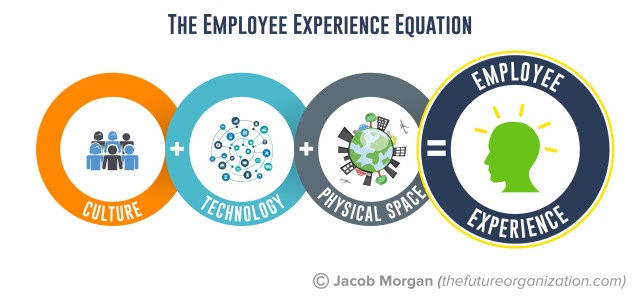 A successful employee experience is beneficial for both the employee and the employer. The employee experience offered by a company is the embodiment of its values, culture, and employer brand, and an employee with a higher level of satisfaction is more likely to be productive and stay long at your company.
What does Voice of the Customer (VoC) mean?
VoC stands for Voice of the Customer. It's often used to describe your customer as a collective, and how their preferences and expectations are collected and analysed within your business.
In a nutshell, VoC management platforms are what makes it possible for companies to reduce the gap between what the customers expect and the Customer Experience that the company delivers.
"Collecting and actioning feedback can increase upselling and cross-selling success by up to 20 percent. Additionally, decision-making rooted in customer feedback can lead to improved Net Promoter Scores (NPS) and increased top-line revenue from customer retention."

GARTNER
There are 3 main ways to listen to the Voice of the Customer, we've ranked their effectiveness out of 10 below:
Reviews – 4/10
Limited details of who the person that left the review is, and a very one-sided viewpoint makes reviews not the best for measuring the Voice of the Customer and understanding the general customer experience.
That said, it can be effective to highlight potential problems using a platform that brings in this information.
Survey Tools – 6/10
The most common way of listening to the VoC survey tools are useful at getting a snapshot of experience, but often this information is disconnected from other surveys and so lacks quality over time.
By far the most effective way of measuring the VoC over a long period of time.
You can connect past, present and future data together under one platform, and link together feedback from external sources to get a more complete picture of your customer experience.
All the information is situated in one place and different teams can input into their custom dashboards to better understand their KPIs against the feedback received. Learn more about Feedier.
More information on the 3 best tools for listening to the Voice of the Customer.
How do you improve the Experience in your business?
Whether you're looking at improving the employee, business partner, or customer experience, we set out some best practices and ways to improve to get the most out of your feedback data.
3 ways to improve employee experience (EX)
2020 paved a new way of working for many companies across the globe.
This has shifted the way we were typically measuring employee experience as we moved to a more remote way of working. Here are 3 ways to help improve employee experience.
1. Understanding employees are having to work around their home schedule.
Not everything is 9 to 5 anymore. Some employees have commitments during the workday, and often that can include child care.
Having the flexibility to understand and check in on the satisfaction of employees during a period of working from home and working in the office can help you identify who wants to be back in the office, and who actually works better remotely.
2. Employee Feedback is more important than ever
Checking up on employee's every now and then is really important, especially as they don't have the usual colleague interactions.

You can use a Feedback Management Platform to create interactive surveys for your employees in order to see how you can do better to improve the employee experience.
3. Workplace safety
Ensuring the health and safety of employees in a post-COVID workplace will require new policies and norms for many industries. Not only will the focus on the physical safety of the individual like a proper desk setup, it will also focus on the mental health wellbeing of not being connected to the office as often as usual.
3 ways to improve Business-to-business-to-customer experience (B2B2C)
It can be hard for Businesses selling a product or service to other businesses to understand the needs and intricacies of the customer experience, much less when that business then sells the product or service on to a customer down the line.
They must work with and through channel partners.
1. Building a Voice of the Partner
Much like how you need to understand the VoC, here your business needs to better identify insights across your partner's entire journey.
Creating an actionable feedback programme alongside your partner company you sell to generates significant opportunities for improvements.
2. Customer and partner insights cooperation
Once you have built a relationship with your partner company, you want to learn how to collaborate in order to share insights together.
By doing this you can take advantage of more significant data by pairing up the processes between you and the partner business, and them and the end-customer
3. Partner engagement
Making sure that your partners understand your CX vision can help you more than you think
Adding CX metrics into your partner agreements is an effective way of communicating these KPIs to them.
3 Ways of measuring Customer Experience
1. Gather your feedback in one place
Once you have the feedback coming in, you need to build on more data in order to make an informed decision of how to improve your customer experience. Choose a platform that can store, segment, and produce insights of your feedback in real-time.
2. Create Customer Profiles
An effective customer experience strategy focuses on what will make life easier for the customer. Not only can this be done by attaching meta-data from your customers within the survey, this information can then be used to generate user stories that help you better understand different cohorts of your customer base.
3. Work collaboratively with different stakeholders
You may be the lead in collecting and analyzing customer experience data, but you're not the only one that receives customer feedback. By talking and getting results from those in the service team, those in product, those in marketing and those front-of-house, you're to build a more holistic view of the customer journey together.
CX Best Practices – 3 ways to improve
1. Personalise your Feedback
All companies need feedback, but not all companies ask for feedback the right way. Often surveys can feel really generic, asking for the same details you already have of the customer is a sure fire way of having a low feedback response rate.
Data shows that 53% of customers will switch to a competing brand if they feel unappreciated.
Make sure to set up your email survey campaigns to store the meta-data you have on your customer, so email campaigns are referred to by name, and once the feedback data is submitted you have all the information of the individual ready for future analysis.

2. Ask your happiest customers what they like
By segmenting your audience to happy/upset customers you're able to target customer groups to find out what's working and what's not working along the customer journey.
3. Give your most loyal customer's exclusivity of new features/products
As part of your package of giving a better customer experience, customer's would be delighted to hear that they'll have the opportunity to test some of the latest features you're developing.
After all, they'll feel loved and you'll get a reactive audience to test your latest developments.
CS (Customer Success) Best Practices
Customer Service goes hand in hand with customer experience, and whilst they have different objectives, improving the customer service by being proactive in your approach will only further help improve the customer experience of your customers.
Very briefly, Customer Success is defined as taking that proactive approach to customer service. It's a link between marketing and sales and design and development and it's main drive is to increase retention and reduce customer churn.
1. Collaborate together
Having different departments working together can help you save time, money and effort in the long run. By having your feedback collection from different departments focused in one place, you're able to highlight overall trends a lot easier.
2. Combine sources of feedback together
Whilst you may have the Customer Service team highlighting known issues in their notes in the CRM platform, you may also be sending out automated emails asking for feedback, and further reviews may come from an external source.
By having a centralised space to gather this information, you'll be able to balance the feedback and get a more accurate view of your feedback.
3. Empower the team to take action
As you're now working together on the same platform, different team's can take ownership of their feedback to provide insights for their respective departments.
This sharing of data adds to more robust insights and using a tool that provides this level of detail in a quick and easy to understand format only provides better results.
4. Be quick to action
Being responsive to a negative review can really help in de-escalating the situation rapidly. Be empathic and try to get to the root of the problem as quickly as possible. Your customer will appreciate you for it.
Setting up alerts so that you receive a notification via email or a workplace app like Microsoft Teams can be the difference between a customer churning and a customer staying with your business.

5. Get on the phone
There's nothing better than having physical contact with your client in order to understand their issues and problems. If this isn't available, video calling is your next best option.
Emailing as a way of checking in on your clients should be a last resort. It's impersonal, and can often get lost in your contact's day to day activities.

6. Use an Experience Management Platform
A lot of the above can be done with separate survey tools, but to get the most out of your feedback, you want to have it all in one place, set KPIs on your dashboard, and track feedback in real time.. To do this, you'll need an Experience Management Platform.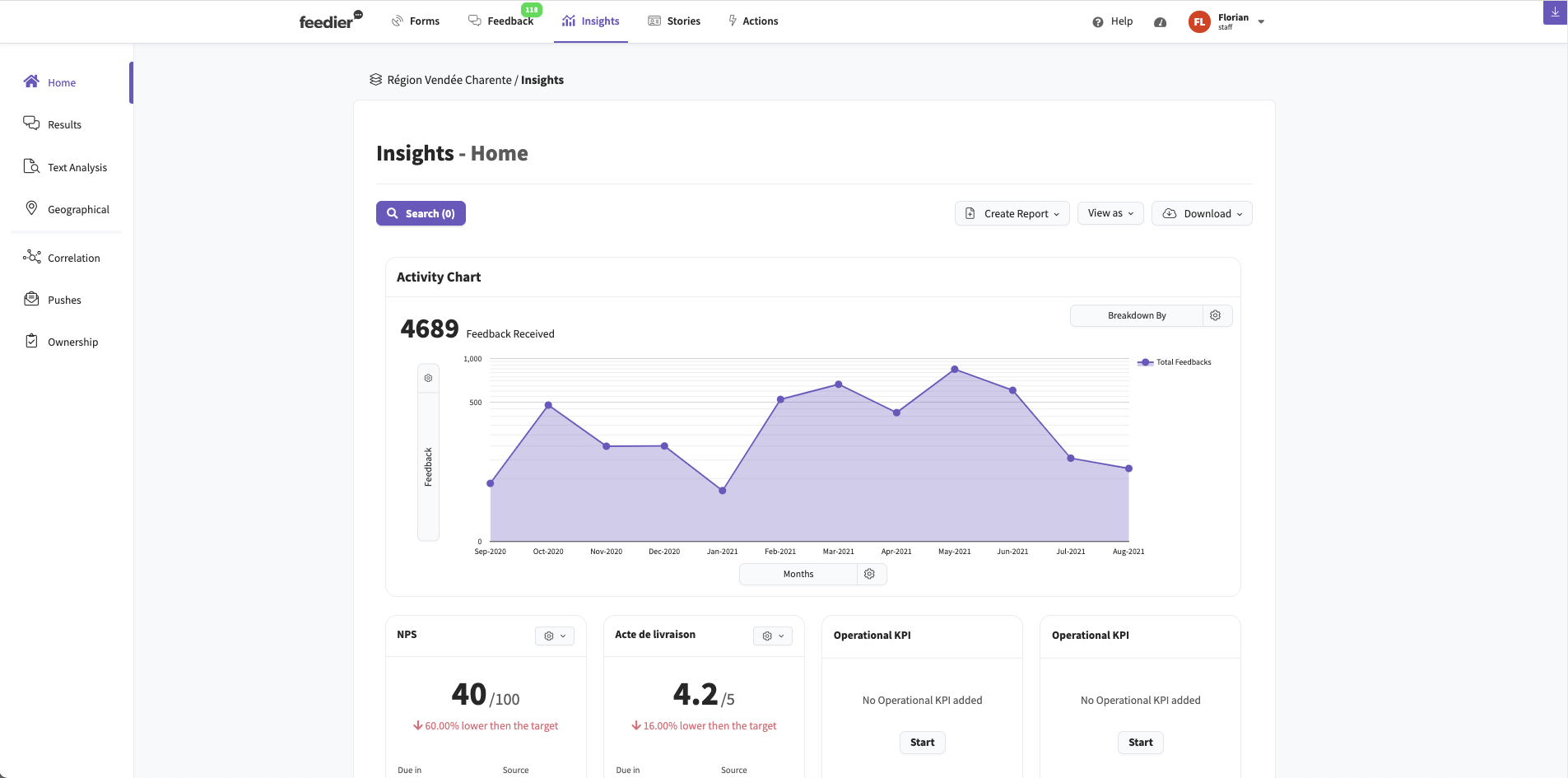 Marketing and Sales Best Practices – Feedback Collection
Marketing and Sales are often seen working together in tandem as one department can very much help support the other in achieving their KPIs.
You will explore how you can utilize feedback for companies to achieve the targets of the Marketing or Sales team.
1. Create a customer feedback loop
The loop essentially stands for an infinite circle in which we collect, act and iterate. Also known as the Lean principles: Build, Measure and Learn.
This is of particular interest when we know that 74% of people are likely to churn if they have a bad user experience.
By taking in both sides of feedback, you can effectively create a feedback loop by:
Sending a feedback out when they interact with a certain touchpoint.
After that, tagging the customer in your CRM system with their feedback satisfaction score.
Finally, informing the relevant stakeholders of feedback depending on the customer's responses.
By doing this you create a positive feedback cycle of collaboration and clearer insights to share between your teams. Learn more about creating a feedback loop.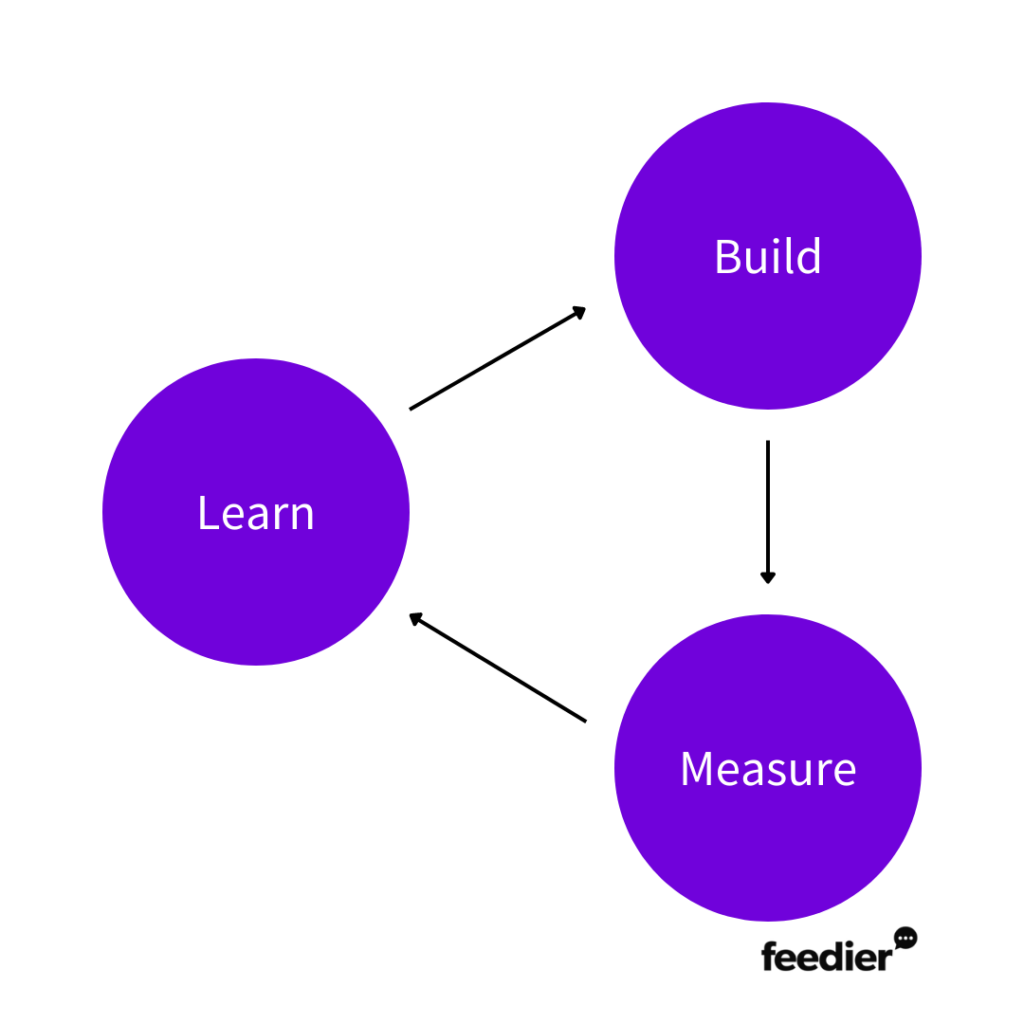 2. Deal effectively with negative feedback
As the majority of feedback can now be publicly viewed by social media, it's more important than ever to create a process for dealing with negative feedback efficiently.
Taking the feedback into account and tagging the information is one way to do this. This can be done automatically using experience management software, which tags feedback based on criteria, or by doing text analysis on the replies.
Make sure to follow up after reaching out to the customer.
3. Use a Voice of the Customer tool to gather your feedback in one place
Centralizing your feedback really does help you process and understand your feedback, and therefore your customer a lot easier.
Find out more about Voice of the Customer tools.
4. Choose the right software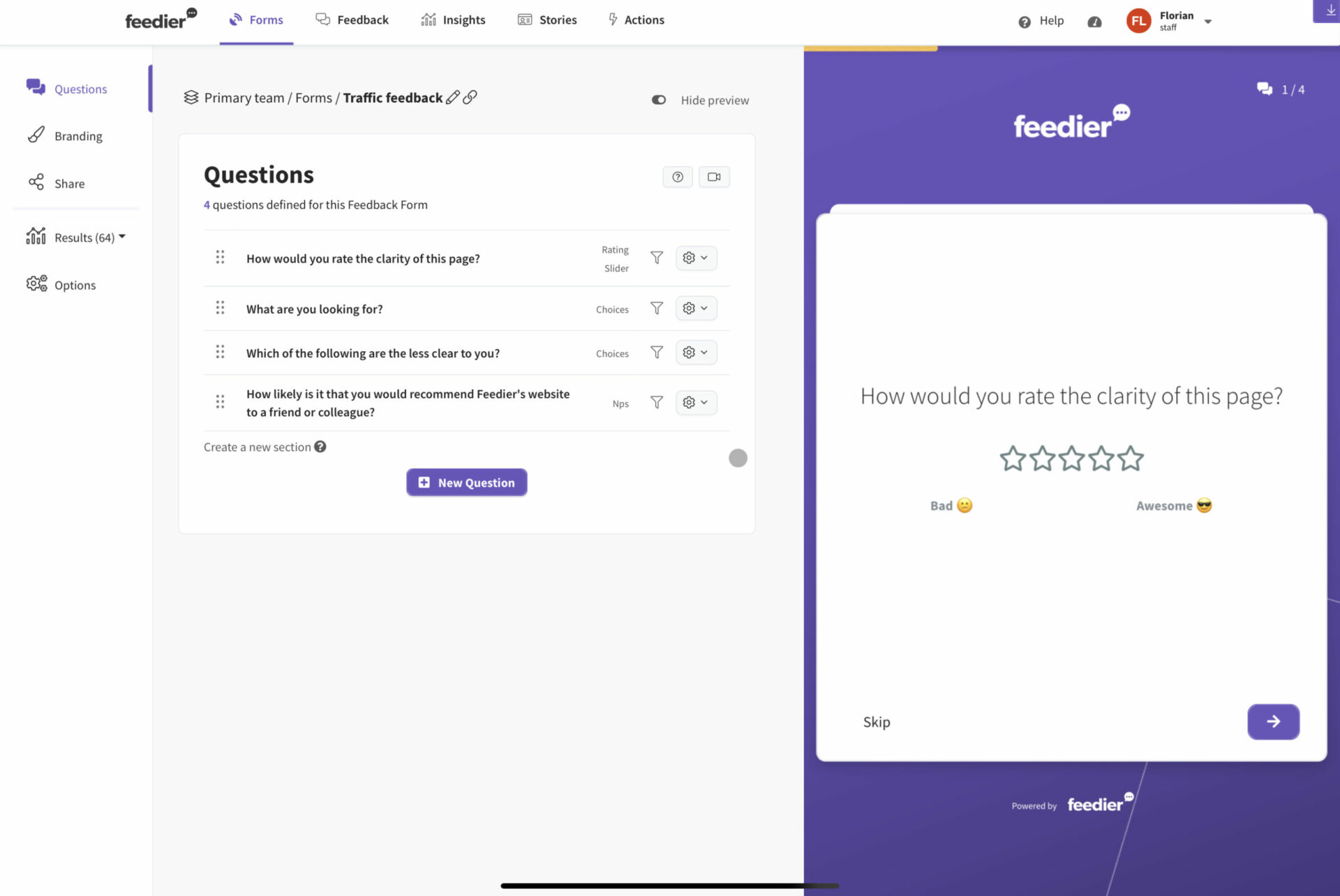 In order to successfully carry out the first 3 points, you'll need to choose the right software. Gather feedback in one place attractive to use for your customers and useful for your insights.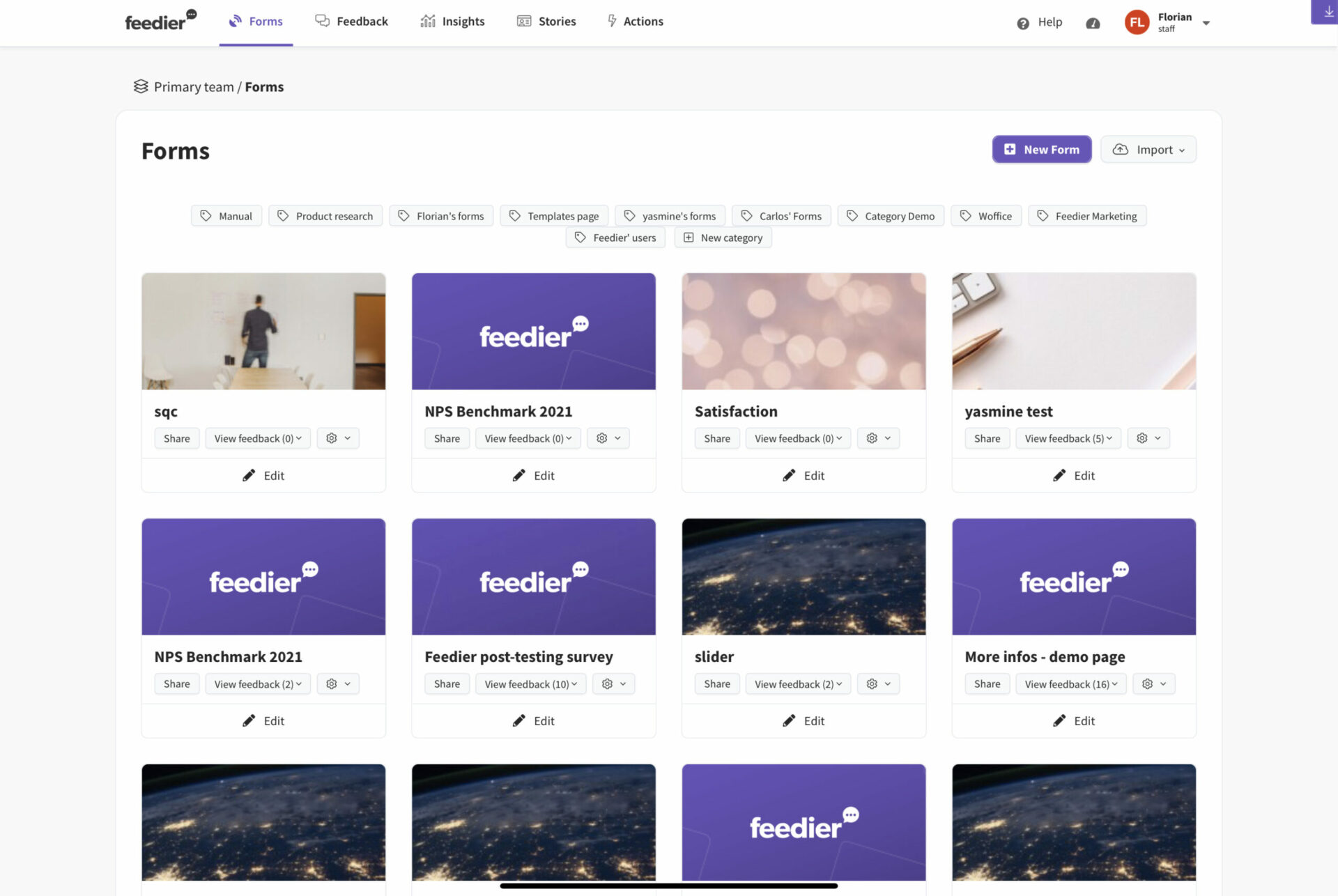 Essential CX Resources
You need to have a proactive outlook in order to improve your customer experience.
Here are some examples of resources you can use to better understand how to improve customer experience.
The Feedier Blog – Feedier is an experience management platform that helps you understand experience from both your customers and employees.
'Customer Understanding: Three Ways to Put the "Customer" in Customer Experience (and at the Heart of Your Business)' by Annette Franz.
This book is about understanding that retention is key to great customer experience. Improving your relationship with returning customers is essential in bettering customer experience.
'What It Means' by Forrester. This podcast offers an insightful dive into one of the most iconic names of CX research. Since 2017, they have hosted a weekly podcast to explain how the paradigm shift in consumer behavior is changing business.
Essential CS Resources
Customer Service's new and more flexible cousin Customer Success is the new way of looking to manage the needs of your customers over a longer period of time. Rather than reactively listening to your customers. Customer Success aims to anticipate the needs of your customers before they happen.
The Feedier Blog – Unsurprisingly, the Feedier Blog hosts a wealth of information including best practices in customer success and how feedback plays a key role in improving customer success.
Customer Success: How Innovative Companies Are Reducing Churn and Growing Recurring Revenue by Dan Steinman, Lincoln Murphy, and Nick Mehta
This book covers everything about reducing churn, improving recurring revenue, and how this all links to successful customer success.
Churn.fm – This podcast is indispensable to any current or aspiring Customer Success Manager, packed full of incredibly insightful interviews. This weekly podcast focuses on the ins and outs of churn and how reducing this can lead to a healthy business.
Summary
Customer Experience affects many parts of a business. The most important thing is to recognize this and work with others to get feedback to improve each KPI.
Need to know more? Book a demo with Feedier and see how the platform can help match all of your customer experience and feedback management needs.