In the age of product-led growth (PLG) and founder brands, traditional marketing has taken a backseat. What we're seeing today are interaction-driven strategies that double down on unified customer experiences (CX) to retain buyers. However, using Customer Experience Automation across multiple touchpoints can require significant resources, and that's where automation comes into the picture. 
With a growing tech stack, customer experience automation (CXA) has come of age in recent years and companies are seeing the results. According to the Global Economic Outlook 2022 report by The Conference Board, CXA implementers are seeing a 100% revenue increase in 2022, as opposed to average y-o-y growth of 3.5%. 
Customer Experience Automation is particularly effective in industries that struggle with fragmentation. Supply chain, logistics, and construction industries can implement CXA to remove customer bottlenecks while saving time and money.
What is customer experience automation?
Customer experience automation is the holistic approach to simplifying and automating customer cycles with RPA, ML, and AI tools. CXA is how you make every customer feel like they're communicating with you 1:1 without you manually doing so. It's a great strategy for scaling your business as most enterprises and high-growth startups struggle to keep a personal touch with each customer. 
Customer experience automation might sound like an oxymoron considering how much we're emphasizing on the personal touch. Automation in itself doesn't make a huge difference because it expedites simple but repetitive tasks. CXA, in contrast, looks at the bigger picture and integrates siloed tools. In fact, this is one of the key areas where it differs from marketing automation.
With marketing automation, you streamline marketing processes such as lead generation and drip campaigns to hit KPIs faster but it's only one part of the CXA. CXA prioritizes customer journey orchestration by integrating multiple departments and customizing customer journey maps based on intent and goals, instead of restricting customers to predefined funnels. 
An example of CXA would be running a loyalty program by segmenting demographics and intent and orchestrating the journeys to serve relevant content and keep customers engaged.
To achieve an effective CXA strategy, you have to unify UX, customer support, CRM, and sales enablement tools to improve the journeys—from outreach channels to post-purchase interactions. It also depends on how comprehensive your data collection and management systems are as greater visibility into processes leads to better results. 
Benefits of customer experience automation
There's a reason why organizations are moving beyond basic marketing automation and investing in full-fledged CXA. Here are a few benefits you can expect with a well-thought-out CXA strategy:
Increased customer satisfaction
Automation, when done right and backed by data, can greatly improve customer satisfaction. A customer is content when you deliver curated and frictionless experiences to address individual needs. According to Gartner, low-effort interactions save costs by reducing repeat calls by 40% and channel switching by 54%. 
Improved customer retention
Customer satisfaction correlates with customer retention. If they're happy to do business with you, they're more likely to stick with you in the long run. According to Invesp, existing customers are 50% more likely to try new products and spend 31% more than new customers. 
You can reduce churn by launching self-serve products, feedback surveys, a knowledge base, and an automated feedback loop. All of these contribute to brand loyalty and customer retention. 
Streamlined resource management
CXA allows you to not only improve communications with customers but also save resources while doing so. One of the main goals of automation is to save time so that employees can focus on more critical issues. According to ActiveCampaign's CXA impact report, 44% of CXA users are now spending more time talking with customers because they're saving time with automation.
24/7/365 customer support ready to solve problems
CXA is a proactive approach that identifies the next steps based on user touch points and serves meaningful content that reduces the need for escalations. AI chatbots, email automation, and triggered actions help you automate the first line of support for customers and help them find the solutions they're looking for. As a part of the low-effort interactions, the "always on" support closes deals faster and according to Gartner, reduces escalations by 50%. 
7 ways to implement customer experience automation in your business model
Now that you know what customer experience automation is and how it can create a difference in your business, it's time to see how you can implement it in your business. Here are some ways you can bring CXA to your workflow:
Implement welcome screens 
Welcome screens offer you the first real chance to gather authentic data. You can use pop-ups, welcome messages, or simple forms to understand why the visitor is checking your website, what are the challenges they look to solve, and how they discovered you. 
Based on that data, you can serve content to make the experience more seamless. For instance, if Zoom uses a welcome screen to verify whether a prospect is looking for a video conference app for personal use or a webinar tool for their business, the website can tweak the content and UX to make onboarding smoother. Welcome screens are particularly useful for businesses that offer a myriad of services to different industries. 
Here's an example of a welcome screen you can use to collect customer data: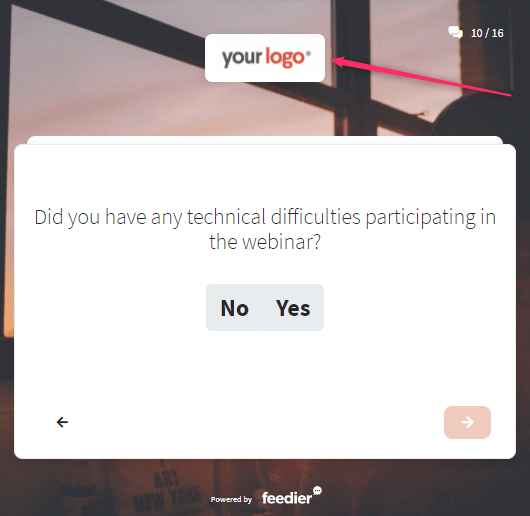 Use pre-defined checklists 
Pre-defined checklists go one step ahead of welcome screens and break down the onboarding tasks for the users. You can build and automate checklists depending on the buyer's stage and the type of service they have chosen to use. 
For example, if a fintech SaaS offers widely disparate services such as invoicing, subscriptions, and tax compliance, it will attract diverse customers looking to solve different problems. An eCommerce vendor looking for an invoice tool would expect a different onboarding journey than a supply chain partner signing up for sales tax. The fintech SaaS would see better conversions by using pre-defined checklists to understand what the users want and nudge them toward appropriate channels.
Checklists have a gamified element that encourages participation. Intercom has a great example: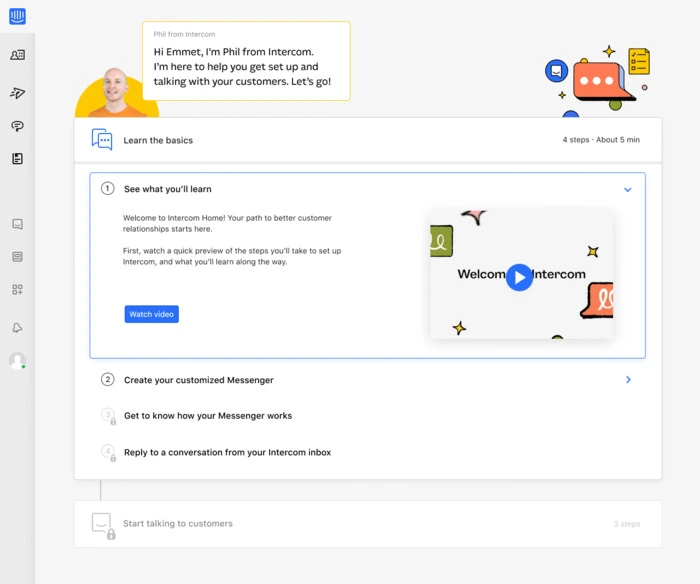 Automated email sequences 
Email marketing has great use cases in CXA and it's one of the rarest channels where you can personalize and automate equally. 
For instance, businesses often use email lookup and verifying tools to find emails from specific domains. The lookup tool might come back without results if there are no emails in the database at that moment. If the tool adds emails to the database later, it can re-engage users with automated yet personalized emails. Here's an example of how it might look: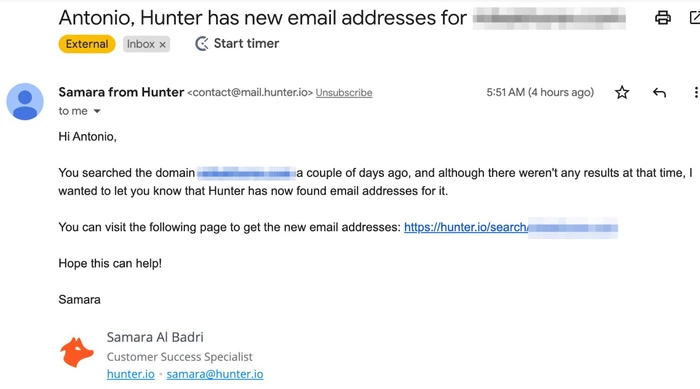 You can also combine  automate newsletters, campaigns, and journey-based sequences such as welcome emails, abandoned cart emails, follow-up emails, and upsells which offer automated, yet a personalized and warm experience for the end-users.
Use artificial intelligence for onboarding videos
A generic onboarding video on your website may not address all use cases or different buyer awareness stages. Ideally, you'd want to create bespoke tutorials for each customer but with hundreds of prospects checking out your services, it's impossible to create unique visuals immediately. 
AI onboarding videos are a great example of how CXA enables personalization while scaling quickly. You can use tools such as Synthesia and Rephrase to create AI videos and virtual presenters. Here personalization works in two ways: customers are greeted by a human-like anchor explaining the business goals and product features while you get to create bespoke onboarding content based on use cases. 
The onboarding stage can also be automated with a self-serve repository of guides, infographics, and how-to tutorials. Only when a user specifically asks for human support, should employees get involved in the journey.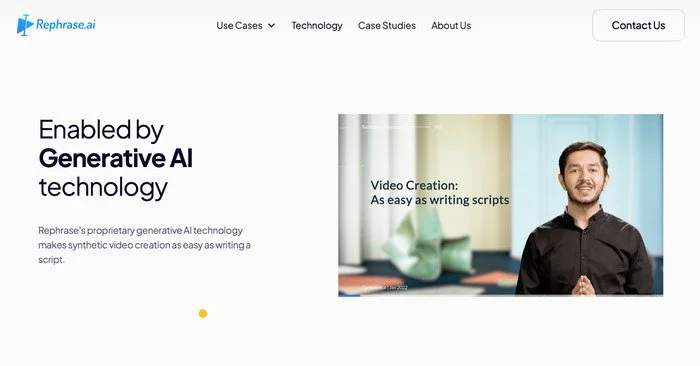 Combine live chat and chatbots 
Having a live chat as the support option is always a good approach. If customers face a problem that needs an urgent solution, an email or a phone call could not be the right fit. Emails tend to be slow, especially if that's the only communication channel, and phone calls might not work for everyone. Sending a quick message on a live chat and getting connected with a customer support team who can solve your problems in a real-time always wins. It is hard to automate live chat, but with a help of chatbots, you can create a semi-automated experience that customers will find extremely helpful.
You can automate routine and predictive tasks such as product demos, generic help guides, and sign-up forms using chatbots. If the problem requires specific support, customers can be referred to the customer support team and discuss potential solutions. Advanced chatbots use NLP to understand and evolve with time and you can use live chat data to train them to hold down the fort during out-of-office hours. 
The biggest criticism chatbots face is poor implementation leading to a lack of personation. While deploying a chatbot, make sure you leverage the CRM data. As discussed above, data collection is one of the key tenants of CXA and you cannot take advantage of chatbots if they're not tuned to the language and journeys of your customers. HubSpot has an efficient chatbot that's customized to serve three popular segments of the company: chat with an expert, free training, and free HubSpot tools.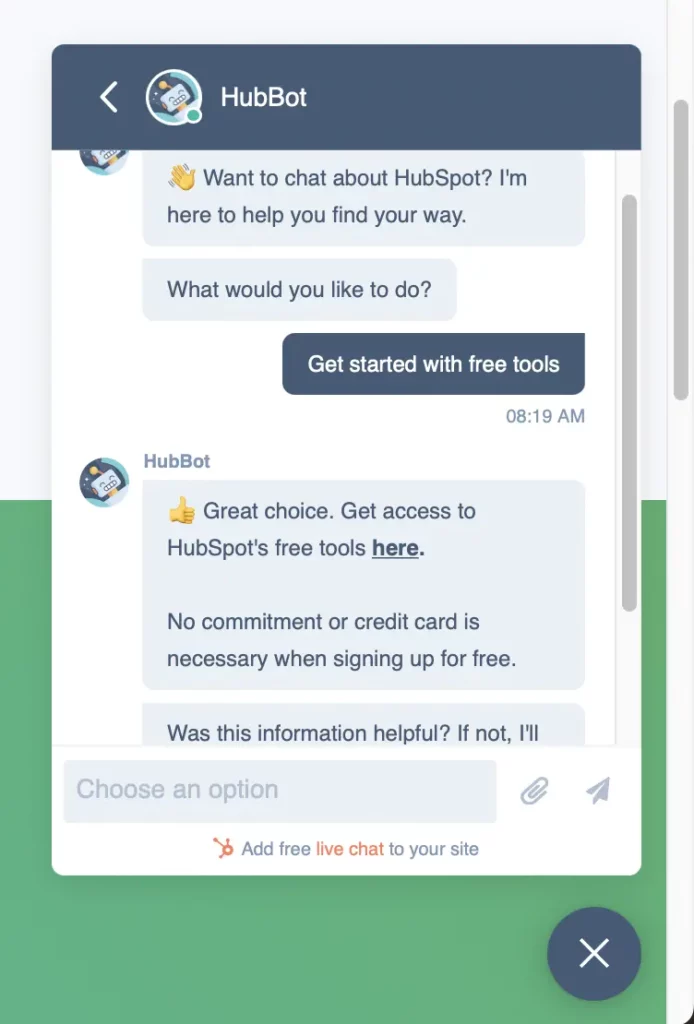 Customer feedback automation
Feedback collection is one of the crucial aspects of customer journeys and if not done right, the popups or emails might end up annoying customers. 
To collect feedback on every stage of the journey, use more intuitive and agile forms that require minimum effort. By processing historical data, you should be able to identify the time users are most likely to respond and you can even automate the next steps based on individual NPS or CES. The process itself can be error-ridden and time-consuming and that's where Feedier comes into the frame. A feedback management platform like Feedier can help you gather, organize, and analyze the feedback data and implement the insights across the lifecycles. With Feedier's end-to-end feedback tools, customer success and ownership funnels are enriched and populated in no time.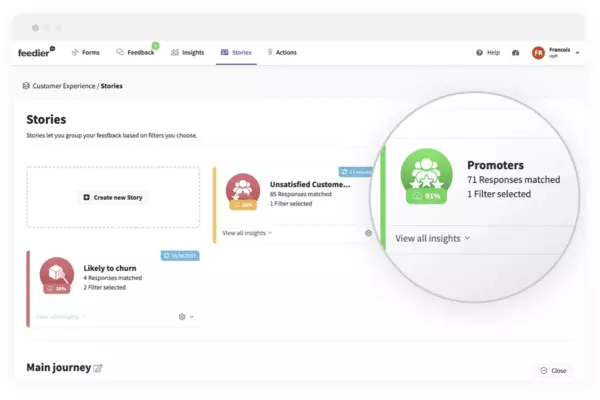 Automatically route support tickets
The key to a superior customer experience is fast, accurate, and thoughtful support. When support agents not only educate customers but also delight them, it becomes a brand differentiator in competitive markets. But in order to offer consistent support, agents must be assigned the right tasks based on their level of knowledge and experience. 
Automated ticket routing takes out the guesswork from support by automatically matching agents with relevant queries. This way, you can reduce resolution time, increase employee productivity, improve the quality of solutions and guarantee flawless customer satisfaction.
Conclusion
Customer experience automation relies as much on congruent tools as human ingenuity. The quality of CXA is going to be a brand differentiator moving forward and you should start refining the automation strategy today to stay ahead of the curve.
---
About Author: Antonio Gabrić
Antonio is an outreach manager at Hunter. He is passionate about testing different outreach tactics and sharing results with the community. When he is not connecting with industry leaders you can find him on his motorbike exploring off-the-beaten paths around the world.