By measuring and analysing customer satisfaction, you can find ways to improve many parts of your business that you may not have thought of before. But you need to keep track of customer satisfaction KPIs to better understand this feedback. In this article you will learn more about customer satisfaction and 3 ways to improve it.
What does it mean to satisfy a customer?

Even though the two words make the term clear, we can add a few more details. There is no clear way to describe customer satisfaction today. But we can explain it by saying that it's how happy a customer is with your product, service, or any other interaction with your brand.
When customers are happy with your business, they are more likely to come back and tell their friends about it. ISO 9000 quality management also uses satisfaction as a measure. We have written about ISO 9001 in this article.
Now that we know the basics of what customer satisfaction KPIs is, we can look at the three most important ways to measure it.
The CSAT (Customer Satisfaction Score)

The CSAT is a simple way to measure how happy a customer, user, employee, etc. is. With this indicator, you can find out how satisfied customers are in general at different points in their journey.
But CSAT can be measured in more than one way. Even though it only has one question, the types of questions it asks can vary. It's important to change how you measure customer satisfaction so that your survey doesn't get boring.
Customer satisfaction scale question

The customer satisfaction scale is a question that lets you measure CSAT with a score between 1 and 5 or 1 and 10.

You are quite free to formulate the question. So, you can find out how satisfied customers are at different points in their journey. This question can be asked in the following way: "Are you satisfied with your interaction with customer service?"
This way, you can get a good idea of how good your customer service is.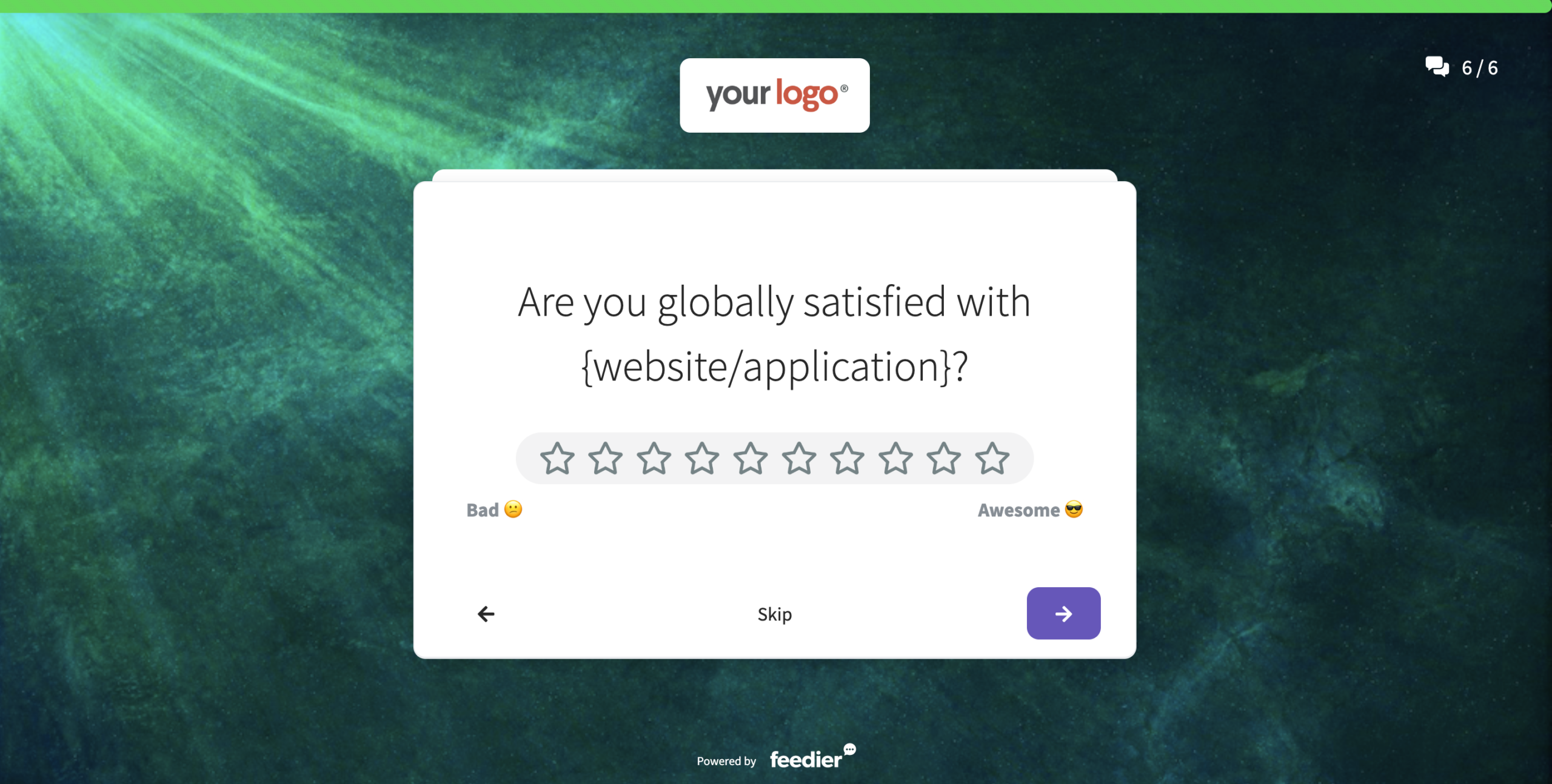 The emoji question

With this question, you can get a better idea of how happy a customer is by looking at it from their point of view. In this way, you find out how people feel about your brand.
Satisfaction chart

The satisfaction chart is a simple and very useful type of question that can be used when you want to know satisfied customers are with more than one thing but don't want to make an endless survey. The respondent would have a bad time with this.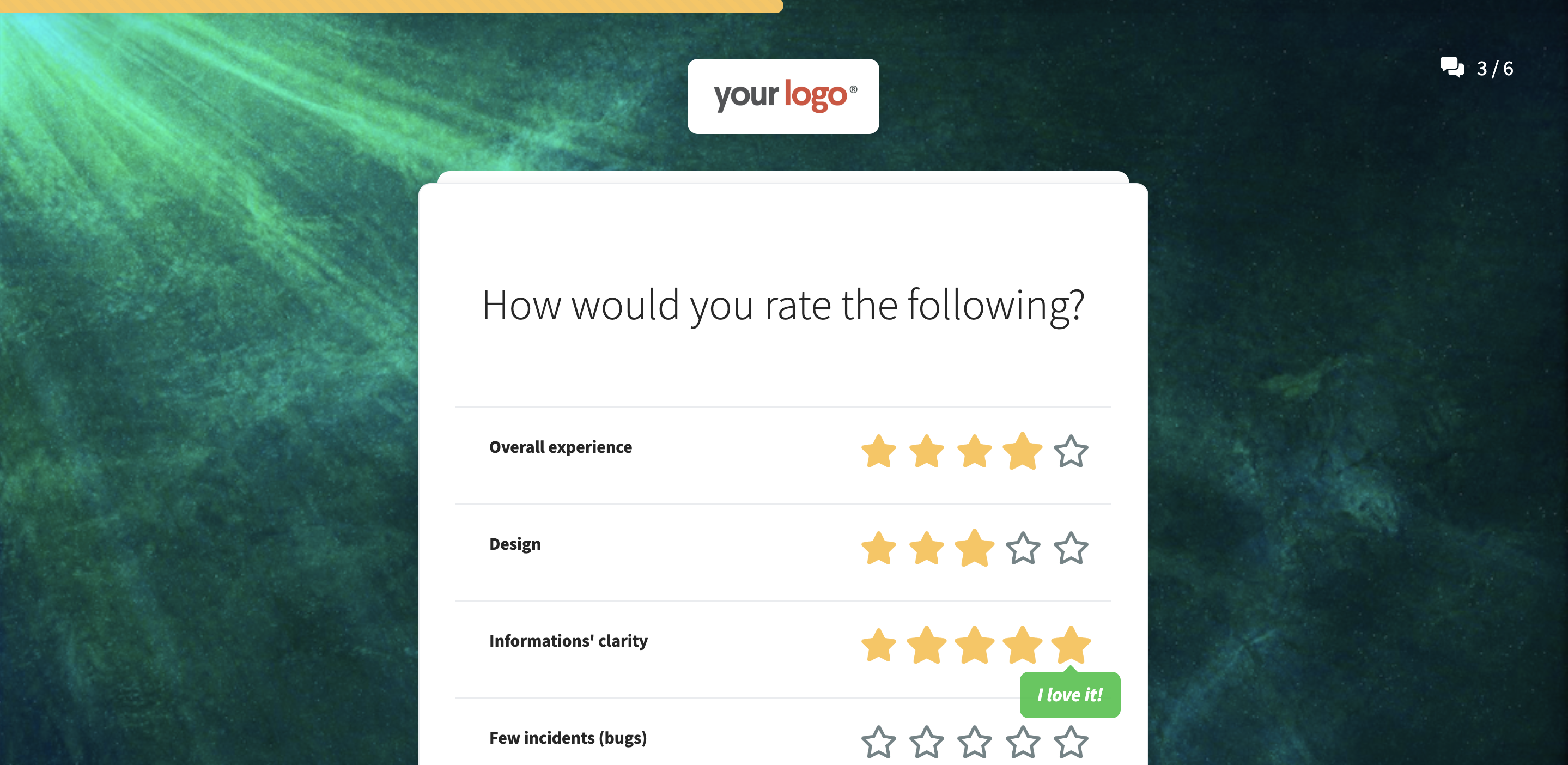 The NPS (Net Promoter Score)

The Net Promoter Score, or NPS, shows how likely it is that someone will recommend a product or service. It is the one that companies use the most out of the three indicators that this article talks about.
Even though it measures the likelihood of a recommendation, it's clear that customer satisfaction is also taken into account in a roundabout way. A customer is much more likely to be happy with a brand if they tell their friends about it.
Ask your customers the following question to find out what their NPS is: "Would you tell your friends to use this "variable"?
A simple question with points between 0 and 10. This will give you your Net Promoter Score, which is a number between -100 and 100.
Visit this page to learn more about NPS and how it is calculated.
The CES (Customer Effort Score)

The Customer Effort Score is an indicator that lets you know how hard it was for a customer to do business with your brand and move through their journey.
This indicator is given a score between 1 and 5 based on the answer to the question, "How hard did you have to work…" The rate of customer satisfaction goes down the more work the customer puts in. Customers are always on the lookout for easy-to-use products and services.
Summary
We have seen the three ways to measure customer satisfaction KPIs. Even though there may be other signs, these are the most important ones.
Also, if you want to make your end customers' experiences better, you need to do more than just measure customer satisfaction or effort. You need to know as much as you can about the customer's needs and problems, as well as any other information that will help you with your process.