In our post-Covid world, empathy and connection are two of the main emotions that brands must tap into, if they want to truly serve their customers in the best possible way. Months of isolation and lockdowns, in fact, generated a widespread urge to connect in a more authentic, empowering way – both with friends and family, and within the consumer world.
This desire to belong, to feel valued and understood, and to be appreciated for our unique individuality has transferred seamlessly to the way customers expect to be treated by the brands they buy from. Today, a great customer experience is no longer characterised by a simple smile on the face of a shopkeeper who greets you at the entrance.
Today, customers want – and demand – a service that is entirely tailored to their needs and goals. This is why the data and machine learning field has become so prominent in the past few years. With this type of technology – namely, artificial intelligence – companies can deliver exactly what their customers want and need, every single time.
Keep reading our comprehensive guide right here to learn more about artificial intelligence and its role in the digital transformation of a business and crafting an unforgettable customer experience.
Artificial Intelligence (AI): Understanding the Basics
The term "artificial intelligence" – often shortened as AI – stands for all those technologies that feature a series of devices that mimic human intelligence. To do so, AI tools and machines are able to understand, communicate, act, and learn with a level of intelligence that is similar to that of an average human being.
From solving problems to providing suggestions, from planning activities to executing orders, AI machines recognise the environment they are in and help humans to simplify everyday tasks. Some examples of AI machines include smart watches, smart home devices, and a cloud IP phone system.
Image Sourced from exploding topics
The Key Elements of a Great Customer Experience
Now, let's briefly focus on the digital customer experience. What is it, and what are the main elements that constitute it? Once we have examined this concept, we will be able to establish the all-important connection between the customer experience and artificial intelligence tools.
1.    Continuous Positive Engagement
A positive omnichannel customer experience is paramount, if you want your customers to be happy and satisfied with your brand. Try to ensure that every touchpoint your consumers encounter motivates them to return.
Ensure that everyone in your company, from brand new employees to senior managers, is on board with providing excellent customer engagement. If necessary, change management to help everyone at the company achieve optimum customer engagement.
Remember to also keep an eye on how your omnichannel strategy is performing. If things doesn't go as planned, you may need to make changes.
2.    Customers' Needs and Expectations
Do you know what your customers genuinely need and want from your brand? If you are unsure, then you are potentially flooding them with irrelevant marketing materials and putting them off from ever buying from you again.
The best way to discover your customers' real wants and needs is by simply connecting with them and asking them. Take advantage of social media, for example. Here, you can create fun surveys, engage your customers with polls and questionnaires, involve them in entertaining games and challenges, and offer them a virtual receptionist service to deal with their questions and comments.
All this will enable you to learn more about them and, as a result, to target them with exactly the type of products or services that they are interested in.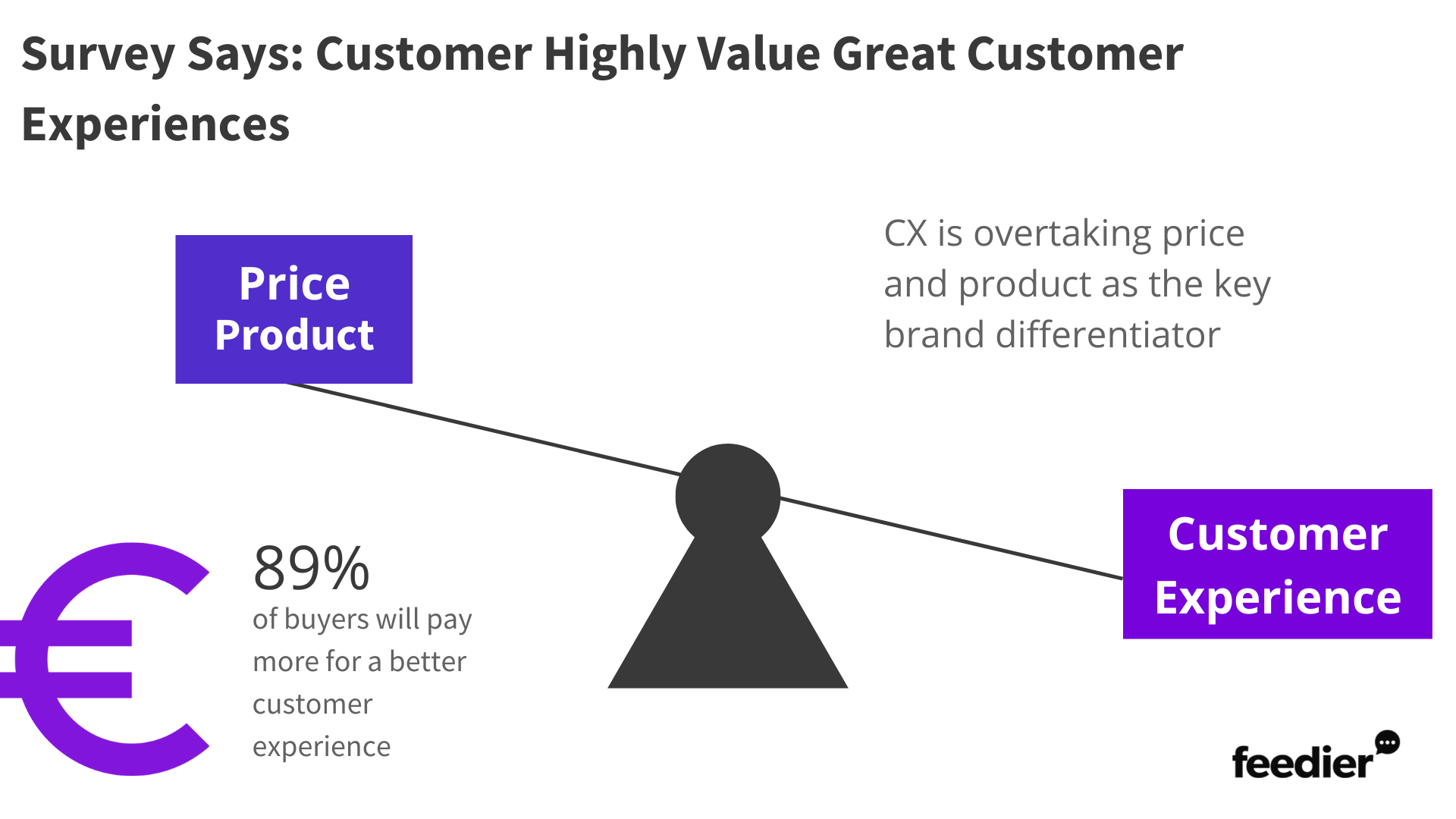 3.    All Hands on Deck
Did you think that creating a great customer experience is the sole remit of sales and marketing teams? Think again. Today more than ever, if you don't get your entire team on board, you will struggle to offer that excellent omnichannel experience that we were discussing earlier.
So, consider running a regular customer experience workshop with people from all your departments. You may keep everyone informed about your brand's goals and recruit them as advocates regardless of their area of expertise.
4.    Never Stop Improving
Answer this question honestly: do you focus on simply meeting your customers' expectations, or do you plan to exceed them? You guessed it: a top-notch customer experience is one that shows your customers that you are willing to go above and beyond to help them fulfill their needs and goals.
So, keep checking in with them. What are their pain points, and are you currently doing all you can to address and solve them? What do you think they might need tomorrow, that you are not offering today? Are you helping them more than your competitors would?
To maintain a solid, exceptional customer experience you must never stop learning and improving. Testing your products and services – such as automation testing in Python – is another crucial part of the customer experience, too, as it enables you to always deliver value.
Five Benefits of AI for an Exceptional Customer Experience
1.    Predicting Customers' Needs
Earlier we mentioned that, to build a fantastic customer experience, you shouldn't just focus on meeting your customers' expectations – you should exceed them. If you incorporate AI into your customer experience plan, you can accomplish that and forecast a customer's future needs.
This puts you in an enviable position as it allows you to craft incredibly valuable products or services that make your customers come back time and time again.
Image Sourced from Finances Online
2.    Improving Marketing Efforts
Who likes to receive marketing communications that are completely irrelevant to them? Nobody. Still, all of us can safely say that way too many brands seem to target us with marketing information that has nothing to do with our tastes, needs, and wants.
Clearly, those companies are not using AI tools. With AI technologies, brands can learn a lot more about their customers, and on a much deeper level. Based on that data, brands can build different types of marketing campaigns that are 100% relevant, informational, and valuable to their customers, leading them to keep buying their products or services.
3.    Boosting Conversions
The digital world, as amazing and full of possibilities as it is, lacks something quite important: a human touch. That's where AI can help, once again. By creating a chatbot for your website or app, you can establish a continuous line of connection and communication with your users.
This, in turn, helps them feel valued, important, and listened to, and dramatically elevates the overall customer experience. Chatbots are your friendly, knowledgeable, and always available digital employees, and can rapidly become one of the most important assets for your customer experience strategy.
4.    Offering Valuable, Meaningful, and Customized Content
"Content is king", stated Bill Gates back in the 1990s. And yes, we can safely say that content continues to be a prominent part of digital products. Today, though, great content must be infused with a good dose of personalization.
Customers know that brands have the tools at their disposal to provide them with exactly what they need, at the exact time they need it, whether you are a fashion brand or an IVR service provider. Therefore, if you fail to meet these expectations, you lose ground to your savvier competitors.
Artificial intelligence can come to the rescue again. With AI tools, you can use customer experience analytics to analyze your customer behavior, interests, tastes, and buying patterns. This will allow you to craft hyper-personalized content in the form of product recommendations, targeted email marketing, and content suggestions.
Image Sourced from Neil Patel
5.    Retaining Customers – and Winning Them Back
Now that you have used AI technologies to win lots of new customers, you'll want to keep them as loyal to your brand as possible. AI lets you pinpoint specific causes of customer churn, identify potential issues, plan solutions, and prioritize actions to take.
This also helps if you want to win a customer back after they have fallen off your radar. With AI, you can rapidly connect with that customer, establish their new pain points, and craft ad-hoc ways to address and solve them.
The Takeaway
In today's digital world, offering an outstanding customer experience requires a lot more than simply promoting and selling great products or services. Today, it's all about artificial intelligence.
By incorporating AI tools and technologies into your customer experience strategy, you will be able to attract new customers, retain existing ones, and win back those who have wandered off.
Grace Lau – Director of Growth Content, Dialpad
Grace Lau is the Director of Growth Content at Dialpad, an AI-powered cloud communication platform for better and easier team collaboration via the Dialpad small business phone service. She has over 10 years of experience in content writing and strategy. Currently, she is responsible for leading branded and editorial content strategies, partnering with SEO and Ops teams to build and nurture content. Grace has also written for domains such as Bizmanualz and UpCity. Here is her LinkedIn.