It goes without saying that a business cannot exist without customers. So, creating an ideal customer experience through the whole range of the sales process is vital for a modern business.
Customer experience, or CX, is the sum of interactions and experiences that a user has with your business from the point of the first contact until they become a loyal customer.
It is an essential part of Customer Relationship Management (CRM) and therefore it's very important since customers that receive a positive overall experience are more likely to become loyal customers.
This is evident in the insightful graph below.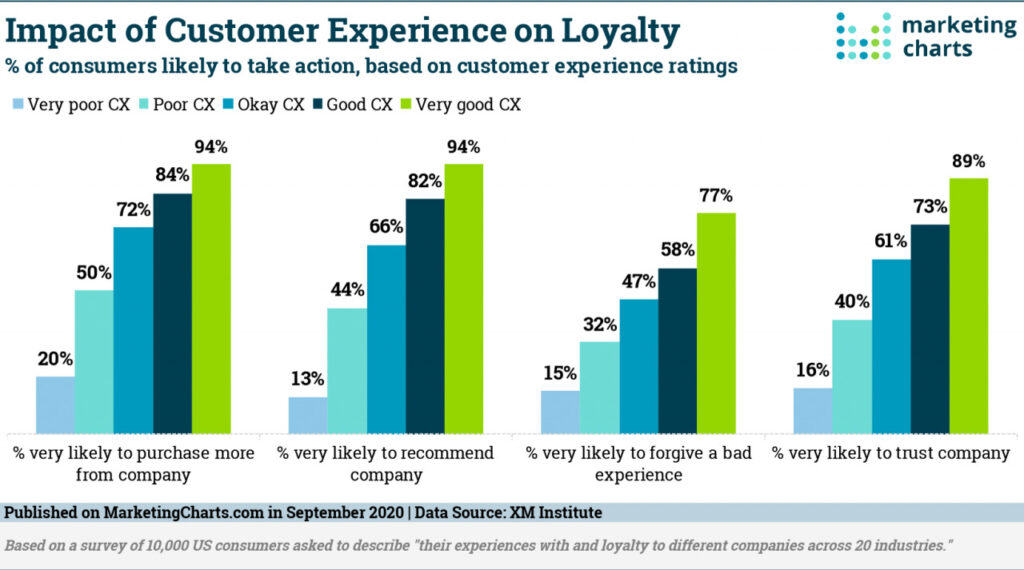 So, brands that focus on providing a good customer experience can reduce churn and simultaneously increase their revenue.
In this blog post, we'll explore 5 best practices that you can implement to offer a top-notch customer experience and build a loyal customer base.
1. Leverage the power of email marketing
Email marketing is a vital tool in managing your business' customer experience. First of all, you can use this channel to ask for feedback and distribute survey messages.
Moreover, you can use emails to follow your customers through various steps of their journey and make sure they have an optimal experience.
Modern email marketing platforms allow you to set and automate personalized messages that are sent to your leads or customers when a specific event is triggered. Such instances include a welcome mail, a thank you mail, a rewarding reminder, etc.
The key in ensuring the best customer experience is to be "next" to the customer and even anticipate their next move.
Email marketing platforms can help you to that end, and if coupled with advanced feedback gathering tools, they allow you to craft a consistent customer experience and get valuable insights on your customers.
2. Capture feedback from customers in real-time
Getting customers' feedback at the right time is essential for a business since you don't want other factors to weigh in before you receive the feedback.
According to the Peak-End Rule, a consumer's memory of a customer experience is not the average of all moments, rather the feelings incited at the peak moment as well as at the end of the interaction.
In order to be able to tell if you're delivering a great customer experience, you need to collect feedback ideally in real-time. To do that you can use live chat tools that allow you to have real-time conversations with your customers. After that, you can send a follow-up email to each one of them using customer satisfaction surveys.
If you want to gain even more insightful and in-depth feedback, you can go the extra mile and make outbound calls to your customers.
Pro tip: Remember to show to every member of the team the difference they are making to the business, by tying each customer feedback to a particular customer support agent.
3. Understand your customers
Customers are the central focus of every business. Knowing who your customers are and understanding their potential problems as well as anticipating them can really help your business directly.
Understanding your customers allows you to empathize and connect with the situations they're facing, while it empowers your customer support team to provide a better service.
The best way to get to know your customers is by conducting surveys that will illuminate aspects such as their pain points, concerns, needs, aspirations, etc. Analysis of these data along with careful segmentation of your customer base will help you create the so-called buyer personas.
They are a representation of your customer base, so they allow your business to go a step further into being truly customer-centric. You assign each persona a name and basic defining traits. For example, Mark is a 45-year old parent who likes following written instructions, while Melanie, who is 29-years old, is tech-savvy and enjoys solving her problems through video tutorials.
Additionally, buyer personas allow your support team to "recognize" each customer better and offer the appropriate solution to each case.
Finally, understanding your customers can improve your overall customer experience strategy. How? Take the example of Amazon, which introduced its Prime Service based on customers' needs. After complaints of long shipping times, the company came up with its own Prime shipping network.
4. Invest in your customer support team
Making investments in your customer support team is paramount. By doing this you can see reduced customer churn rates as well as improve the perception of your brand.
If your customer service isn't "at the top of their game", then customers will soon start losing faith in your brand.
It is essential to create a culture that values customer service. And this is a top-down process. Identify the training needs of every member of the team and keep in mind to start with the managers.
The sooner your team understands how much you value customer experience, the more incentivized they'll be to do an extra effort.
Are customer inquiries answered well and in a timely manner? Can users reach you through their preferred communication channels? Are the metrics you have in place good enough? These are questions you need to ask yourself.
If you decide to upgrade the technology solutions of your customer service, you'll definitely see a positive change for your business, despite the cost that entails.
5. Introduce AI in your customer experience strategy
Leveraging the power of artificial intelligence is an effective way to craft unique and personalized experiences that will help you amaze your customers and build brand loyalty.
Modern businesses strive to provide a seamless experience from start to finish across multiple channels. With the help of machine learning tools, you are able to discover actionable insights on customer behavior and consequently offer hyper-personalized offers for each individual customer.
Of course, incorporating AI into your CX isn't something that can happen overnight. But understanding your audience through machine learning sure helps you shift your marketing efforts from being fairly generalized to becoming a more personalized experience.
Final thoughts
Customer expectations are constantly rising and the power of customers has greatly increased in the last few years. So, the customer experience is of the utmost importance for every business.
By providing a seamless experience and constantly nurturing CX, a business can build trust with their customers, thus creating a loyal customer base that happily spreads the word about their products or services and sets them apart from the competition.
Author bio: John Desyllas works as a Content Writer for email marketing automation software Moosend. He is very passionate about Digital Marketing and Business Translation. You can connect with him on LinkedIn.

Make the most out of Business Experience today