How many times have you caught yourself ignoring service emails just because they sounded too monotonous? Or too boring? Or just plain lifeless?
Honestly speaking, we've lost count.
Customer service email response templates that read like they were written by a robot are a turn off for more people than one can think of.
This fact isn't just applicable to customer service emails. Even a good email marketing campaign calls for personalization with customer service email response templates.
Companies that take customer service emails seriously earn trust for their brand, bolster customer satisfaction, and boost sales, both online and offline.
But, what does taking customer service email response templates seriously mean here?
Does it mean you should personalize every single email that you write to your customers?
Thankfully not!
It's about creating spot-on templates that suit your relevant set of customers like a charm. This article will take you through exactly what you need to know.
What exactly is a Customer Service Email response template?
Essentially, it's an email template consisting of text, images, and links to be sent to subscribers designed for sending customer service responses to assist customers in any capacity.
How using Customer Service Email response templates can help your business
As said in the section above, customer service email templates are sent directly to your customers. (See our CX ultimate guide)
This means that these templates are a way for your brand to communicate to the customer and so, your brand's reputation rides on this.
1. Save Customer Support time
Time saved is money saved. Customer service executives who've ever lost their time would know, it's better to save time wherever and whenever possible.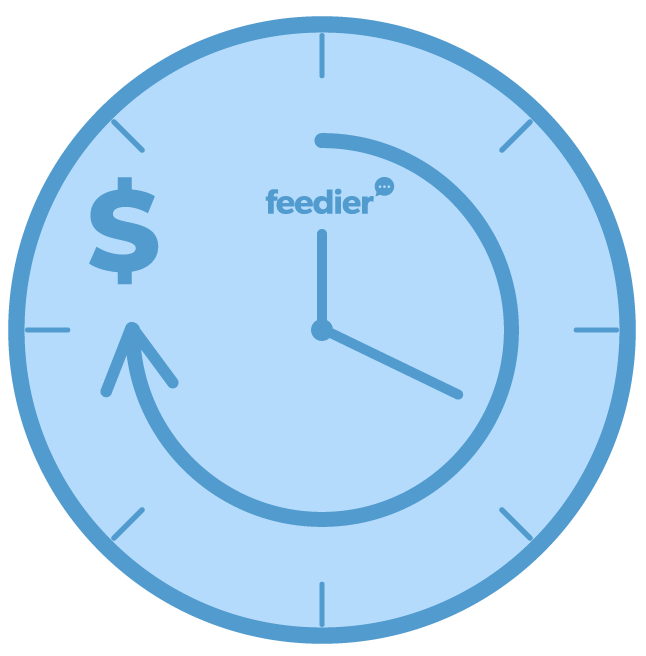 And with a good customer service email template, you can do it with ease.
Take it like this. Having a lively customer service email response template for the frequently asked questions will save your customer service team a lot of time. They won't have to type a new email to each customer. They won't have to stall email responses.
All they'll need to do is shoot the perfectly crafted email template for the respective queries.
With a small customer base, this may seem unnecessary but as your business grows, it's good to be able to handle these queries in order to focus on your growing customer base better.
2. Maintain a consistency of solutions
Another great benefit of using customer service email templates is that they help maintain consistency.
For example, different customer service executives of your brand may receive the same query ten times a day. Their solutions may sound different or vary to some extent but, with the right template, consistency is assured.
This will keep your responses synced up and will save you and your customers a great deal of hassle.
3. Intelligent Customer Service email responses can help you sell more
While selling more may not be the main aim of your customer service emails, you can still benefit from a well crafted email that touches on upselling so your customer can get even further benefits.
When a customer comes to you with a problem that you may not have an immediate solution to, in place of offering them to go with one of your competitors, you can upsell them on upgrading to include what they're missing.
Let us take an example.
A customer complains to you about a product that they recently bought from you. Now, there are two ways of dealing with this problem.
You can be blunt and give them the response that this isn't possible, or you can offer a way of improvement should they stay on.
Bad response example:
Good response example: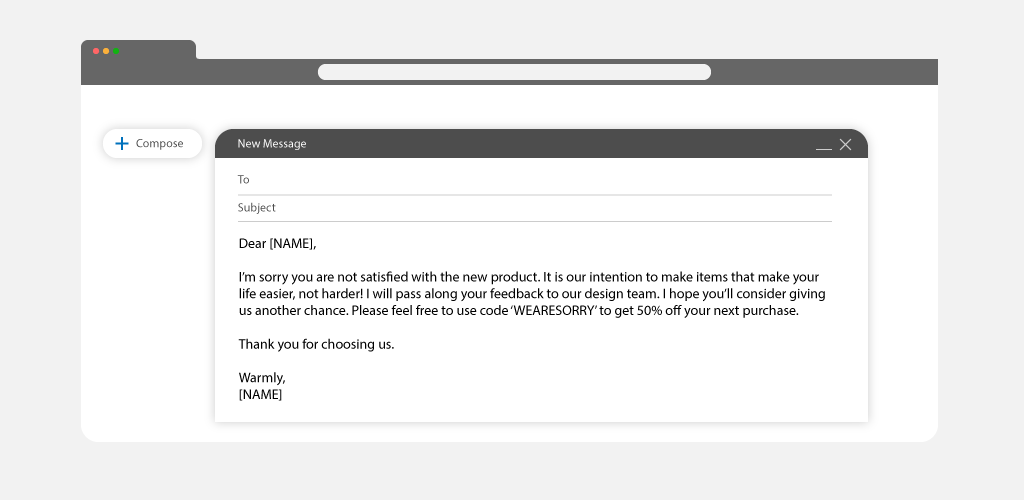 You see the difference?
That's where you can win or lose customers and more sales as well. So, keep this in mind and make sure your email templates are friendly and thought-through.
How Customer Service Email response templates can hurt your business
Okay so we've run through some positives, but let's have a look and see the other side of the coin, i.e., how it can harm your business.
1. Not filling the blank fields
Most email templates have a number of blank spaces that are to be filled up for personalizing the mail copy.
However, when these blank spaces are left blank, the whole message can adversely backfire.
Customers hate feigned empathy. As a customer of one service or another, we can all relate to this. Who likes false promises anyway?
Take this into consideration. Always make sure that the emails that your team sends never have any such blank spaces. An email starting with "Hi [CUSTOMER NAME]" will always be a major turn-off.
2. Poor grammar
Believe it or not, grammatical mistakes in your emails can be taken as a sign of non-professionalism and hence make you lose customers.
It's quite simple when we look at it. One small typo that reached hundreds or thousands of your customers can ruin your brand's reputation and can get you labeled as inexperienced.
Would you want that to happen to your brand? Obviously not! (Why would you?)
So, understand the need for keeping an eye on the grammatical mistakes that can pull down the potential of your otherwise brilliant email template.
3. Careless Employees
No matter how brilliant your customer email response templates are, as long as the sender isn't active and aware, you can't save yourself from fiascos.
For example, if your customer service executives are too lazy to actually help the customer out, that apathy will be evident and hence will cost you the customer.
To make sure this doesn't happen, introduce guidelines and make sure you train your employees and monitor their performance efficiently.
If you avoid these problems, customer service email response templates will be more effective at helping your brand grow.
Communicating effectively with your customers
Here's a bunch of tips that you can use for writing better customer service email response templates.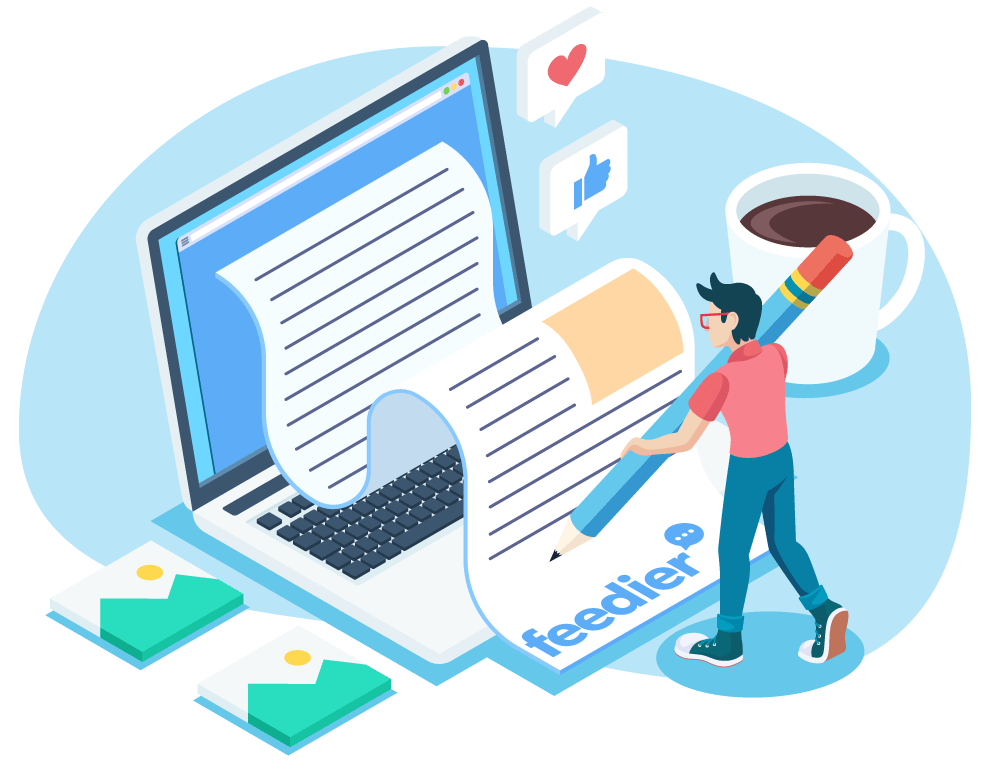 1. Personalize
Mentioned in the sections above as well, personalization is crucial for all customer service email response templates that are sent from your brand's name.
This makes the customer feel better understood and empathized. It makes them comfortable and maintains their trust in your customer service processes.
So, if you already don't, start using names in the emails that you send. Also, if you know their personal preferences regarding your product, it'd be great to talk about those too.
2. Be nice
Sure you would hardly ever have a reason to lose your cool, but your work is always going to be easier if you are nice no matter the scenario.
Whether the customers are complaining or appreciating your work, it's your duty to thank them for reaching out to you. The reason?
Customer complaints work as feedback for your product. Not only can you learn to improve from this interaction, but the situation can often be interpreted positively so long as the correct tone and genuine care comes through the message.
It's also very important to listen your customers and we've made a short video for you to understand how and why :

So, be nice and don't lose customers for one minute's worth of tiredness.
3. Use visuals when needed
While dealing with various types of customers, you may realize that not everything can be clearly explained in the text.
For times like these, it'd be better to use a video that can guide them through their problems.
For example, if a customer is having trouble understanding your product, an explainer video about the same can help them.
Also, uploading videos to emails may not be your best bet, upload them to the best video marketing platform for your business and then embed.
4. Link to longer textual instructions
Writing long emails to your customers for helping them may have a nice motive behind it but looking at the bigger picture it can be incredibly time intensive and take away from supporting other customers.
You may not always be able to contain every useful piece of information in your email. In these scenarios refer the customer to a help article, a blog article or a forum answer to help give them the answer faster, and save time on your end.
For example, if you have a common issue that comes up that can be answers in your latest published blog article, you can simply provide a link to that blog instead of explaining everything in the email itself.
Some killer Customer Service Email template examples that can help you
Here's four examples of how a customer service template can help you communicate better.
1. Template for responding to an angry Customer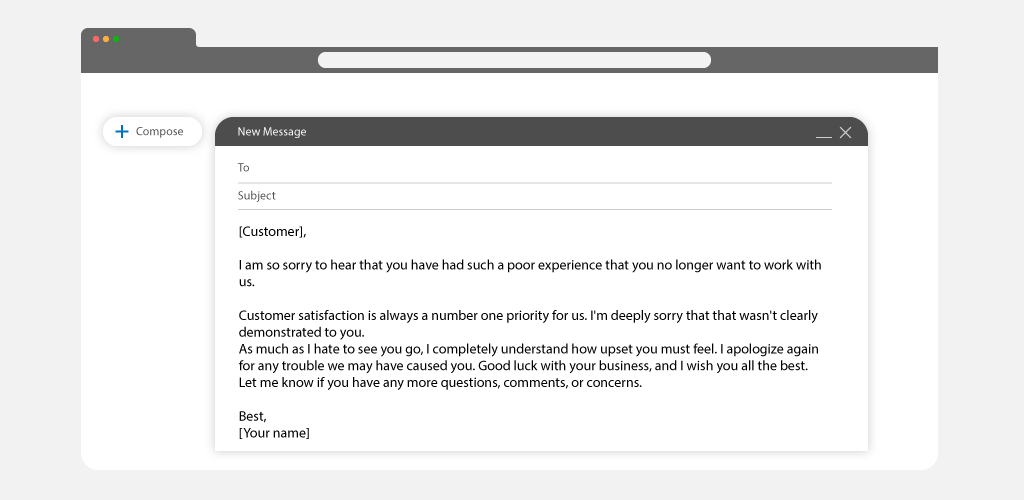 Tip: After you receive an angry email from an angry customer, give yourself some time to calm your anger. That's the best way of dealing with all kinds of customers.
2. Customer complaint Response Email template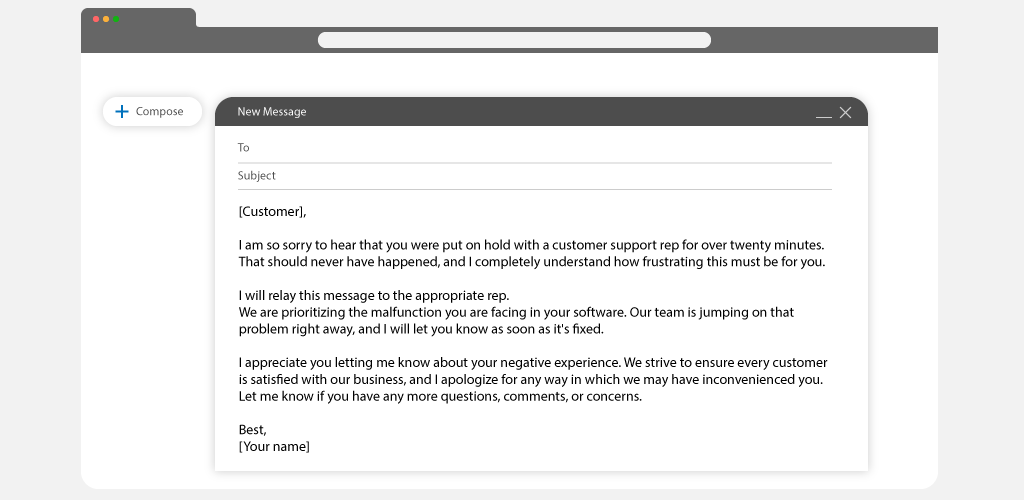 Just like you would take some time to calm yourself after an angry email, make sure you repeat the same therapy for these emails as well.
3. Customer Service follow-up Email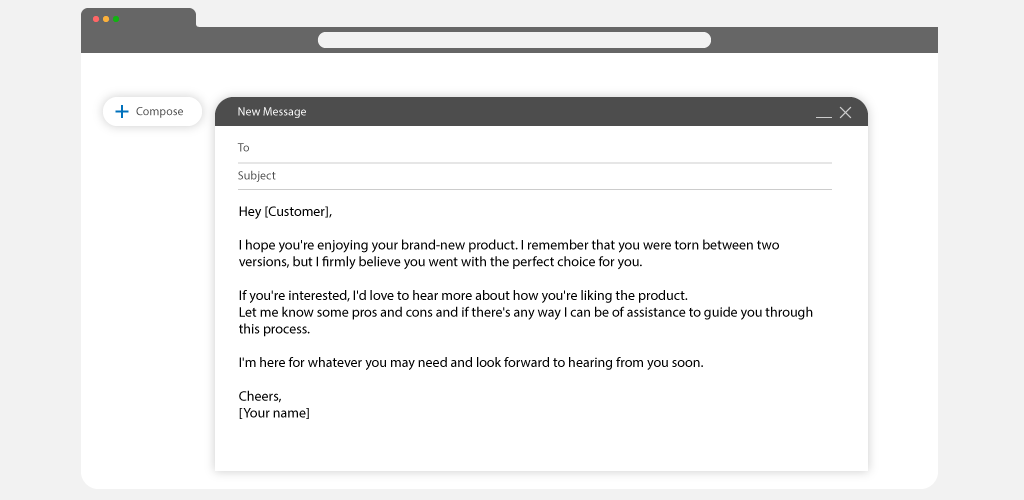 Understand that providing your customer a solution is part of your duty, and it's good to remind your customers why what you do is helpful to them.
Customer service follow-up emails are essential and help evoke a sense of trust in the customer's mind.
4. Technical Support Email template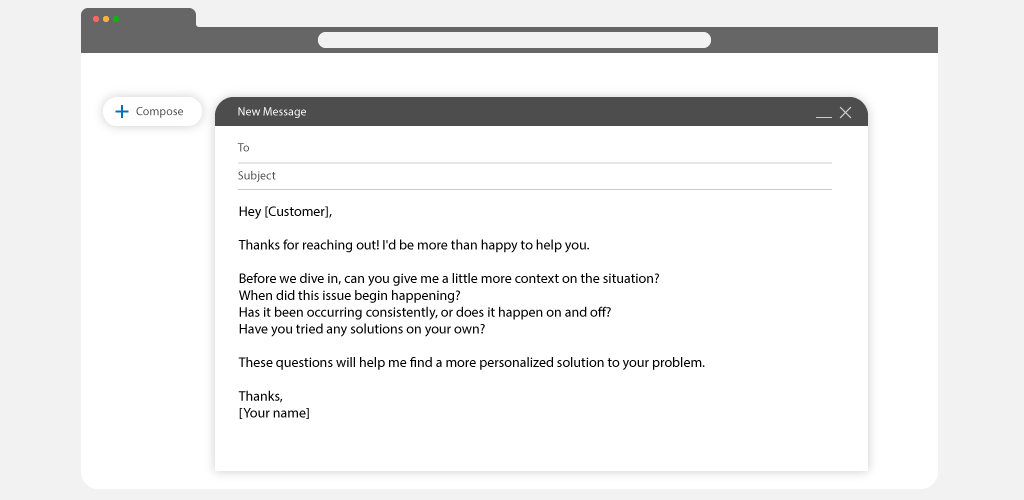 Right before getting to trying to solve your customer's problems, it's good to clearly identify the issue. These types of emails can help you with that.
Humanizing your responses
Moving on, another thing that can pull down the efficiency of your customer service processes is robotic sounding email replies.
Although we talked about writing good email templates in the section above, that isn't all that it takes. It's important for you to not sound like a robot in your emails. Customers in the 2020's are tired of automated replies, especially when they are so clearly auto-generated.
So pull up your socks, here's a list of some of the most common phrases that people have been using in customer service emails and need to give up on.
1. Thank you for being a valued customer/Your response is important to us
If there had to be a word to describe this one, it'd just be "lame".
The reason is simple. It's one of the least thoughtful and the most cliché customer service lines and I think we all can agree over that.
The solution would be to make it more personalized. For example, you can try saying:
Hi [CUSTOMER NAME]. Feel free to get back to us. Our team is always happy to help you. In the meantime, can we take 2 minutes for your time to get your feedback? Click here.
2. I'm sorry you feel that way
The first and the last reason for this phrase joining the list is that it may come off as patronising to customers.
By saying "I'm sorry you feel that way," we may be blaming the customer for feeling a certain way about the product. This can infuriate the customer and can make the conversation take an undesirable route.
A better alternative to this one would be saying something like:
"I'm sorry about that. Let me try to make it right."
3. I understand you are frustrated but …
We as service executives hold no place to accuse a customer of being frustrated. Also, use of the word "but" here can sink the boat for you. Why?
Ask yourself. When do you use this word generally? What's the basic use of this word?
In most cases, it goes on like an excuse. An excuse for something else. And honestly, who wants excuses? Customers don't.
They want their queries resolved.
So, keep this in mind, "but" is a dirty word.
4. I'm sorry for the inconvenience
We bet you are sorry for the inconvenience and as this is a polite phrase, it isn't really terrible.
The problem, however, is that its excessive usage can make you sound like a robot. Nothing wrong, just the hardwired human brain that may judge most things coming its way.
So, beware. Save yourself from sounding like a robot.
Feedback Survey template for Customer Service
Great customer service often comes hand in hand with asking for feedback on how the experience was for the customer.
While you (or your customer service rep) may have given your best to help a customer with a query and grievance, there may be areas where the process can be improved.
Often, a customer can help you identify such areas so that you can improve. After all, service offered to a customer is best judged by a customer, right?
This is just one of the many reasons which make collection of feedback an indispensable part of creating an excellent customer experience. Here are a few more:
Taking feedback makes the customer feel valued and more involved.
Collecting and acting on customer feedback will help your brand build a loyal customer base.
Collecting customer feedback will help you make better, more data-driven business decisions that are aimed at making customers happier.
Now, don't get us wrong, asking those robotic NPS questions at the end of every customer interaction can severely backfire, but the bottom line is that there is virtually no downside to collecting customer feedback.
Instead, customer feedback can be used to create a better brand that customers will love.
In the case of customer service feedback, it is extremely easy to collect and customers are usually enthusiastic about providing feedback on their service experience.
After a ticket has been closed, you can ask the customer for their feedback by sending them to a survey response form.
Creating a form, however, can be a tricky endeavor.
Start by thinking about what exactly you want to know from your customers.
For instance, for a technical product, you may want to find out if telephonic support is satisfactory or would the process be made more efficient with screen sharing.
Next, craft precise and straightforward questions. Keep them relatively simple, they've just gone through the support, they're probably still feeling either very frustrated or elated with the experience they've received, so try not to ask long-winded questions.
Five to ten questions will, in most cases, get you the information you need, without irritating your customers.
Still confused? Check out this extremely detailed guide about creating customer surveys
Now let's deal with unhappy clients in your customer service email response templates.
When you receive your first feedback it's also important not to neglect how you organize your data, here's how you should do :
How to deal with a complaint in your Customer Service email response templates
What Is a dissatisfied Customer?
First things first, we are going to define what is an unhappy customer. As simple as it sounds, a dissatisfied customer is someone who is upset by your services or product.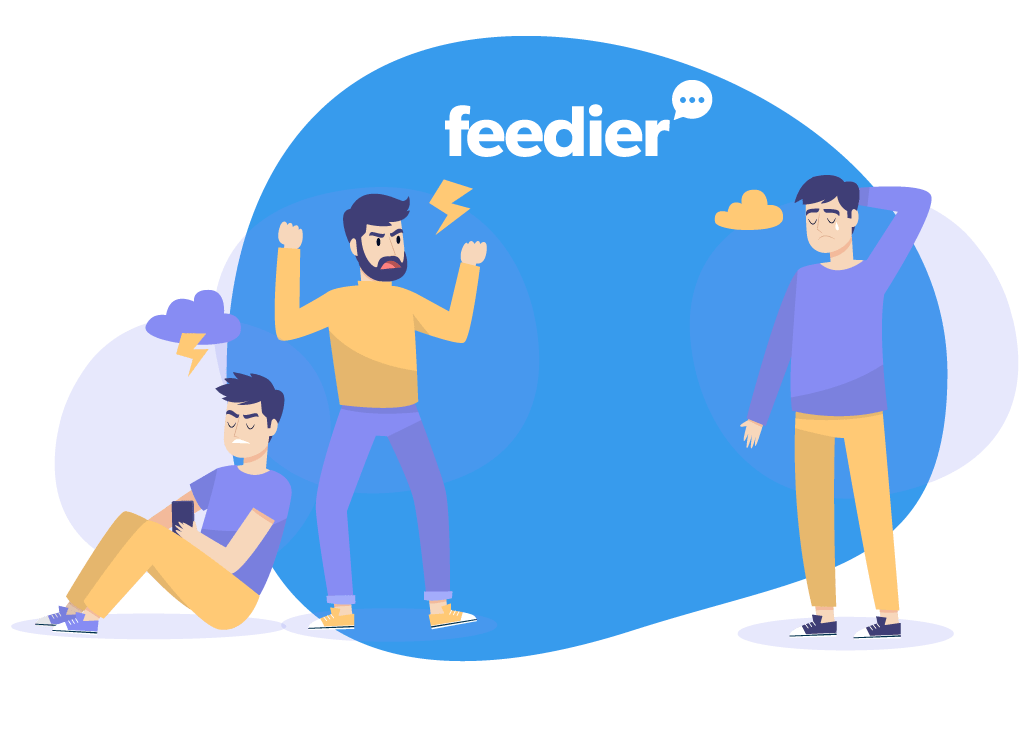 It could be the case that your product isn't meeting its expectations, or a bad customer service experience. Keep in mind that you're talking to a real human behind the screen.
No matter the tone of their voice, you must respect them and follow a thorough playbook.
1. Firstly, don't panic, and don't take it personally
The moment you first become aware of negative feedback is not the time to respond. Yes, you definitely need to act and you should do it quickly, but before jumping in, make sure you're in the right mindset.
For many business owners, it's very easy to take any criticism personally as it can feel like a personal attack. This is even more pronounced if the feedback is public – as an online review or post on your Facebook page.
Whatever you do though, keep the feedback in perspective and don't take it to heart. Remember that it's only one person's experience and other people seeing this will understand that things can go wrong, even for the best businesses.
Once your head is in the right place, make your response your top priority for the day.
2. Respond using the same channel you received the Feedback
If you received the feedback from the unhappy customers via social media, your first response needs to be on that same channel.
Yes, this means it's public, and no, you shouldn't just delete it from your page or block the user!
Even if you know the unhappy customer, responding publicly is a great idea as it gives you an opportunity to demonstrate your business values and showcase your concern for customers.
You should reply to the feedback and apologize, while still showing others the best side of your business. Remember that potential customers will be reading your response and forming opinions based on how you react when things go wrong.
3. Be gracious, apologetic and keep your cool
This can be tricky so take a deep breath and think carefully about what you're going to say. Even if the aggrieved customer seems to be making unfounded claims, don't lash out, get personal or argue against their feedback. Remember, this is one of your customers!
4. Decide if this Customer is in your target market
Sometimes complaints come from unhappy customers you never intended to serve. They might be complaining that you don't have a certain feature, but chances are, you didn't build your product for their exact use-case.
In these situations, you need to first decide whether this is a customer you actually want to fight for. If not, follow the steps above but instead of inviting them back, suggest another feature that might better suit their needs.
There are also some (rare) cases when customers are so abusive that you might decide you'd rather not have them as a customer.
You can also legitimately decide not to pander to these types of people and respond saying that your team is more important than serving a customer like them!
Explain the types of customers you like to help and the problem you solve.
They will either go away, or come crawling back to you.
5. Offer to make amends
If your business has genuinely 'stuffed up', you should offer to somehow compensate your customer.
While you can allude to this publically, we suggest that where possible, you contact the customer directly with some sort of offer to resolve their issue. You could also compensate them for having a bad experience (whether you think their grievances are legitimate or not).
6. Take Feedback onboard
No, I don't believe the customer is always right, but if you get a similar complaint several times, chances are you should do something about it.
If something is broken, you need to fix it!
So get your head out of the sand and work out what it would take to address the problem. Is it staff training, a change to your marketing, a new fit-out, an improved process, a different supplier, or what? Customer feedback is basically the best kind of market research you can get. Use it to your advantage.
7. Follow up (Don't skip this!)
Once you've responded to the negative feedback, perhaps both publicly and privately, don't let that end your efforts to turn this customer around.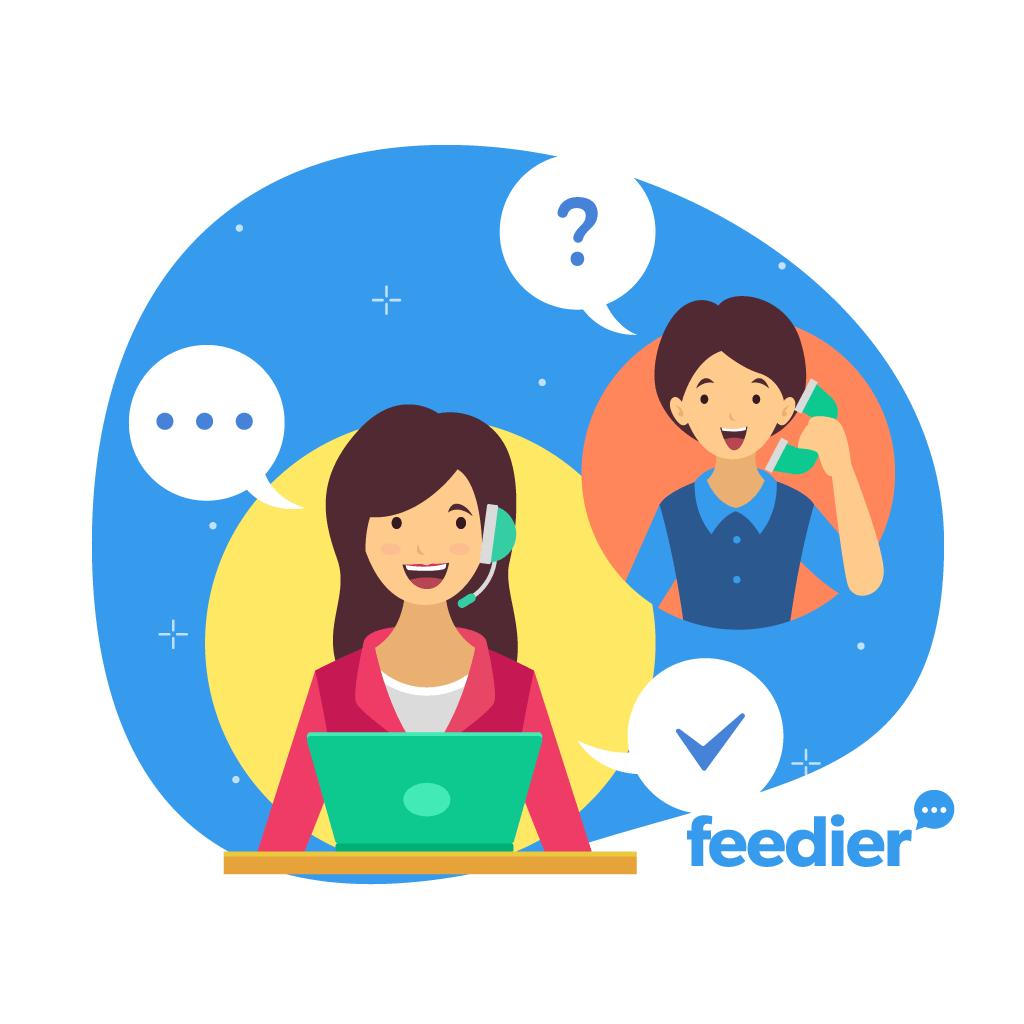 Schedule a call in a few days time so that you can follow up properly (put it into your daily action list). Tell them how you wanted to check in with them.
Let them know about the steps you're taking. For example, you may have held a team meeting to discuss their issue, or how you've put plans in place to build a new feature.
If their grievances weren't something that would actually warrant any changes, explain why you've made that decision. Besides that, emphasize your concern for them and that you personally wanted to explain the situation to them so that they understood.
Taking this step is the one that is missed the most often, but it's also the one that is most likely to win back the affections of your customer.
If the previous unhappy customer is now happy with your business, you can use this opportunity to ask if they'd like to be part of a case study or testimonial.
8. Encourage other Customer Feedback
Customer feedback is an incredibly valuable source of information that can help businesses improve on many levels. Some of the ways customer feedback can add value include:
Product development and improvements – eg. suggesting new features or changes
Providing quality controls for customer service interactions – eg. identifying the need for further training or performance management
Helping to bolster employee morale by providing positive customer feedback to all parts of the organization
Customer communications – eg. becoming aware that customers don't understand or know about certain features available to them
Marketing content (see how to implement a B2B content strategy) – eg ideas for blog articles, social media content and also getting closer to the exact language customers use to describe your product or service
Social proof – eg identifying extremely satisfied customers and requesting testimonials, case studies or reviews.
Besides, you probably have some troubles in asking for Customer feedback. That's why we've made a video for you to boost your survey response rate.
Final words
Customer service email response templates are one of the most crucial parts of any business that wants to grow. It involving the welcoming, appreciating, communicating with, and helping ofcustomers.
But is everyone doing it right?
Well, even if they are, there's always scope for betterment. If you want to learn how to improve your customer experience and use ready-made customer feedback templates, check out our website or book a demo with the team.
If you didn't have the chance to get it, download your PDF with all the CS email templates.