We all have, at least once, looked for a decent customer feedback tool that suits our needs.
And, we all know customers aren't inherently excited about providing feedback.
Yet, there is no doubting that feedback is extremely valuable. It validates that the feature, service, the product being carried over is providing value to the intended people.
If customers don't find value, it amounts for some precious time wasted.
Focusing on customer feedback makes sound business sense.
Research by Deloitte and Touche found that customer-centric companies were 60% more profitable compared to companies that were not focused on the customer.
With an average of only 2.5% of our customer base willing to take a survey, we know we have a tough assignment.
The good news is that with a pragmatic framework, and a few simple approaches to follow, you're able to gather insightful feedback.
You're on the path to building a customer-centric company.
However, like anything worth doing it takes some time and effort.
And we want to optimize this time.
Which is why finding a good, if not the best feedback tool, is crucial.
A good feedback management software should 10x the results you could get with traditional methods using pen & paper.
Without further ado, let's dig deeper into these survey features.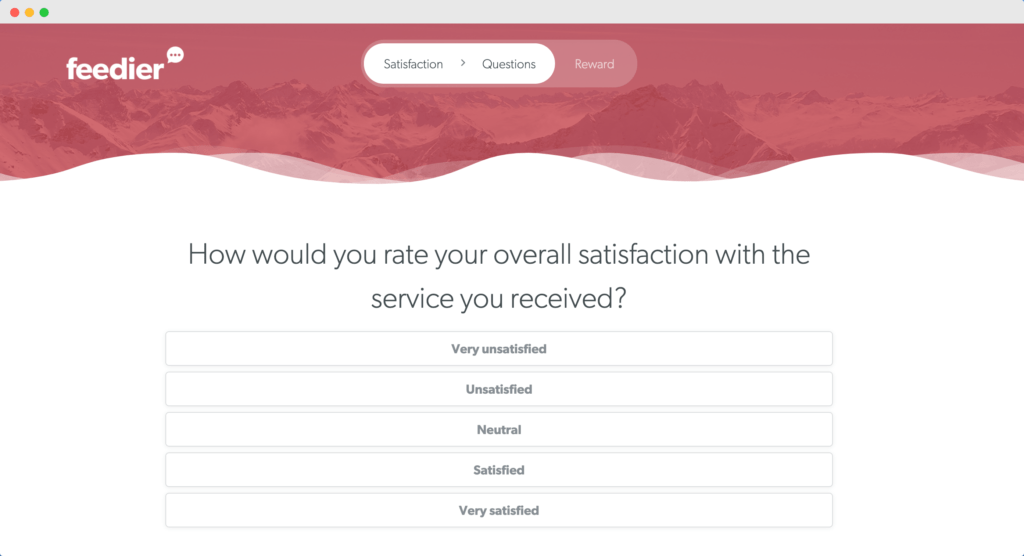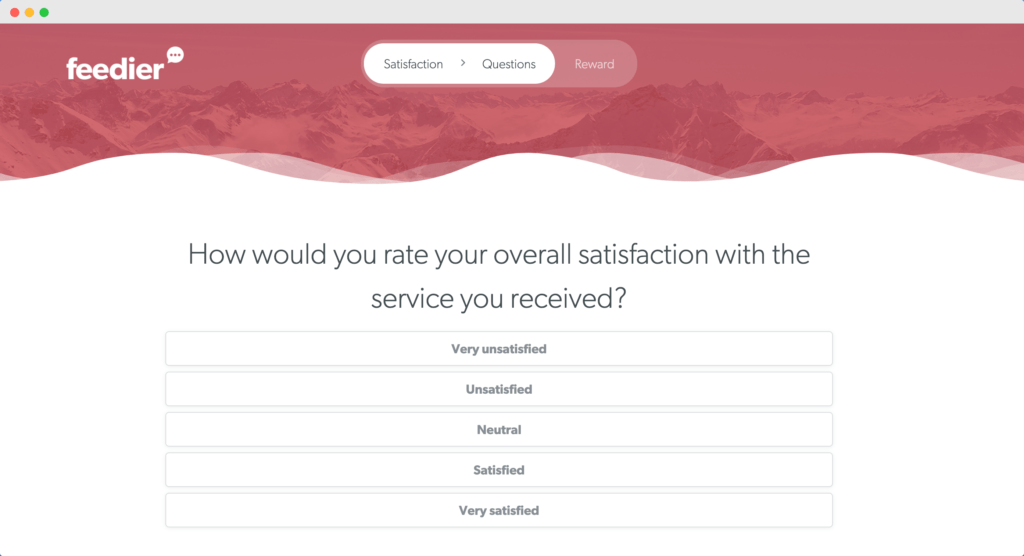 I want to help you find THE perfect, top-notch customer feedback app that will help delight your customers with a survey experience like never before, while also help gain as many insights possible.
Knowing the preferences of customers and coming up with a solution should not take long.
The Must-Haves Feedback Features For a Customer Feedback App
Let's define a few of the things to look for before committing to anything else.
Ease Of Use
This is probably a no-brainer. One of the main reasons technology and software exist in the first place is to make your life easier.
So, before making the jump and actually using a product: make sure it's easy to use, easy to understand, and also easy to work with as a team.
You will likely not be the only person working on the customer feedback surveys, so you want your teammates to easily get started as well.
You are looking here for a few different things:
Are there any reviews from users mentioning the ease-of-use?
Does the software offer any kind of training videos?
Is there any recurring webinars hosted?
Is the support team responsive and helpful?
Does the feedback app come with a help desk?
You're essentially looking for this kind of review.
That's being said, you're only halfway through the checking process.
You're also looking for the attractiveness, good-looking UI, responsiveness and ease-of-use of the feedback side.
Because, what you essentially want is feedback trickling in from your customers, so you want to make sure the surveys are attractive and simple to fill out.
Make sure the feedback tool you choose allows you to customize the look and feel of your surveys, so that your customers aren't forced to stare at an ugly, poorly-designed form for your benefit.
You want to reflect your brand with this survey, a cohesive approach is required.
Customer Feedback Tool Features
You're not just searching for a good-looking feedback tool.
It's imperative to list out the features you need beforehand to improve your search and meet your expectations.
A few common features that you will likely want are:
Will I be able to add any kind of automation between my feedback and my existing data – such as in a CRM?
Does the survey come with built-in feedback template?
Is there any way to add logic inside my survey?
Is there any plugin or integration such as a WordPress feedback plugin, an integration with your email marketing platform, etc.
Are there all the question types I need?
What are the ways to share my survey and collect feedback?
Such features will allow you to tweak your survey to ensure that you can actually get to the expected results.
On the other hand, a tool that only allows you to create surveys with generic question types would make it more difficult.
But you could also be on the hunt for more market-specific or innovative solutions that will help you get the job done and overcome some difficulties.
For instance, you might want to look for a way to automate the incentive process and incorporate that into your survey.
Or, you might also be interested in being able to automate the review process based on the satisfaction rate.
Feedback Analysis & Reporting
Last, but not least, is the reporting and feedback analysis. In other words, the dashboard for data reporting.
You want your feedback tool to provide you with an amazing automated analysis at scale.
You not only want to pull out the trends over time.. How your business is performing..
But also the most important keywords and sentences, what are your customers saying from you in this survey.
Any additional features will be a plus.
Few Examples Of Feedback Tools
We have now covered the must-haves of our ideal feedback software, let's give a few examples of serious competitors on the market.
Whether you want to create customer satisfaction survey, simple customer feedback survey, guest feedback survey, or collect any other type of feedback, we got you covered.
Online Survey Tools
Feedier: Collect actionable feedback, engage and value your customers using gamified and attractive surveys
Informizely: Quickly gather customer insights with in-site surveys and polls
Usabilitytools: User Session Replay & Visual In-page Web Analytics – UsabilityTools
Survicate: The Fastest Way to Collect Feedback
Mopinion: Reporting software for customer feedback from websites and apps
Nicereply: Nicereply | Customer Satisfaction Survey, NPS & CES
Wootric: In-App Web & Mobile, Email, SMS Net Promoter Score, CSAT, CES Survey Software, Text & Sentiment Analytics
SurveyMonkey: flexibility first, probably the most well-known
Typeform: build attractive forms, online quizzes, and surveys.
Offline Survey Tools
Simple Client Feedback Tools
Usabilla: user and customer feedabck tool
Emojics: Emoji-based, simple feedback tool
Appzi: Website Customer Feedback Tool
Employee Feedback Tools
BambooHR: besides offering all the HR features, BambooHR is an eNPS survey software
Honestly: fully-fledged feedback tool offering employee engagement features
Culture Amp: Culture Amp makes it easy to collect, understand and act on employee feedback

Feedback Analysis Tools
On the feedback tool market, there is also feedback analysis software. These tools aim at gathering feedback from different sources and provide you with insights.
Thematic: Powerful Customer Feedback Analaysis tool
NomNom: Get all your customer feedback and research data in one place (for product teams)
Free Feedback Tool
Some of the feedback survey softwares mentioned above are freemium, meaning you can start using them for free, and upgrade once you love them. But there are also softwares that are free across the board.
Google Form is the best example.
How is Feedier a Different Feedback Software?
In order to wrap up this article, I'll give you the key differences and explain what makes Feedier a good feedback tool.
Improve Your Customer Satisfaction
With Feedier, we make your customers feel valued, boring-ugly-wasting-time surveys are over!
Feedier turns surveys into a beautiful and enjoyable experience. It fits nice on any device and mixes interactivity with quality. Our friends at EuroVPS have shared their experience and how the top-notch user experience helped them engage their audience.
Feedier respects your customer's precious time. We let the customer know how long will the form last.
Feedier lets you reward your customers. Higher engagement guaranteed with survey incentives, when it makes sense and fits your audience. Whether it's a voucher, a money transfer or any kind of file, you can build a complete reward program with Feedier.
Feedier respects your customer's precious time. Boring and ugly surveys are over! 🤬

Tweet
In a nutshell, customer engagement and loyalty is our motto! 🏆
Voice of Your Customers Made Easy
We make your job easier and help your business thrive.
Feedier lets you access complete live reports of your surveys including analytics by devices used, countries, average satisfaction, reward spending, browser used average time per question and more.
We will let you know what your customers really want. No need to go through every response. Feedier will even categorize them and group them by customer segment (satisfied or not, in % between 0 to 100 ).
Unique Segmentation Pipeline
Feedier is very organized feedback tool, targeted and based on a 3-step process:
We asked and measure the satisfaction using our ratings
Only relevant questions are asked: the question displayed in phase 2 are based on a satisfaction ratio determined in the first phase.
We then reward your customers — if appropriate — and engage with him.
Feedier lets you categorize users by satisfaction, group them, export them and contact them through handy lists. Segmentation as its finest.
Feedier lets you invite all your team onboard. It's always faster as a team. You can manage your team and use the roles to maintain security and privacy.
Feedier makes it easy for you to share your surveys to the right customers. We will send the emails for you, write your social posts and even let you embed them right into you website.
Feedier provides a complete analytic for every response (feedback). Question-Time graph, country, the device used, browser, IP address, responses, satisfaction, reward redeemed, keyword analysis.
Delighting Customer Feedback Tool
Finding where your bottlenecks are becomes a breeze !
Feedier collects email addresses for you. We send every reward by email to guarantee safety and privacy. This also lets you keep in touch with any customer.
Feedier is extendable, our reports can be customized for every organization but we also provide 3rd party APIs support for the rewards. Letting you build your own reward program with your own currency and reward type. Let our developers get in touch.
Feedier lets you customize your survey's design & features very easily through our editor. Use your brand's color and logo, customize callback URLs but also manage its status. You are in total control here.
Catch Your Customers At The Right Touchpoint
Thanks to the different sharing pieces, we help you bring the wow experience to your customers, fairly easily.
In order to collect actionable and valuable feedback, we need to get our feedback request in front of the customer, at the right time, and in the right place.

Feedier features all the required methods of sharing your feedback request, and help you maximize your survey response rate:
Emails: you can send email request programmatically (using our API or Zapier integration), or by simply uploading emails to your Feedier dashboard.
Online: you can embed surveys using an iFrame, or use our on-site widget. The widget is very flexible and offers different triggers and options to fit your needs.
Text Message: the same you request feedback by email, it can easily be done by text message. 
Website Feedback Widget: Feedier is mobile-ready and fits nicely on every device. Embedding your survey on the go is a no-brainer! 
And much more: QR code, Social sharing
You don't have to pick one unique method, but you would be better of focusing on one channel that works best for your customers.

Brand Your Feedback Programs
Feedier is a fully configurable and personalizable feedback software tool, which means that you can fully brand and personalize your Carriers — aka. our way of doing surveys.
We go beyond the design and offer you the customization at the domain name level. You can use your own domain name and sub-domain.
Engage and Build Social Proof
Our feedback software do more than surveys!
Feedier is a feedback tool built from scratch to engage your customers. Our technology knows whether the customer is happy or not and therefore we can provide the right engagement to the right user.
For instance, you can ask 5-star reviews to your satisfied customers only, or promoters. And, on the other side, you can urge the dissatisfied customers to build a call with your customer success team.
Feedier adapts the questions to the customer. Thanks to the first step we know whether the customer is happy or not and why. We can, therefore, fit the question to any customer based on that. The experience is unique!
Feedier aims to create a relation between your team, your customers and your products. The relation we build is based on:
Trust: Providing interesting questions to your customers and them providing useful answers to your questions.
Respect: Everyone's time is precious, every information is important.
Interest: every party wins. You will have insights, analytics, ratings and emails in exchange for rewards for your customers.
Use The Integrations and API
Feedier is also built for developers – we love them! We have carved out our Rest API available for you and safely protected with your custom API key. You can also use WebHooks, access your data using any language and enrich your dataset. Our documentation is available here.
Last, but not least, Feedier offers an integration with Zapier, helping you build a fully automated and efficient closed feedback loop.
Disclaimer: This piece of advice isn't biased – but we are on a mission to gamify the feedback experience and bring qualitative surveys forward.
You can sign up free at feedier.com/go and start collecting valuable feedback. Learn more about the main differences here.
---
Also published on Medium.