Having a customer feedback loop and listening to that feedback is a key business requirement, essential to the growth and sustainability of your business.
Richard Branson, Founder of the Virgin Group, put the customer feedback as a way to learn from your mistake, innovate and disrupt.
We know that the best way to drive positive change is to learn from our mistakes and hear what our customers have to say. Our companies thrive off customer feedback. It helps us to innovate and disrupt, and keeps us relevant.

Richard Branson
In a nutshell, customer feedback are your bread and butter, they will help identify customer advocates and provide the best services and features the customers want.
The benefits of customer feedback are pretty clear and simple.
Today, we want to zero in on the importance of building a customer feedback loop, in order to identify your promoters and detractors, understand their needs and feeling, and act on them.
Customer Feedback Process
Effective feedback, both positive and negative, is very helpful and insightful.
Leading companies are leading the way because they consistently search for ways to make their best even better.
But, what it takes to create a customer feedback loop?
Or, how can we go about automating the process of collecting customer feedback and acting on them on all the way?
What Is a Feedback Loop in Marketing?
To start with, it would be fair to define what does feedback loop mean.
The loop essentially stands for the infinite flaw in which we collect, act and iterate. This stands for the Lean principles: Build, Measure and Learn.
Pretty simple right?
It all comes down to sending out a bunch of feedback requests, collecting and analyzing the data, improving the product based on the feedback, and starting over a few months down the line.
By doing that and having such a customer-centric process in place (read our CX ultimate guide), you're able to really increase your customer retention by providing what they want.
This is particularly valuable when we know that 74% of people are likely to run away if they have a bad user experience or find the process too difficult.
Listening to the voice of your customer, understand what they are thinking of every change is crucial.
In turn, this gives a positive feel for the user who liked to be heard.
But what if we could do even more? What if we could go one step further?
This is where our closed feedback loop comes in.
Closing The Customer Feedback Loop
Hundreds of organizations struggle with two very important things; taking action to drive true business impact and follow up with the most important shareholder, the customer.
This former struggle is mostly due to the fact that there is no clear accountability in place, there are not enough people involved. Lucky us, the closed loop process will help us overcome that!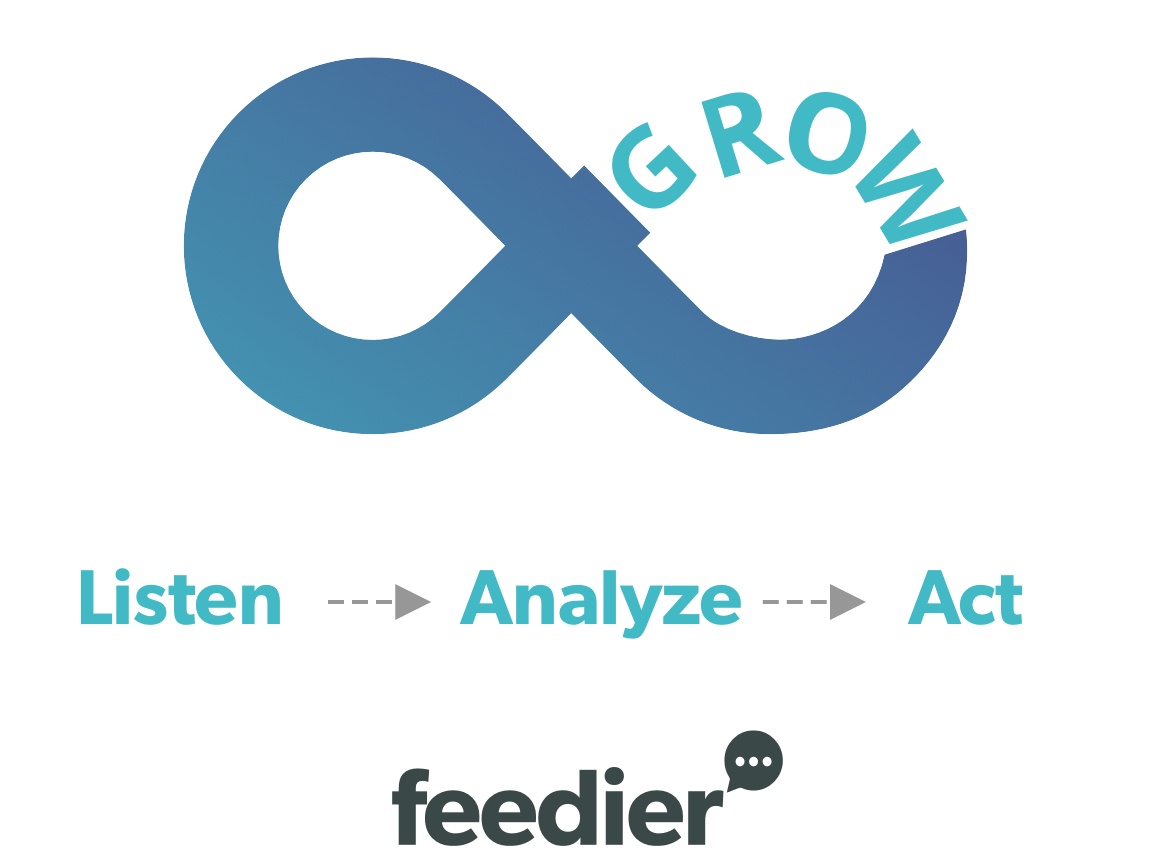 Such a closed customer feedback loop is essentially a thought-through process involving most departments and leveraging all the data and tools available.
Ultimately helping us get deeper insights.
You're only closing the loop if your team is doing all of the following:
Take the time to talk to your customers, interview them. Besides this, we also want to let them get their hands dirty with the product and understand their motivation, struggles, and how they come about finding you
Sift through all of the user data and behavior analytics data
Actively request user feedback and sort them through
Put the voice of your customer forward and actively think through it
Communicate the findings to the other departments in order to educate them and finally use that for future improvements
Take action on these inputs and drive change in order to improve the end-user experience
Follow up with your customers and urge them to give as many details as possible
As explained in this article from Convero, building a closed feedback loop essentially involves 4 stages: experience, feedback, learning and sharing.
It gets really productive and interesting when we are able to leverage automation and create this fully-fledged process. Thus, involving every steps of the customer lifecycle and different stakeholders.
What Are The Different Types of Feedback?
So far, we have covered the importance of having a customer feedback process in place, and how you can close the feedback loop.
But how do we differentiate which feedback to take in, and which feedback to filter out?
In a nutshell, you can differentiate:
Quantitative data: all the quantitative feedback you can measure on your users, such as demographics data, behavioural data, geographical data, etc.
Qualitative data: this is what your users are telling you, such as CSAT feedback, survey answers, NPS, etc.
Examples of Customer Feedback Loop
As we discussed previously, there are different phases involved in this closed customer feedback loop process. We are going to focus on the automation part. This involves going about actively requesting feedback and using the data to genuinely improve our user experience.
First, we are going to create a feedback survey using a versatile and flexible feedback survey tool. We really want our tool to be flexible and offer different customer touchpoints where we can request the feedback.
Once we have the survey fully setup, we can put that in front of our relevant customer segments, based on their behavior, interaction with our customer service team, or simply based on their engagement with the product.
Please note that there is a thorough process to go through when it comes to creating a feedback survey, we won't go into those details here.
Alert the Customer Service Team
Our first example would involve the customer success/ customer service team, notified whenever there is a new feedback coming in. One example of service used to notify could be Slack, provided the tool we pick offer such integration. The goal here is to make sure that the team don't miss out on any feedback, and immediately follow up. It is very important to respond as quickly as possible, and this is the goal of this automation.
Tag the Customer in Your Internal System
When we receive new feedback, we want to keep track of it in our Customer Relationship Management.
We could imagine tagging them based on their satisfaction.
Such process helps us sending relevant message or request down the line. We could couple that with our customer service alert and do a proper follow-up.
Push Issues in Your Project Management Software
Once we have cluttered through the noise and done a first review of the feedback coming in, we can use those insights, and automate the process of sending them over to the product team if we are happy with them.
Using tools such as Zapier, we can automatically push them through JIRA, Asana, or any other project management software we could come up with.
If we want to fully automate, we must also do A/B testing or at least measure the impact of the new features. Then, using the time spent on the new feature, plus on the survey, we can figure the Return On Investment.
And then, what happens?
Measure The Impact of The Actions
Any experiment or change must have a way to be measured and compared.
We do the analysis and internal communication part in order to think through the feedback and take them as a learning piece.
Once we have processed changes, we start over, back to the drawing board…
A good feedback process can help you achieve the following when it comes to measuring the impact of your program:
Future response rates increase when customers understand there is something in it for them.
An increase in the satisfaction of your customers is likely when you listen, act and communicate your actions. You can expect an NPS increase.
More confident users who feel listened, become more loyal and move towards brand advocates
After a few months, no closer than 2 months, we can send again the feedback request. The loop is broken when we are not able to scale anymore.
It could be because our users are not converting or because we don't invest enough into UX improvement for instance. At that point, we need to stop for a while and dive into deeper overhauls.
Wrap Up
When we are only starting up, the feedback comes relatively easily right into the conversation with the early adopters. However, as the company scale, enabling customer-facing employees to pass that feedback up to leadership is critical. Without a system for flowing customer insights to the product and leadership team, the organization is limited to real guesswork.
Needless to say that, without a customer feedback loop, it's difficult, if not impossible, to predict your customer's behavior and properly understand them.
In order to build a feedback loop, you need the right customer feedback tool, read more on that in this article.
Make the most out of Business Experience today