What if I could improve my response rate by offering a survey incentive?
What if 100% of the customers would have filled my survey?
That would be fantastic.
As a rule of thumb, anything above 10% response rates will yield meaningful data.
But, what if your customers are simply not committed to provide you feedback? Even if you have the best customers, sometimes, it is just the case that you are not getting any response to your survey.
Whether it is because your survey doesn't really relate to your audience, or its targeted at a new audience base, you have to find a way to nudge them.
But don't worry—you aren't completely reliant upon their will.
There's something you can do to get them to fill the survey: using a survey incentive.
Incentives increase the likelihood of customers completing the survey.
But, what's the best way to create an incentive for respondents to take your survey, without biasing the results?
Sometimes, it could be too good to be true, which is why it's a process that have to be handled thoroughly.
In this article, we'll explain:
Without further ado, let's dive into them.
What Is A Survey Incentive?
Once your respondent has fully completed the survey, you reward him or her with a voucher, some money, a file, some loyalty points, or anything of value.
The goal is to level the playing field and implement a two-way flow by rewarding our customers for their precious time and efforts.
On one hand, these incentives are meant to increase the response rate, as demonstrated in this study, and prove your willingness to value your respondents' time. But, on the other hand, they can also entail biased results, which you need to pay close attention to.
You need to pay attention to the population and cohort you're targeting.
You might face a type of population simply looking for "bounties", avoid the incentives in this case.
Let's talk about the different type of incentives.
Different Types Of Survey Incentives To Increase The Response Rate
We distinguish different types of incentives, based on the time they are delivered, but also what we actually deliver.
Financial Or Monetary Incentives
This is the most effective way to increase the response rate, as previous researches have demonstrated, especially when we are talking about cold cash, not any kind of voucher or discount.
Monetary incentives are the best way to nudge the user to answer.
And as you might expect, the more money, the higher the response rate. The more money you put in, the higher the response rate.
That's being said, there is a threshold at which increasing the value won't change much.
There is no perfect amount or value for a survey incentive, but there are different things that can help you determine the right amount:
The budget and resources allocated to the survey: if you have a tight budget for the survey, you would be very limited in terms of what you could offer, and therefore, the potential impact of your monetary incentive.
The method used to deliver the incentive: if you decide to go for the promised incentive type, you would want to properly filter your population entering the survey.
The target of your survey: someone making $70/hour would not value $5 the same way as someone making $12/hour.
One important thing to keep in mind is the value associated with your
The financial incentive can also be a donation to a charity, which is likely to work well for high-end population, which doesn't care much about a small bounty.
Content And Non-Financial Incentives
When you don't want to offer monetary incentive, you could also imagine offering educating content, invitation to visit the office or to a special sales operation, and much more, as long as it's valuable and actionable.
It's now time to decide the timing and how you'll deliver.
Pre-paid Or Promised Survey Incentive
A pre-paid incentive is one you give to everyone who receives the invite regardless of whether they respond or not.
Even though it may seem counter intuitive, it can be a very cost effective solution because a pre-paid incentive has a much higher impact on response rate than a promised incentive.
On the other hand the promised incentive is usually interpreted as a "payment for the service". Which means that if you're targeting a high-end population, they might see it as a very low hourly pay, and won't take it.
Lottery Or Guaranteed Incentive
When it comes to giving away the reward, you could decide to deliver it to everybody, or use some kind of random algorithm to determine the winners.
Researches have shown that both types work the same, and will result in similar response rate.
One thing to point out though, is the fact that the lottery incentive could be less costly, but more difficult to manage and talk about.
We have now covered the different types of incentives, let's talk about the use case, and when to use them.
When To Use Them: Impact Of the Survey Incentives
There is one thing to keep in mind: your use case may not need any incentive.
Let me explain you.
If you're running a research survey, or churn survey for instance, in order to get to know your audience, and find out what prevented them from going further, the incentive might come handy and wouldn't impact the result much.
Besides this, if you're targeting a population of "non-responders" or very busy people, it would come handy. The same goes for a population which is not emotionally attached to your brand.
It would also make sense in case of a follow-up. If you haven't received any response to your first request, you could follow-up and use a bounty in order to increase the number of respondents.
Note that the incentive could also be plugged-in the follow-up email, if you haven't got any feedback with the first request.
However, if you're running anything involving your customer satisfaction, offering incentives may harm the quality of the feedback you get.
As a matter of fact, the customer is more likely to give a positive feedback, thinking it would mean a bigger reward.
Finally, if you decide to use an incentive, think about using a tool providing restriction to one answer per device or user, which will avoid getting spammed by scammers who want to scrap money.
You can also decide to go the gamified way, by offering things like lottery tickets, or any kind of incentive that isn't delivered to everyone, but based of a random probability.
Survey Incentives Ideas
Let's cover some of the example of survey incentives that you could use, based of your type of business and who your target is.
Gift Card Survey And Amazon Gift
Let's say you're running a premium application, it would make lot of sense to give a discount (voucher) for any upgrade. On the same topic, if you're running an online eCommerce business, you could give a voucher on the next order. You're not only giving back, but also increasing your likeliness of seeing your customer again. We could also imagine offering an Amazon Gift Card, or any kind of similar Gift Card.
Guide Or E-book
We are seeing more and more businesses writing their piece of content relevant to their field. Example: Fiverr writing about freelancing success. By simply not giving away for free, but asking for feedback first, you're serving both your company and your customer's interest. E-book is only one example, the point is to send a valuable file, document or book.
Money Voucher
Although you could feel like that one is costly, it is simply worth it! Feedback matters and they are worth money! They allow you to grow and reduce your customer churn, therefore making money over time. You could for instance give away 10 bucks sent through Paypal . Cold cash is the most effective way.
Personalized Message
We could also imagine offering a prank, or a message to invite to a special event we're running.
Whatever you choose for, it's important to use the reward as a way to show the value you're attaching to your customers' voice.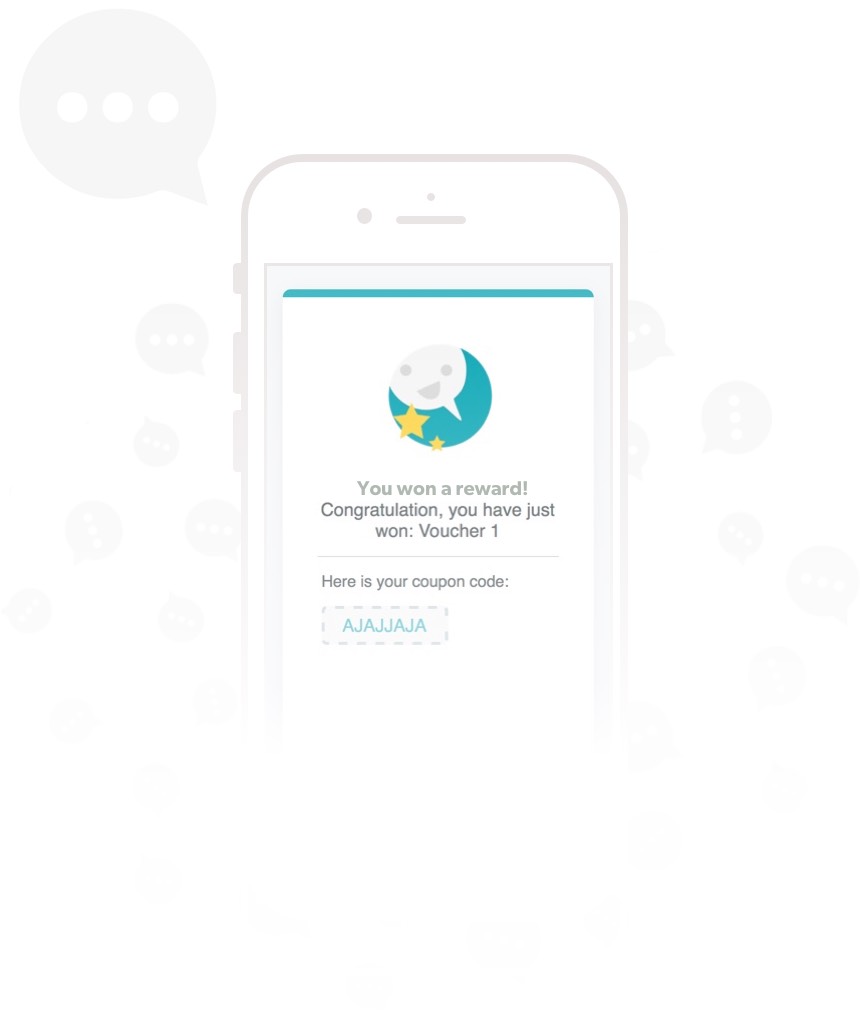 Survey Incentive Legal
When it comes to offering reward, there are three main things to keep in mind:
is it really necessary?
is it an appropriate prize?
does it comply with lottery laws?
First, you must comply with privacy law when collecting, storing and using personal information (name, phone, email).
Survey incentives are completely legal, even in the B2B world. But there are requirements that differ by state and country, so make sure to check with a legal professional to verify that you aren't breaking any rules.
Is The Prize Appropriate?
When offering an incentive, it is important to ensure that it isn't going to skew who participates in the survey. For instance, if you offer a public transport voucher, you are going to get a disproportionate number of respondents who use public transport, and those who live in areas without access to public transport who might otherwise have participated, may not bother.
In a nutshell, your bounty must resonate, provide value to your end target.
Try to pick something that would be of value to all demographics and locations, but not to big of a value!
Wrap Up
That's it for the incentives, it's your call now! It all boils down to the target, your audience, and your budget allocated to this survey.
If you're not sure about them, feel free to test two different panels of people with different incentives, or no incentive, and analyse the result. Look out for any biased result, "too good to be true" story, and duplicated answers.
Offering an incentive is here to help the response rate, but mainly to make the experience more appealing and show your customers that you value their time!
It's also a great way to boost the loyalty – because at the end of the day, if you offer a voucher or even a guide to educate, your customer is more likely to come back.
For a more step-by-step guide to craft your survey program, feel free to request our survey guide.
If you appreciated this tutorial, share it. Feel free to join the discussion in the comments.
---
Also published on Medium.