Customer service is all about making the lives of your customers memorable. It means answering questions from clients through different methods, such as phone, email, text message, and live chat.
Customer experience has become a key part of building brand trust and driving growth in the business world of today. No longer is it enough to just please your customers; you need to make them happy every time you interact with them.
Feedier helps with this. Feedier is an end to end platform for customer experience. It has a variety of solutions to help businesses receive customer feedback, analyze customer sentiment, and act on customer insights. Businesses can improve their customer service and gain a competitive edge in their industry by using Feedier's solutions.
Let's discover 7 qualities of a good customer service and how Feedier can help you get there.
1- Maximize your Interactiveness
Having responsive customer service will help to succeed your business by assisting consumers to find the best solution. Additionally, interactiveness might be vital when consumers will share positive or negative feedback, and this can help customers feel heard and valued. A responsive customer service will be beneficial, since consumers who are happy are more willing to respond and give feedback.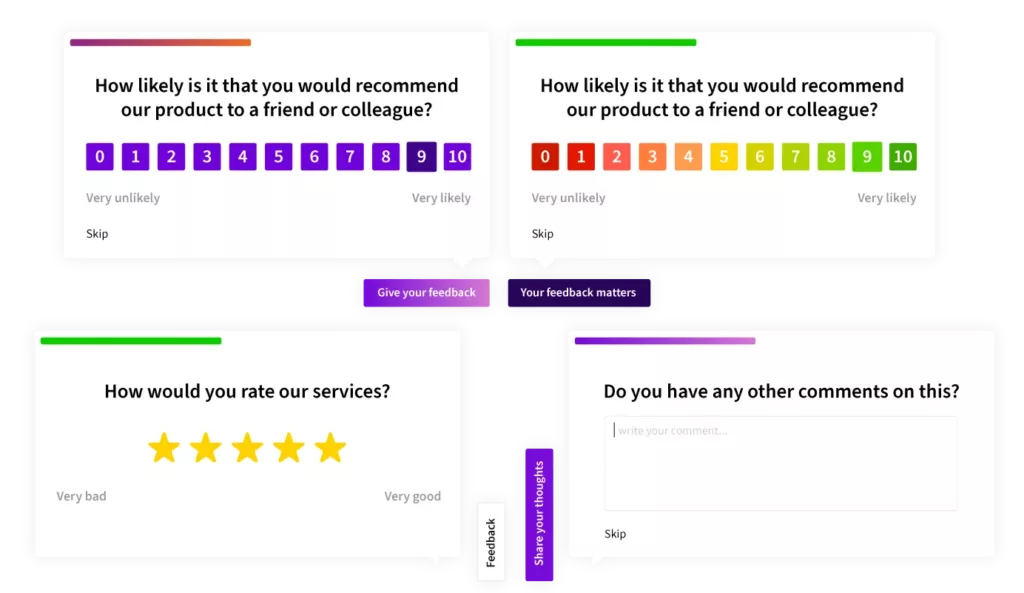 Along with having good customer service, it's important to ask customers for feedback at key times to make sure you're meeting their wants and expectations. With Feedier's secure widget, you can get feedback right from your website or web app, making it easy for customers to tell you what they think and how they feel. By asking for feedback at the right times, you can quickly see where your products or services could be better and make the necessary changes. With Feedier, you can make sure that your customers feel heard and valued while also getting useful information that can help you grow your business.
2- Collect the maximum of Feedback
It's important to let people give you feedback if you want to improve your customer service. It can be especially helpful for your business if it helps you find pain points and places where your product or service needs to be better.
An end-to-end customer experience platform like Feedier, which has a variety of solutions for collecting and centralizing feedback from customers, is a good way to improve customer service, thus customer experience.
With Feedier, businesses can easily collect and analyze customer feedback to learn more about how their customers feel and act.
For example, if a product is selling well but a lot of people are sending it back, feedback from customers who have bought it can help find ways to make it better and guide product development.

3- Create a Good Exposure
A company that provides exceptional customer service is more likely to reap the benefits of their efforts. Due to advancements in technology, consumers now have several alternatives for disclosing their opinions about a firm to a global audience. In order to attract new clients, companies may encourage customers to post a public evaluation of their customer service experience.

Good customer service can also help your business get more known on its own through word of mouth. People tend to talk more about good experiences with others who might be interested in your product or service. This can create qualified leads and increase sales.
4- Build Inclusiveness
Inclusiveness may improve your customer service operations by ensuring that all professionals are confident to do all required jobs. As a manager, you need to publicly express appreciation and motivate staff about their work with customers. This can encourage your staff to give exceptional customer service by fostering a sense of self-confidence and encouraging initiative. Employees that feel inclusive will also assist the clients feel inclusive and that will increase customer retention.
5- Be the Top of Mind in Communication
Customer service relies heavily on communication since it is the foundation of all interactions with clients. Every customer service representative would better handle issues if they received proper training with a variety of real-world situations. 
The ability to communicate effectively requires the ability to pay attention and actively listen. Your customers will thank you for this, since it will help you better understand what they're saying.
6- Have Transparency
Employees who work in customer service should be honest with the people they are helping. This could help make these interactions better. Every person who works in customer service needs to be honest at all times. Even when they don't know the answer.
This will keep the client up to date as the conversation goes on.
It will always create positive feedback and better customer service experience.
7- Always Do More than Expected
Always make better experiences and make sure the customer thinks it will be normal, so he knows you care about him and his needs. Exceeding expectations is an important part of customer service because it can make people happier. This will help them get to know the people they help on a personal level and build long-lasting, good relationships, which may help them keep customers.
Wrap Up
It's important to understand that customer service is a key part of every business. Working on improvements all the time to give the best experiences and customer service will give you a lot of credibility in the market, which will boost your sales and help your business grow.