Offering products or services to consumers is totally different from having another business as a client. But just like in B2C businesses, getting quality feedback from your clients is an essential competitive advantage to make sure that you are satisfying their needs. The best way of getting that intelligence is to ask them directly.
However, it's kind of complicated to ask them for their opinion individually after every single business interaction you have with them. This is where a B2B Feedback Form comes into the picture.
4 reasons why Client Feedback is important
Keep track of market trends
Keeping up with market trends is never easy, you've got a business to run after all. However, It's important to acknowledge that the industry is ever-changing, and in order to stay ahead of the curve and avoid competitors passing you by, you need to be able to follow up with the latest changes.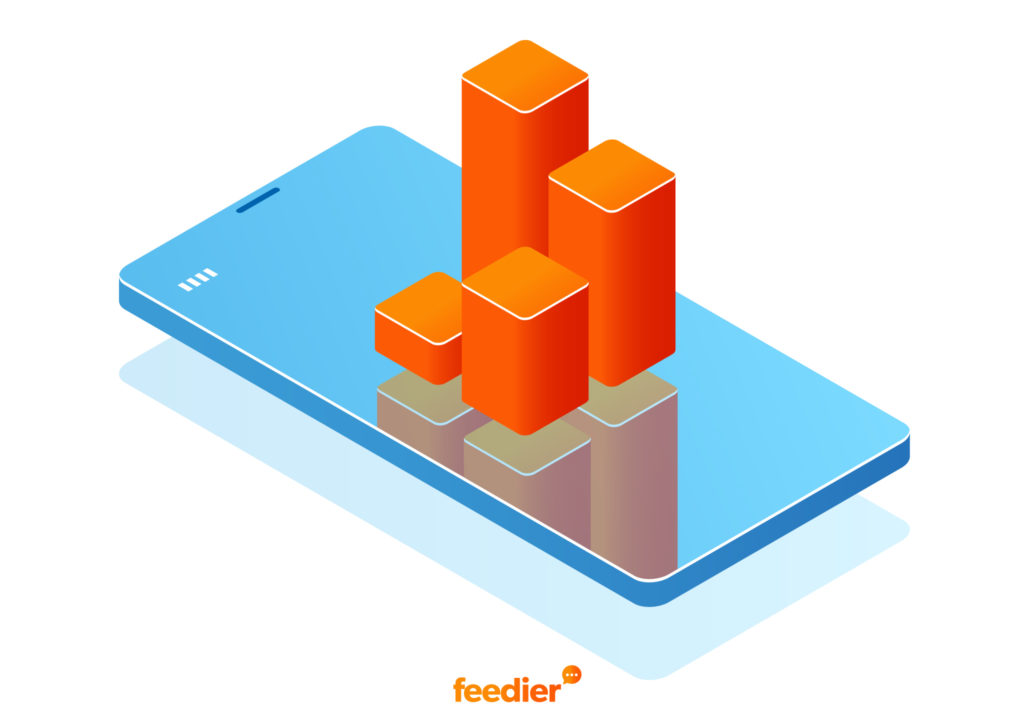 Want to kill two birds with one stone? listen to your clients! On the one hand, they are also professionals who run projects, teams and they probably have more to add to the table than you think. On the other hand, asking your clients questions about what should be improved is the best strategy to fully understand what they have in mind and what their expectations are.
Cost of client retention vs cost of client acquisition
Your current clients are a huge asset to your business, especially in times like these when leads can be hard to come by. It's more important than ever to maintain a strong relationship with your past and existing clients so they stay loyal to your business.
One customer experience agency found loyal clients are 5x as likely to repurchase, 5x as likely to forgive, 4x as likely to refer, and 7x as likely to try a new offering.
Instead of spending all your time and money on chasing down new clients, you can also focus on nurturing the ones that you already have. And, what's a better way to that than making them feel valued and heard?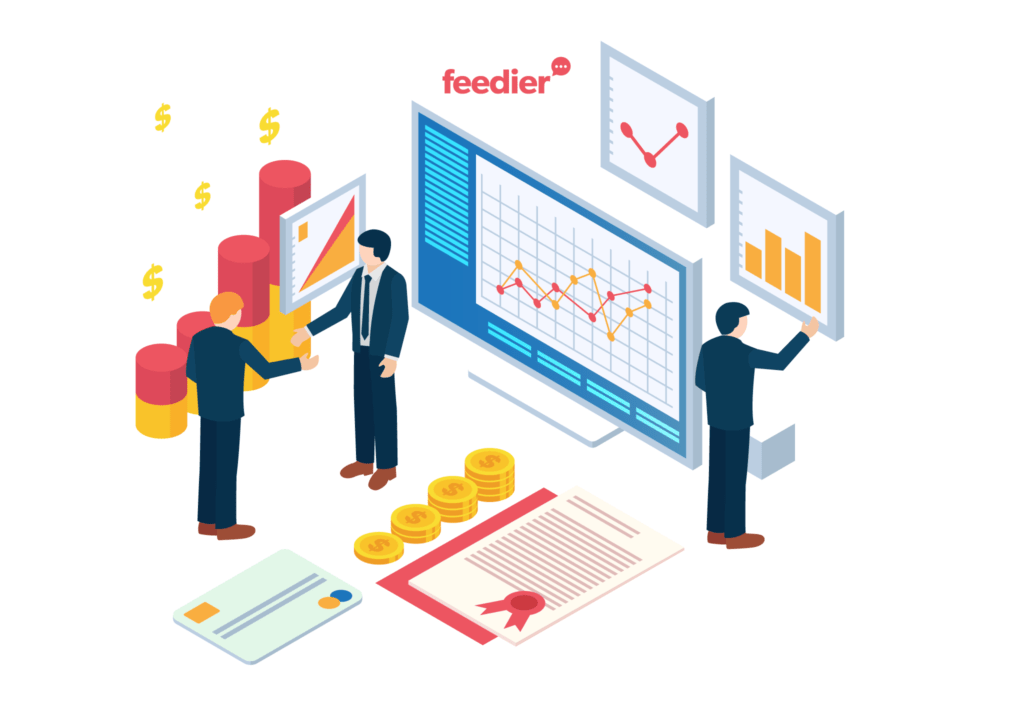 Asking for your clients' Feedback is one of the most effective ways to gain their loyalty.
A never-ending cycle of improvement
Gathering Feedback is important, but creating a Feedback loop is the key to offering personalized experiences, amazing perks, and quality products over time.
It is the strategy that allows you to implement a constant products and services improvement workflow driven by the clients' opinions and suggestions. It is considered as one of the most effective ways to enhance your offer in accordance with your clients' satisfaction.
This follows the same logic as Eric Ries' method called "The Lean Startup". This revolutionary approach makes it possible to constantly adapt its offer but also its business to market developments, following the principle of continuous innovation.
Thus, as time goes on, you will be able to see your progress and its impact on your company's growth. In a nutshell, a feedback loop is a never-ending cycle of improvements.
Go further and learn how to create a Feedback Loop here.
Boost your client satisfaction
Asking your clients for their Feedback is a form of motivation that helps to build a long term relationship with them. They will feel valued which will encourage them to share their honest opinion on your products and services.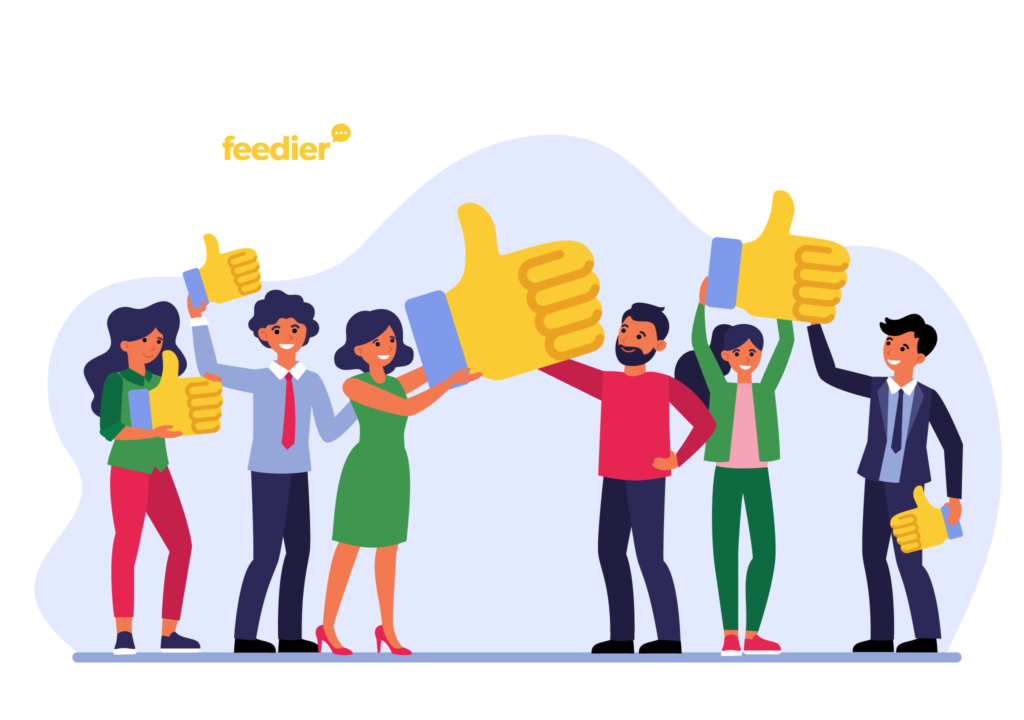 When adequately used, this feedback helps your business gauging and maintaining the satisfaction level of its clients to the top. In this case, your clients are more likely to order more. Consequently, you will be more in contact with your clients and get closer to them.
In particular, this client proximity becomes a key asset in building up a healthy, sustainable relationship to eventually reach the ultimate client satisfaction.
The 4 steps that will get you effective Feedback from B2B clients
Now that you know how crucial clients Feedback can be to your business, here are 4 simple steps that will help you get their feedback in an engaging and gamified way.
1) Create a highly engaging Feedback Form
Your B2B clients are most certainly always busy and don't have time to lose on boring and long surveys. If you want them to give you your feedback, you need to attract them and to give them a reason to answer all of your questions. That's why surveys don't do the trick anymore.
The solution? switch to Feedback Forms! They are interactive, gamified, and go straight to the point. Make sure to use an engaging feedback management platform like Feedier to provide a great experience. Want to create an outstanding Feedback Form? Here are the steps that our experts recommend.
Measure satisfaction:
Start off the form by giving the opportunity to the client to rate different aspects of your company. Make sure not to use more than 6 ratings as they are what your participants will see first. This step should be quick and concise, less words mean a better gut reaction. For example, you can ask the participant to rate:
Professionalism
Value for money
Reliability
Performance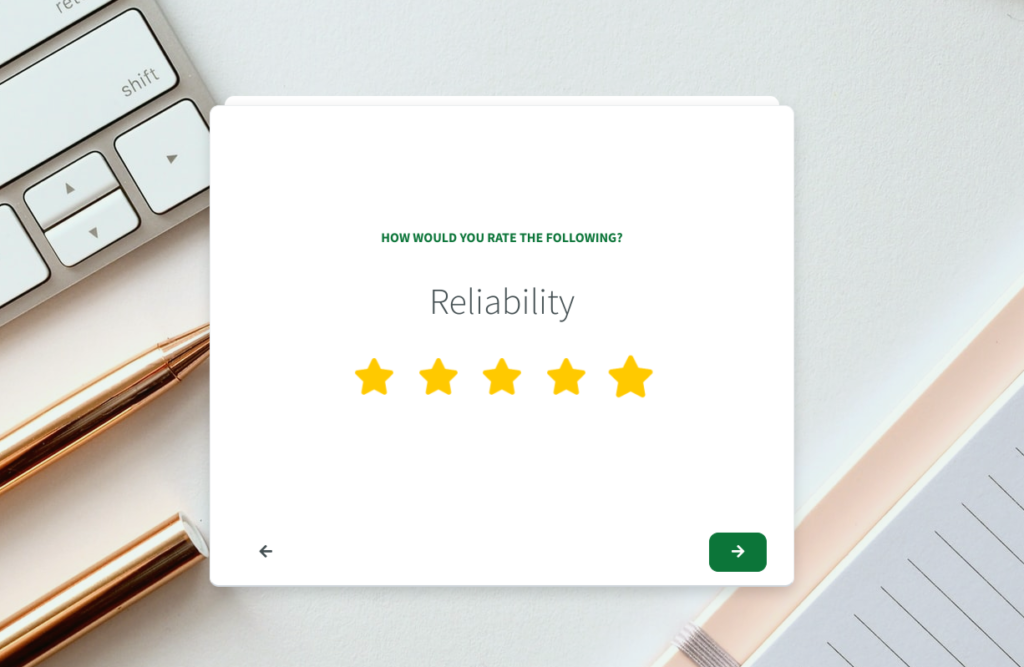 Get quality data-insights:
The form's most important part is the Questions, as they allow you to get valuable insights and precise ideas on what is working well and what's not. Want to make your form fun and engaging? Here is some advice to you:
Use logical conditions to ask the right question to the right client.
Use different types of questions: NPS, Yes/No questions, Image questions and avoid the text ones as much as possible. Whenever the participant has to type, data is harder to analyze and the completion rate goes down.
Limit to a maximum of 10 questions.
Use GIFs and nice descriptions to make the questions interactive and clear
Here are some questions examples that you can use:
How long have you been our client?
In general, how well do we meet your needs?
What made you choose us over one of our competitors?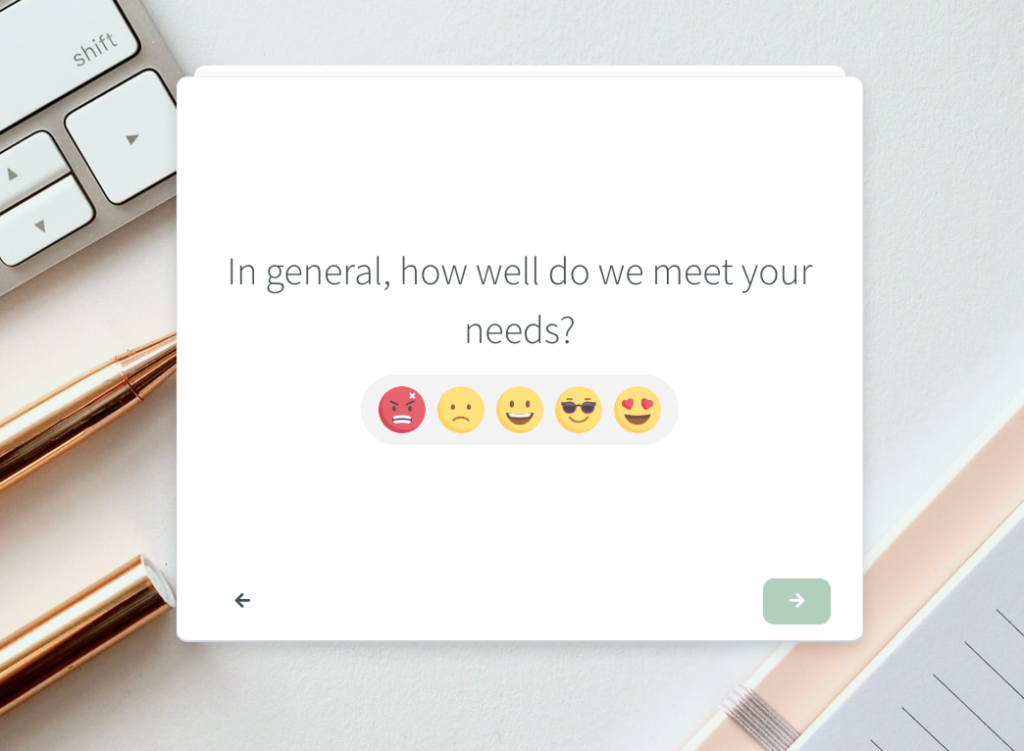 2) Share your form with your clients
Creating engaging surveys that are interactive and gamified surely helps to get higher response rates. Yet another way to ensure high completion rates for your forms is by sharing them across multiple channels.
The more the channels, the better visibility your forms will enjoy. Using diverse channels allows the respondents to pick the one that is the most convenient to them.
With Feedier you can benefit from 8+ automated channels, here are the most convenient ones for your "B2B Clients Feedback Form"
Email campaign: Send customized emails directly through Feedier to reach your client's inbox.
SMS campaign: Send customized SMS directly through Feedier in order to collect Feedback right from your client's phone. Feedier will take care of the deliverability.
Workflow automation: Build unlimited integrations with apps like slack???
QR code: The QR code method is an easy way for you to share your Feedback Form to the "real world". Any client can scan it and give a Feedback from a smartphone. So it can be printed anywhere on the company's material.
3) Analyze your clients answers:
Now that you collected the data, it has to be analyzed. This step will help you uncover what makes your clients happy and what they want to be changed or improved. Work on those changes and improve your company's products and services.
Some helpful Tips
Tip #1 – Use text questions as less as possible because they are hard to visualize and drop your completion rate. Prefer options, smileys, and ratings question types that can be easily visualized with graphics.
Tip #2 – Always pay attention to the context (date, country, agency…), it brings key information and makes data a lot more reliable.
Tip #3 – Benchmark your responses and satisfaction internally according to the context (Manager 1 vs Manager 2 or Client A vs Client B).
It is important to use a platform that allows you to dig deeper into the collected data by providing you with detailed statistics and charts. For example, Feedier comes with extended reporting tools including pie charts, bar graphs, advanced filters, tags, keyword managers, and Excel exports.
You can also get a complete summary report of all your collected data in one single PDF that you can generate per department, form, time period, user…
Go even further with Feedier and assign the right Feedback to the right person in your team. They will receive an email containing a link that allows them to view all the information and details concerning that response. This is the opportunity for you and your team to act faster and to divide the tasks effectively.
4) Repeat
Gathering Feedback shouldn't be a one-time process. It is a long-term procedure that needs to be implemented periodically. Using a client Feedback software like Feedier that helps you send automated client pulse forms will save your day.
You won't need to waste your time and efforts on repeating the same tasks; the platform can completely automate the process of sharing pulse Feedback forms. Thus send forms, analyze responses, follow-up, and engage with clients and repeat the process periodically.
Long story short…
You may never expect this but the best people who can promote and sell your products and services are the ones who actually use them. A good word of mouth goes a long way for B2B companies.
Remember, clients are the key to help you explore your potential and improve the overall service. Implementing a process that is suitable for getting useful feedback from both current and future clients is crucial for your growth. Ultimately, great client relations improve the way your business works.
Create efficient communication channels and focus on retention to get the most out of your B2B clients. Also, make sure to choose the right platform that will allow you to get the best experience for your clients and your teams.
Make the most out of Business Experience today