Had it not been for real time communication or a detailed feedback form, you would have found it difficult to identify your customer's pain points.
We've become a part of a customer-driven market that survives on understanding customer pain points and needs, as they help a business become a brand. Once you identify these pain points, you get the opportunity to customize your services accordingly.
This results in improving your existing products and services, and let's not forget a satisfied customer in the equation. The key here is to actively, not proactively capture customer feedback and stay connected throughout their journey with your brand to achieve such results.
If that's the goal your brand wishes to achieve, then this piece is for you.
Without further delay, let's dive in!
What Are Customer Pain Points?
Customer pain points refer to one or more problems your customers and prospects face about your brand offerings and services. These issues make it difficult for your customers to utilize your products or services to their full capacity. The pain points violate the value proposition you promised them at the time of purchase.
For example, your customers love using your mobile app security testing tool, but they find it hard to configure and complete its setup. Then, "configuration and initial set up" are the two pain points.
Now, your mobile app security testing tool might be tremendous and super-impressive, but if it is hard to configure and initialize, you have a big problem!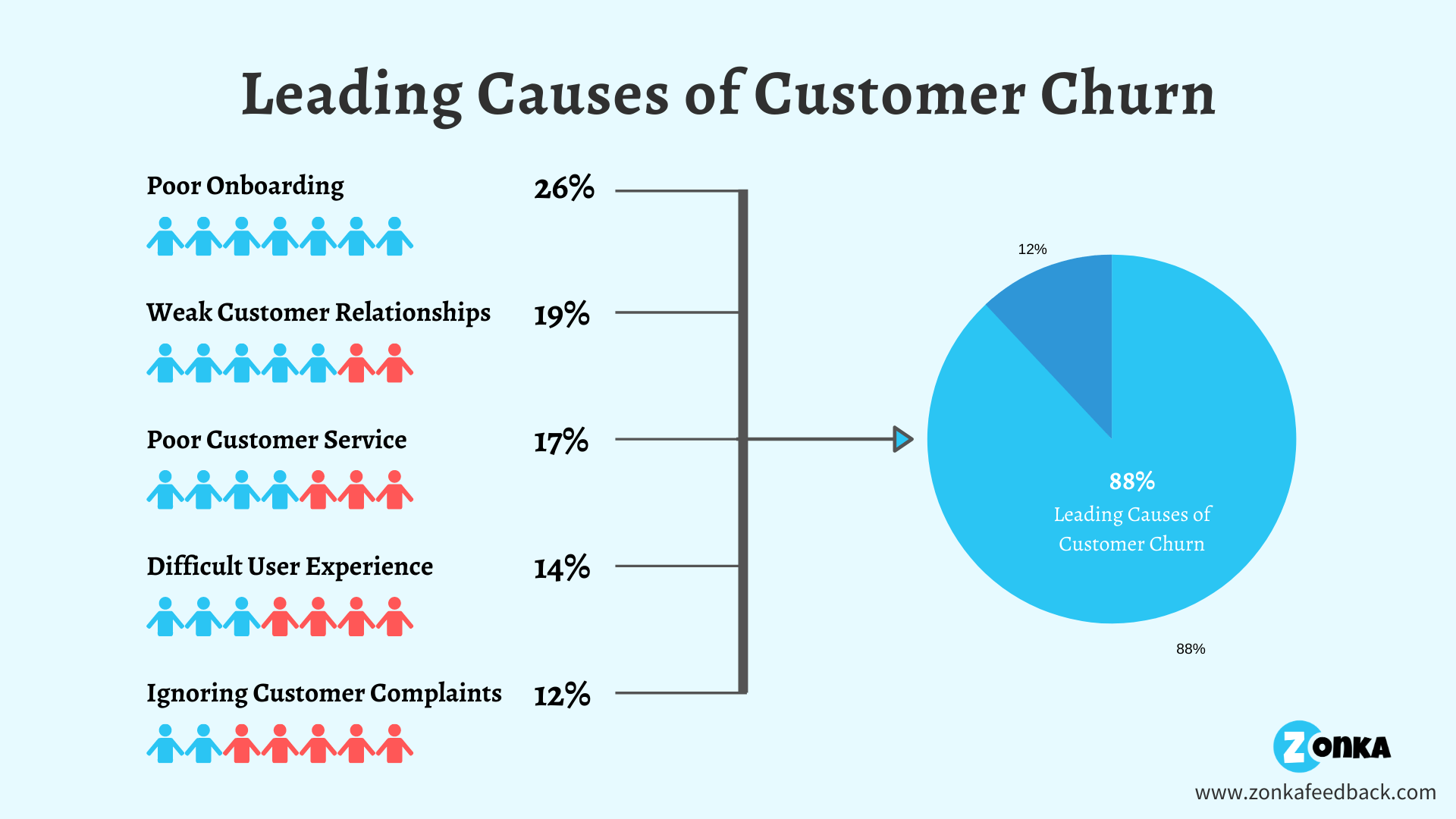 Your customers might leave the feedback online, which might sway the interests of your prospects and make your competitors build upon the wave.
So, what can you do about it then?
The answer is simple – gather proactive customer feedback and identify these pain points before they turn into doom.
Let us have a quick study of different types of customer pain points as we move on.
Types of Customer Pain Points
Process Pain Points
The process pain points are a result of sub-optimal processes that cause friction or pain to your customers.
For example, your customers have to browse tens of pages on your website to find a user manual. Or, your customers being able to contact your support only on weekdays, from 9 am to 5 pm.
While these situations might not be a pain point, they lower the quality of customer experience, according to you.
For example, excellent and timely support is a business must-have. Even if your team is on-off, you must have chatbots or virtual agents with self-service modules to offer a seamless CX.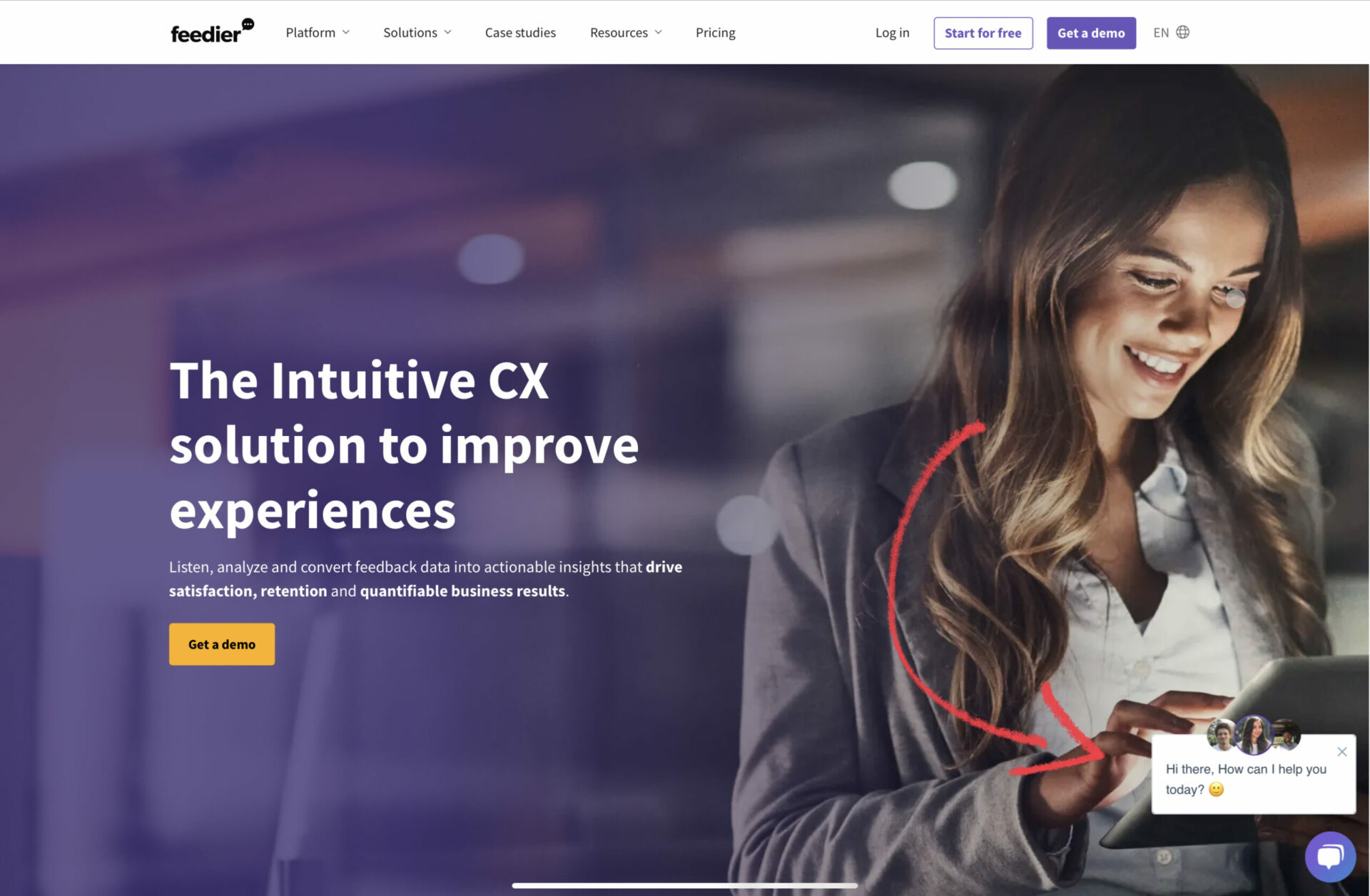 Further, convenience is an essential ingredient to customer delight.
If your customers find your process ideology too difficult or rigid, 74% of them will replace you with brands that offer convenience and optimized processes.
As no one tells you better about the challenges customers face other than the customers, it is essential to talk to them. Or, you can do a thorough pulse check from time to time for uncovering process pain points.
Support Pain Points
Support pain points exist when your customers cannot find the right support at the right time, such as during a purchase. Suppose a customer is trying to find a red lipstick for his wife on your eCommerce portal. As a male, he is not familiar with the options and seeks support staff to help out.
He is going to look for that red lipstick on some other website. Flaws in your support ruined his customer experience, and now he has left you!
Sephora is the epitome of operational excellence in this regard that offers impeccable customer support with zero lags. Take a look at how the brand leverages chatbots for helping customers overcome pain points in support:
While investing in cutting-edge technology is not the right solution for every brand, leveraging the existing resources to achieve operational excellence in support is a must!
Always ask for customer feedback or do a follow-up once a query has been resolved. Ask the customer to rate the overall experience and figure out what they say about your support quality. Taking aggressive feedback is just a job half done if you don't act upon it and resolve the customer pain points.
Financial Pain Points
Financial pain points refer to the intent of cutting expenses when your prospects are spending way too much money on the services or products of their current vendors.
In simpler words, these are money-related pain points, such as:
Paid add-ons for every feature
Expensive subscriptions or membership fees
Hidden costs added to the order amount at the time of checkout
Lack of transparency in pricing
Offering competitive pricing or combating your prices with an excellent product or service can keep these pain points in check.
Productivity Pain Points
The productivity pain points are all the problems customers face with the overall CX with your website or brand offerings. For example, when a customer wants to be more efficient in purchasing but cannot do so because of redundancy.
Removing redundant steps and friction in your buying process is essential to offer streamlined customer experiences. You can achieve this by having fewer steps in the checkout process and intelligent, automated routing for support.
However, resolving productivity pain points is also about making your business more productive to curate delightful customer experiences.
So, you have to focus on multiple business aspects for resolving customer pain points:
Optimize Productivity
How can your products and services help your customers be more efficient and productive? You can empathize with this wish of making better use of time, which is of immense importance in the digital age when we are offline only when we sleep. So, if you can offer products and solutions for efficiency and time management, you can align well with the customer's expectations.
Increase Convenience and Comfort
As mentioned above, convenience is something that customers are willing to spend more on.
When you offer positive, delightful customer experiences, your customers convert better and turn into loyal brand advocates. Comfort and convenience are the two most common customer pain points that can affect the overall CX.
How to Identify Your Customer Pain Points?
Conduct Surveys
A survey is the quickest way to find anything and everything that is wrong with your business. Surveys help you identify customers' pain points by offering a direct glimpse into your CX and the problems your customers are facing.
An intuitive survey paves a robust journey map for customer success, apart from offering deep insights into customer behavior, intentions, and satisfaction levels.
Keep the surveys short, simple, and relevant to customer segments to keep survey fatigue at bay. You can also conduct small pulse surveys to determine the overall customer sentiment and find customer pain points.
Capture Customer Feedback
Gather, process, and learn from customer feedback collected proactively and aggressively. Ask your customers for their input in various forms, such as comments, reviews, ratings, and overall product experiences. Now, leverage automation and data analytics to process the feedback and uncover customer pain points.
This guide will help you to find the right channel to collect Customer Feedback
You will be surprised how much you can learn about the effectiveness of your products in the real world via a simple comment. Collect feedback regularly to ensure that your products and services never falter in the light of ever-evolving customer expectations.
Not to forget, organizing your data is really important to make this feedback actionable. Here's a video we've made for you.
Conduct Qualitative Market Research
Qualitative market research provides an in-depth understanding of detailed customer responses to your questions about pain points. While quantitative market research focuses on the "yes or no" aspect of service, qualitative market research identifies "what, how, when, etc."
Also, you need to ask the right questions. Go for open-ended questions to gather a wider customer opinion and to shed light on their experiences.
Some examples of questions that can identify customer pain points in qualitative market research include:
How many hours do you use your mobile each day?
How many hours do your employees spend on their phones?
How many projects are generally going on simultaneously in your company?
Study Customer Support and Sales Data
Your sales and customer support team are on the frontline of your business and have direct interaction with your customers. So, from "I was surprised to see that extra amount added at checkout" to "I like your product, but it can be a bit cheaper," they get to know customer pain points in various forms.
Tapping into customer data from sales and support can offer valuable insights into the CX and enables you to uncover pain points.
Questions That Can Identify a Customer's Pain Points
Asking the right questions is one of the best ways to uncover customer pain points. This overrules any assumptions about the CX, and your preconceived notions don't influence your understanding.
Below we share examples of questions that can identify customer pain points during sales qualification and later.
What are your gripes concerning division or company growth?
Pain point question target: All prospects
No matter how big or small, every customer wishes his company to grow and every division to shoulder that growth. Anything that hampers this at any level is one of the most significant customer pain points.
Such a thoughtful analysis of the current situation of your prospects also helps you understand their requirements better.
Some other examples in this category include:
How are you planning to deal with the "X" pain points?
Do you have any deadline to solve this pain point?
Do you think it is easy or hard to solve this pain point?
Why are you losing deals?
Pain point question target: Managers and Individual contributors
This question can uncover customers' pain points (process, productivity, and positioning), especially in the sales department.
Tailoring your products or services to promise operational excellence while tackling the pain points allows you to win these customers' pain points.
What is repeatedly discussed in all meetings of senior management?
Pain point question target: Senior management and leaders
The enterprise leaders have more severe pain points that must be addressed for keeping the company alive and kicking.
Often referred to as business pain points, you can uncover them by asking questions such as:
What are your quarterly planning agendas?
What is the gripe of senior management that keeps them from sleeping?
What are the company emails mostly about?
What consumes the major part of your days?
Pain point question target: Managers and contributors
These questions allow you to ask your prospects about the business pains they have and how it impacts their teams. Examples include – Would these solutions help them save two or more hours per week? Can they reduce the time spent in meetings with your solution or not?
These questions let you dig deeper into the CX and find out the hidden itch factors affecting the same.
What do you think your manager is obsessed with?
Pain point question target: Contributors
Identifying customers' pain points also requires digging deeper into the organizational hierarchy, speaking to someone with direct contact to sales and customers. Also, we recommend getting them involved in the conversation in the early stages.
10 Common Customer Pain Points & Tips on How to Resolve Them
Sluggish Support
Fast response and quick resolution are critical drivers of customer experience. Nothing frustrates your customers like staying in a long queue just to get help. Delayed support responses are one of the significant challenges customers face.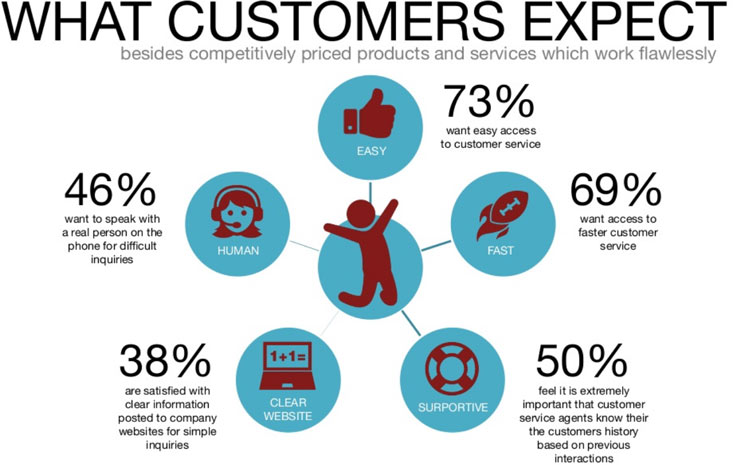 It also affects overall customer happiness, which negatively impacts your brand reputation and equity.
Resolution Tips:
Respond and solve all customer issues quickly
Leverage automation (co-browsing, live chat, chatbots) to deliver timely and efficient support
Offering Inaccurate Information
Always remember that your customers are looking for good, accurate, and timely support. If your customer service staff offers wrong or outdated information, your customers feel highly incompetent in your enterprise culture.
Resolution Tips:
Ask your customers whether they are willing to stay online while your support rep escalates or ask for self-service modules.
Foster a culture where new or inexperienced support staff doesn't hesitate in contacting the higher-ups for the right information.
Inconsistency Across Support Channels
Inconsistent customer experiences affect the customer experience and are a significant frustration for 65% of your customers. No matter what communication channel they are using, email, SMS, call, social media, or live chat, there should be no gaps in support.
An in-depth understanding of the recent shifts in the customer purchase landscape allows you to design better and more streamlined experiences.
Resolution Tips:
Understand the customer needs and articulate the CX goals of your enterprise to align with them.
Deliver consistent support and service on all the customer channels.
Not Listening to Your Customers
Now is an age when you need to listen to the passive and random brand mentions, let alone the active mentions or tags on social media. While 91% of your customers choose to silently walk away, instead of seeking support to fix the customer pain points, if you don't listen to the proactive mentions, you are on a sinking boat!
Not listening to your customers makes them feel undervalued and detached. They wish to invest in a brand that pays attention to them even when they don't have anything serious to report.
In terms of listening to the Voice of the Customer, asking for feedback, and understand the data you get, we've made a video that covers the topic right below.
Resolution Tips:
Leverage automation for social media monitoring and sending automated responses.
Offer quick online forms to submit queries that convert into tickets and get allotted right away.
No Support Available
Absence of support when they need it the most is one of the biggest causes of customer pain points. During holidays, the orders are piling up, and all your human agents are looking for some time off the job. While they are away, you cannot just let the calls ring with no help for your customers at all.
Your customers expect a support readiness from your brand, especially during crunch times, like COVID-19. If you are absent when they wish to know which one of your stores is still open, you are choking your CX with your own hands!
Resolution Tips:
Deploy chatbots for automated responses and offering self-service resources.
Invest in ML-based chatbots that can learn and adapt to pain points in customer interaction.
Poor Quality of Offerings
While you might get away with one or two absence episodes during a support session, offering poor-quality products is your pathway down South. You cannot afford to overlook product or service quality when you have 100s of other businesses to take your place.
Poor quality brand offerings increase customer churn, kill the CX and customers' trust in your brand.
Resolution Tips:
Gather customer feedback via surveys that reveal customer pain points and work on the shortcomings you find there.
Create a business model that spearheads your value proposition with passing the time.
Hidden Costs
Would you like it if your developer asks for a raise or resignation approval while you are right in the middle of a crucial project? NO!
Likewise, your customers will not let you get away with the hidden costs that suddenly appear at the time of check-out. High delivery charges, surcharges, or high delivery charges for specific locations – these are some major eCommerce customer pain points.
Resolution Tips:
Be upfront and transparent instead of being sneaky and dropping the hidden-cost bomb right when checking out.
Do thorough market research to see whether your prices are competitive enough or not.
Lack of Product or Service Knowledge
Your customers expect your support staff to offer the most updated and detailed information about your brand offerings. While the support staff might not have the technical expertise for such queries, you must equip them better.
Your customers will lose trust in your brand when they see that your staff lacks proper understanding or knowledge of your offerings.
Resolution Tips:
Invest in customer tools that facilitate real-time escalation without instance change.
Have a self-service knowledge repository where the support staff can find answers to such specific technical queries.
Complicated Pricing
Customers have left the legacy solutions and service providers because of the frustrating add-on purchases they have to make. Such complicated pricing models affect the overall customer experience and birth financial pain points.
After all, what is the use of buying your help desk if your customers have to pay for every other feature, even after getting a custom plan?
Resolution Tip:
Formulate your pricing plans keeping the scaling requirements in mind.
Market research for price competitiveness and customers' purchase capacity is also essential.
Complicated Purchase Process
A smooth, easy to navigate, and optimized UI is the key to clean and effortless CX that drives customer happiness. If your website UI or UX is poor and the purchase process has redundancy, 87% of your customers will leave filled carts.
This will add to your operational costs as you have to work on your cart abandonment as well.
Resolution Tips:
Have sleek and straightforward UX with easier signup and check-out processes.
Offer multiple payment options and keep the payment as hassle-free as possible.
Tools That Can Help You Identify Customer Pain Points
Feedier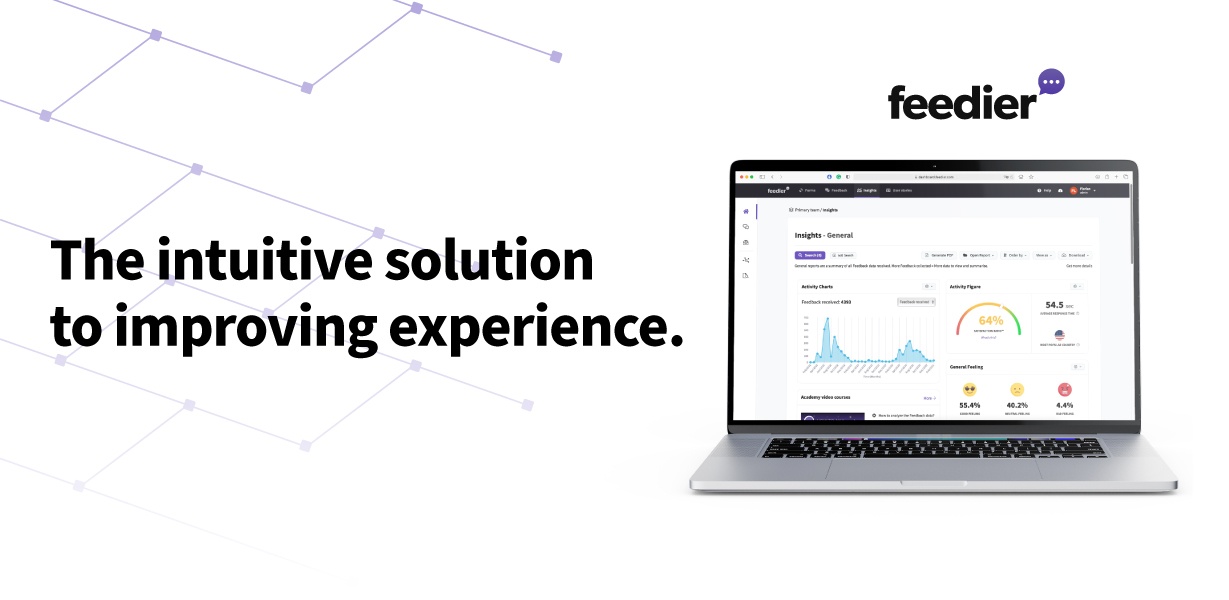 Feedier is a powerful solution to measure and analyze user experience with numerous intuitive features to discover customer pain points and resolve them. It helps you boost your CX, avail business intelligence, get qualitative data and equip your human resources with cutting-edge insights.
Unique Features:
Event-based feedback
Real-time KPIs and intuitive analytics modules
NPS and Feedback Collection
Voice of Customer analysis
Pricing: Available on call.
ProProfs ChatBot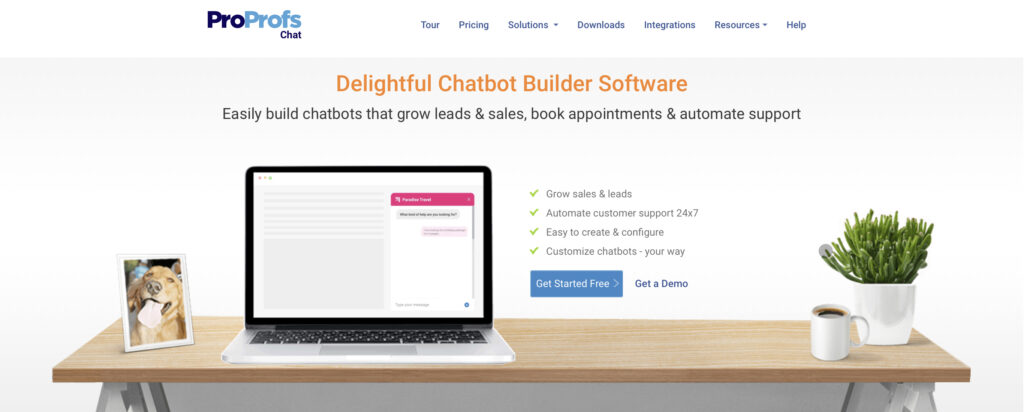 ProProfs ChatBot is an easy-to-use platform to build and configure chatbots to fuel your business growth and grab more leads efficiently. It automates your customer support and helps you to be online 24X7. Easy customization, easy configuration, AI capabilities, and open-ended questions are some powerful USPs it offers.
Unique Features:
Ready-to-use template
Query escalation and routing
Drag and drop editor
Easy-to-use chatbot builder
Pricing: Plans start from $499/year.
Zendesk

Zendesk offers impeccable customer support via various channels – Email, voice, mobiles, and social media. It comes with complete data reporting, has a simple UI, and generates custom tickets. You can create multiple support request forms for easy feedback collection.
Unique Features:
Multiple channel support
Reports & Analytics
Highly Scalable
Extremely flexible
Pricing: Paid plans start from $5/agent/month.
Shifting the Paradigm: How to Solve Customer Pain Points?
While most of your efforts are dedicated to identifying customers' pain points, directing some of them towards helping customers overcome pain points is also a must!
After all, gathering the understanding of what ails your customer experience is just a job half done. You have to focus on digging deeper and toiling for transforming your business operations and offerings as per the pain points. Show your customers that you care and constantly learn from their feedback by surveying them.
Remember that an unrelenting spirit to deliver nothing but happiness and customer delight will bring unbeatable operational excellence and steer your business towards sustainable growth.
Hence, start following the tips shared here and find customer pain points to resolve them before your customers find your replacements!
Author's Bio:
Vineet Gupta is an internet marketing professional who likes studying Google search algorithms and helps businesses improve their online presence. In his free time he likes to play cricket and watch movies. Connect with Vineet for more engaging conversations on Linkedin.
Make the most out of Business Experience today