Today, customer experience is fundamental when it comes to any company's growth. Listening to the Voice of the Customer is a key element if you want to improve your product or services.
You have certainly heard it before, "your customers are your best ambassadors", they really are your best salespeople.
Users who are fans of your products will recommend them to people around them. They will be able to convince their friends and family to buy your product.
And that's the goal of any business, to turn a customer into an absolute fan of your brand!
In this context, companies tend to set up a feedback management strategy in order to know their customers' opinion and to measure their satisfaction ratio.
However, many companies tend to collect a lot of feedback without knowing how to make the most out of this data.
All this data is collected from different parts of the company through different teams, but it is never combined. This makes the feedback non-actionable and ultimately useless.
A lot of data is not used
Today, almost every company collects feedback. Either from their customers, employees or users. This data is very valuable in helping to generate the experience that they expect to give.
However, the biggest issue that organizations face during this process is that every department collects feedback individually.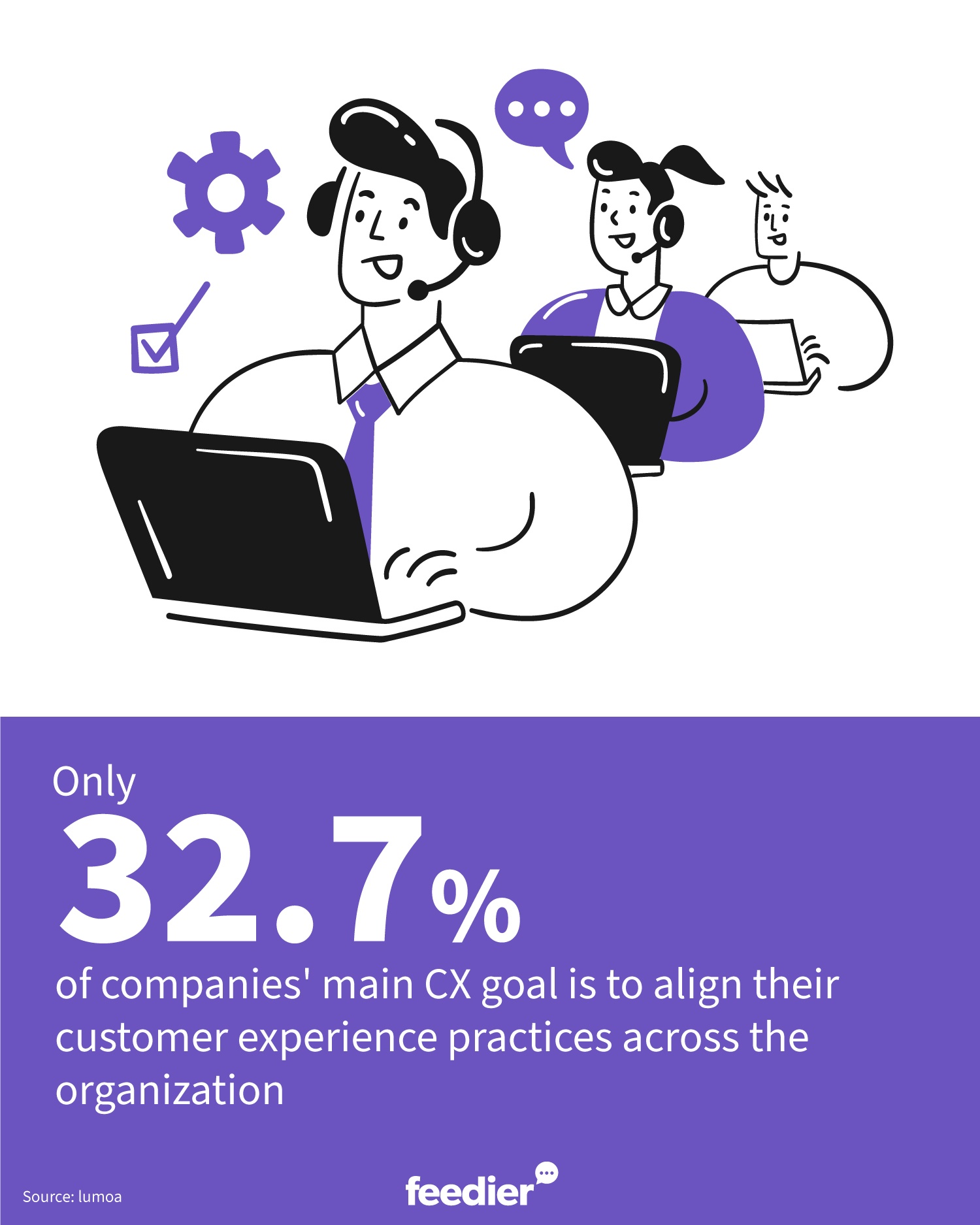 The marketing department is interested in collecting data about their new campaign, the customer success department wants to get feedback on the onboarding process, and the product team needs data on the UI…
The quantity of the data collected is, therefore, massive. The bigger the number of feedback, the harder it is to analyze it and make the most of it. What's the point of having the information if you don't know how to use it?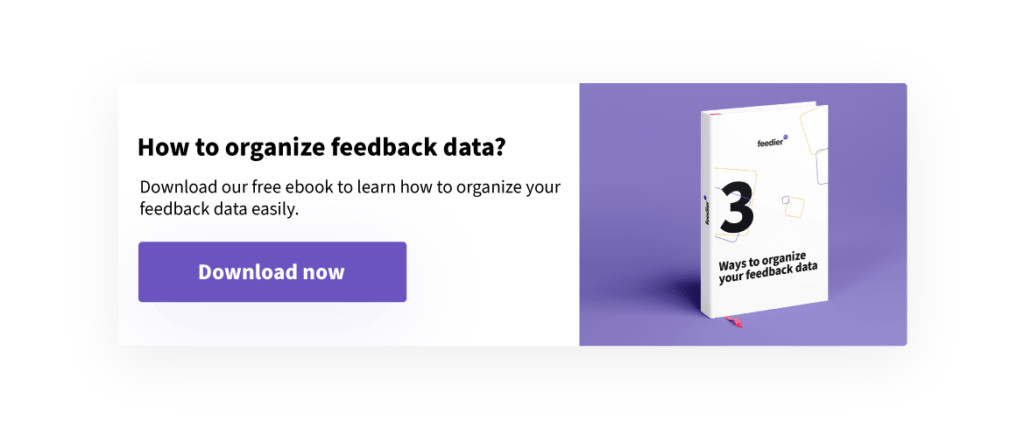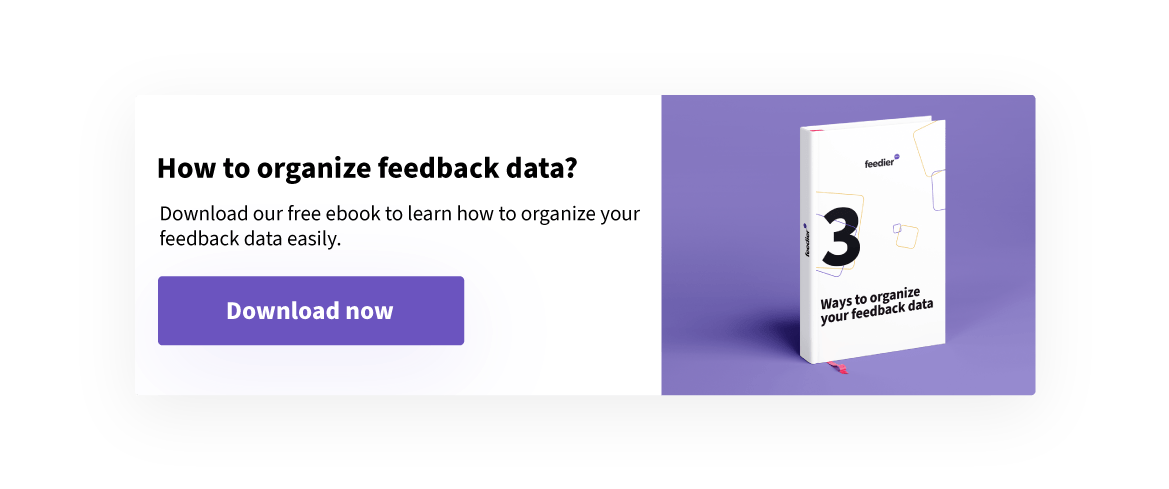 What companies must understand is that feedback collection should follow an effective process that brings valuable feedback data from different departments in one place, in order to get a more holistic view of the user journey.
Your team's reactivity is crucial
In the digital transformation era, speed and scale are of the essence. Competition from other businesses is also at its highest.
Customers are not going to wait around for you. If they are not completely satisfied with your product or service, they will churn and go to your competitors instead.
That's why the real-time aspect of treating customer complaints and requests is crucial!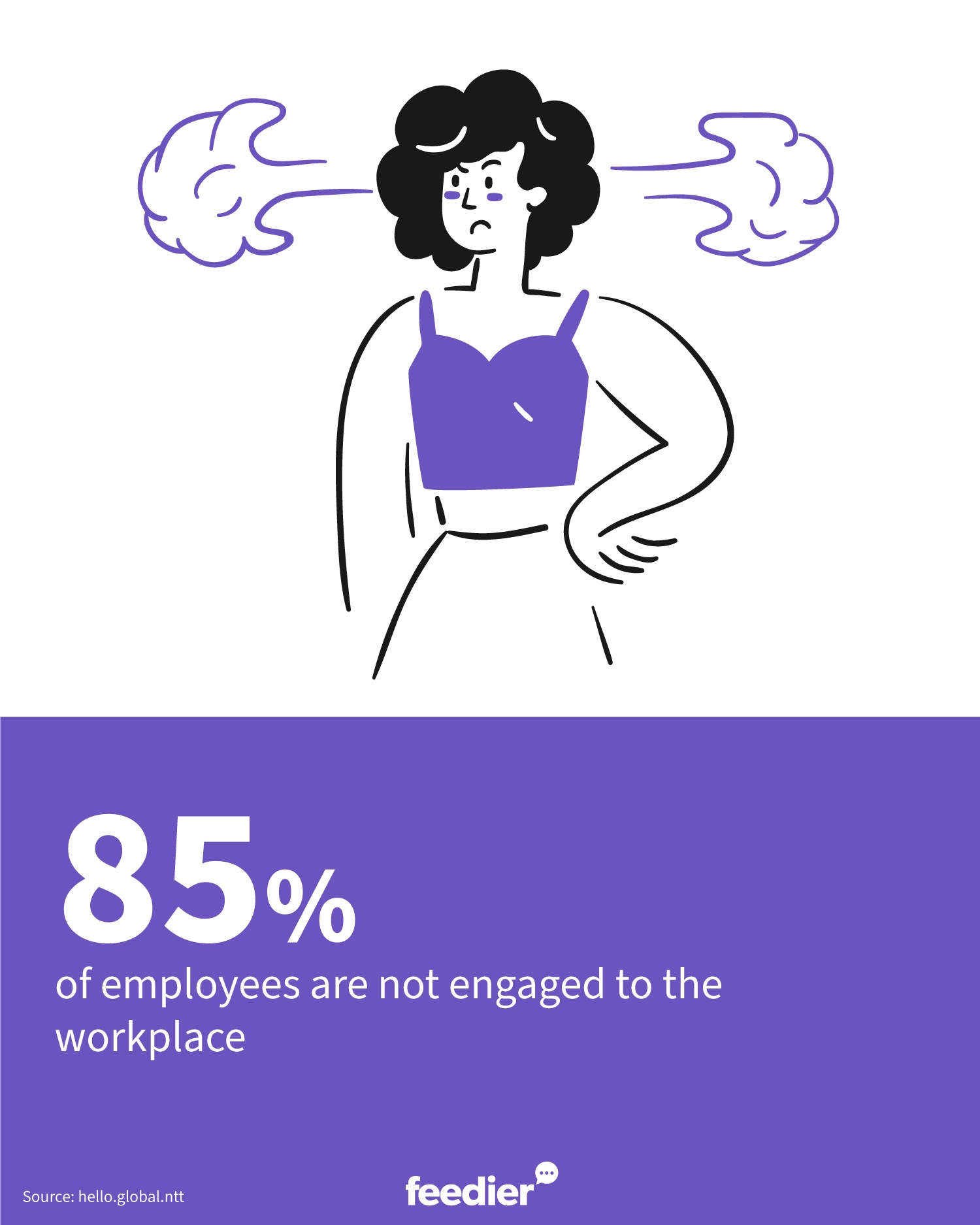 The downside here is that it's not always obvious that there is a potential problem with one of your customers until they complain.
Especially in a very large company, the proximity of you to the customer is likely to be far compared to that of a start-up. That's why it's incredibly important to spot indicators of churn before they happen.
Even if the customer does complain, if the right team or person is not notified, then their complaint will simply be lost, the problem unresolved, and you can be sure to have one less customer in your database.
At this point, it becomes important to have a tool, a solution, a platform that allows you to be aware of everything at every touch point.
If you have the ability to collect feedback from your customers or users at all levels of the customer journey, and that this feedback is assigned to the right employees, then your satisfaction ratio can only improve.
The faster you understand your feedback, the faster you will improve your customer experience
The way you collect feedback will depend on your target audience, your product or service, the channels most used in your marketing strategy, etc.
As you can see, many factors come into play when you have to implement your Feedback Management strategy.
In order to understand your feedback easily and quickly, it is important to prepare your feedback well. You should choose only a few specific questions that will allow you to know a lot about your customers/users.
In order to collect actionable feedback, metadata (also called context attributes on Feedier) will be useful when you want to get more information about your participants, such as location, product purchased, store where your customer bought a product, etc.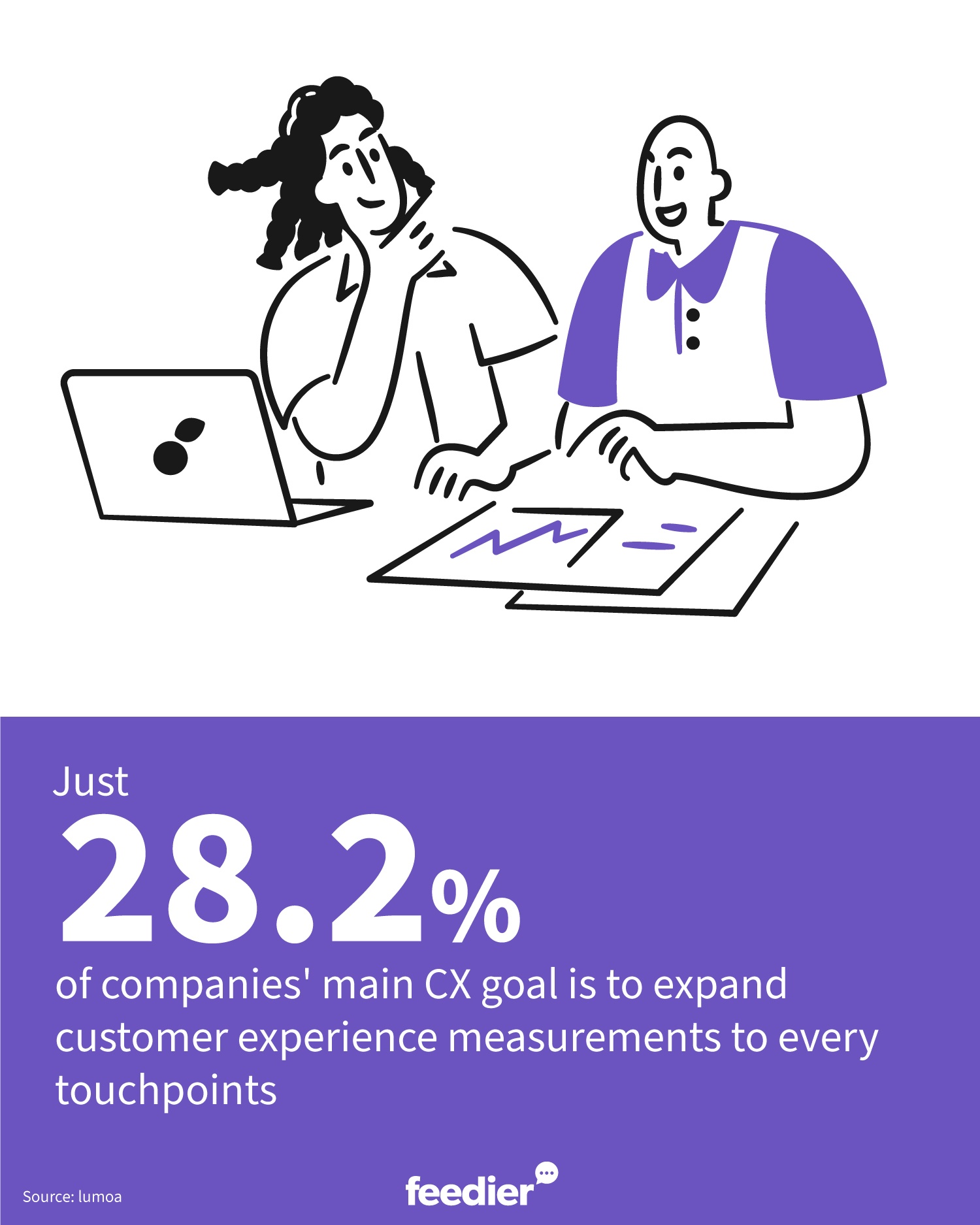 You can then use this at the analysis phase to group your feedback based on cohorts that you wish to group together.
Of course, the list of context attributes above  is not exhaustive and depends on your field of activity, but it works just as well if you are in B2B and your participants are operational teams for example.
The important thing here is to have an overall view of the customer journey, to know their satisfaction at all levels and in real time.
Having multiple sources of feedback collection is essential to have a clear idea of the customers' opinion at each interaction with your brand.
In other words, the more feedback you have from different sources such as email or SMS campaigns, widgets, QR codes or others, the more qualified information you will collect.
One of the most important points that Feedier has worked on is that all this data arrives in the same place and on the same platform!
This avoids tedious manual reporting (see our article on manual reporting) but also avoids missing data where you would normally have to export it from each platform.
With Feedier, all your feedback is organized in one place on your dashboard. When you go to your feedback feed, you have an overview of all the responses you get in real time.
Using User stories, you can group key information of each response by context attribute, satisfaction ratio, NPS and more in order to know if the participant is a detractor, satisfied, or in need of further action.
Now that you have a way to unify your feedback, it's time to start using it to improve your business and boost your customer, user, or employee satisfaction.
Make your feedback actionable
Now that your feedback is collected and automatically organized and centralized, you need to analyze it so that you can use it in improving your customer experience, your projects, etc.
To do this, operational teams across the company must be involved in the feedback management strategy and analysis. Using Feedier you can create a custom dashboard dedicated to all actors of the company with the right data assigned to them.
This way, the feedback flow will be much smoother, since it will clearly promote communication between your teams.
Each team will have its own KPIs and will be able to intuitively analyze the data on which they can act in order to improve the customer experience, at their departmental level.
Don't forget it's important that all the actors of your company can understand this data, because if each team has its own reports, what good is it if they don't understand what it means?
For this, you can read our article on improving your reporting.
If you want to go one step further in distributing data to the right teams, Feedier uses automation in cohesion with your external tools like your CRMs (Pipedrive, Hubspot, etc) or your project management tools (Clickup, Trello, Monday.com, etc).
Trigger actions at specific times in order to act and be as reactive as possible. With Feedier, you can add actions to your user stories that are automatically triggered in real-time
For example, let's say you receive a new feedback from a customer after the purchase of one of your products, and the satisfaction rate is less than 45% because there is a malfunction with this product, a notification by email or a Slack message is automatically triggered to the person in charge of the customer service who will be able to take action.
Once they mark the issue as resolved, the product team can pick up this low satisfaction mark and see if the malfunction is happening often.
Again, the goal here is to interact quickly with the problems encountered in the customer journey, or even to predict the elements of friction in order to have an overall experience close to excellence.
To sum up
Collecting feedback data scattered all over the company and via different tools is a meaningless task. The feedback is patchy and disconnected and therefore not very useful.
Feedback collection should be done using a multitude of channels in order to reach different audiences along their user journey. The most effective forms are ones with few but very precise questions.
However, the more feedback, feedback sources and therefore data, the more complex it becomes to manage. That's why it's crucial to centralize all this data on the same platform and make it accessible to all stakeholders in the company and usable to the right people.
Feedier is the solution that provides you with this intuitive Feedback Management experience that is accessible to everyone in your company, from executives to employees.
This way, you act at the right time to maximize the improvement of your customer experience by boosting the satisfaction of the experience you provide.
If you want to know more about Feedier, and how you can increase your engagement rate, satisfaction and reduce your attrition rate, then you can take a tour of our platform here or schedule a live demo with us, and we'll show you how Feedier will work for your use case.


Make the most out of Business Experience today