Customer feedback is an important aspect of running a business that often gets overlooked.
Your current customers are a huge asset to your business, especially in times like these when the world is going through a pandemic and covid-19 can make it hard for leads to come by.
It's more important than ever to maintain a strong relationship with your past and existing customers so they stay loyal to your business.
With so many aspects of the business to focus on, it is easy to stray away from aligning your product offering with what your customers truly want. Resulting in an offering with a poor market fit that doesn't truly solve a problem.
The best option to counter this is through obtaining quality and honest customer feedback – let's explore this more in-depth.
Free PDF: 6 ways to collect actionable feedback
Feedier is all about Feedback. We are a VoC platform that helps teams automatically measure experience, detect precise improvements and act in the moment. We help companies collect valuable Feedback through gamified and highly-engaging forms.
Good, so, can you shed some light on the topic, you ask?
What is Feedback?
We hear this term get thrown around a lot – but do we know what it truly means?
Feedback is helpful information and criticism that pertains to a certain action between two or more individuals.
Business feedback refers to the process of acquiring a customer's opinion about a company, product, or service.
It is meant for improving, innovating.
Finding out what your clients think is the only way that you can give them the best customer experience. You can use this information to adjust how you do business and satisfy your clients' needs more effectively.
In turn, improving their loyalty and overall success with your company. Listening to your customers is the best way to propel your brand forward.
No, collecting customer feedback is not another short-term growth hack, customer feedback is what takes your business to a new level.
Also, when we talk about customer feedback that means listening to the Voice of Customer, and we've made a short video to help you understand.
Feedback and Review, is there a difference?
Great question.
Reviews are meant to give you social proof, credibility. They don't give you any actual Feedback on how or what you should improve.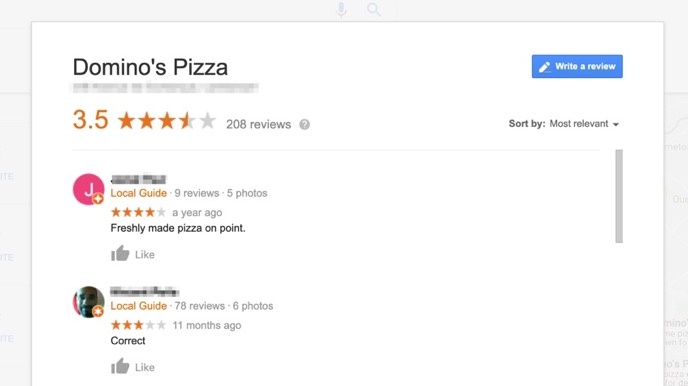 So, why is Customer Feedback important?
There are 5 main reasons why you would want to collect feedback.
Understand your customers' actions
Improve your products
Engage with your customers
Reduce churn and improve retention
Benchmark and get better
The end goal is to create a Feedback loop. Improving, testing, and asking for Feedback again.
Don't just take our word for it
Customer experience is so important because a customer review that spreads and goes viral can make or break your business.
It is said that one happy customer can lead to nine referrals and one angry customer can lead to 26 other angry customers.
If the customers are not satisfied, 13% of them will tell 15 or more people that they are unhappy.

Tweet
And finally, what about unhappy customers?
Benefits of Customer Feedback
Customer feedback not only propels your business to a new level, but it also helps you uncover unexpected opportunities.
So, what are the different benefits?
Ensuring direct feedback from each and every client has allowed the company to not only sufficiently increase word-to-mouth recommendations but also improve the quality and efficiency of how and what services they carry. Now the electrical company strives to hear what each customer has to say and later on, use as grounds for further business improvements.

According to Jordan Vellutini, managing director of Westline Electrical Services Ltd.,
Build Customer Loyalty and reduce Churn
72% of customers will share a positive experience with 6 people or more.
Instead of aiming to satisfy all your customers, aim at customers that give you 90% of your business.
And how do you do that? You listen to them by asking for their feedback.
Aim to satisfy your main customers in the future so as to gain a positive reputation in your field.

Tweet
It is much cheaper to keep an existing customer than it is to earn a new one. In fact, it can be five times more expensive to attract a new customer than to keep an existing one.
Stay best friends with your loyal customers, as they are extremely valuable. Once you know why your happy customers stay and why some leave, you can take the right measures to keep the right customers.

Agi from Thematic
Get more referrals and build reputation
Besides helping you retain customers, feedback also opens the road to new business opportunities.
Thanks to the Feedback you receive, you are able to make your customers advocates of your brand. They thrive with you. This nudges them to refer new customers and build a positive brand reputation for you.
In a nutshell, customer feedback is more important than ever. Stop hoping that your customers will give you their feedback. Be proactive, create an environment, and ask your customers for their feedback at various touch points along their journey.
A more positive customer experience leads to a better reputation, and ultimately, an increase in profits.
Make better data-driven decisions
By proactively listening to the voice of your customers, and measuring their satisfaction, you are able to get an overview of your performances over time.
The more you listen to your customers, the better you'll understand their needs and the more loyal they will be to your brand. This will eventually increase the likeliness of turning them into advocates.
Improve the overall Customer Experience
Receiving customer feedback is absolutely crucial to improving the customer experience and increasing your ROI and customer retention rate.
A slight improvement in Customer Experience has the ability to produce an increase of $823 million over 3 years for companies with $1 billion in annual revenue.
No matter your stage, this simply goes to show how improving the customer experience can lead to an astonishing increase in profit.
With this said, businesses who care about improving each and every aspect of the customer experience are bound for success.
In order to do this however, businesses must first learn from customers in what way their experience can be enhanced. This information can only be obtained through enticing and engaging customer surveys.
So how do I get customers to answer our surveys?
It's simple, really. Customers just want three things:
What do you do with Customer Feedback?
Showing your customers that you value their voice and input means that you need to take action on your results.
First, if you have a lot of feedback, it's important to get a clear and holistic view of all your data.
We created a free resource for you to know how to organize all your feedback. Or you can watch our video about the topic.
Free PDF: 3 ways to organize your feedback data
Acting on Customer Feedback
The whole purpose of customer surveys is to get customer feedback on how to improve your business. Don't just collect the data and do nothing. When you respond to your customers' feedback through your actions, this will make them feel that they are valued.
Do this proactively by setting up alerts to be triggered when there is a low satisfaction level, or gather your feedback together and measure the results against your KPIs to make customer-focused business decisions.
Customer feedback is perhaps the most neglected of services among businesses.
Only 52% of customers are confident about brands acting on their feedback.
This must be fixed. You have to actually listen and act, learn how to turn your dissatisfied customers into your best fans.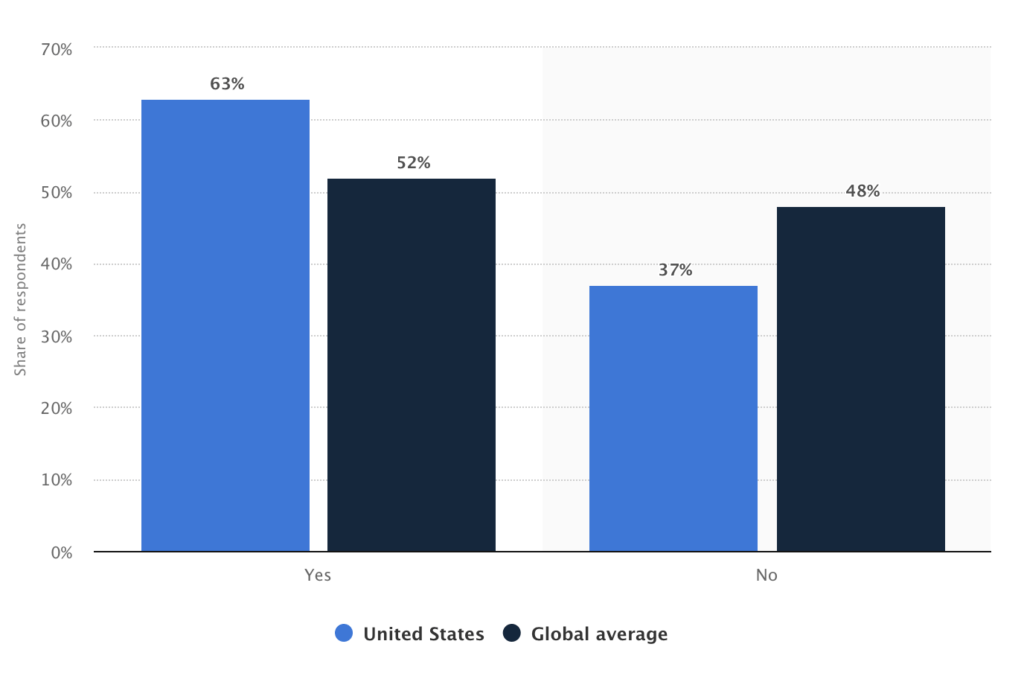 The Case of Eventbrite
This is the story of Julia Hartz, Eventbrite's CEO.
She managed to listen and turned the user feedback received into a key learning piece of her journey.
In a recent Masters of Scale podcast episode, Julia talks about the importance of customer feedback. She demonstrates that customer feedback holds the secrets to your success.
Julia managed to extrapolate user feedback, and act quickly in order to turn those inputs into a growth opportunity.
The key was to not only talk to the customers but also get their opinion. She created customer feedback forms, observed user-behaviors and drew conclusions from their actions.
She also analyzed the different use-cases and analyzed where customers were coming from.
And it worked! They grew from a simple ticketing app to a full-service platform for event creators.
I believe customer feedback is the coiled spring that catapults your company forward. It will continually adjust your trajectory, while keeping you on target.

Reid Hoffman – founder of LinkedIn
You can listen to the full episode below.
Using Customer Feedback surveys
We have covered the importance of customer feedback.
The different methods to collect
We will now talk about one of the most effective methods to get customer feedback: using customer feedback surveys.
Don't get me wrong, it is only effective when done right.
Customer surveys identify your customer's level of satisfaction with an existing product. It is also an outlet for your clients to express their opinions, share insights and voice out their expectations for your products and services.
Did you know that the average person gets distracted in just 8 seconds?
This means that you only have 8 seconds to convince customers to actually answer your survey before they lose interest and redirect their attention elsewhere.
If this doesn't worry you, then your business is destined for stagnancy, or worse, failure.
As feedback forms are our specialty, let's focus on them.
How do you create a good Feedback Survey?
Creating a good customer survey is not easy.
First, what is wrong with the usual online surveys?
They are boring.
I don't have anything against Jabra, nor do I want to blame them.
But no way I'd fill their survey.
I have better use of my time. The format and design are refraining. It's no longer 1999, participants expect good design and quality.
They want the survey to be short and know how long it will take.
In a nutshell, you'd want your survey to be answered by your target participants for it to provide real value to your business, then add in your meta data that you have in order to bring context to the answers.
Here are 5 tips on how to make the ultimate survey:
1. Define Your Goals
In order for your customer survey to be effective, you have to know what it wants to accomplish. Have a defined goal before doing anything else. Write down what you want to know from your customers and start from there.
2. Keep it short
Ideally, the survey should only include five to ten questions.
Avoid too many text-heavy questions and mix up the survey with different question types to provide variety.
As mentioned above, customers have a very short attention span.
If you bombard them with dozens of questions, there's a high chance that your completion rates will drop significantly.
There is another common issue: brands ask for the information they already know. Avoid that at all costs.
3. Add context to your survey
We call this 'Context Attributes' and it's the data that you already hold on the customer that's relevant for your KPIs.
In the example below, McDonald's asks for pieces of information they already know. They could simply link up my feedback (with a unique QR code or an email campaign) to my date, time and restaurant.
There is another missed opportunity: I was not provided with any incentive whatsoever. A discount on my next meal would have doubled the chances of me leaving feedback, plus I'd be more likely to return.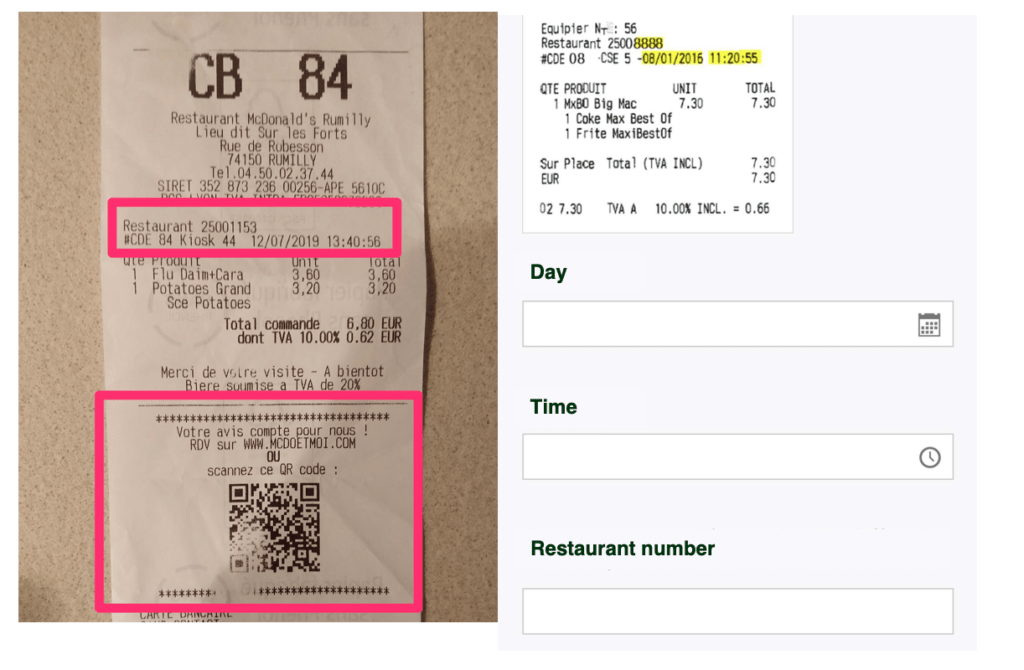 3. Offer an Incentive
Although this is not always relevant, depending on your use-case, offering a survey incentive is a good way to boost your survey engagement, and get more responses.
The example above was a great use-case for such incentives. We cover this topic in a separate article.
In 2018, 85% of workers in a study said they'd spend more time on an app or software because of gamification elements. Making giving feedback fun is an easy win.
Aside from boosting up your response rate, you are offering value to the respondent.
There are other gamification elements you can explore, such as respondents ranking, loyalty points, dynamic and fun content, etc.
4. Test your Feedback Form
Before your survey goes live, make sure to proofread it to ensure that it is free of any errors.
Nothing looks more unprofessional than misspellings and wrong grammar not only in your customer survey but in EVERYTHING that you decide to publish.
So, take time to review everything before you put it out on the internet for lots of eyes to see.
Make sure to test on several devices too.
5. Find the right Touchpoints
There is no one-size-fits-all when it comes to finding the right channel.
What's particularly amazing is this recent telephone survey: a company wanted to find out, on average, how many phones each household owned. When the results were tallied, the firm was amazed that not a single household claimed to have no phone. What a masterpiece.

The Art of Thinking Clearly (book) – Rolf Dobelli
This quote depicts the picture for me.
You're phoning people, so by definition, they have at least one phone. The results are already skewed.
It is very important to find the right channel.
You don't want to come across as spam or an irrelevant message
You optimize for a better response rate
Publish it to your website, include it in your emails and post it on your social media profiles.
Make sure to tell everyone what the survey is for and explain briefly why it is important that they give honest answers.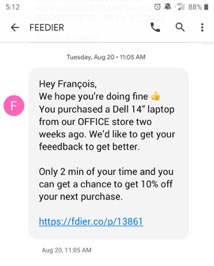 It is also recommended that you include a completion time at the beginning of the survey. The ideal completion time for a survey is 3 to 5 minutes.
Wrap Up
So, is it time to stop waiting for your customers to give their feedback and start genuinely showing them that you care about their input?
It will ultimately contribute to building a strong brand image and will help you turn your promoters into customer advocates.
By being proactive and effectively listening to their inputs, you will be able to drastically improve your business in the long run.
If you're wondering "but, where do I go to collect feedback?", Feedier is the answer for you. Get valuable insights for your different department heads and take action on the feedback given in real-time.
Our platform organizes all feedback you collect in one place. Connect your business tools up to the platform and create email campaigns for recent customers, use our web widget for your browsing users, or display a QR code for quick in-person feedback.