So you are running your own webinar? Good call. But how do you measure the satisfaction and success of the event? Here comes our post-event survey.
Lucky you. We have done the homework for you.
Use this survey template. Take it. Steal it.
There is a multitude of use cases for webinars. For marketing, sales, onboarding customers, internal communications, or even a fully-remote conference that spans on several days.
If you're serious about hosting great events, then you must get serious about measuring attendee satisfaction.
There are several ways to do it, and old-schoolers would probably opt-in for a manual "what did you think about our event?" email, attempting to gather qualitative data about a past event, moments after the event is over.
But you are not such a person.
Why Collecting Post-Event Feedback Through a Survey?
Good question. Event-feedback are required.
Here is why.
1. Measure the Success of Your Event
First, it may sound obvious, but collecting feedback helps you gauge the success of your webinar. Both in terms of content, but also in terms of organizations in general.
2. Generate Content Ideas
Then, the second very important aspect is content ideas. You have created your first webinar. Why not going about a second one?

And a third one?

Running out of ideas? I'm sure the attendees have some. Go get them.
3. Communicate on Your Event Success
Being able to measure the satisfaction of your attendees will also let you communicate on the success of your previous events and why people should join.
4. Fine-Tune Your Target Persona
Finally, collecting the feedback is also a great way to ensure that the guests you're targeting are actually 200% relevant for what you're producing.
Cool.
We know why we want to get feedback. But what about the actual feedback questionnaire?
Webinar Satisfaction Survey Questions
Let's start with the basics: measuring satisfaction.

At Feedier, we are strong advocates of a satisfaction ratio spread across different fields.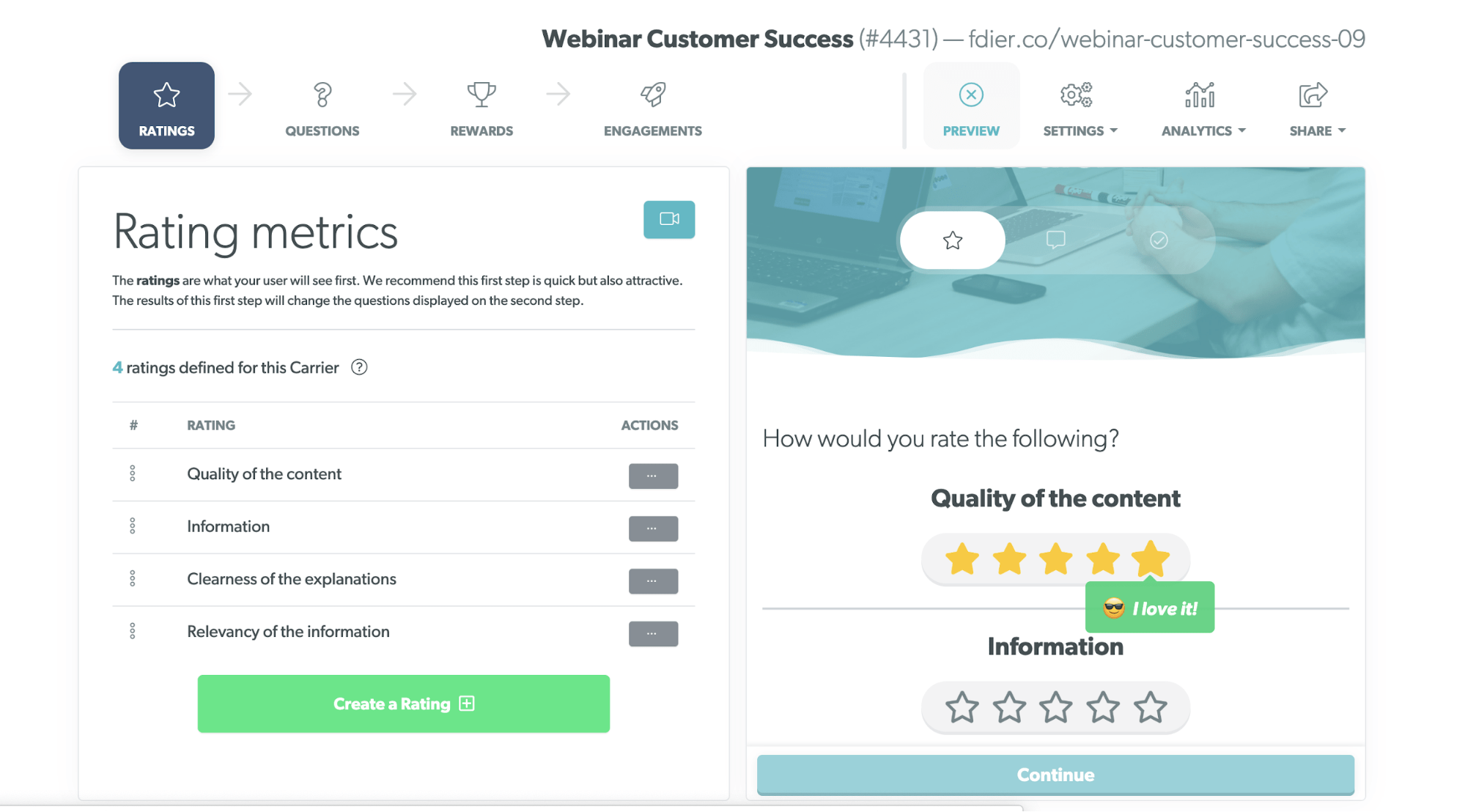 For instance, some questions might include the quality of the content, the clearness of the explanations, organization of the event, duration or even the host.

Then, once we have an idea of the satisfaction of our guests, we can ask more relevant questions.

Just to give you an example, if the customer is completely unhappy, why even bother asking if he or she'd be interested in a new webinar.

On the other hand, if he or she is delighted, it's your mission to ask about any interest in a new webinar, and if so, what type of content?

Here are some other questions you could ask: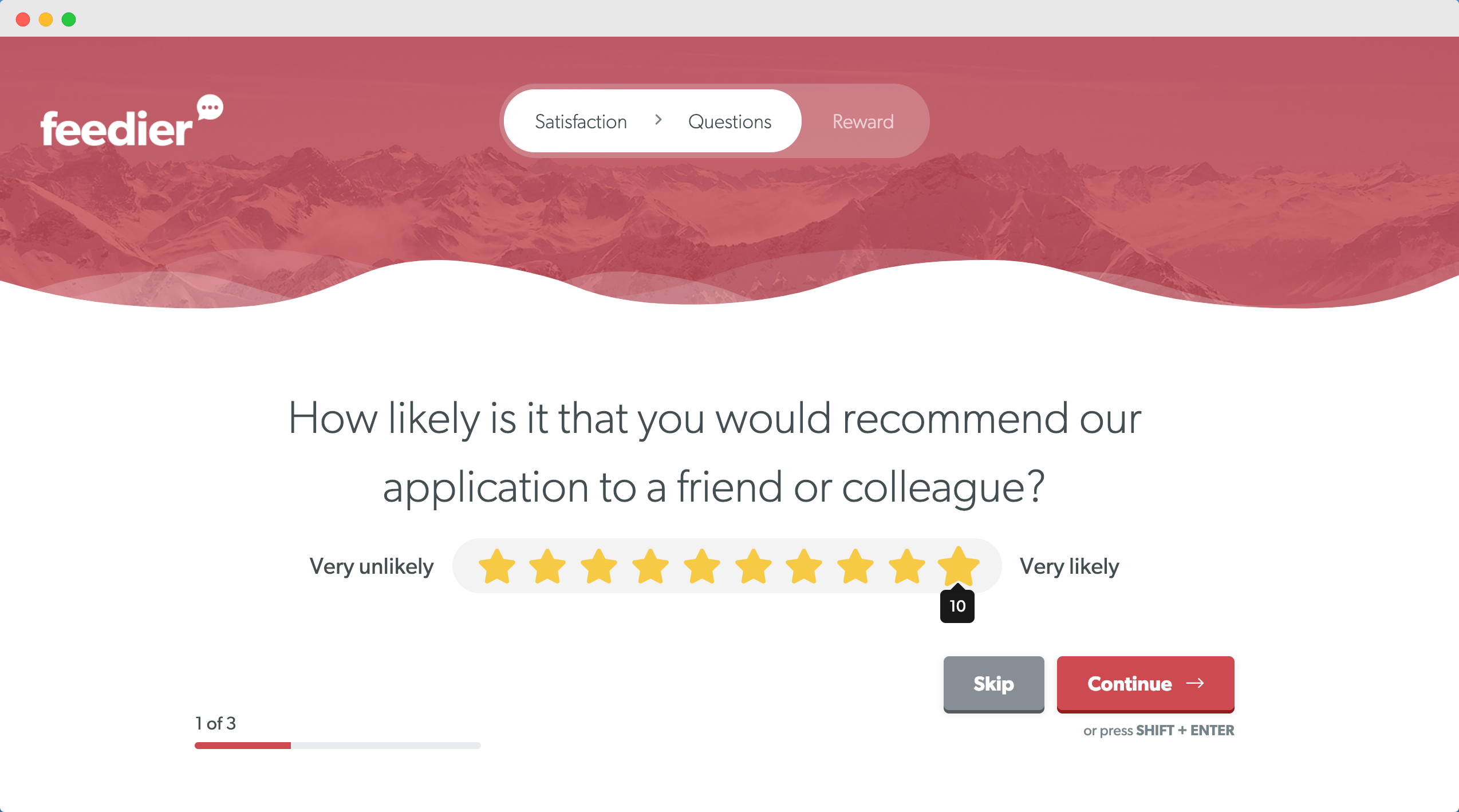 Then, ask about the motivation to attend with some pre-made choices for the respondent to pick from: Why did you attend our webinar?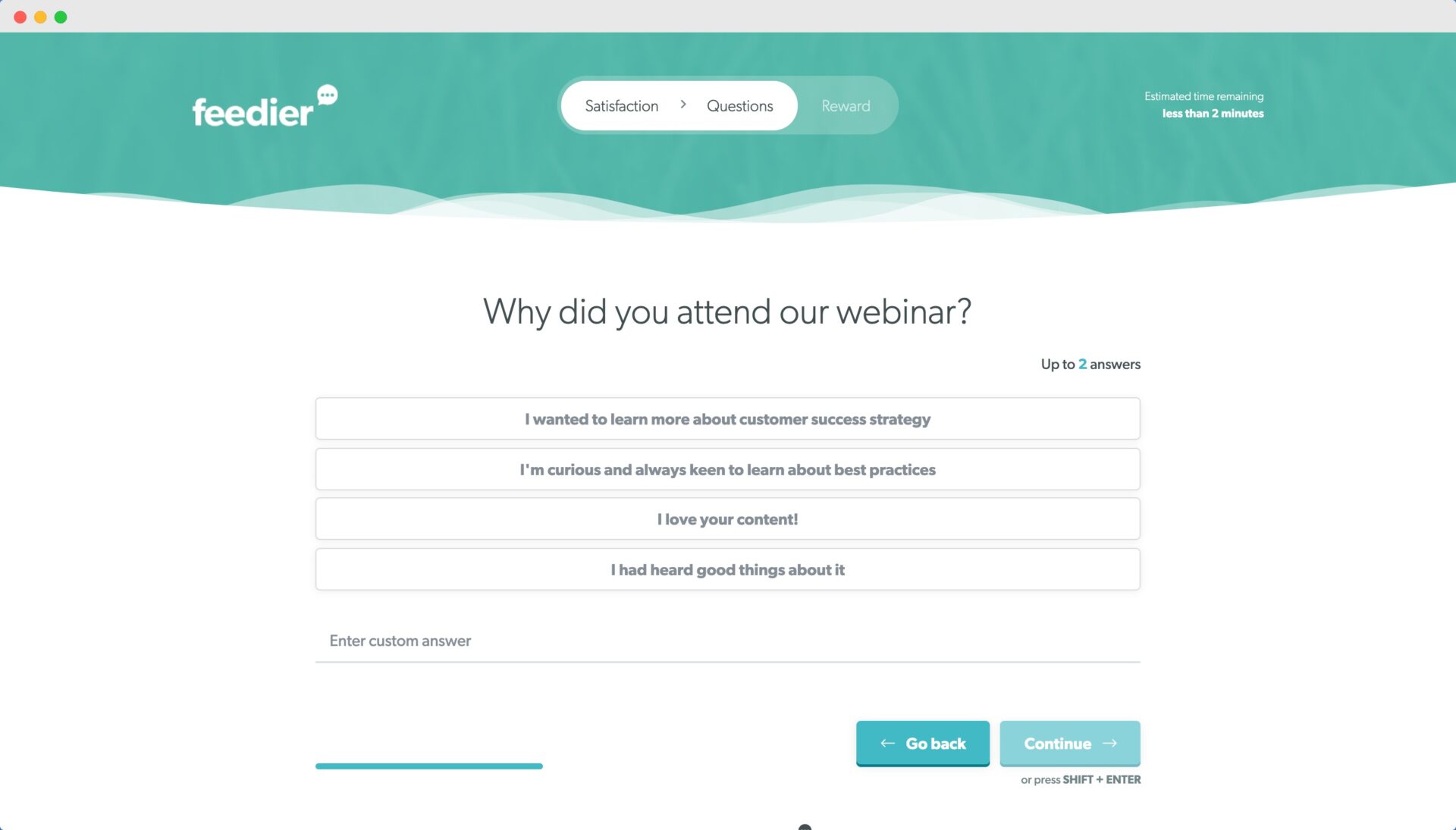 Ask about what was good, what was not good and what could be improved. Those questions can be text-based questions, not pre-made choices.
Then, ask about the information given: "Prior to the event, how much of the information that you needed did you get?", with choices ranging from all the information to no information at all.
Last but not least, an open-ended question: Do you have other recommendations for us?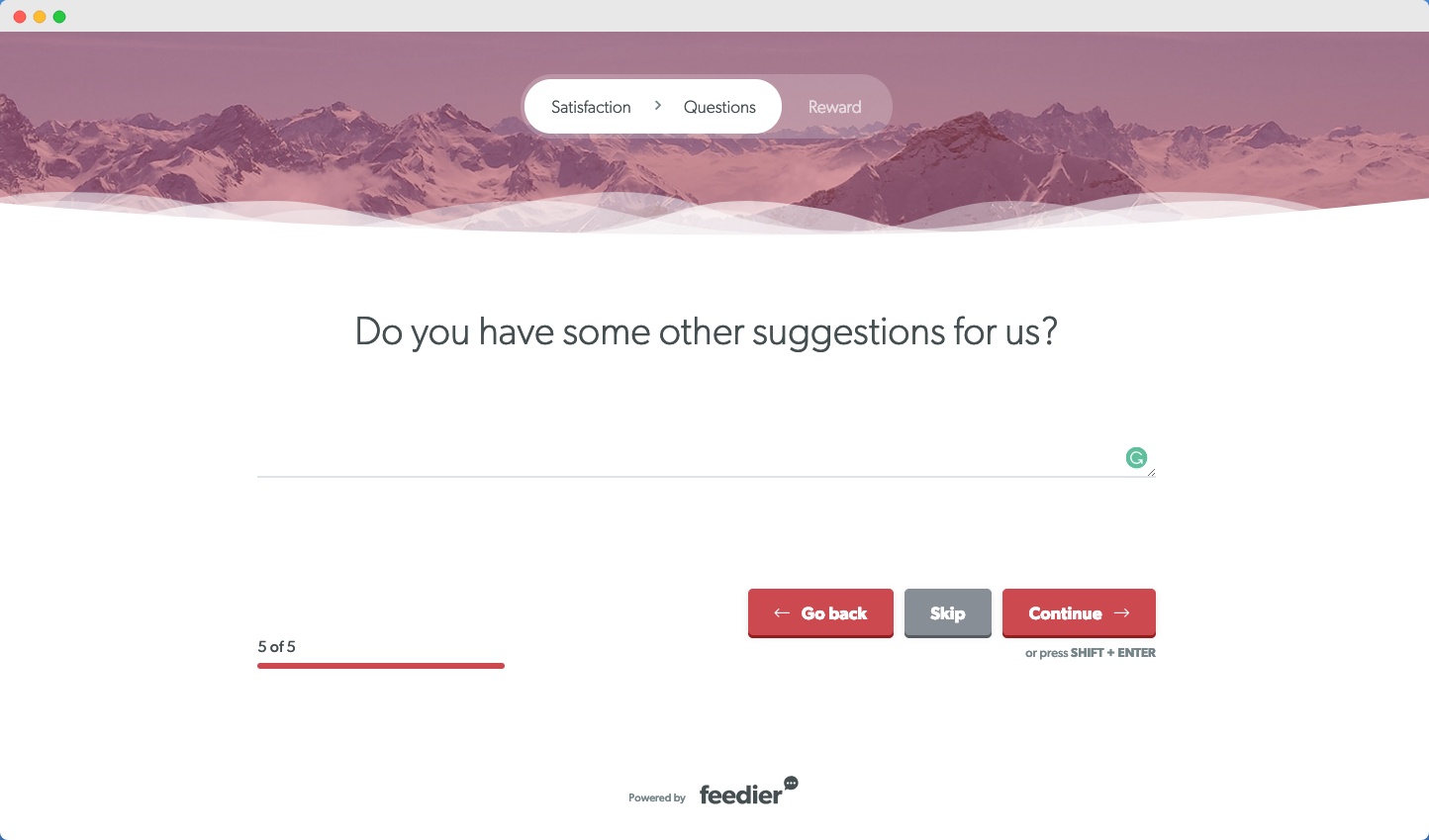 That is it. Keep it simple. Don't overdo it.

As a rule of thumb, keep it under 2 minutes.
Why would you deserve more than 2 minutes of your guest's time?
He or she has spent a good chunk of time listening to your webinar, hopefully good, it's time to move on.
Build a Feedback Loop: Post-Event Survey Workflow Explained
As a reminder, here's the process to automatically measure the webinar satisfaction after the event:
Step 1: Attendee connects to the webinar live (or doesn't)
Step 2: Attendees votes on the polls you publish during the webinar (or doesn't)
Step 3: After the webinar is over…

The attendees receive an email asking for a rating of the webinar, embedded in the email (Livestorm -> Feedier email via Zapier or via Webhook | Livestorm event to choose: "webinar ends", Feedier event to choose "send an email")
The registrants who didn't attend receive an email with the replay. If this replay is watched, and/or asking them for feedback and insight on why they didn't show up (same process, different email)

Step 4: Attendees rate the webinar and answer questions in the email they received.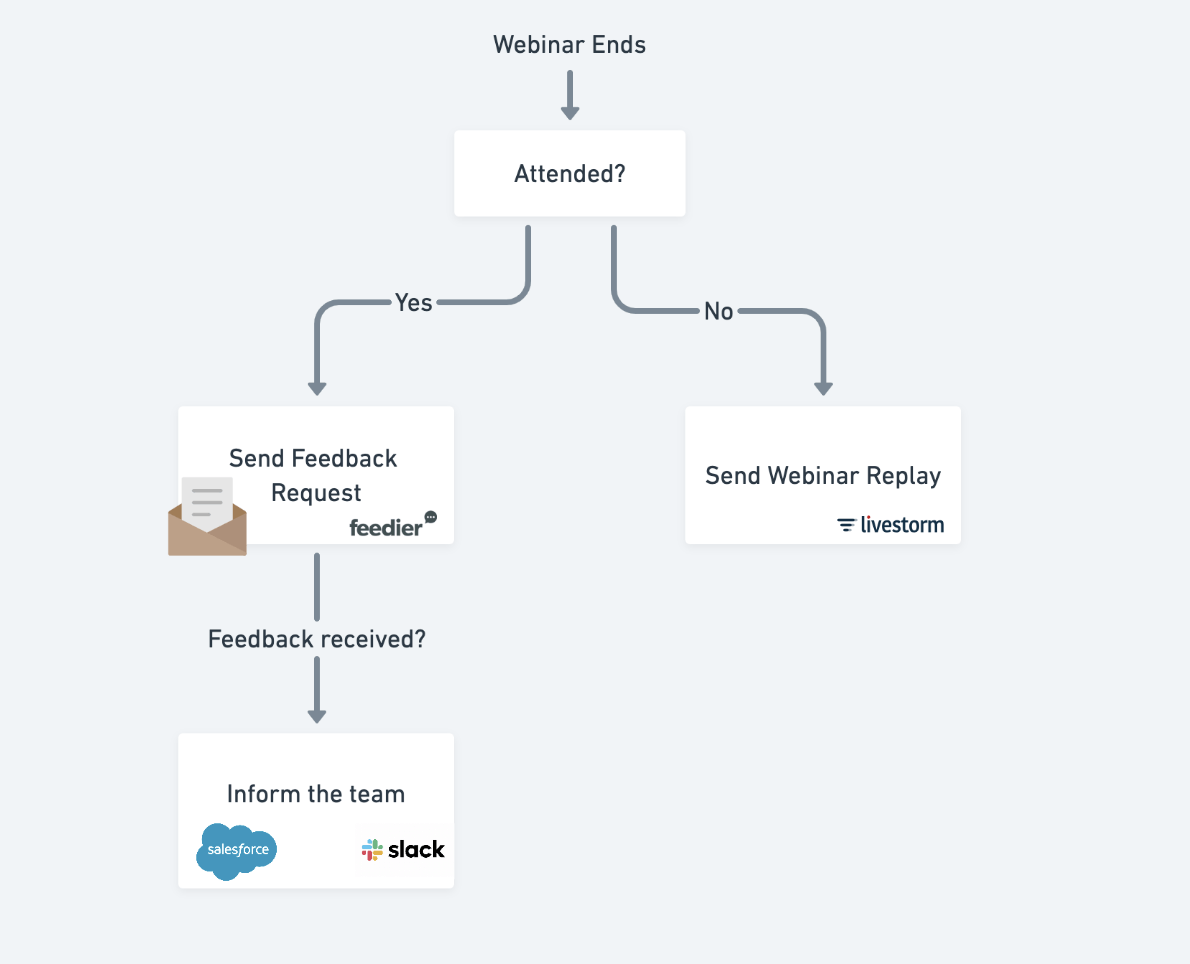 Yes. That's a good question.

We have found a good solution for you: using a reward system. Giving them a nudge!

Instead of simply asking for feedback. You ask for feedback and give something in return.

If relevant, offer a voucher redeemable in your application. Otherwise, we also found the slides of the webinar, and additional content to be successful.

The best part? All of that can be automated with Feedier, no additional or manual work required. You upload the reward (eg. the list of vouchers, the slides, etc), and Feedier takes care of the rest.

How To Automate Webinar Satisfaction Surveys?
That is not a bad idea in and of itself.
And for many traditional event marketers, this sounds like a good idea, probably in addition to whatever measurement you could add during the event itself.
But doing things online allows for smarter ways.
In this case, smarter will not only mean more practical for your attendees and for yourself, but it will also largely mean more accurate, and deeper insights into your past webinar event.
As we'll see, it will also mean no manual data entry or exports from you or your team, as the data will be populated by itself.
I'm laying out a workflow that would definitely work with Livestorm and Feedier, through Zapier (or Webhooks if you're of the crafty kind).
Livestorm is a webinar and video meeting software that makes it easy to host your own events, and much more with it (integrate with your CRM, add your retargeting pixels, etc.); Feedier is a feedback application that makes it easy to collect valuable feedback and delight your customers through an attractive, gamified and win-win experience. Stop boring surveys.

When doing a webinar with Livestorm, it is possible to use Livestorm's own emailing system to send personalized messages to registrants before and after the event, based on their attendance or not.

But if you have an advanced process, or if you want to customize your emails further, it's also possible to use a webhook or Zapier to manage emailing with your own system or apps. That's where Feedier comes in.
With its integrated email feedback process, Feedier is perfect to gather feedback after a webinar.

As a matter of fact, Livestorm email templates are editable, so you can easily plug in a feedback form link inside the "Thank-you" email.

It would look something like this: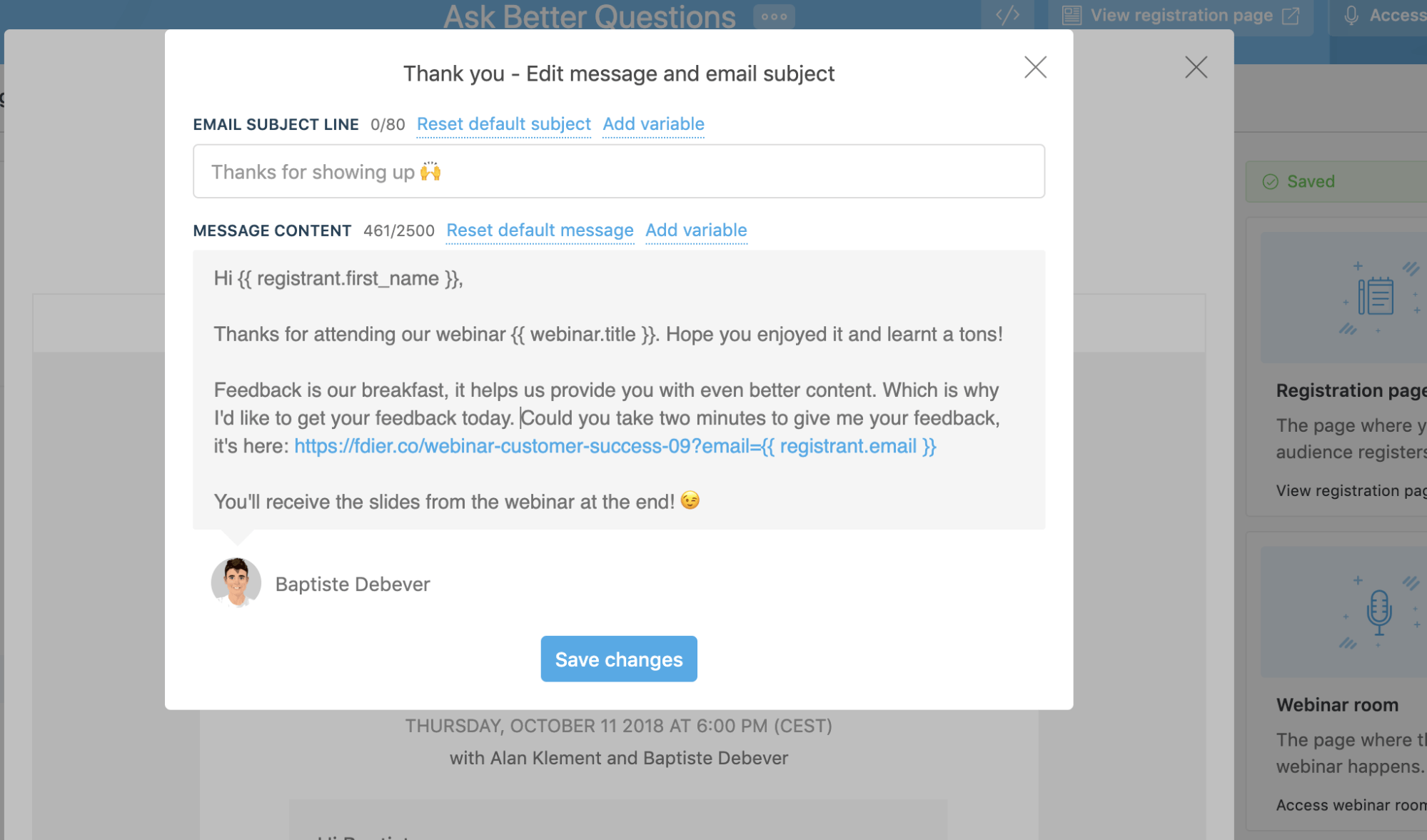 The only drawback? The email is fired as soon as the webinar has ended. We might want to wait for a few hours before sending the feedback email.

Besides this, you might want to add additional layers to that, such as a tag in your CRM when the feedback email is sent.

That's where our workflow with Zapier comes in.
In order to set it up, the Livestorm event that can be used is Webinar Ends, which includes information about all the registrants, and namely:
Registrants' email, first name and last name (you'll use them to send the emails and personalize the message)
Registrant's attendance (boolean, you'll use that to differentiate your messaging for attendees and no-shows).
Then the rest writes itself: create a Zap that starts with Webinar ends, then you add a Zapier path to bucket participants and no-shows into 2 different paths, and you finally add Feedier after that with a personalized email.
Let's get down to it.
I'm assuming you already have a Livestorm account with the webinar created. If not, go on over their sign-up page.
Then, I'm also assuming you have a Feedier account. If not, this is where you need to be.
Once you have that. Connect your Livestorm account to Zapier, as well as your Feedier account.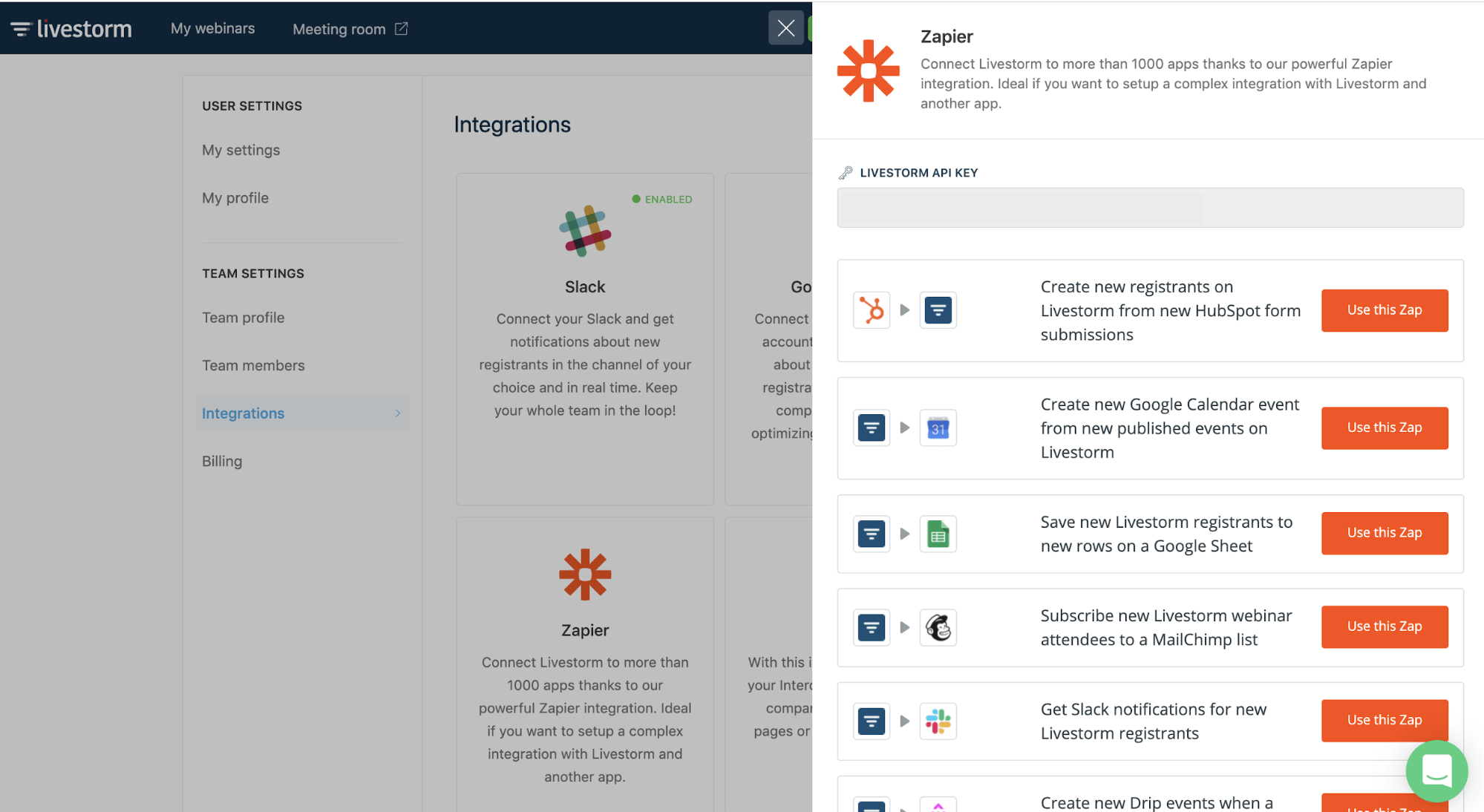 And we will use the following recipe: when the Livestorm webinar ends (trigger), send an email using Feedier (push).

First, set up the trigger: Livestorm.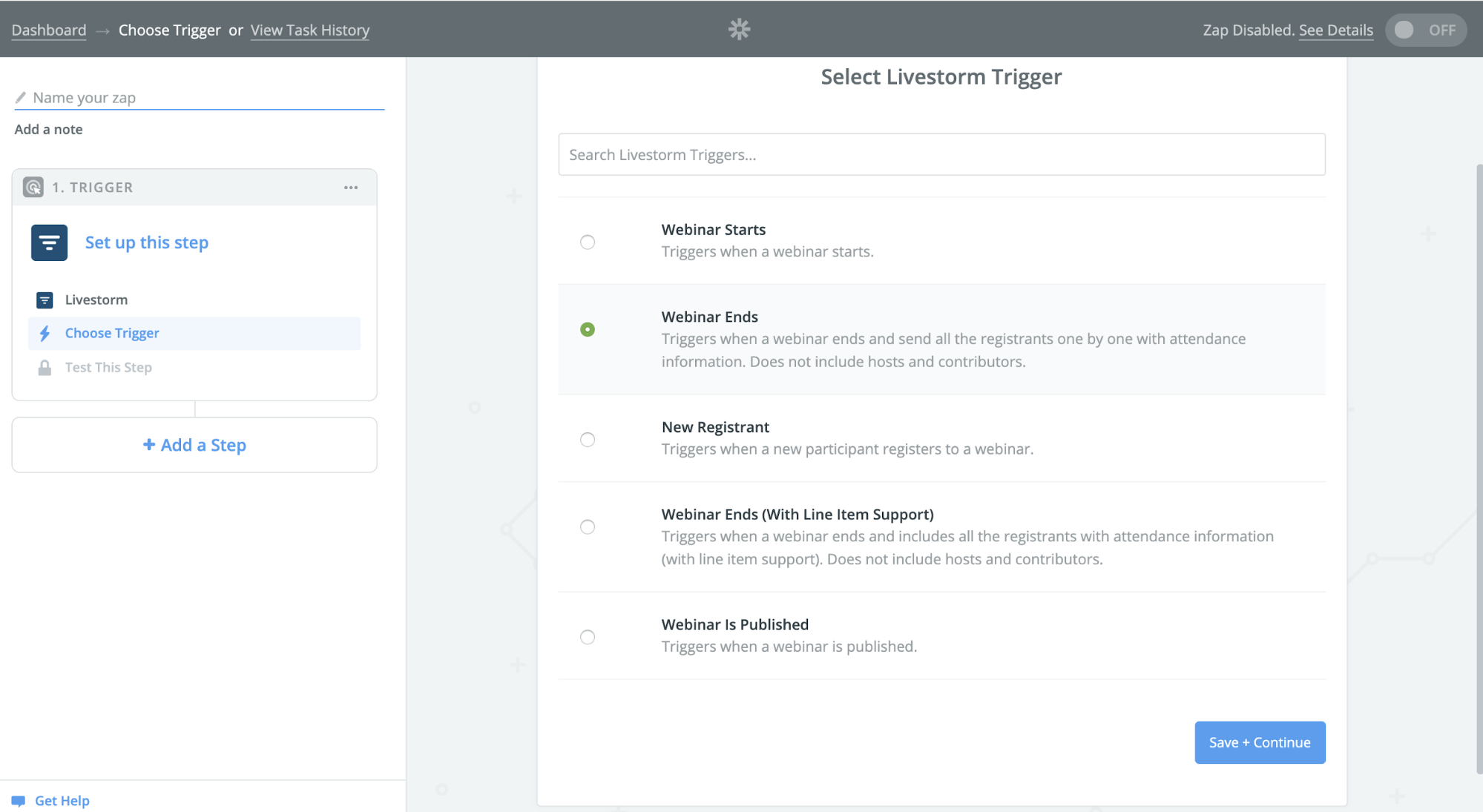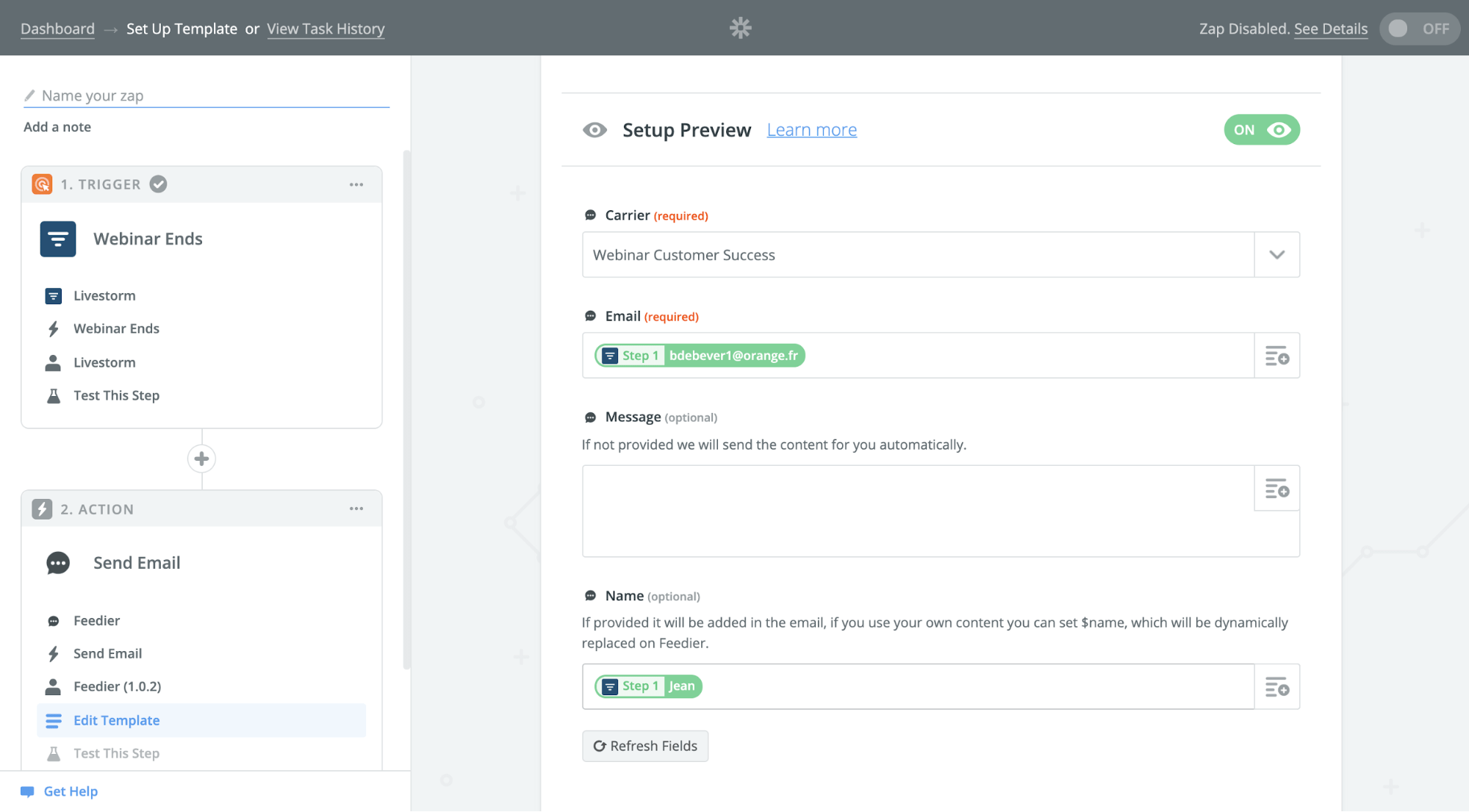 Note that the email template is editable directly from your Feedier account, in the relevant Feedback Carrier (aka. survey).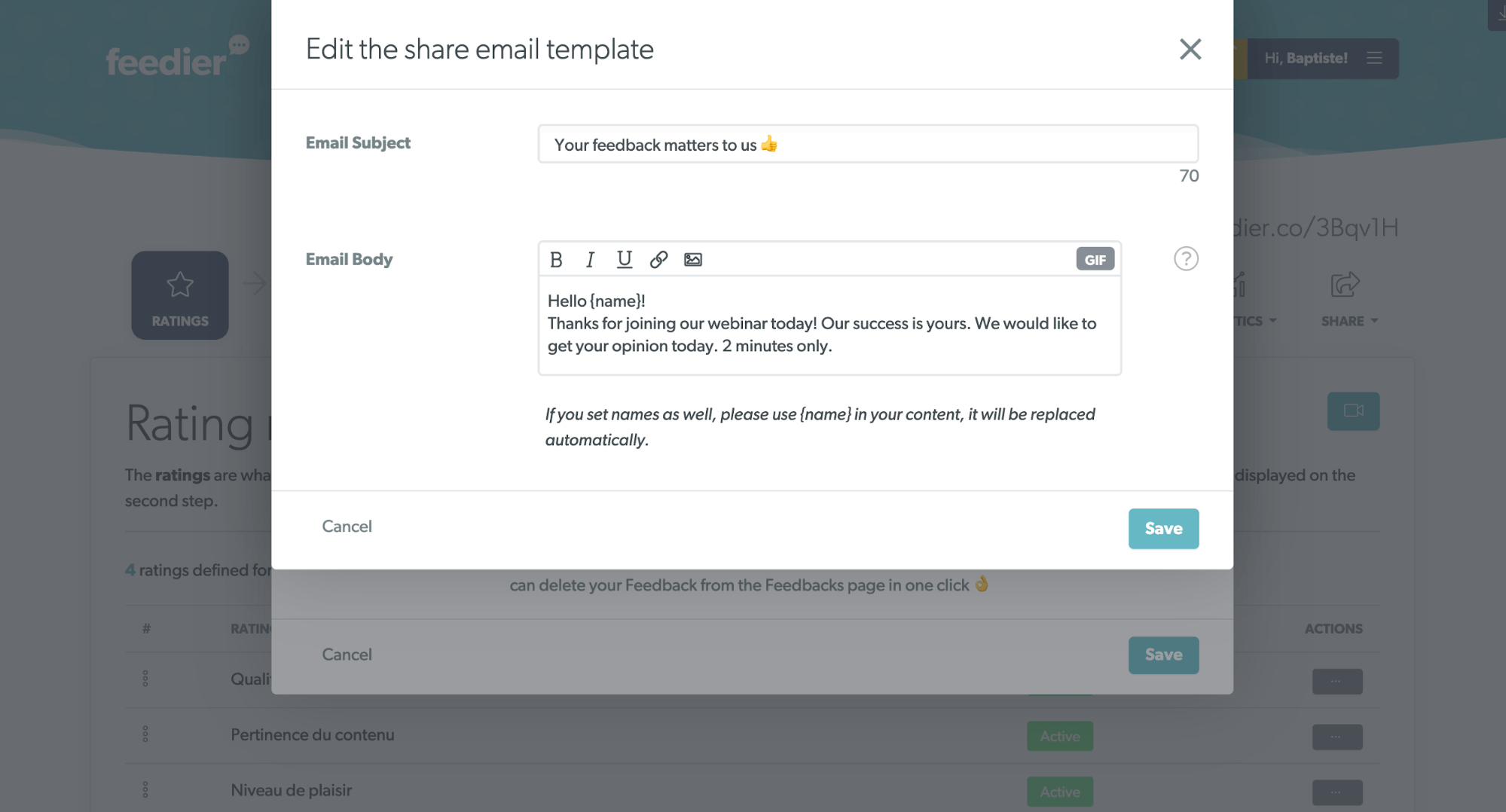 We could also add an intermediate step in order to wait for a few hours before sending the feedback request. This is actually recommended but required a Zapier premium account.

On the same matter, it's recommended to implement a second step that filters out the registrants who did not attend the webinar (you get that information from Livestorm' trigger).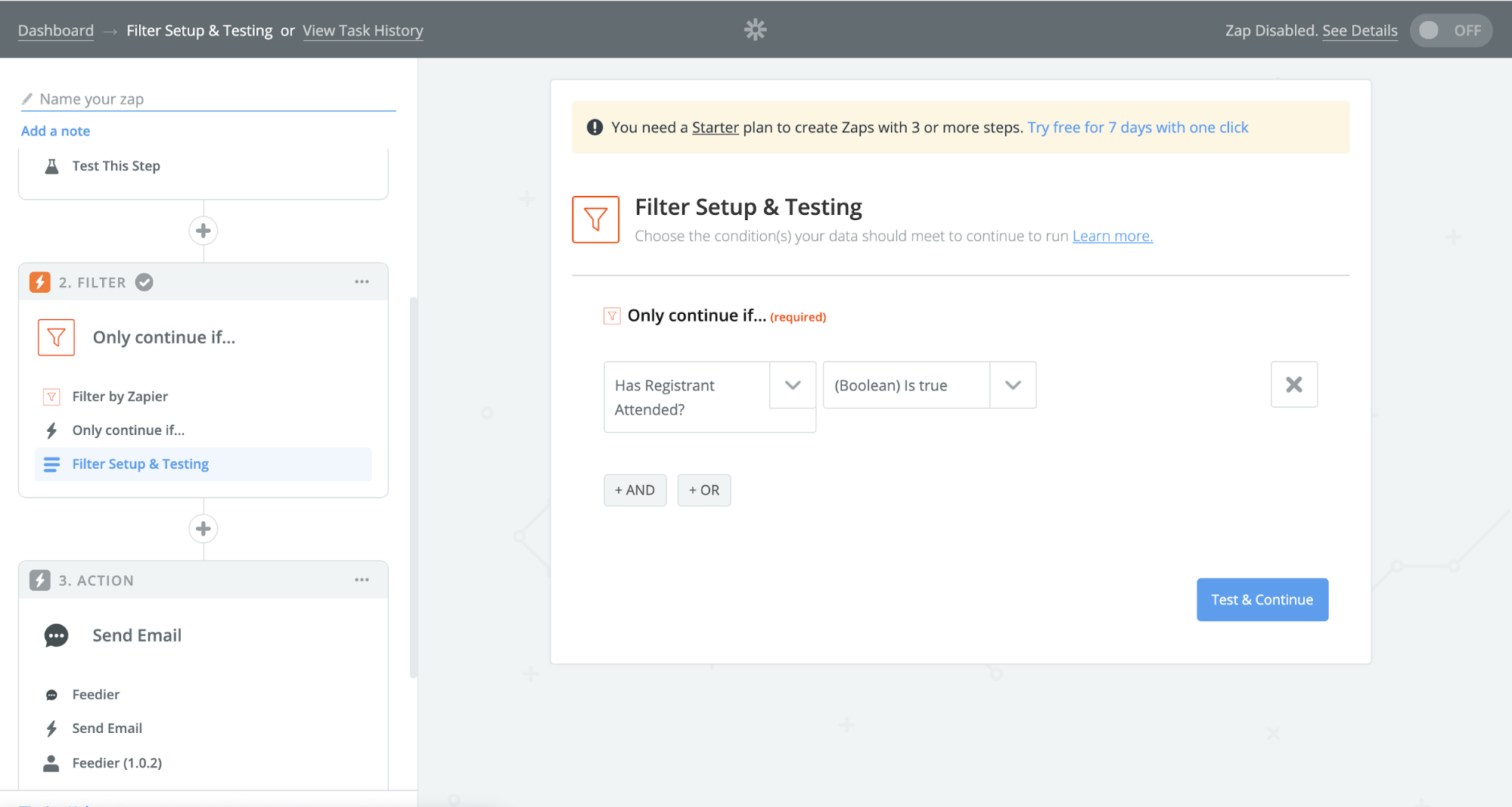 Done?

Almost.

Like any good marketer, you know that it's very important to test. Your show!

Cool. We have that read.

Webhooks Alternative
If you're a bit nerdier, you can also opt for the Webhooks solution.
In fact, Livestorm offers this out-of-the-box. How does it work?
Well, fairly simple. Whenever the webinar has ended, Livestorm will make a POST request to your desired endpoint in order to inform about the end of the webinar.
Easy.
In order to receive such Webhook, you obviously need our own online server. Assuming you have that, you'll validate the incoming request, and then make an outgoing POST request to Feedier in order to ask for feedback to your participants.

This is out of the scope of this article.
Alternatively, you can also use a system such as Integromat, which is able to receive Webhooks and send POST notifications.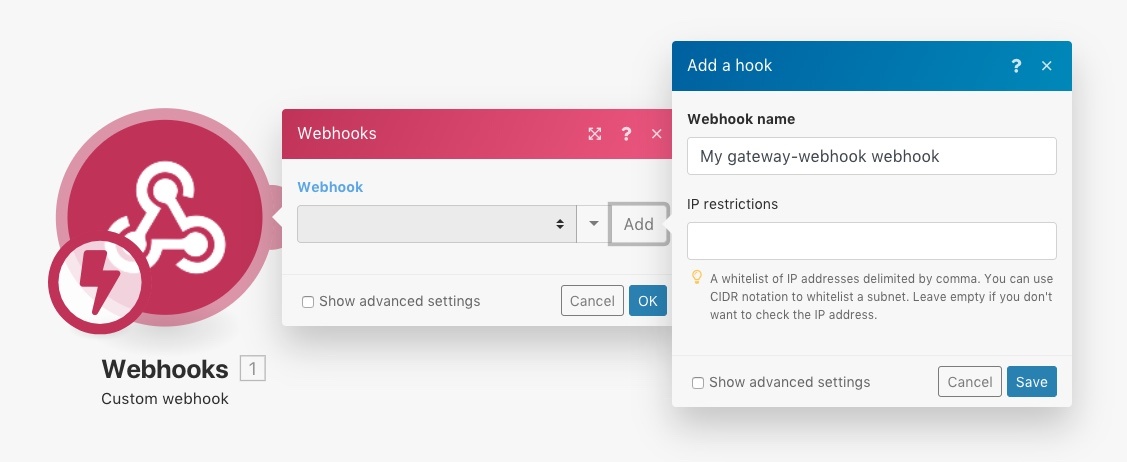 Close the Loop
Feedier also offers a Webhook system, and Zapier triggers. Meaning that whenever feedback is received, you can do something more with it.

For instance, you could push the feedback into your CRM so you have all the information in one place.
Wrap Up
Organizing and hosting an event is only one piece of the puzzle. It is also very important to act on it and improved based upon it.

Collecting feedback is an essential part of your success.
Lucky you, there are great solutions out there to automate the process on all the way, while being mindful of your customers' time.