No matter how good you think your workshop is, there is always something you can improve to make your next workshop even more productive and more pleasing! That's why it's very important to ask for the participants' feedback.
Moderators often tend to ask the participants to give their feedback in person after the workshop, using questions like "So what did you think about this workshop?". This question is hard to answer because, on the one hand, it's open-ended and vague, on the other hand, the participant will not be able to give their honest opinion as the moderator is standing right in front of them.
Before you continue reading, if you want to download this article as an eBook, you can and it's free!
If you want real feedback that will allow you to improve your next workshop you must use a simple, safe and trustworthy method that promotes emotional and honest feedback and give people an option to lean back and reflect before they make a statement. In this article, we will show you how to collect valuable Feedback using highly engaging and gamified forms that generate real insights, proper metrics, and complete context.
Step 1: Create your form
Your participants, even if they are your employees, won't be willing to spend their time answering a long and boring survey about the workshop. The most important thing to keep in mind when creating the feedback form is to make it as short and fun as possible.
In fact, the design of the form will play a major part in this. Make sure to add your company's logo and brand's colors in order to make the form look personalized.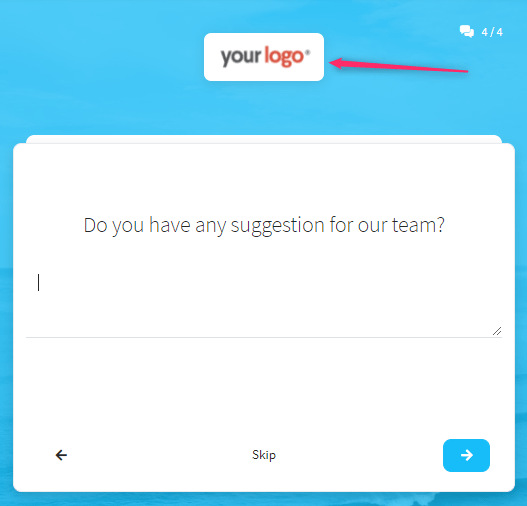 Ask the right questions
Start your form by measuring the participant's satisfaction with the rating question. Here are some examples you can use :
Organization of the workshop
Style of presentation
Presenter's knowledge on the subject
Usefulness of the content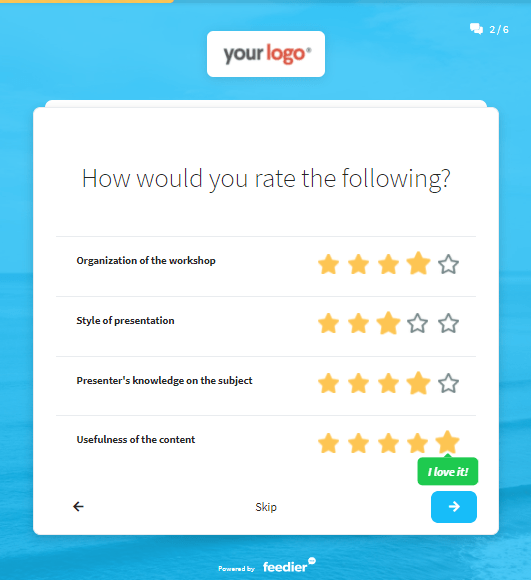 Make sure not to use more than 6 ratings as they are what your participants will see first. This step should be quick and concise, otherwise, the respondent will get bored and will not be motivated to continue.
The most important part of the form is the Questions as they allow you to get valuable insights and precise ideas on what worked well and what didn't exactly blow the participants' minds during the workshop. This is your chance to ask about all the parts and details of the event. Want to make your form fun and engaging? Here is our advice to you:
Use logical conditions to ask the right question to the right participant.
Use different types of questions : NPS, Yes/No questions, Image questions and avoid the text ones as much as possible.
Limit to 10 questions.
Use GIFs and nice descriptions to make the question interactive and clear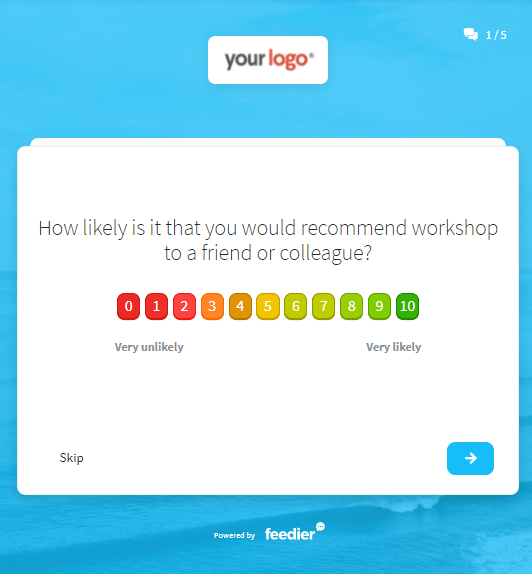 Here are some questions examples that you can use:
How did you hear about our Workshop? ( Image question)
How well did your participation help you improve your understanding of the subject discussed in the workshop? ( Rating slider)
Overall, how do you feel about the workshop? (Smiley question)
How likely is it that you would recommend our webinar to a friend or colleague? (Net Promoter Score)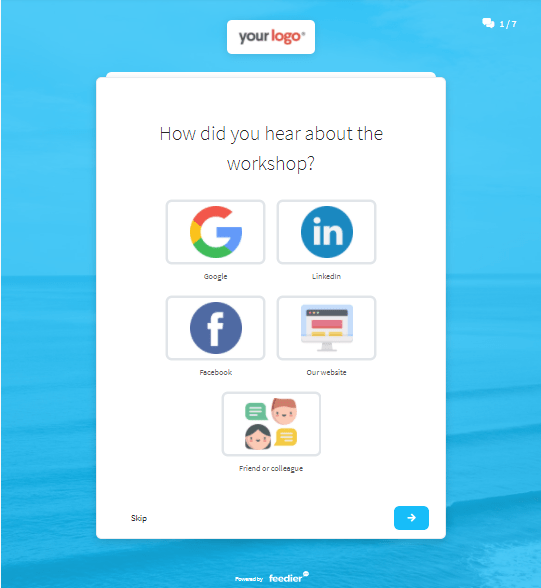 Rewards – create loyalty
Want to thank your participants for the time they've spent helping you? Rewards are your best option. It's a win-win because it will not only increase engagement and satisfaction but will also encourage the respondent to attend your next workshops. The reward doesn't necessarily need to be material. Here are some ideas of rewards that you can add:
An exclusive invitation to your next event
A recorded summary of the workshop
A gift card
A coupon
A donation
With Feedier you can configure the probability of the reward distribution as well as their number.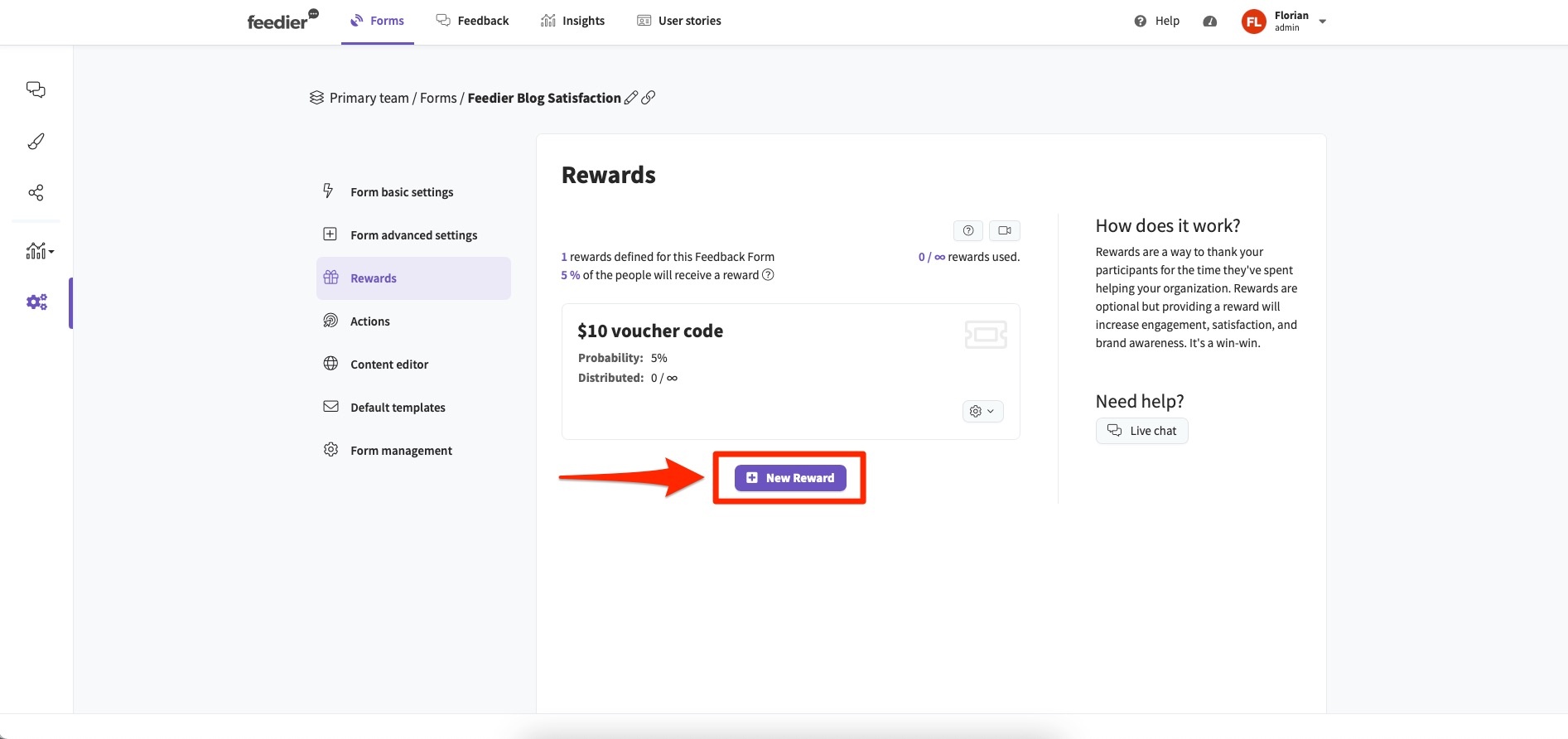 Push an action to end on a high note
Finally, add an action to end the form on a high note! The goal here is not to lead the participant to a dead-end when the form is over. In this tutorial, we will collect fresh testimonials from happy attendees.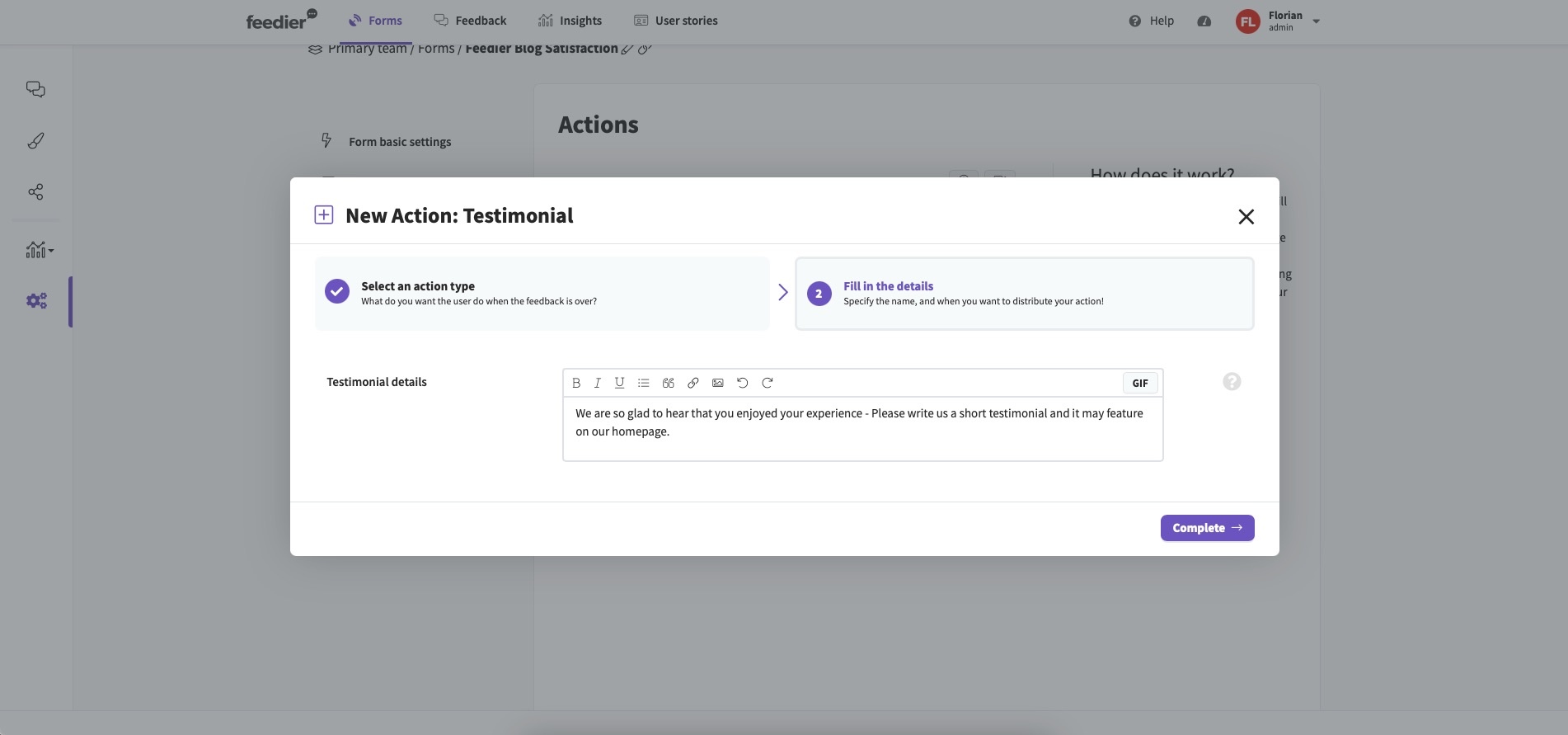 Don't forget to double-check your form and to make sure that it includes everything that you wanted to ask about by reviewing it in the preview mode. This will also allow you to try out different answers without the data being recorded.
Step 2: Share your form
Your form is now ready to be shared! Here's how you can do it:
Form link
Share the form with the participants by either including the link in an email or posting it on your social media like your LinkedIn profile for example. If you have a ready-to-go database containing all of their emails, the easiest and the most effective thing to do is to schedule an email campaign. Click here to learn more about how you can do that with Feedier. Automation with Zapier is also possible if you use event software like Eventbrite.
QR code
You don't have a digital database containing the emails of the participants? You don't have a social media account where everyone can access the link? No problem here! You can print out the QR code that leads directly to your form on flyers or cards that you give at the end of the workshop.
Use Feedier or any other QR code generator to download it and print it out!
Step 3: Analyze the results
Right after sharing your form, you will start receiving feedback. The best thing to do is to wait for a couple of days in order to collect as much data as possible which will make the statistics even more significant!
Intuitive reporting tools like geographical reports, text analysis, and correlation tables can take the insights to the next level by providing you with visual and powerful intelligence.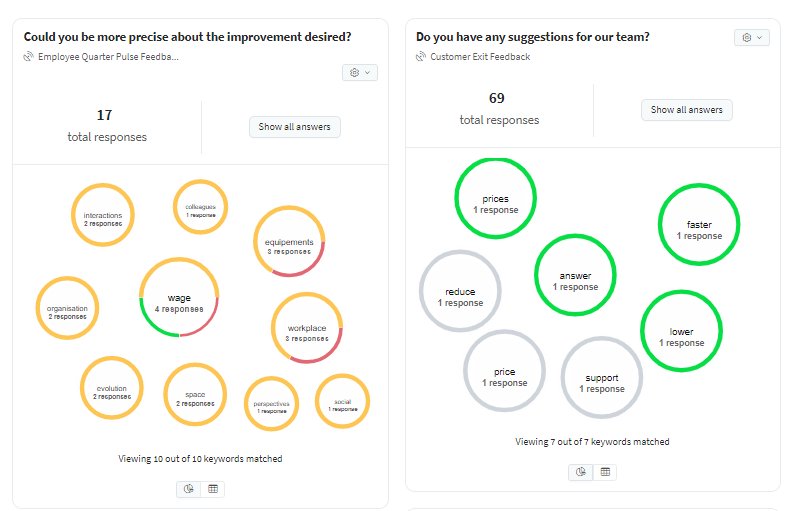 This is just the beginning, when you collect your first answers, see the questions that were successful, and iterate for your next event.
Make the most out of Business Experience today