After weeks of working from home, companies all over the globe are getting ready to get back to their offices.
Even though it may seem like things are back to normal, employers will be faced with new challenges from a change in rules of the workplace to managing employees physical and mental health.
Moral Support:
The safety and well-being of employees should be the top priority of every employer, and not just physically but also psychologically. Making the workplace Covid-19-friendly by implementing social distancing practices and providing safety supplies like hand soap, disinfecting spray, hand sanitizer, face masks, etc; is crucial and most companies will, unfortunately, only focus on that.
If you want your employees to stay motivated and engaged despite the global pandemic, you need to make sure that they are coping well with the new situation and the new adjustments.
Listen to your Employees
Are your employees willing to go back to the office? Would they rather continue working from home instead? And how did they feel about the overall remote work experience?
It's totally normal for you as an employer to be asking this kind of questions since the situation is totally new for you as well. The best way of getting the right answers is by directly asking your employees.
However, it's kind of complicated to ask each one of them for their opinion individually, especially if you're managing a large team. That's when a Feedback Form comes in handy.
If you're thinking that a survey will do the trick as well, you're not totally right. In fact, Surveys are long, boring and nobody will be happy to see an email with "Covid-19 survey" as a subject pop in their inbox.
Feedback Forms, on the other hand, can be interactive, dynamic, and highly engaging. Using a platform like Feedier will help you take your form to a whole new level by providing you with advanced gamification and design options that will allow you to create the best experience for your employees.
Try our Employee Satisfaction Feedback Form
Before their return:
Before setting up the whole returning to the office plan, you need to make sure that your employees are actually ready and able to spend the day outside of their house. Some may raise concerns for their safety at work, especially if they or a member of their household has a pre-existing medical condition that could put them or their family member at risk if they catch COVID-19.
Here's how you can get the insights that you need to provide the best experience possible for your employees:
Start your Feedback Form by asking your employees to rate different topics to measure their satisfaction
Overall Remote Work experience
Communication
Tools and resources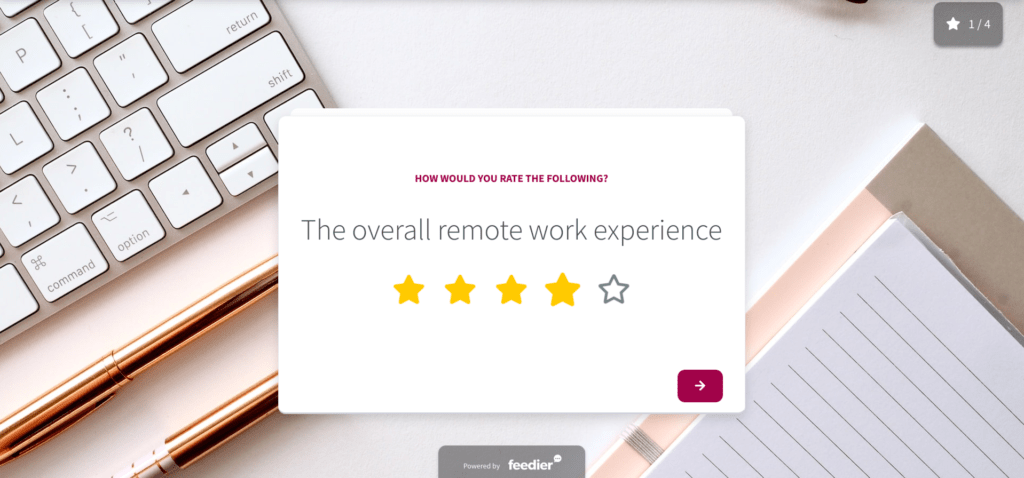 The second and most important part of the Feedback Form is the questions section. This is your chance to ask your employees any questions you have in order to prepare an adequate return for them.
PRO TIP! : Use different types of questions like images, emojis, slider… and avoid text questions as they are long and hard to analyze. Feedier allows you to choose from 12+ question types to make the form as interactive as possible.
Here are some questions that you can use in your form:
How do you feel about returning to the office? (Smiley question)
Do you or a member of your household have a pre-existing medical condition that could put you or your family member at risk if you catch COVID-19? (Yes/No question)
Overall, how safe do you feel traveling to work every day? (Rating slider)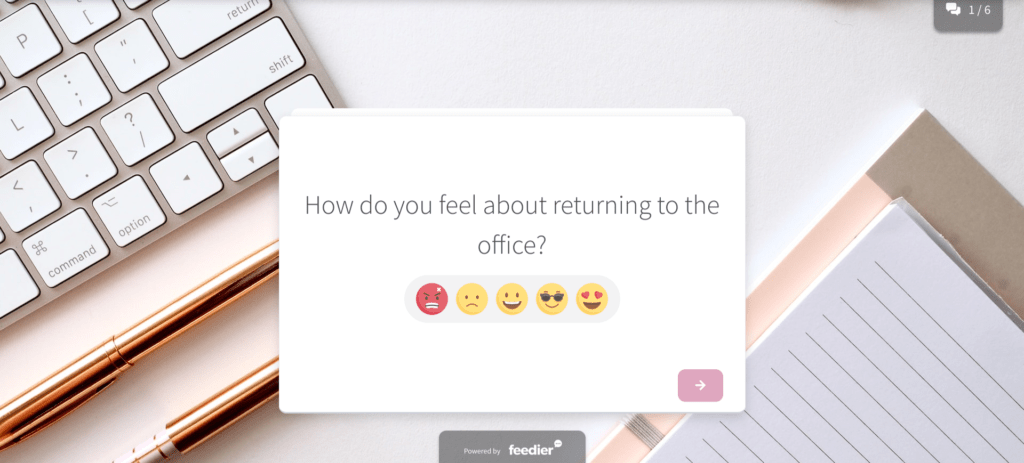 After their return
Checking up on your employees and asking for their Feedback shouldn't be a one-time thing, it is rather a continuous process that should be implemented regularly. After a few weeks of being back to the office, it is important to see if everything is going well for your employees and that they are adapting well to the new work environment.
The best and most convenient way to do this is to share a new Feedback Form with them. The answers will help you get a clearer vision of the situation so you can make the changes and improvements that you and your team need.
Just like in the previous one, start the Feedback Form by measuring your employees' satisfaction with the ratings. Here are some examples that you can use:
Safety measures at work
Respect of social distancing
The overall work atmosphere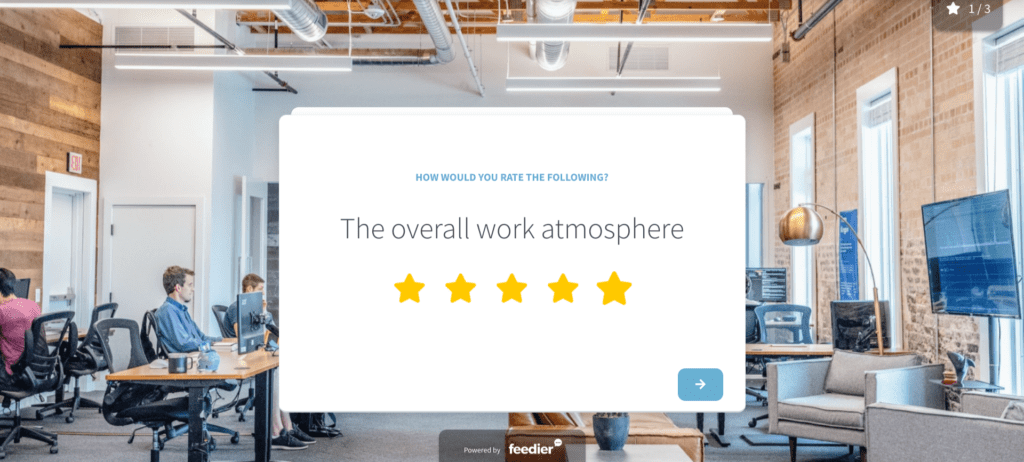 In the questions section, you can ask your employees for their opinion about what they like and dislike about this new way of working in order to establish the adequate rules and the potential improvements.
PRO TIP! : Use logical conditions to have a more relevant and dynamic Feedback Form. You can also add GIFs and images to add a fun touch to the form.
How do you feel about working at the office compared to working at home? (Smileys question)
Which aspect of working at the office would you like to see improved? (Images Question)
Do you feel more productive when you work at the office? (Yes/No)
Increase Flexibility
A growing list of business leaders are adding their weight to working from home and more flexible working arrangements, which is made possible thanks to technology and video-conferencing platforms such as Zoom, Google Meet, and Slack. Facebook founder and chief executive Mark Zuckerberg told staff it was "aggressively opening up remote hiring" in July.
He expects half of its workforce to do their jobs outside Facebook's offices over the next five to 10 years. It follows moves by other tech firms in Silicon Valley, including Twitter, which said employees can work from home "forever" if they wish.
Your employees might feel more comfortable working from home for several health-related and personal reasons. As long as they are doing their job effectively, you should be open to allowing them to choose whether or not they are willing to return to the company.
Some might also prefer to alternate between working at the office and working at home, which can be extremely beneficial for their motivation and productivity levels.
Show appreciation and empathy
In these times of crisis, being genuine and understanding is more important than ever. Your employees are most certainly doing their best to get the work done despite the complicated circumstances. It is important to show them that you are aware of the fact that they are working harder than ever and that you appreciate their efforts.
Even small gestures can make a difference! You can simply start with motivational and encouraging words to show your genuine support. You can also invite them to lunch from time to time or bring breakfast for everyone as a thank you for completing the project successfully.
This will not only make it clear to them that you appreciate their work but will also make their motivation and productivity levels go higher and higher every day.
Job support
While addressing safety and personal needs is fundamental to inviting employees to be productive, addressing job-related concerns is the next step, as it determines where their energy and attention will be focused.
If moral concerns are crucial, job-related concerns are the most critical aspect of the employee's work experience. What, exactly, will employees be asked to do as we settle in for the new normal?
Be willing to answer their endless questions
Your employees need to have a clear understanding of their new working conditions and environment. Will they be working full-time at the office? How will the workflow and the tasks change according to the new situation? And will team-work stay the same way as before?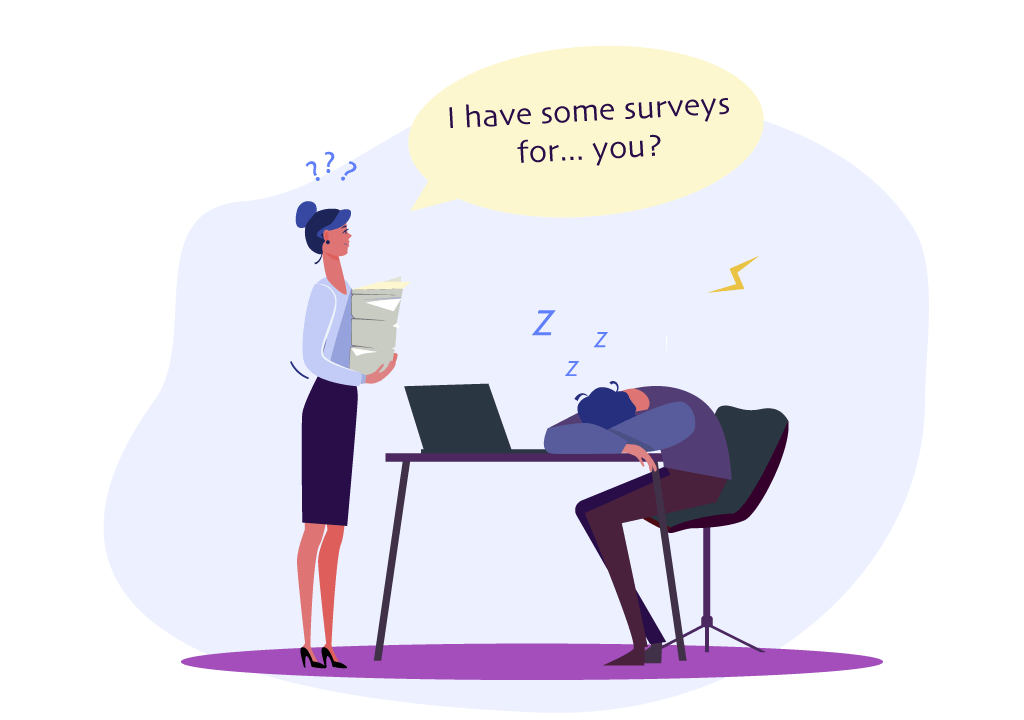 What about the international business trips, will they be maintained? Your employees will have lots and lots of questions that they expect you to have an answer to. Spoiler alert! You will not be able to answer most of their questions because the situation might remain unclear for you as well. It's very important to always be honest with them and to keep them updated on everything that is going on.
Get the work done!
As time goes on and the situation gets clearer, you need to ensure that employees have clarity around their tasks and work responsibilities. Help them understand what might be the same or different from before the COVID-19 changes.
Make a plan to provide the right guidance and support opportunities in order to help employees continue to improve.
It is important to understand that things will never be the same again and that changes may have impacted employees personally. Listen to your employees, ask for their feedback and opinions. Make them feel appreciated and cared for. Learn how to work together to build trust and create a suitable environment for everyone.
Make the most out of Business Experience today