Soliciting customer feedback in a variety of ways has become ubiquitous across multiple industries. The last thing you want is not getting responses, or in a better way, suffering from survey fatigue.
Consumers don't love taking surveys or providing feedback.
Even so, they definitely benefit from them with more than 90% of online shoppers turning to customer reviews before making a purchase.
Reviews help shoppers and potential customers assess your product or service before making the final commitment to buy, but it's typically a bottom-of-funnel tactic that occurs when a customer has already done their research and is ready to purchase.
For top-of-funnel buyers—those people that are still researching companies and products—providing a comprehensive product or company information is essential, particularly for millennial buyers in the B2B space.
More than 70% of millennial B2B buyers get information from a vendor's website before they ever reach out to a salesperson.
That's why providing the right content is crucial.
But it's not always easy to know what your audience wants—do they prefer videos? Webinars? DIY tutorials?
The only way to know is to ask.
What is Survey Fatigue?
Surveys are a great way to better understand what your customers want.
A good survey can help you develop a content strategy that moves browsers further along the purchase funnel, but only if people respond to it.
Herein lies the problem.
Customers are bombarded with feedback requests at nearly every touchpoint, which can be overwhelming, a phenomenon known as survey fatigue.
According to the National Research Center, survey fatigue occurs when people become overwhelmed with the number of questions on a survey or they're inundated with too many surveys.
One way to combat survey fatigue is to use The Ask Method, which gives someone a reward for answering a survey. But rewards alone aren't always enough to inspire a response when someone is annoyed with your request.
In fact, more than 70% of consumers say that surveys interfere with a website's experience and nearly 80% abandon a survey before they're done.
More than half of customers say they won't spend more than three minutes filling out a feedback form.
With statistics like these, it's just as important to understand when not to use surveys, and it is when to use them so that you can improve your response rates across the board.
Key Reasons People Abandon Online Forms
First, it's helpful to know the key reasons that people abandon online forms.
According to a study by The Manifest, there are four key reasons for online form abandonment – in order of priority: security concerns, form length, ads and upselling, and unnecessary questions.
Security Concerns
Identity theft and issues focused on the misuse of data are a huge deterrent for survey respondents. If you make your respondents feel safe, your response rates will improve. More on this in a bit.
Unnecessary Questions
Keep survey questions focused and specific to the goal you've established before creating the survey. Too many questions can cause "question fatigue" – which reduces the quality of survey answers and can cause people to abandon a survey entirely.
Form Length
Long forms are a major cause of survey fatigue and abandonment – this goes hand-in-hand with asking unnecessary questions. Keep your surveys to 8 questions or less, if possible.
I'll elaborate on this below.
Ads and Upselling
You're asking a lot when you solicit feedback requests from customers and prospects. Be grateful for that gift and avoid upselling or advertising to people who take the time to fill out your survey.

The Manifest surveyed more than 400 people and here's how that breaks down in terms of priority.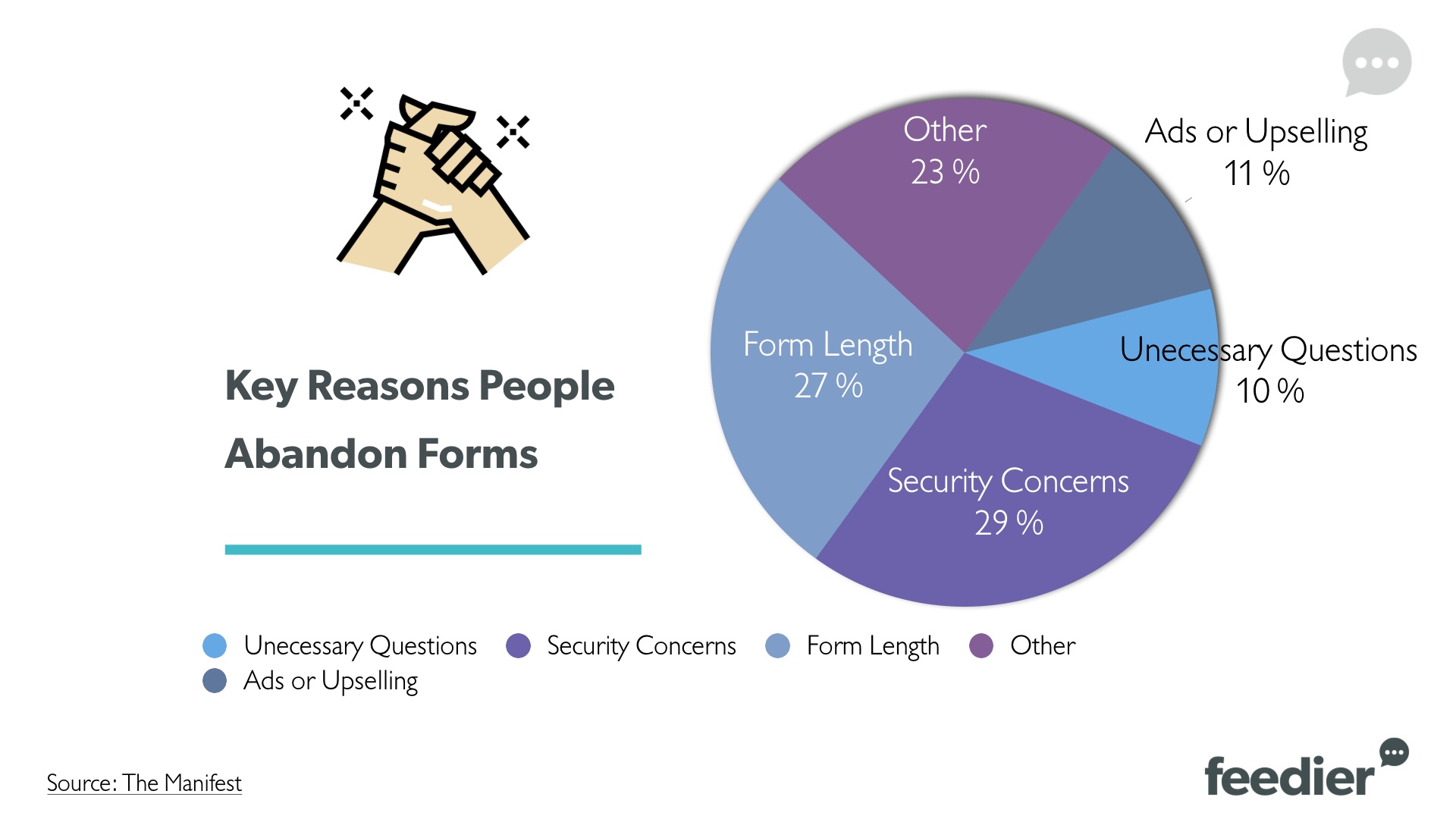 While the survey was focused on all online forms, it's safe to assume that surveys that request people's information and record their responses qualify as a form.
How Not To Annoy People
Keeping the above user concerns in mind, there are few best practices you can implement to help improve survey response and completion rates and minimize the annoyance (and fatigue) people feel when they're presented with a survey.
1. Don't Over-Survey
Marketers love surveys because they provide insight into customer behavior, intention, and desire.
But if you ask your customers (or prospects) to complete surveys too often, you are sure to trigger survey fatigue. To ensure that you get the best response rate for every survey, keep them to a minimum—perhaps monthly or even quarterly—and set a clear goal for each survey prior to deploying it.
The stats support us on this with research showing that survey response rates have dropped from 20% twenty years ago, to about 2% today.
One way to improve survey response rates and reduce the "annoyance factor" from your customers and prospects it to offer an incentive such as a voucher, coupon or cash.
In fact, Feedier makes it easy to do just that. Ask for feedback, give something back in return.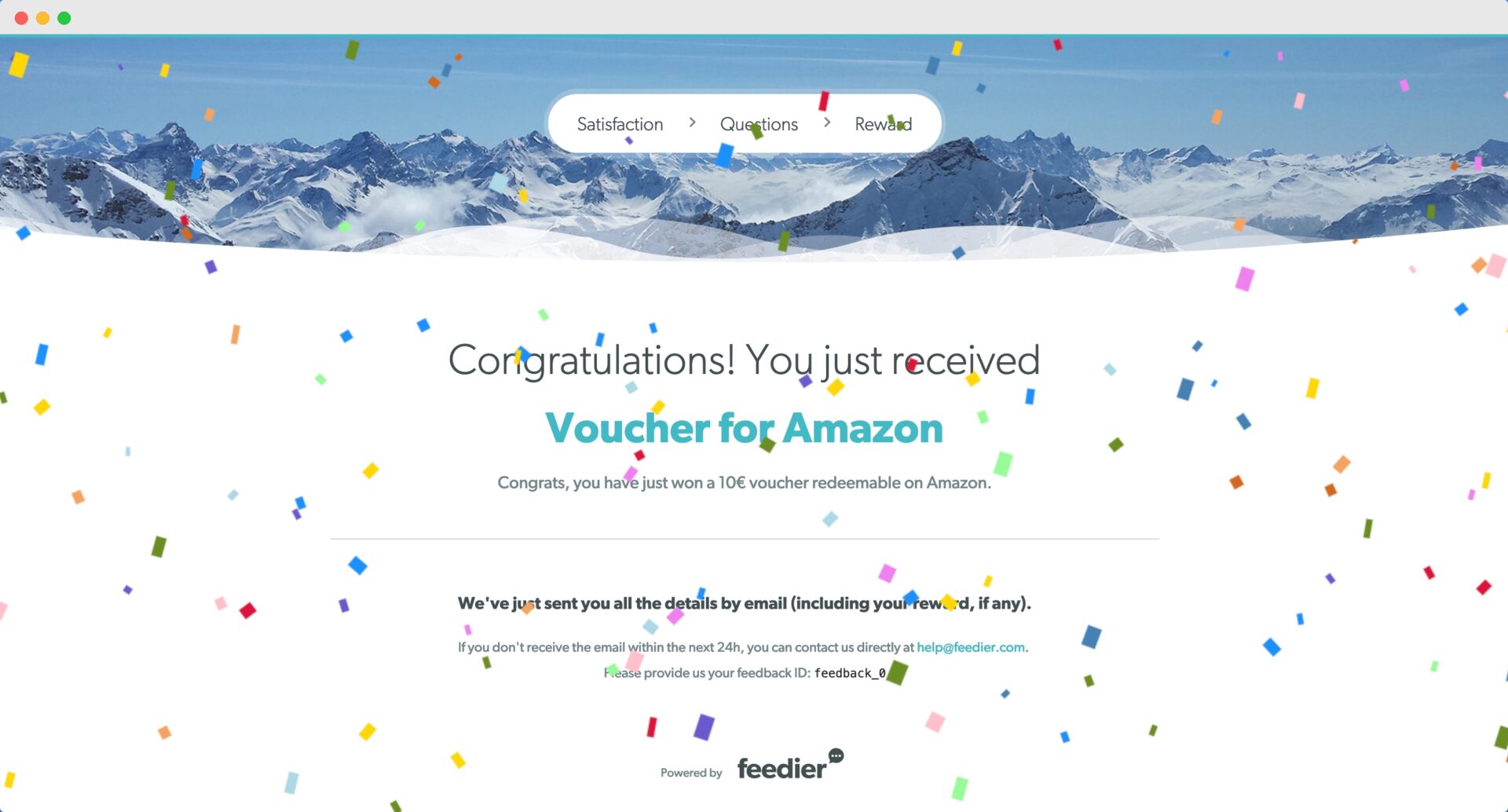 2. Keep Surveys Brief: The Myth of the Survey Length and Respondent Fatigue
More than 80% of customers have abandoned a survey after beginning it.
The main reason for this is the survey length. Most people who abandon a survey, never return to complete it.
The questionnaire length has effects on the survey response rate.
This is a key reason to keep your surveys brief. While there is no hard and fast rule for the ideal length of a survey, HubSpot reports that there are diminishing returns in the quality of user response for surveys with longer than ten questions.
Here is the breakdown of the average response time for surveys based on length (data provided by Survey Monkey).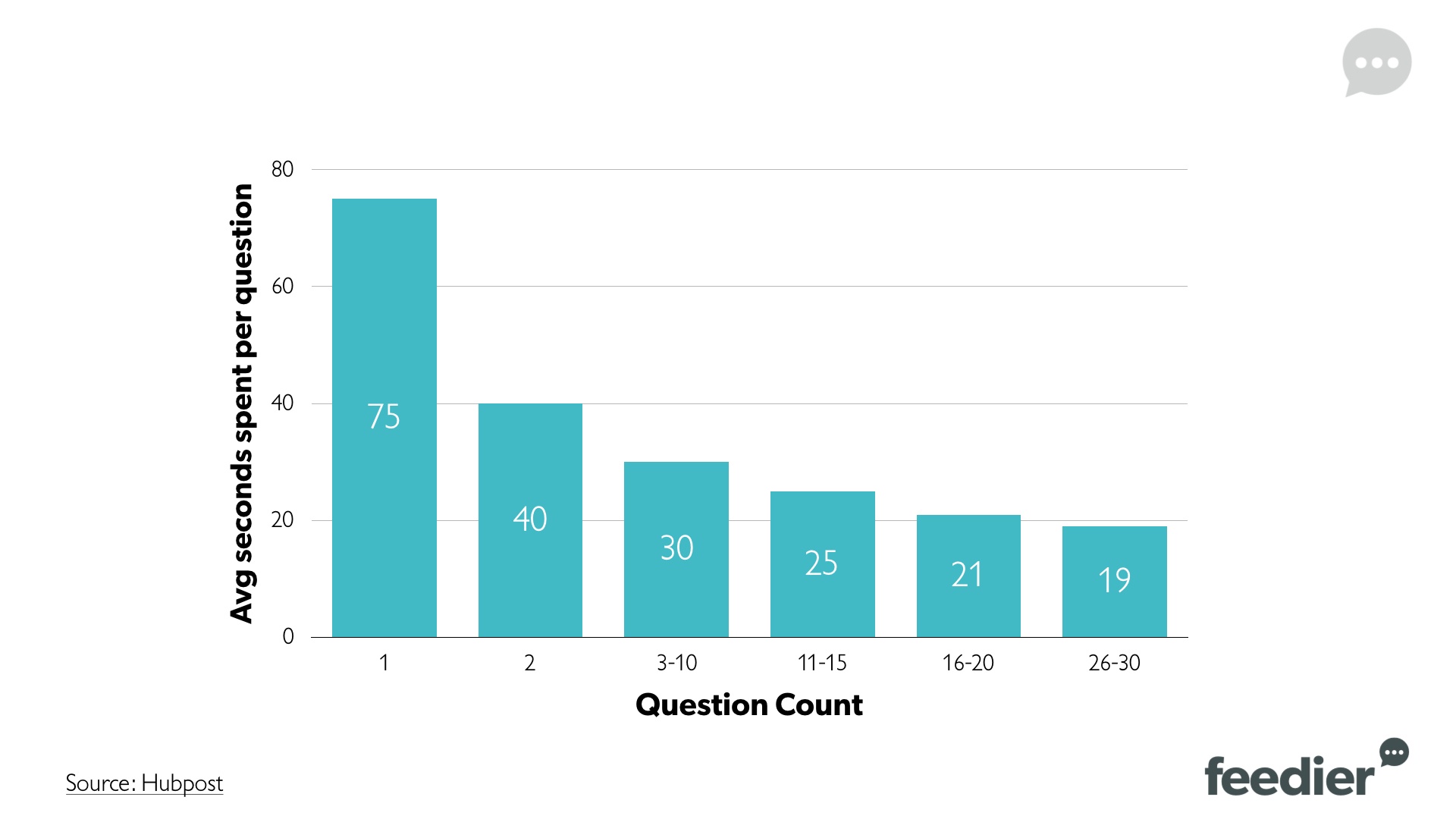 How Long Is Too Long For a Survey?
Keeping surveys to ten questions or less not only improves the quality of the response but can minimize survey abandonment since completion rates for surveys that take more than 7-8 minutes to finish drop by as much as 20%.
3. Keep Surveys Simple
While it can be tempting to overthink your questions and ask for more information rather than less, complicated surveys are annoying and completion rates reflect this.
Since every audience is different and businesses have varying needs, the best way to find out what works for you is to test the length of your questions.
One of the top reasons that people abandon a survey is because they're not clear about why they're being asked to provide feedback in the first place.
When simplifying your questions, keep in mind that the purpose of your survey needs to be explained as clearly (and simply) as possible.
More on this in a minute.
4. Keep Your Survey Focused (No Up-Selling)
Of the top four reasons that people abandon online forms—and without a doubt, one of the most annoying reasons—is advertisements or upselling.
11% of respondents in the Manifest study indicated that upselling was a key reason they abandoned an online form.
It should come as no surprise that people are easily distracted online, so when you embed ads or product links in and around your survey, it's not only annoying, but it can be fatal to your overall response rate.
5. Make People Feel Secure
Identity theft is a real concern among consumers, with more than 30% of U.S. consumers afraid that they'll become the victim of identity theft within the next five years.
This is up from 20% in 2014.
Online identity theft is then an annoyance—it's a very real fear which makes people extra cautious when completing feedback forms online. Most people (more than 90%) think that identity theft could have a fair to significant impact on their lives.
Since the Manifest study lists security concerns as the #1 reason that people abandon online forms, it's important that you make people feel safe when requesting feedback.
How can you do this?
Add an HTTPS certificate to your website or to wherever your form is hosted.
When you solicit information, make it completely clear who you are and why you want the information.
If possible, make the information request come from an authoritative source in your organization (the CEO or a VP-level executive).
Make sure that all stored information is encrypted.
Comply with GDPR mandates. If you don't know what these are, here's a refresher.
6. Communicate Value
A study by Vision Critical revealed that many people consider surveys to be spam, viewing them as one-way conversions that appear out of nowhere and are uninvited.
But this outlook changes if consumers can see the value of the surveys they take, with nearly 90% of respondents admitting to participating in surveys if they thought it would help impact a company's products or services.
Here are some ways to communicate the value of your survey:
Clearly state the purpose of the survey (e.g., help us choose a logo for our global rebranding effort!)
As mentioned above, make the feedback request come from someone authoritative or well-known such as the company CEO (e.g., Tony Hsieh here, we need your help to make Zappos even better!)
Whenever possible, elaborate on how the survey will impact your business (e.g., We're going to tally all the responses to come up with three new colors for our spring line)
This is something Feedier stands for. Making feedback experience less boring, two-ways. You ask, give something back, and provide an amazing experience.
It's also very important to indicate how long will the feedback take to fill in.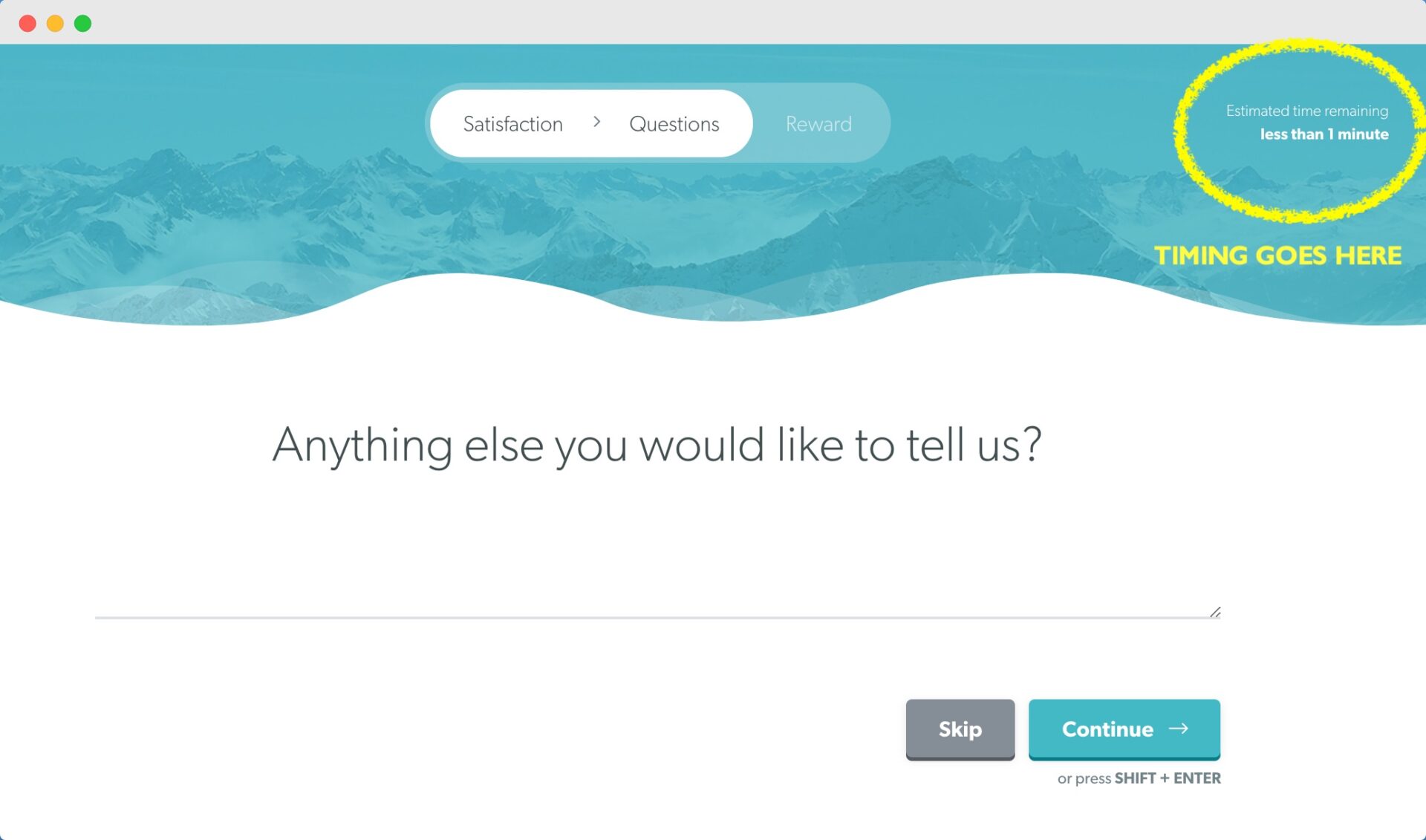 Conclusion
It may sound a bit harsh to call feedback requests and online surveys annoying, but from a consumer perspective, the constant solicitations for feedback from vendors and companies can be overwhelming and intrusive.
The irony is that great consumer feedback helps fuel better products, more comprehensive services, and gives companies the ability to provide a better customer experience.
But that can only happen if people respond to the questions you ask them.
Understanding the most common issues that cause people to abandon online forms is the first step companies can take to ensure that consumers feel safe and unencumbered by distractions such as ads or upselling when they encounter a request for feedback.
When companies combine this knowledge with an understanding of what can cause survey fatigue and consumer annoyance, they will create surveys that people not only respond to but answer fully with high-quality data that organizations can use to make their products or services even better.
About the Author
Scott Miraglia is the CEO of Elevation Marketing. He is a balanced risk-taker with nearly three decades of experience starting and growing advertising and marketing agencies. His business acumen is matched with a drive to build creative teams that thrive in open, collaborative work environments.
Make the most out of Business Experience today