What is a shareable brand experience? To answer that, we need to define the brand experience and what it is first. A brand experience is what is known as experiential marketing, which uses a holistic approach to branding and the way it communicates with the world to evoke specific feelings in the target audience and beyond.
In the B2B world, a shareable brand experience is one that your customers and audience in general will be happy to talk about, share on all relevant channels, and promote in their social circle both online and offline. Making your brand shareable is a way to boost brand visibility and reach, and also to boost brand authority and trust in a competitive and oversaturated market, inspiring potential clients, partners, and investors to reach out.
In a nutshell, it's a way to take your brand to the next level on all your relevant marketing, sales, and communication channels in order to improve customer experience. But creating truly shareable brand experiences that will put you above your competitors in a saturated market is far from easy.
That's why today we are taking a look at the key tips and tactics you should use to improve your brand experience as a whole, and create shareable experiences that will inspire business leaders and potential B2B customers to take action. 
Here's what you need to do.
It all starts with gathering feedback to grow your brand
First things first, it's important to remember that truly memorable brands are the ones who know and understand their audience on a deeper level – allowing them to create shareable brand experiences. Everything that you do online, from your social media posts to your content strategy, advertising, and all the way to sales and support, stems from knowing your audience and understanding their needs, desires, and aspirations.
Needless to say, this is also important for finding your ideal brand community on social media and online channels. This will allow you to focus on growing your brand and the channels that matter most to you.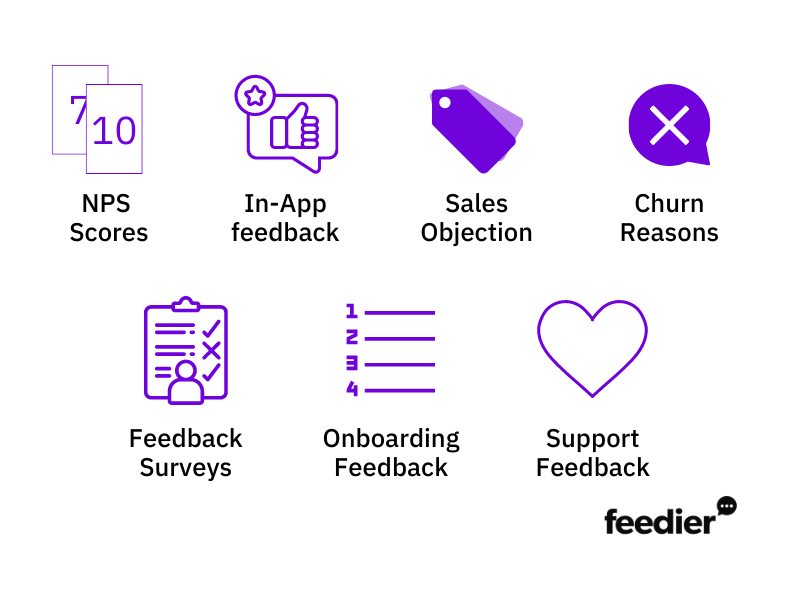 With that in mind, you can gain a better understanding of your audience by gathering feedback to boost your brand. To collect feedback effectively and turn it into actionable insights, make sure to:
Once you have gathered enough data on your audience, it's time to start using it to humanize your brand and align it with their values.
Humanize your brand identity
People want and need to connect with their favorite brand on a personal level. Building a powerful brand presence is a way to elevate your company's reach, visibility, and authority, but building a brand-customer relationship is all about making your brand an inextricable part of a customer's lifestyle. 
In essence, people connect and resonate with their favorite brands on a very personal level, as they become a part of their personality and outward identity. For these and many other reasons, it's important to humanize your brand and brand experiences and adapt the focus to the appropriate approach that makes send to your company.
You can do this centralisation of customer feedback on specialized platforms, and by monitoring your direct competitors on B2B networks. You can also post engaging poll questions on Instagram and focus on LinkedIn and other relevant B2B social channels to gather direct information about your audience, their likes and dislikes, what matters to them, and the like.
Internally, and before you start pushing new posts and messaging on all touchpoints, you should:
Analyze and refine your brand's tone of voice
Analyze audience values and drivers, and weave them into your brand's values
Humanize your brand image through visuals that focus on people
Humanize your brand's story, focusing on the journey, the motivators, and the value you offer to your customers
Localize your content to make it more shareable
Connecting with a brand on a more personal level goes beyond the things we talked about so far, and ventures into the realm of local cultures, languages and customs. If your company has a global presence, even if just online, you should consider localizing different online channels and touchpoints to connect with the local audience..4
Brand and content localization is not just about translating your social media pages or your website into different languages – it's about adapting to the local culture as much as possible. This requires you to segment your audience research into regions and nationalities, analyzing every market separately.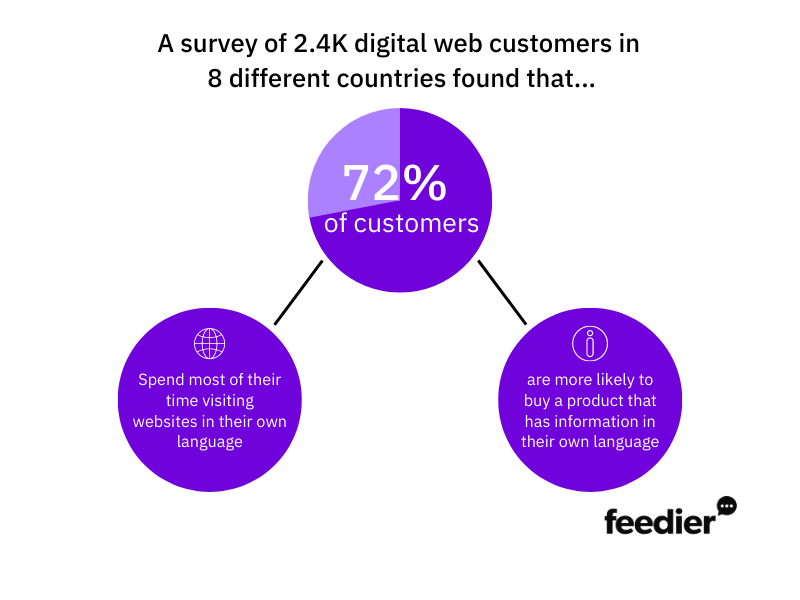 Now, this doesn't mean that you need to localize your content for every market where you have some sort of presence – just your biggest, most active and relevant audiences.
Make sure to identify your most sizable audiences and lucrative audiences, and start localizing your content by:
Adapting your content marketing strategy to the local language and culture
Using local SEO terms as well as location-based keywords
Tackling relevant local issues and posting about relevant local topics
Finding out what not to talk about and the types of topics, wording, and idioms to stay away from
Use a CMP to boost your social advertising
A creative management platform, or CMP, is a cloud-based tool companies use to empower their creatives, publish better advertising content, and gather relevant data from their campaigns. In the context of creating more shareable brand experiences, comprehensive creative management platforms can help you optimize your advertising across the board and incentivize B2B customers to take action on your ads, share them with others, and follow the links to relevant landing pages, which are also very shareable themselves. 
If you made sure to optimize your landing pages and their written and visual content, then you have inherently created a shareable brand experience on your website, for example. It's important to remember that shareable experiences includes everything you do on the web, and that includes on social media, third-party websites, and your own site.
While you don't have to use CMPs to achieve better advertising results on search engines and social media, you do need to create highly-engaging, personalized, and unique ads. This can be a pain-staking process that you could automate at least in part with this kind of tool.
The goal here is to automate the creative aspects of ad creation to minimize time and financial waste, and so that you can allocate resources towards creating shareable brand experiences on other touchpoints.
Leverage customer service for WOM
It's important to remember that it's not just the responsibility of the marketing department to create share-worthy brand experiences. This is the responsibility of every team and employee that comes into contact with your customers, followers, or audience in general.
When it comes to word of mouth marketing in the B2B sector, or the idea of people talking about your brand in a positive way and sharing their amazing experience, it's important to leverage all your customer-facing departments. And that means leveraging customer service in particular.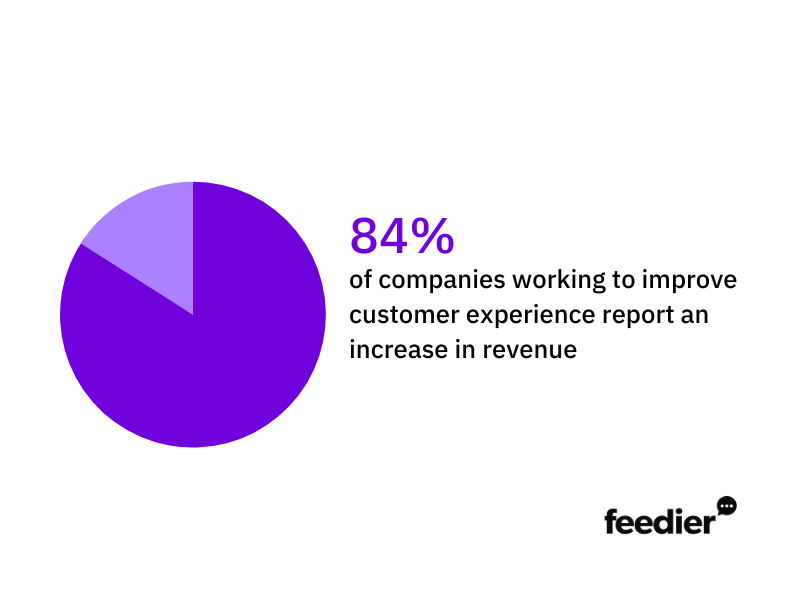 People will share their positive experience with a brand's customer service representative, especially if the positive experience came from a negative sentiment – if you have managed to resolve their issue.
You can also leverage chatbot technology to create more streamlined experiences and to automate repetitive support processes. Likewise, chatbots allow you to capitalize on chatbot marketing and open cross-sell and up-sell opportunities, be available to your customers 24/7, and most importantly, to boost customer retention by staying available for a chat at any time. B2B customers appreciate this level of support and service.
This tech allows you to automate numerous processes, one of which is sending out notifications and personalized messages to your customers. These don't have to be transactional or sales-oriented, as you can reach out in other ways to show your appreciation and gratitude towards your customers and audience in general.
Instead of trying to sell something, you can reach out with heartfelt thank-you messages, free promotional materials and gifts, and of course, loyalty perks to drive retention, engagement, and create shareable brand experiences through direct communication.
Stand out with sustainable packaging
Of course, building an amazing brand experience is not just about optimizing and improving your online presence – it's also about the shareable brand experiences in the offline world. This is especially relevant for businesses with a palpable product. Growth-oriented brands are nowadays focusinging their internal investments into their brand presentation when it comes to product packaging. 
Not only is it important to invest in high-quality packaging and visual branding, but it's also important to stand out through sustainability. People want to see your brand investing in worthwhile causes, and using sustainable packaging is one of the best ways to let them know that you're doing your part to protect the environment, the animals, and the workers who make and package your products.
Sustainability in general is a worthy cause, and it can be one of the causes with which your brand establishes a more meaningful connection with its audience and customer base. Through sustainable packaging, however, you are putting your brand values literally in the hands of your customers, opening the opportunity for amazing social media shoutouts, stellar reviews and feedback, and more.
Encourage and inspire user-generated content
Some of the most shareable brand experiences are the ones people create themselves, and the good thing is that there's nothing holding you back from asking people for user-generated content. There are many incentives you can offer to your website visitors, customers, and audience on social media in exchange for user-generated content:
Personalized offers
Deals and discounts
Loyalty perks
Referral bonuses
Store credit
Free promotional materials
Free downloadables including eBooks, infographics, guides, and more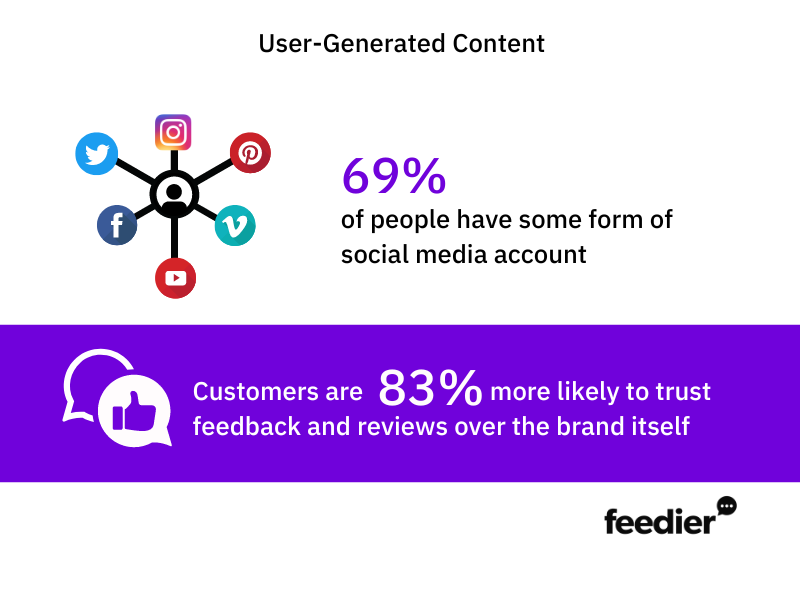 There are also many types of user generated content that your customers and brand followers can create and promote as amazing brand experiences, including:
Social media content and brand tags
Reviews and testimonials 
Blog posts and brand-related stories
Video content, including live streaming
Q&A forums and comments
Case studies and success stories
All of this can lead to better user experience overall, across all your online and offline touchpoints, and will improve your social proof. Social proof is when people follow the actions of others, and to do that, they need to see that their peers are satisfied with your brand.
Diversify your content offering
Lastly, make sure to diversify your content offering in order to optimize your content for all online channels and customer touchpoints. Keep in mind that every social media platform is different and prefers different types of content, and that different social audiences in the B2B realm will prefer one type of content over the other.
That's why diversification is so important, because to create shareable posts and brand experiences, you need to create content that's truly engaging, relevant, and appealing. To that end, consider using:
Blog posts
Emails marketing
Images and infographics
Guides and tutorials
Ebooks and educational content
A variety of videos
Webinars and workshops
Case studies and success stories
White papers and in-depth analyses
Press releases and PR content
Podcasts and interviews
Live events on all relevant platforms
In summary
Building shareable brand experiences for your audience and customers is a challenging task, especially in the B2B world where so many competitors are already dishing out share-worthy content, messaging, and are working tirelessly to build buzz around their brands. Not only do your posts and messaging need to be more value-driven and engaging, they also need to embody your brand's values and personality to become truly share-worthy.
If you want potential clients, partners, and investors to spread the good word about your brand and if you want to thrive off of stellar customer experience and word of mouth, then you need to have an amazing brand identity as well as an amazing marketing and communications strategy. 
Today, you have learned how to encompass all of these elements into a unified approach to online communication, and now you are ready to start creating shareable experiences that will inspire your audience to talk about you and boost your brand's reach and visibility in the competitive B2B business world.