Did you know that 86% of consumers are ready to pay more for a high-quality customer experience? Negative customer experience, on the other hand, can lead to lower profits and a worse reputation for your company. This is an aspect of business success you simply can't ignore or downplay.

As CX practices are constantly changing to meet B2B consumer needs, keeping one's finger on the pulse is essential to satisfying both new and existing customers. In this guide, we will walk you down the 5 B2B customer experience trends you can implement today to ensure an excellent customer journey for your clients.
What are the Main Aspects of Customer Experience?
To provide the best experiences for your audience, you need to adopt a holistic approach and cover every aspect of CX. So what should you keep in mind?
The major components of customer experience are:
Reliability and accountability. No matter the stage of the customer journey, you should strive to provide swift, seamless solutions to customers' problems and have a solid system in place to ensure consistency. Consumers are always attentive to whether a brand delivers on its promises – don't make them doubt your integrity;
Customer care and communication. Customers want to be sure they can always turn to your customer service team for assistance and issue resolution via their preferred channel. And it's not only about availability. Advanced communication skills, actionable interaction strategies, and outstanding ethics are a must for satisfying CX;
Convenience. Prioritize dropping customers' non-monetary costs such as time and effort. Provide swift quality service every step of the way from browsing your web pages to placing a delivery order;
Flexibility and adaptability. You don't want to be chasing modern CX tendencies – customers want you to keep up the pace. It is especially important for younger, more digital-savvy generations of consumers;
Honesty and transparency. Last but not least – people expect brands to be open and straight with customers across the entire buyer's journey. Give your clientele accurate and relevant information about your product/service, be transparent with your pricing, and respond to customer inquiries fully.
All the elements are equally crucial for building a positive customer experience. To boost your CX level across all these aspects, you need a comprehensive customer experience strategy that meets modern consumer expectations. If you are wondering where to start, consider the top 6 customer experience trends businesses are leveraging today:
Going omnichannel
As of 2019, nearly 70% of customers used at least 3 channels for customer service communications – and this number keeps getting higher.
To be able to reach and interact with customers effectively, invest in an omnichannel experience strategy that covers the entire buyer's journey. This customer experience trend is a must-follow for any business niche.
Diversify your sales channels for B2B clients
A recent McKinsely study shows that hybrid B2B sales are going to dominate the market in the upcoming years. In fact, B2B customers are using more channels in their buying decisions than ever before.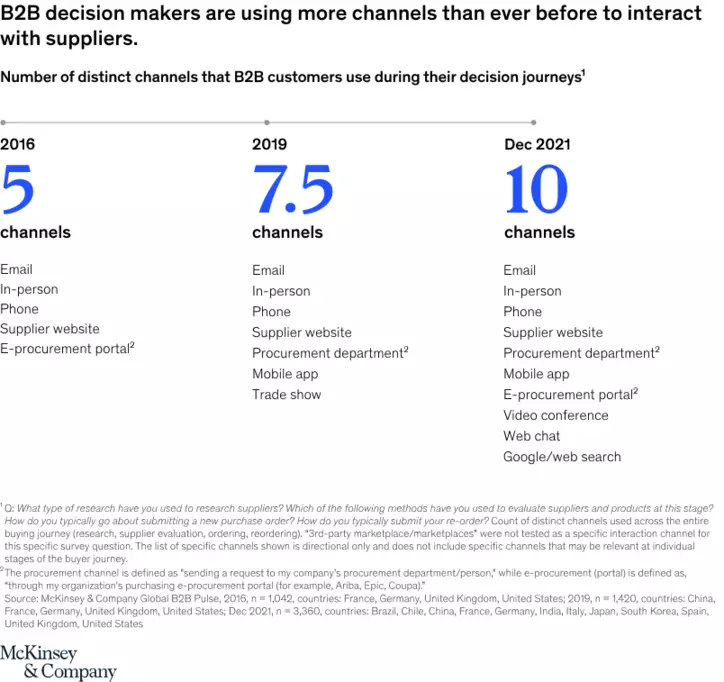 To meet your B2B clients' needs, adopt an omnichannel sales ecosystem.
analyze your target audience and determine which channels theu prefer to use;
invest in developing hybrid and remote sales operations;
make sure your sales agents are available via multiple channels
Adopt a multi-device approach to CX
Consumers should be able to come in contact with your brand conveniently from any device, whether it's a laptop, a smartphone, or a tablet. This is true both for B2B and B2C clients – the latter also want more flexibility when it comes to exploring what your brand has to offer.
To implement an omnichannel customer experience, you can:
Provide multi-channel customer service. B2B customers should have a choice when it comes to contacting your support team. Have several lines of communication, including email, live chats, a hotline, and/or an in-app contact section;
Make sure your website is mobile-friendly. Almost 60% of Internet traffic now comes from mobile. Optimize your pages to fit smaller mobile screens and maintain all the website functionality. There's nothing more discouraging for a potential customer than a website that won't load on an alternative device. You should optimize the pages as soon as you start building your website to avoid time-consuming modifications later. To assess the performance of your mobile site version, you can use a bounce rate calculator;
Establish social media presence. If you think social media presence is not relevant to B2B brands, you're likely behind the trends. In fact, more than 80% of B2B marketers say that social media is a great channel for engaging B2B clients and converting B2B prospects. Engage customers with relevant content, open up a line of communication in DMs, and integrate social media into your overall marketing strategy.
Incorporating AI to customer service practices
AI is a powerful tool that can enhance the customer experience in a variety of ways. Improved customer service is one of them. More and more businesses are turning to automated CS solutions – this CX trend is a true game changer.
You can use AI in B2B customer service in the form of:
CS Chatbot. This AI solution that uses NLP algorithms to develop bots that can communicate with consumers and guide them down the buyer's journey;
Automated email communication. You can use AI to generate email newsletters, announcements, or responses to streamline communication with your B2B clients;
Generation of self-service portals for customers. AI can help you accumulate a knowledge base your B2B leads and customers can access if they prefer doing their own research first.
Why should you implement AI in your customer service operations?
They take the load off your team. If you have a large inflow of customer inquiries, chatbots are a great first-response tool;
Lower operational costs. Automation provided by AI allows you to minimize your investment in CS without sacrificing its quality;
Better performance tracking and customer data collection. AI tools are excellent at accumulating and analyzing customer data. You can then use these insights to improve your product and service and boost customer satisfaction.
While CS automation is now gaining momentum, experts say that a smart combination of AI and human customer service specialists is the winning strategy for a stellar customer experience.
Bringing forward brand values to connect with customers
Building more meaningful relationships with your B2B customers is another time-tested way to improve customer experience. And this is a trending CX practice.
The new generation of companies are more and more conscious about the values and causes they want to project ans support. It could be such issues as climate change, gender equality, visibility of minorities, etc.
In other words, B2B clients want to interact with brands whose values and vision are aligned with their own.
And as a B2B brand, you can boost the level of customer loyalty and increase customer lifetime value by including your core values in the marketing and sales conversations with your B2B clients.
Don't be generic or superficial with your brand values. People see right through empty or ingenuine brand messages. Anyone can say they stand for, say, equality or diversity. Your goal is to show HOW you support these values and WHY they carry significance for your company.
Manifest your brand values and demonstrate them to customers. For example, if you celebrate sustainability, strive to follow through with this value all the way – use sustainable materials in production, strive for zero waste, etc. Encourage your B2B clients to do the same;
Implement cause marketing. Collaborate with non-profit organizations that share your values and organize charity campaigns. You'll kill two birds with one stone – contribute to the cause you care about and establish your brand as socially responsible.
The more B2B customers explore and connect with your core values, the more profound and positive experiences they will have with your brand.
Mastering listening to the Voice of Customer (VoC)
Voice of the Customer (VoC) is a concept that covers the process of collecting customer feedback and data and analyzing it to improve customer relationships.
Listening to and understanding VoC is crucial to providing an excellent customer experience. VoC provides clear information on your audiences' pain points, desires, and needs.
Create a B2B VoC strategy for your brand that optimizes customer feedback collection and analysis to use for business growth.
Use review sources and survey tools to gather valuable customer feedback;
Turn to experience management platforms for comprehensive feedback assessment (obtaining NPS score, satisfaction rates, etc.);
Analyze the results and adjust your customer experience strategy accordingly.
Pro-tip: automate your VoC practices. Trying to listen to VoC manually is too time-consuming and you're likely to overlook some important aspects of your brand's performance. Choose a quality VoC tool to ace both feedback collection and assessment and aid your CX team's effort.
Guaranteeing customer data transparency and protection
Customer data collection is essential to more efficient marketing and better CX. However, B2B customers are becoming increasingly careful about what information they share with brands. Privacy is a value companies don't want to sacrifice for the sake of a good business offer.
Research by McKinsey has shown that 87% of consumers will turn away from a business if it has unclear security policies. So if you want to keep your B2B customers satisfied and maintain brand trust, make sure you treat customer data privacy seriously.
Be aware that GDPR equally applies to B2C and B2B. GDPR (General Data Protection Regulation) does not distinguish between data collection from individuals and from business entities. That's why you should make sure you comply with GDPR when it comes to gathering and processing B2B customer data;
Be transparent about your data collection protocol. What information are you going to collect? How are you going to use it? Let B2B customers know why they will benefit from sharing data with your brand;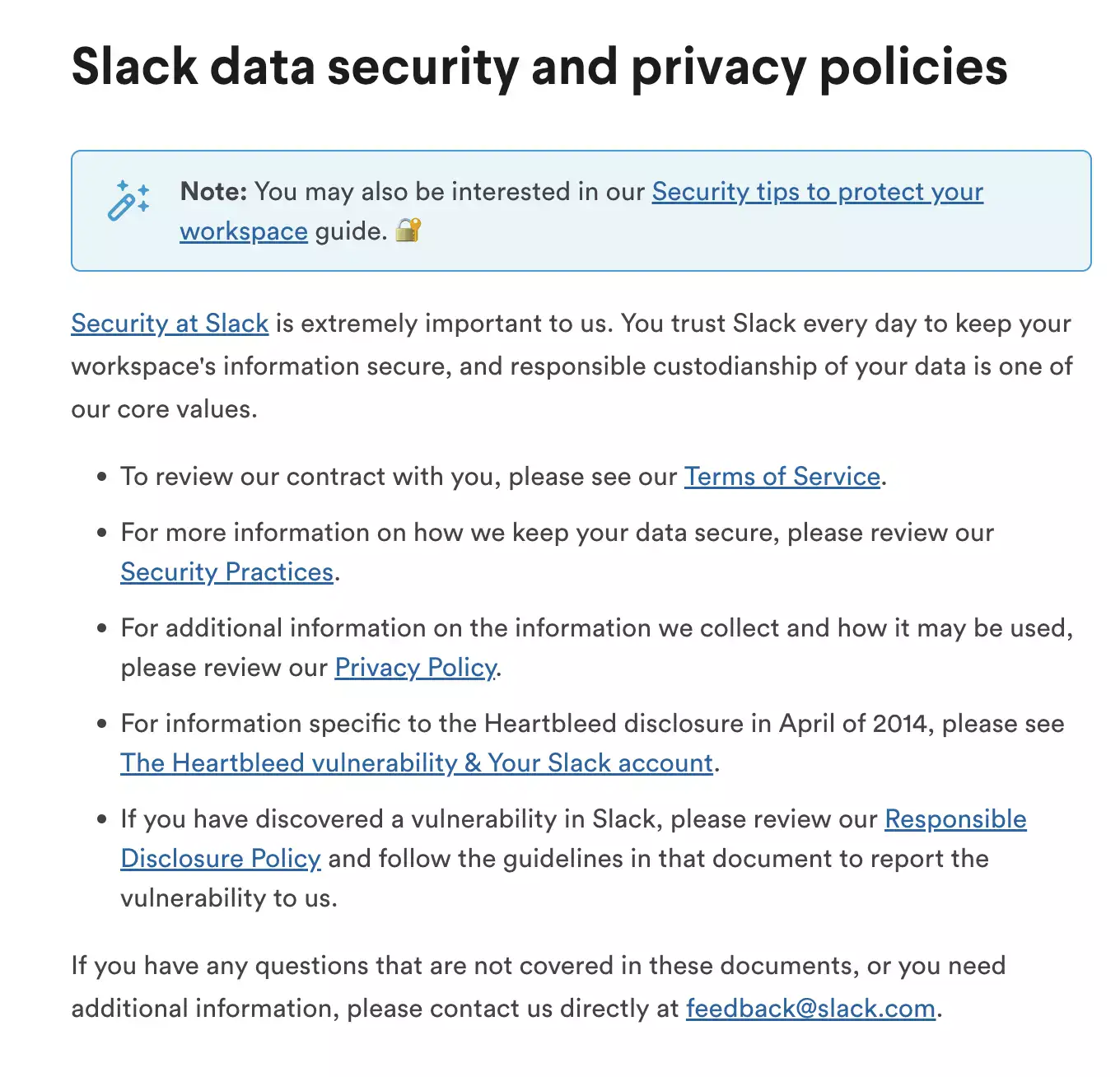 Wrap-Up
Today's customer experience trends focus on several major aspects:
Leveraging automation and technology;
Promoting meaningful and engaging customer interactions;
Multi-channel availability;
Improved customer service;
Smart feedback collection and analysis with powerful reporting.
Pay close attention to all these facets of a successful customer experience strategy and keep adjusting it to your niche and target audience needs. Exercise a holistic approach to customer satisfaction to boost CX from start to finish.
---
Author bio
David Morneau is the co-founder and CEO of inBeat, a hybrid micro-influencer marketing SAAS/agency that helps brands scale their marketing efforts. He has helped over 200 DTC brands to date.
Make the most out of Business Experience today