In general, working from home creates happier, more focused employees, but getting staff to that fulfilled stage isn't an overnight process. In the same way businesses work on customer satisfaction, they need to work on employee satisfaction too.
Engagement with remote work requires input from both the employer and employees, especially as, when working from home, there are so many distractions to deal with. Sometimes a lot is going on in the background. Maybe people are finding it hard to stay motivated. It could just be that when working remotely, there aren't the same opportunities to resolve team conflicts.
Whatever the issue, there are plenty of solutions to help keep your remote team engaged. Whether you sell the best customer service software around or you run an ad agency, here are 10 ideas to help with this.
#1 Go Virtual
By now, you'll probably have done at least 1,000 online meetings and presentations. That doesn't mean that working online can't have a fun side too. Going virtual is the perfect opportunity to play games and quizzes to increase employee engagement.
Through the power of the internet, you can have weekly lunchtime quizzes, you could even do online classes. Gathering the team to have fun online is the perfect way to give your employees a mental and physical break from work and to focus on them as people.
It's about building a culture that people get excited about and look forward to being a part of. So, when it comes to meetings about affordable web hosting services or content migration, your team is much more engaged. Beside virtual parties, remote teams can also host their work in a virtual machine to boost their work productivity.
#2 Make People Feel Welcome
If you want an employee to be the best they can, you need to do what's needed to make them feel part of the team. This task becomes harder as people work remotely and aren't interacting as much.
To improve the employee experience, make sure everyone is being acknowledged and is included. This is especially important for new employees who may already be struggling to get noticed.
A good way to make people feel welcome is to actively acknowledge them during meetings. Ask people how they are and how their weekend was. Try not to talk over them and try to get to know everyone. This will help make people feel they are part of a team.
#3 Set Clear Rules From The Start
One reason people may be struggling to engage is that they don't know what the rules are. Perhaps when you asked the copywriter to do a white paper on-call administration, they thought they had a month to do it, not a week. Or maybe when you told the graphic designer to change the landing page by EOD, they presumed you meant midnight, not 5 pm.
It's important to set rules from the start so workers can stay focused and the whole team can work well together. Letting people know what is expected of them means you'll all be on the same page.
One thing you need to let people know is if they can work flexible hours or if they are still on a strict 9-5. If you do go for flexible hours, you may have to set a time that they are available for meetings or group chats.
Another point you need to be clear on is communication and how you will discuss work. Doing these things saves confusion and misunderstandings.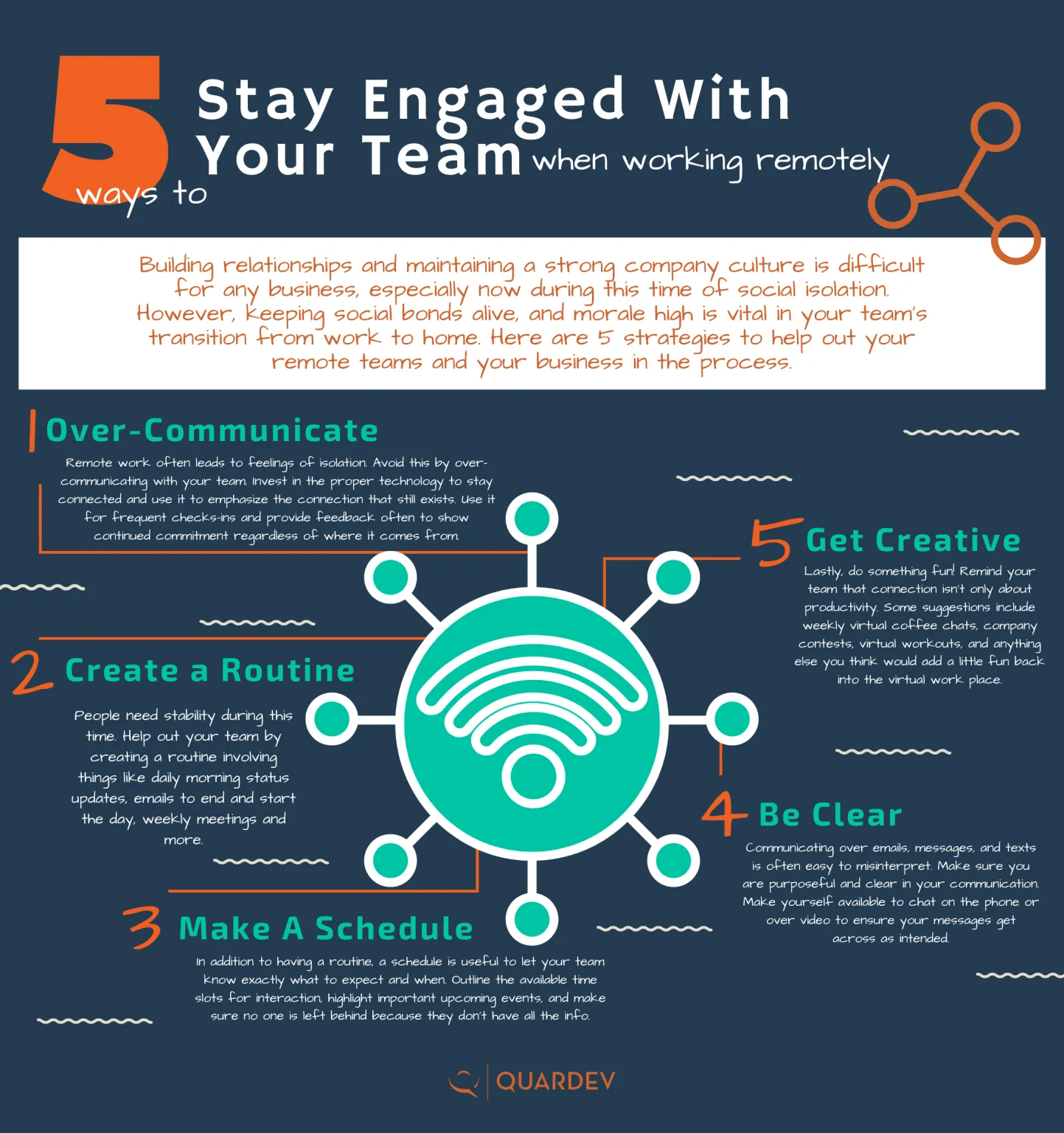 #4 Send A Care Package
Everyone likes receiving gifts through the post. Sending a care package to a remote employee is another way of telling your staff you care about them and want to keep them happy.
It could be you send them a food package, things to keep them comfy while working, or something to entertain them after work. Whatever you decide, a care package is a great way to bring remote employees together.
If you're going to do this, consider equality in the workplace and make sure you are sending one to all employees, not just your favorites. Also, be considerate of what you are posting and keep in mind things like dietary requirements and religious beliefs.
#5 Improve Communications
There's nothing more frustrating than being left out of a communications loop at work. When working remotely, this problem is magnified. That's because there isn't the opportunity to approach a colleague with problems. So, remote workers need to make that extra effort to ensure everyone is being communicated with as much as possible.
Okay, people may get a little annoyed with having too much information, but it's better than having nowhere near enough info. Especially as, when relying on virtual communication, you can wait a while to get an answer to a question.
A good way to improve communication with home-based work is to make sure everyone understands tasks and clear briefs are being sent. Don't be afraid to set up a team meeting about the subject if need be.
#6 Keep Home and Work Separate
While it's important to get to know people, remote work isn't an excuse to be invasive. Of course, it's nice that employees are in a home environment and have more time to spend with loved ones. But this doesn't mean you can take advantage and expect them to be okay with getting random work messages all the time.
Treat it like sales engagement tactics. Being personal with a customer is a great way to get them on board with a sale, but you also know that being too pushy will make them lose interest. So, you need to get the balance right.
This is how you should handle remote employees too. You need to show interest in their life to make them feel welcome, but messaging them about work at 11 pm will just disengage them from the company.
Therefore, it's important to remember the importance of keeping home and work life separate. As an employer, don't push workers beyond their working hours and responsibilities.
#7 Check-In On People
While remote working has its upsides, a major downside is that people don't have the same chance to talk about their problems. So, you need to check in on them to see how they are doing around once a week.
It could be they are struggling to get to grips with the new phone queue system. Or maybe they are feeling a bit lonely. Or perhaps they are perfectly fine and loving the remote life. You will never know until you ask.
Checking in on people will help you address any problems and keep workers happy. And a happier worker is a more engaged worker.
#8 Give People Autonomy
No matter if they're working from home or in the office, people want to feel like they're being trusted and developing their skills. So, if someone is eager to do their own project or wants to grow their talents, let them! Don't push them to one side; try and find time for them to work on it.
Of course, the goal needs to be company-related, but doing a project they enjoy will help them feel engaged and make them look forward to work. Say a person wants to create a blog titled, "What is automation?". Or they think they have a solution to increase social media followers. Whatever it is, giving employees a few hours a week to work on their projects will keep them involved.
#9 Have An Online Coffee Break
One of the best parts of working in the office is catching up with all the gossip over a coffee break. So, why not recreate this online? Having a moment to let people take ten and talk to each other will really help boost morale.
Having a coffee break gives people the mental break to get them ready for the tasks that lie ahead, whether that be dealing with the new eCommerce platforms or knowing they have a load of emails to respond to.
Doing this also shows you aren't one of those stressful bosses that piles way too much work on people. And having more of a relaxed attitude like this is a great way to prevent burnout whilst still encouraging people to work hard.
#10 Have A Fun Meeting
This is a simple but effective one. Having a fun meeting is basically about taking a break from all the meetings and presentations to be a bit silly. You can have a fun hat day. A meet the pets day. A tell a joke day. Even a silly shirt day.
It's about making people smile and taking the everyday difficulties away to keep them cheerier and more engaged. Then, when they go into that first call resolution customer call, they will be in a good mood and will be more willing to go that extra mile.
The Takeaway
Remote working can have benefits for both companies and their employees. But, to keep workers engaged, you may need to put in a little effort from your end. Whether you decide to use all these tips or just one, they will help keep people happy and involved when in the workplace.
Author's bio: Elea Andrea Almazora– RingCentral US
Elea is the SEO Content Optimization manager for RingCentral, the leader in global enterprise communication and collaboration solutions on the cloud. She has more than a decade's worth of experience in on-page optimization, editorial production, and digital publishing. She spends her free time learning new things.
Make the most out of Business Experience today