In this customer-centric world, collecting user feedback is no longer a mere task in customer support team's backlog.
It is the fundamental criteria to grow your company by understanding what the user wants and acting upon it.
Hence, the importance of user feedback cannot be undermined.
Imagine, you put a plethora of resources and man-hours in building your product. But your users are not using the product, which makes you wonder where did you go wrong.
The answer is: your perception might not align with that of the users'. Hence, learning what your users really want becomes important.
User feedback facilitates that learning for you.
Well, there are multiple ways to collect feedback from your users. And it is important to collect feedback from multiple channels.
It is often said in marketing, every channel becomes redundant after some time. The same is applicable for user feedback as well.
So, what are the best ways to collect user feedback? Read on.
Types of User Feedback
Before we jump into the crux of the topic, let us understand the types of user feedback.
Collect User Feedback Through Feedback Forms
You can use feedback forms to ask questions related to your product.
These forms can be sent over emails, live chat, or you can embed them inside your product.
Involuntary Feedback
Analyzing user activity using analytical tools and session recorders can help in getting user feedback.
This will help you in understanding a lot of aspects such as user's motivation, most used features, hurdles and easy/hard parts of the products.

Usability Tests
Running usability tests with first time users, testers and your network can unfold many pros and cons of your product and gather product feedback.
The goal of such a test, which can be done on the phone, in real life, or freely by your users is to identify the things that have to be improved urgently.
You'll be able to pain the full picture and create your user story map.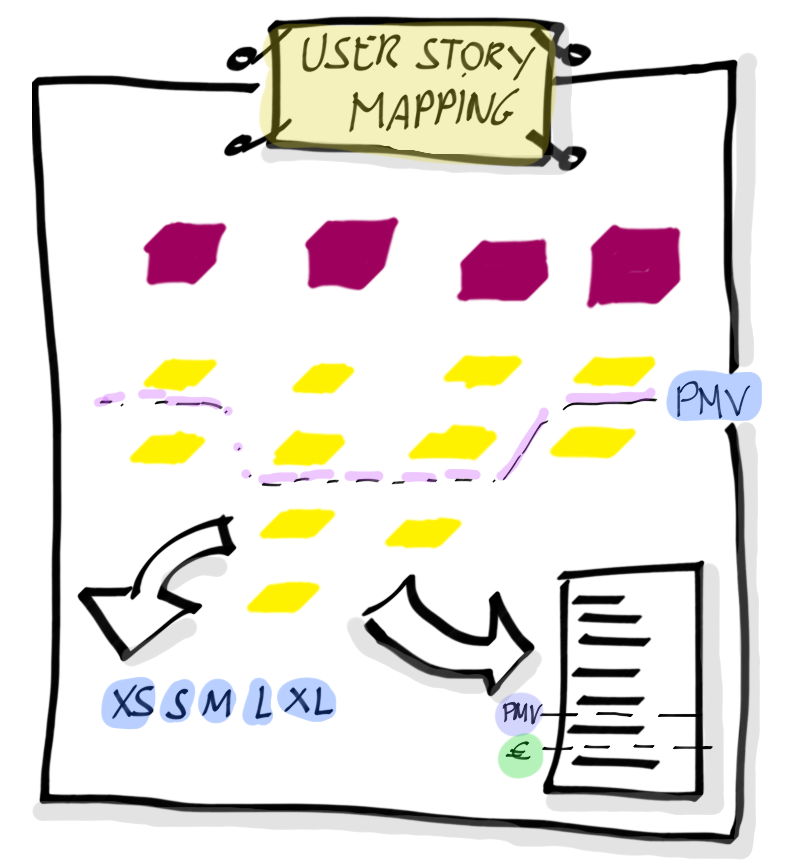 Direct Interviews
Direct asking your customer for feedback is a time-taking and traditional way of getting user feedback.
Although, the feedback gathered by this method is of the highest quality, it is also the most time-consuming.
Top Ways to Collect User Feedback Which Actually Work
Now that we know of the types of user feedback you can collect, let's dig deeper into the most effective ways to collect user feedback.
In-App User Feedback Forms
In-app feedback forms are one of the most effective ways of getting user feedback.
You can leverage the opportunity of getting real-time feedback on your product while customers are actually using it.
That said, user feedback forms need to be placed wisely. If you bombard your users with numerous questions at the wrong time, you risk giving them a bad experience.
You should give your users adequate time to evaluate the product before asking for feedback.
Also, make sure your forms are contextually placed. Suppose, you want to take the feedback on a new feature you have launched. Make sure that the feedback form is not placed at some random place such as your login page, but at the place where the user can actually try out that particular feature.
Your users might be more willing to give feedback after they have achieved something in your product. You could place your feedback forms at such places.
For example, after completing a purchase, integrating the product or successfully sending an email campaign.
Also, segmenting users to show in-app forms is really important. You can segment users on the basis of behavior, maturity and time spent. For user feedback, quality matters more than quantity.
Live-Chat Feedback Question
Live chat has seamlessly fitted into customer success strategies of every business.
Beyond customer support and marketing, live chat can be employed to collect feedback from the users.
The best part about collecting feedback through live chat is that you can get the feedback right when the user is in the mix.
Let's take the example of a bulk emailing tool. The user has just finished creating an email campaign and scheduled it for sending later. You can leverage this opportunity to subtly ask the feedback for your campaign builder feature.
Additionally, you can automate collecting feedback through live chat by using chatbots. You can easily create a simple feedback chatbot.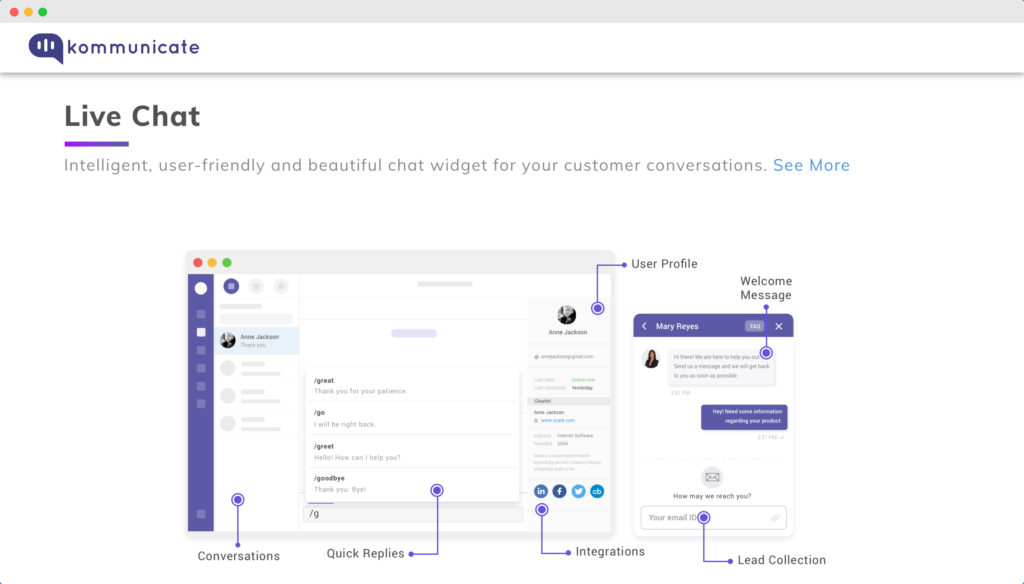 You can put such chatbots in your product by integrating them within the live chat and automate the feedback collection process.
For better results, you can contextually place different feedback chatbots at different aspects of your product.
Email Surveys for User Feedback
Email remains one of the evergreen media to communicate with your users. There is a sense of ingenuity in email conversations, since we have been using them for a long time.
You can get the user feedback over emails by either slipping in your feedback questions between the dialogue, sending links to user feedback forms in your emails or simply embed the whole feedback form in the email (see the example below).

Make sure your email copy is crystal clear and minimal. You should also write a phrase or two about how this will help you create a better product.
Also, a clear CTA is a must-have. If you put too many links or CTAs in the email, the user might get distracted from the main agenda.
Incentivized Feedback
Incentivizing your users with rewards might help you gather qualitative feedback. A lot of many companies provide value to their user against their feedback.
The value could be monetary, discounts, extended trial periods or simple in-app assets.
You can gamify the whole feedback process to drive more users to give feedback on different aspects of your product.
User Testing for UX Feedback and UI Improvements
User testing is a great way to analyze initial user feedback on new products or features.
It helps you understand the overall user experience of the product. The testers can tell you about easy and hard parts about using your product.
You can analyze which features are catching their eyes, which parts they are unable to understand, and are they using the product as it was meant to?
Collect Quantitative Feedback by Tracking the Full Journey
Your users give involuntary feedback to you. You just need to dig deeper.
I am sure you would be using analytics tools to analyze user behavior on your product. You can track user journeys, the actions they performed, where they dropped off and which aspects they used more.
Analyzing the aforementioned points for both the bulk of users and individuals will give you insights to act upon.
For example, if you see a certain drop-off in your signup flow, you can experiment with removing certain form fields required to be filled in by the user.
You could also use a session recorder tool to record users' activities and analyze their whole journey in the product.
Look into heatmaps to identify the areas that catch the attention of your users.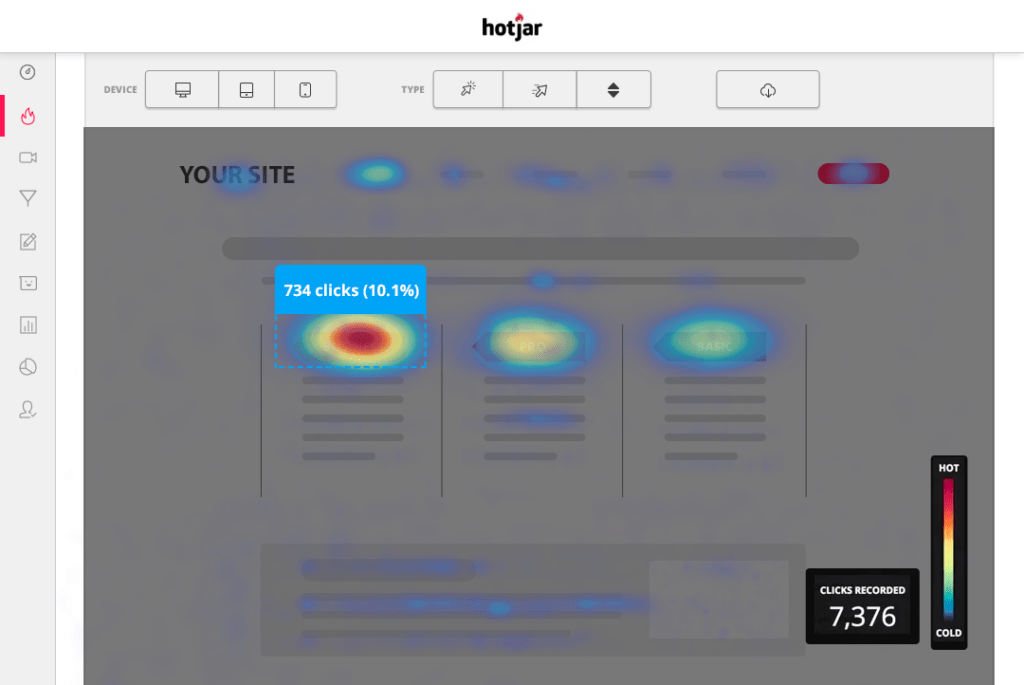 Direct Customer Interviews
Nothing is better than going one on one with your customer and taking their feedback.
Though hard to implement, this might be one of the best, if not the best, ways to get customer feedback.
Given most of the businesses cater to the global audience and it may not be possible to visit the users.
An on-call interview or video conferencing would work as well.
You can jot down specific questions to be asked, but it is much better to let the natural conversation flow to get the most intrinsic of the perceptions your users have about your product.
User Feedback Tools
Given that there are numerous and diverse ways to collect product feedback, a single tool is not sufficient for you to make your feedback game super strong.
Often, it requires a mix of tools to create, manage, send and analyze the user feedback.
Tools to Run Feedback Questionnaires
Feedback forms can be created and deployed using tools such as Feedier, Google Forms, Wootric, and Typeform.
Feedier has the edge with built-in reward management for incentivizing your users and provision to embed them in your app.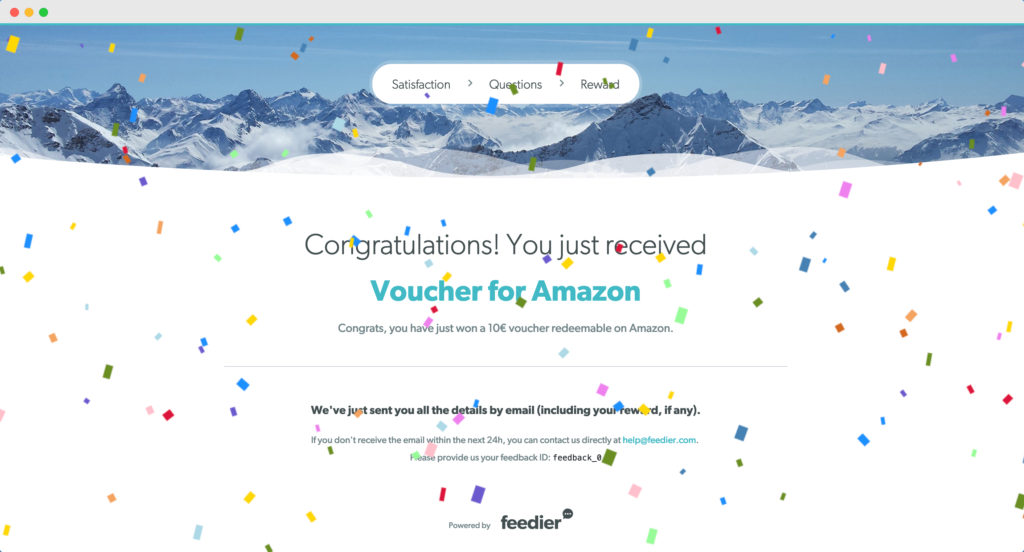 To deliver these forms through email, you can use any provider such as Amazon SES, Mailchimp, Active Campaign, or Drip.
If you want to deliver it through live chat or bots, you can use Intercom, Kommunicate, Drift, Crisp, etc.
Tracking to Track the User Journey
You can track the user journey with any standard analytics tool such as Google Analytics, Heap Analytics, and Mixpanel. I would recommend Mixpanel for this use-case as it is more product analysis focused rather than marketing.
For session replay, you can use tools such as Hotjar, VWO or LiveSession.

Tools To Conduct User Testing Sessions
You can start user testing with your network, friends, and employees (who weren't involved in building the product).
or extensive user testing, you can turn to tools like UserTesting or search for testers on freelancing websites such as Fiverr and Upwork.
Wrap-Up
User feedback can make or break your company.
It also is your first step to becoming a customer-centric company. Since Amazon disrupted the market with their customer-centric approach, every successful company which came after had put customers first.
User feedback on your product may not be often touted as an essential part by many businesses, but it is a proven way to learn quickly and improve your product and services.
One important point here: If you do not act upon the user feedback you have gathered, the whole process goes in vain. Analyzing and acting upon it is as important as fathering feedback.
There are a plethora of tools available to effectively implement user feedback cycles. Use them to deliver a better product to your users.