The customer experience is a vital attribute of your business. It provides your current, future, and past customers with an initial impression of your company, team, product, or service. In a competitive market, your business needs to stand out and have a great CX. Dive into four best practices you can implement today that will elevate customer satisfaction, increase brand awareness, and drive more leads.
Build a strategy focused on your Customers
One of the essential elements of your business plan is your customers. They are the engine behind your business because they provide you with feedback, sales, and other insights to grow the company. A customer-centric strategy is a key to long-term success. Because markets are full of viable choices, your business needs to go above and beyond to make customers feel important.
Your current and potential clients have high expectations, and you constantly need to exceed them.
According to a Genesys study, 64% of firms with a customer-first leadership team are more profitable than the competition.
For your business to put this into practice, it must clearly define its vision. It must also combine innovative solutions and an actionable strategy. There are four main components of a customer-focused strategy: listening, measuring, addressing audience personas, and adopting change.
Maybe you already heard about Customer Feedack Loop. Here's how it works: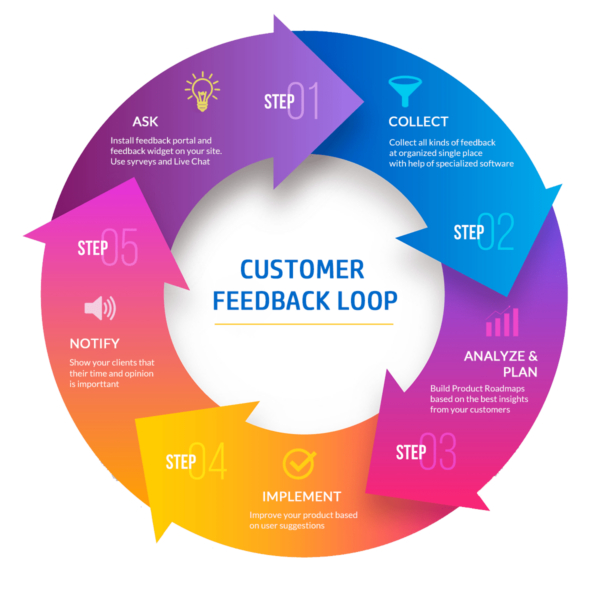 Listen to Customer Feedback
First, your business must listen to customer feedback. The best companies solve problems externally, not internally. Every decision is made in the best interest of the customer. Establish a consistent feedback loop so that your customers feel heard. When your service team interacts with the customer, they should listen for any feedback, record it, and bring it to management.
Measure its performance
Secondly, your company must measure its performance in dealing with the customer. There is a strong story behind the numbers, which includes metrics for retention, operations, and customer satisfaction. When you focus on the right metrics, you have a reference point to ensure that your strategy works. Your business should have regular meetings to review these performance goals.
Thirdly, your customer service teams need to address any customer inquiries or issues as soon as possible. Forming a real-time customer service function is critical for customer retention. Customers will perceive your business as reliable and trust you. This responsive strategy could include having 24/7 chatbots, writing informational blog posts, or a smooth website design.
Lastly, your company must be flexible in the face of change. It must be open to process improvement and refining the business to satisfy the customer. The best companies innovate and keep a positive attitude while doing so. If you have a team that resists change, you will be left in the dust against the competitors.
Optimize your sales process
Without a well-designed sales process, your business cannot deliver a meaningful experience for customers. Your customers may bring a variety of questions and issues to your team. If you do not have a system to address these challenges, your customers will go elsewhere.
Therefore, your leadership team must establish a robust list of sales processes and tasks. Doing so will allow your team to respond quickly and accurately to customer inquiries. When you streamline this process, your team will obtain better leads, produce more sales, and strengthen relationships with customers. So, how do you put this into practice?
Clear and Self-Sustaining Sales
First, your sales process must be clear and self-sustaining. It should guide your sales teams throughout the entire conversation with the customer. It should clearly outline all stages of the call and the best practices of what to say. More importantly, it should have a reference guide that outlines the best responses to the most commonly asked questions.
Customer Experience Training
Secondly, you should implement customer experience training for the team. Your internal groups must all be on the same page for the strategy to work. A solid training program will keep the messaging consistent for everyone involved. It will also allow your teams to ask questions about the things they are not sure about. You can hold this training in-person or virtual.
Chatbots
If you want to go a step further, your company can establish chatbots to streamline and automate inquiries online. Customers will also know that you are available 24/7, which is huge for retention. You can program chatbots to answer the popular questions, exactly how you build the reference guide for training.
Your company's social platforms are also another opportunity to redefine the customer experience. These digital platforms serve as a vehicle to meet new customers and field incoming feedback. Social media is likely where a lot of your customers hang out. Therefore, it is important to have a presence on here and use it as a resource for the sales funnel.
Improve interpersonal communication skills
As simple as it may seem, communication skills are the root of a quality customer experience program. Improving interpersonal communication skills should be second nature to your customer service teams. Improving communication will help strengthen your brand with future clients, forge meaningful relationships, and solve customer problems quickly.
For any part of your business, internal and external, communication is critical. When there are changes that need to be made, communication helps facilitate that change. For company training, communication ensures that everyone is on the same page.
Be Authentic
So, how does your company improve its communication skills to elevate the customer experience? It all begins with making your conversations authentic. It should not feel like your customer service team is reading off a script. Your customers should feel important and valued. By providing real-time responses and support, your company can accomplish its goals.
Analyze Metrics
Secondly, your company can analyze metrics related to customer communication. Measurable categories include average resolution time (ART) or first response time (FRT). Assessing these figures will allow your team to find what is working and what is not. This data can also guide key process improvements for the company.
Obtain Feedback
Obtaining feedback from customers can also help 2-way conversations. You should train your team to collect any feedback from the customer after each call. At the end of the conversation, your team should have a creative way to gauge this. When your customer provides you with these insights, your team members need to write them down. Here's a shot video explaining how to listen to your customers:
Lastly, have your teams focus on the small things. There should be regular training and role-playing to practice qualities like emotional intelligence, positive word choice, and active listening. These small touches can make the difference between an average and excellent call. The top priority is to make sure your customers feel understood. Implementing these activities will help reach that goal.
Build a strong brand advocacy or loyalty program
Customer retention can be a challenging task. A lot of production options are available, which is why you need to do everything possible to retain loyal fans. Implementing customer journey maps to your strategy will allow visualize each step a customer needs to reach your desired outcome.
One place to start is by forming a loyalty program or brand advocacy program. Doing so will boost client engagement, increase conversions, and expand brand awareness.
The most recognizable brands in the world offer some type of loyalty program to customers. These programs will get your customers talking about your brand, product, or service to other people. When you go above for your customers, they will bring up your company in regular conversations with family, friends, and colleagues.
One of the main goals of a brand advocacy program is to incentivize your customers to invest more into your business.
Points or Discounts
The rewards program could be in the form of "points" or discounts on all future orders. For instance, Starbucks incentivizes its customers through a point system, which turns into free food or drinks.
So, how do you build a strong loyalty program or brand advocacy program? It starts with providing value through the program. Your customer should perceive that joining the program will provide them with long-term savings. When you advertise your program, make it clear what the customers receive.
Promotion
Another strategy to launching a loyalty program is promotion. You cannot launch the program without telling your customers about it. Do it creatively, whether it is through in-store signage, email marketing, social media, and word-of-mouth in your customer interactions. You should also make it as easy as possible for customers to sign up.
At the end of the day, your customers want to feel valued. You should treat them like royalty through your program through kind gestures. Offer free points, coupons, and shipping discounts. You can also clue them into future product releases or promotions. When they find out before everyone else does, they will feel important.
Final wrap up
Taking care of your customers should be the top priority for your business. You must do everything to make them happy, which means being responsive, solving problems quickly, and making them feel valued. To recap, here are four ways to transform the customer experience:
Develop a customer-focused strategy with procedures for each step in the sales process
Optimize your sales process by streamlining tasks
Strengthen your ability to interact 1-on-1 with customers
Form a solid brand loyalty or brand advocacy program
If you want to start listening to your customer to offer them the best experience, visit our website and get a call with us.
Make the most out of Business Experience today