The satisfaction and loyalty of a website's or app's users is closely tied to the quality of their user experience (UX) and customer journey. Innovative technologies like Natural Language Processing are now being used by businesses in a never-ending quest to improve these areas (NLP).
With the use of NLP, an AI subfield, textual data may be automatically analyzed and interpreted. It can generate important insights about consumer habits and expectations.
In this post, we'll discuss how NLP can help you better understand your customers' online behavior and tailor their experience on your site or app accordingly.
Learning to use natural language processing (NLP) for analyzing textual data
What natural language processing is and how it works
Understanding, interpreting, and creating human language are the primary goals of Natural Language Processing (NLP), a subfield of AI. It paves the way for computers to read and understand written material, process it for useful data extraction, and provide responses in natural language. In order to process and analyze textual data, NLP makes use of linguistics, statistics, and machine learning methods.
Use cases of natural language processing in user experience
To better understand user sentiment, thus, every customer journey, natural language processing (NLP) is used to the UX environment. Companies may use natural language processing (NLP) to evaluate customer reviews, social media comments, and emails for sentiment analysis and to extract entities (names, places, items, etc.). Improve your interactions with customers by deploying chatbots built with NLP's ability to interpret and respond to inquiries posed in natural language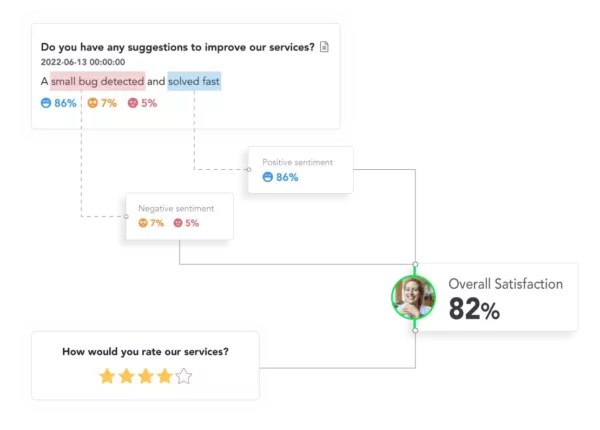 The importance of text analytics in establishing norms of conduct among target audiences
Understanding client behavior patterns, wants, and frustration spots requires analyzing textual data using NLP. Companies may enhance their website or app's user experience by analyzing textual data to discover common patterns and challenges experienced by consumers. This data-driven strategy enables for targeted enhancements, which in turn leads to happier customers and higher levels of customer retention.
Use textual information to simulate consumer paths
Analyzing the User Experience Using Text Data
Understanding client behavior and preferences requires access to text data. The thoughts of your consumers regarding your product or service may be gleaned directly from the evaluations they have posted on websites, forums, and specialized platforms.
You may learn a lot about your customers' needs and requirements from the comments and feedback you get via customer satisfaction surveys and online contact forms. Lastly, social media content like as posts, comments, and mentions may provide a plethora of data on how and where your business is seen in the market.
Techniques for analyzing textual data using natural language processing
In order to optimize the user experience and better customer journey, NLP provides a number of tools for analyzing textual data and drawing useful conclusions.
The process of entity detection isolates certain entities (i.e., things, locations, names, etc.) from a text. Analyzing how people feel about your brand based on what they say in text is called "sentiment analysis."
Lastly, NLP may aid in the classification of text data according to factors like themes, problems, or individual customer traits.

Determine customer journey patterns and pain areas
Using natural language processing (NLP) to analyze text data may help identify patterns of behavior and sources of friction that may affect the customer experience. Customers' choices and activities may be predicted by analyzing text data for patterns or repeated behaviors.
Comment and feedback analysis may also indicate roadblocks users have, allowing you to address these issues and enhance the user experience.
You may enhance your customers' journeys and provide a better experience overall by utilizing natural language processing to examine text data and learn more about your customers' behaviors and expectations.
Use natural language processing (NLP) data to improve the customer experience
Streamline the interface and usability of your website or app
Insights gained from NLP analysis of textual data allow you to make your website or app easier to use and navigate. You may make improvements to information accessibility and process simplification by figuring out where people are having trouble or becoming frustrated. Improve the site's speed by decreasing load times, for instance, or examine the way material is organized.
Offers and suggestions should be tailored to each individual consumer
NLP may also be used to tailor advertisements and suggestions to each individual client. Information about users' interests, requirements, and expectations may be gleaned via textual data analysis. By tailoring your recommendations to each individual consumer, you may boost the effectiveness of your offers and the likelihood of a sale thanks to this data.
Conclusion
Effective data analysis, detection of behavioral patterns and consumer painpoints, and optimization of customer journeys are all possible with the help of NLP. To boost performance, customer happiness, and provide lasting economic value, we advise companies to include NLP into their user experience strategy.
Feedier is a cutting-edge product for managing the customer experience, and it includes a natural language processing (NLP) component. This paves the way for the mining of insights from free-form consumer feedback content. Feedier uses Machine Learning to uncover patterns in consumer behavior. Feedier gives businesses actionable intelligence for streamlining customer journeys and enhancing the user experience. This NLP module, powered by machine learning, is invaluable to businesses who want to stand out by catering to their clients' specific wants and requirements. To find out more, check out our website.