Access fully personalized reports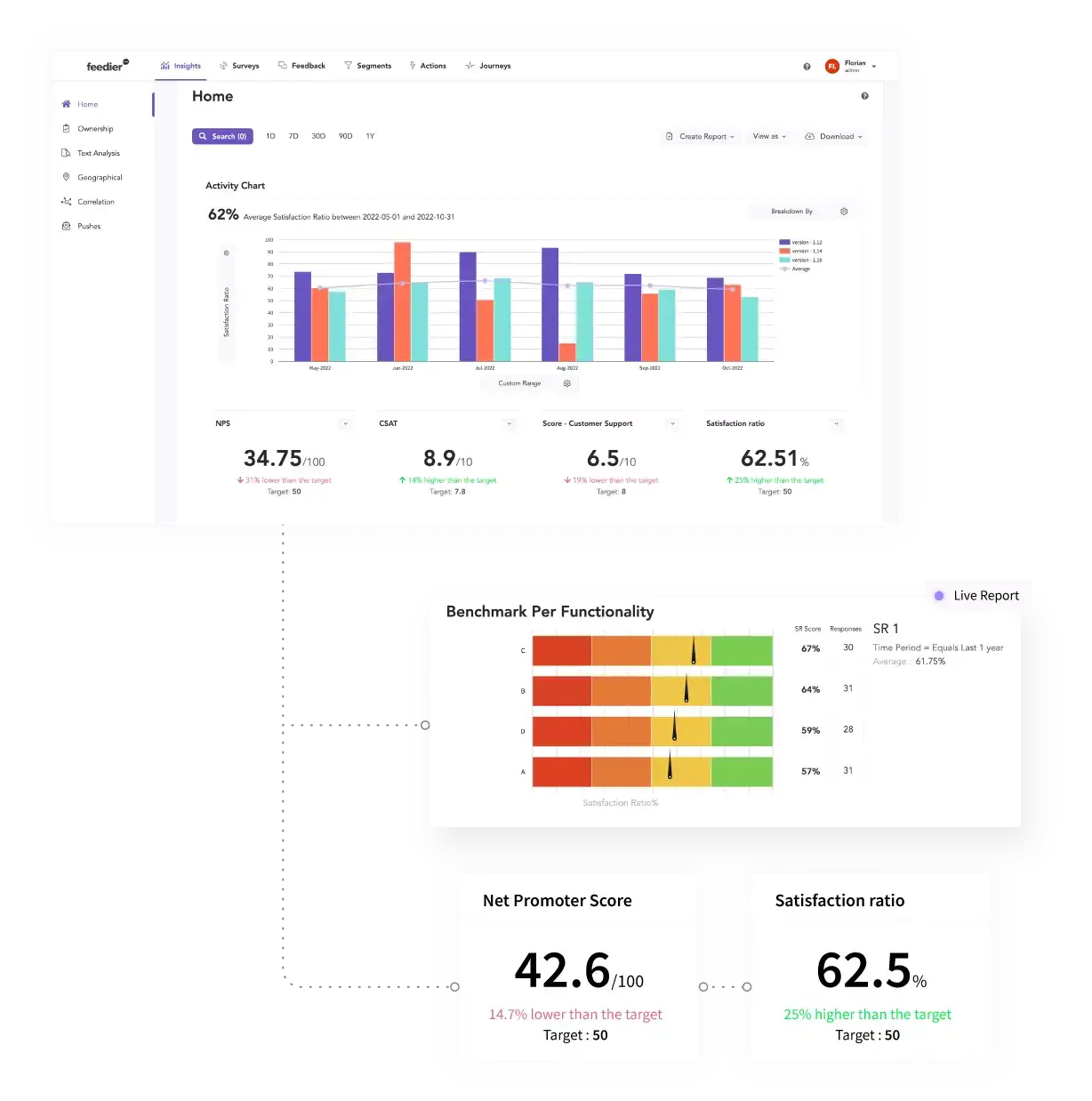 Create a pre-filled report to sum up all your feedback data instantly, or a blank one to create a report from scratch with your relevant data using Feedier's graphs.

Improve your data analysis by applying filters to your search to better spot pain points.

Live reports can be downloaded in PDF or viewed directly on the platform. Saved reports on Feedier are updated in real-time.

Share your report using a secured public link or directly embedded into your website.
Compare your data with the Benchmarking report

Benchmark your overall satisfaction through your NPS, CSAT, or any specific KPI with an instant intuitive report.

Compare multiple datasets using the Benchmarking report from Feedier, and visualize them in graphs to be able to have an in-depth understanding of the feedback data.

Monitor 2 data sets' development over time directly from the Feedier Benchmarking module.
Get your hand on all your feedback data
Have access to the report that gives you access to all of the centralized feedback data and lets you picture and share securely all of the data that is important.
The Geographical report allows you to get a global view of your feedback based on the locations through an intuitive world map. Using any locational context attributes, you'll be able to record feedback on the exact location that you have for your participants.

All pushes campaigns (SMS and E-Mail campaigns) are monitored and reported on. Track and Improve the most important KPIs of your campaign (open rate, click rate, response rate); you can see it all in the report.

Through the correlation report, compare your satisfaction or volume across many factors, such as locations, departments, cohorts, goods, or any other variable that is significant to you.

Maintain ownership of feedback by department and user. Track the number of statuses allocated to feedback and the progress made by each assigned user.