You have decided to collect website feedback?
Cool.
How do you do it?
That's a good question! Not sure where to start?
I have something for you. I have collected the best tips, tricks, and templates just for you to get started.
Read on, and let me know your feedback. ?
First off, let's kick things off with the basics.
How to Get Website Feedback?
How can you get customer feedback? There are many ways; we will give you the seven best below.
1. Use Customer Feedback Surveys
Displaying a customer feedback survey on your website, or landing page, is an easy way to get feedback. But there are a number of questions you have to take into account, and you have to pay attention to your approach.
You can test your surveys based on difficulty and the number of questions. Revise it and use relevant tools to help you.
For instance, for a short survey, a website widget is the best option. Qualaroo or Feedier are solutions that would fit your needs. Both pop-up website surveys and on-page surveys are available to collect customer feedback.
You can also look at pop-up tools such as WisePops in order to build exit-survey.
When you plan for website surveys, remember to ask smart and open-ended questions that fulfill the end goal, ask one question at a time, and avoid leading and loaded questions.
In fact, this can be very insightful as why people are leaving your page; the error might come from something you would not expect.
It takes about 50 milliseconds (that's 0.05 seconds) for users to form an opinion about your website that determines whether they like your site or not, whether they'll stay or leave. (Sweor)
You might have gotten the header wrong and it got people to leave your website ?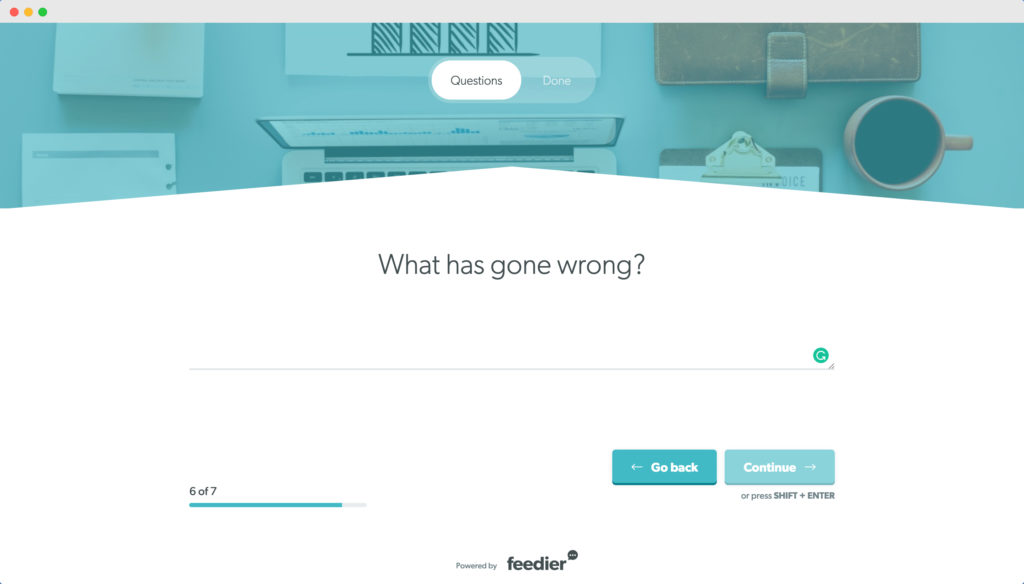 These feedback survey tools will streamline your website feedback collection and analysis.
Many websites feature customer surveys. The surveys usually include a simple and short question to convince visitors to take action.

This pop-up survey is simple and very persuasive when it comes to getting visitors to act. They can't help but answer a simple question.
2. Reach Out to the Visitors Directly
Connect directly via contact info or talk to them directly on the site.
This helps you to get to know your business and their experience on your website.
You can hear their voice and expectations when they tell you about their problems. You can ask questions based on what you are looking to find out.
Make sure you choose the right place and time to get the most from the conversation.
There are many ways for you to reach out to your customers.
When you receive the surveys, you will also get customers' contact info. With the contact info, you can write emails and maximize the effectiveness of this channel.
You have to create an organized customer feedback questionnaire, ensure these people will respond quickly, and send candid follow-up emails.
Live chat is another way to get customer feedback. It is convenient and affordable, and you connect directly online. This will also boost your sales.
Crisp does it very well. ??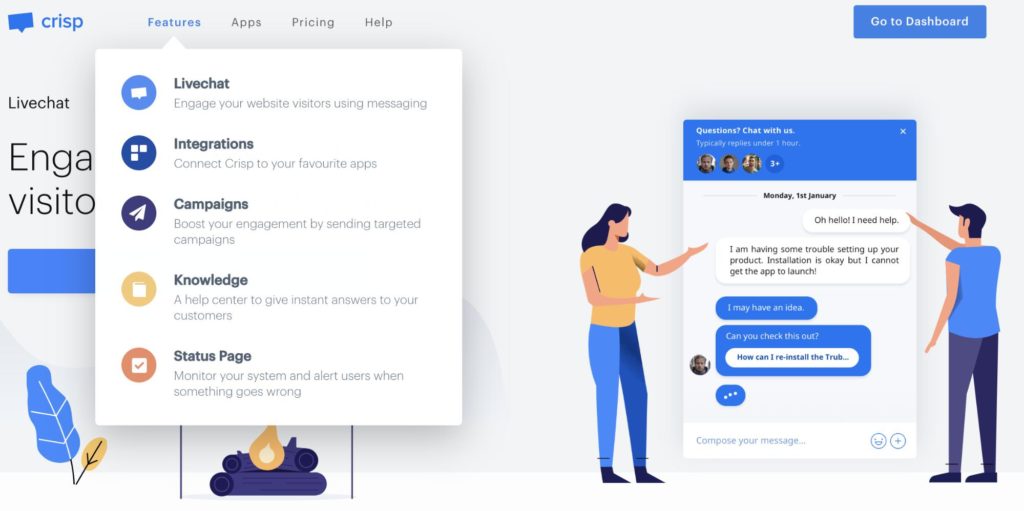 3. Ask Customers to Choose Their Interests
This idea is quick and effective.
You create a campaign and ask website visitors to choose their interest. In this way, you have to offer both questions and the answers as options so the customer can make a selection.
People are only required to choose the most suitable response.
With the responses, you can figure out what most of your customers like and then target promotions accordingly.
These answers help to create concrete buyer personas. You can send different emails based on the customers' preference.
For instance, you create "Yes/No" buttons to determine your target customers preferences.
RightMessage is a great product that lets you do just that, on your website.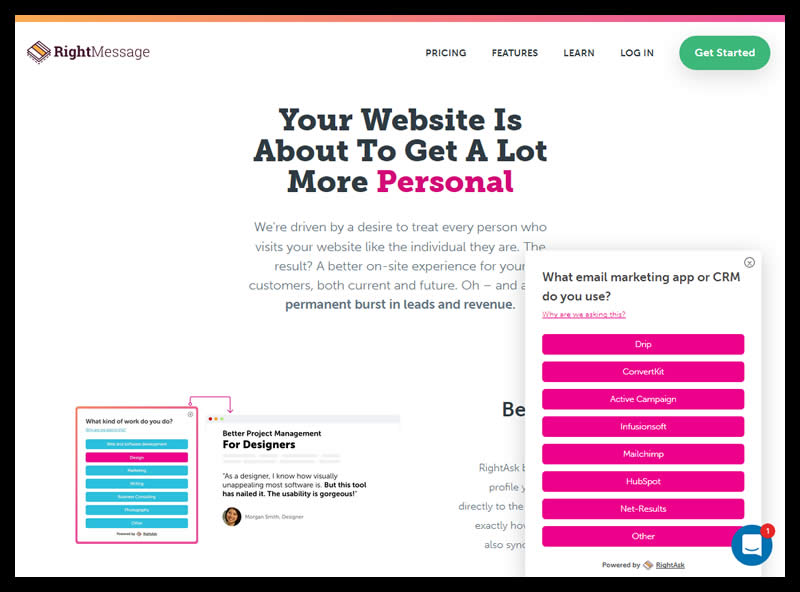 4. Provide an Incentive
To get website feedback, you can offer a survey incentive in exchange for giving feedback. c
Your customers answer several questions and are rewarded with a coupon, a free ebook, a checklist or template, or a free guide.
You deliver what is called a magnet once you receive the customer feedback.
In this way, you build relationships with your customers and boost sales.
As far as conversion is concerned, asking for that all-important email opt-in is crucial. Almost every lead-nurturing program starts after that first opt-in when their email address is given. It is a turning point.
Research on consumer email marketing attitude and behavior showed that, when asked, people are most likely to opt-in for a very tangible monetary benefit (yeah, ca$h) such as free shipping, a 5$ gift card or 10% off for the first order.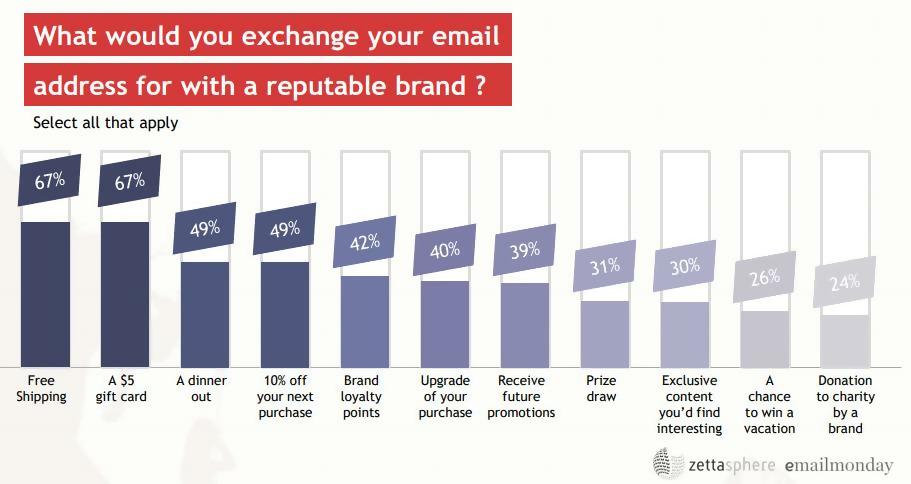 Jordie van Rijn from Email Monday explains.
There are list building techniques that even sound like a bad crime flick: Bribery, extortion, content-gating. All sorts of mischief. But think about creating such a strong piece of content that it has done all the selling already. Then you just need to ask if people want more.
My advice would be if you like long-form or series of content, add a "receive the next part once it becomes available". The whole thing can just be a paragraph of text pointing to your normal sign up, no extra work needed.

Jordie van Rijn
5. Insert Comment Box
Having a comment box on your website is an effective way to get feedback from your target customers.
A comment box is a great way to measure customer satisfaction.
Pay attention to where you place the box. If you put it in the wrong place, it can interrupt the flow of whatever a customer was doing and undermine customers' website experience.
To avoid this, strategically insert the comment box at the end of the page to draw your customer's attention.

6. Utilize Social Media
Social media is a great way for you to gather honest feedback from your customers.
Invite comments via your social media channels but also leverage polling tools on each platform.
Short polls are increasingly popular on social media platforms and are a great way to gather customer feedback.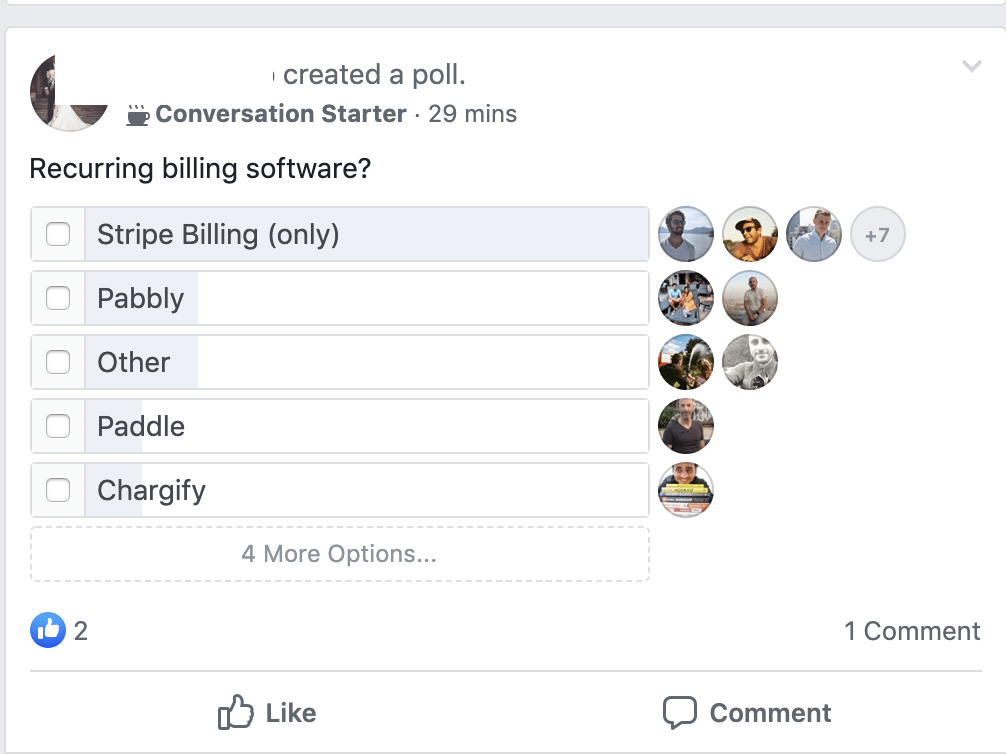 7. Monitor Reviews on the Web
The last thing you can do is monitoring reviews on the web. Your customers are talking about you, giving you their feedback publicly.
Make sure to check out on a regular basis what are people saying.
And most importantly, respond!
When Should you Gather Feedback?
Once you have decided to gather customer feedback, you need to determine when it is appropriate for you to action collection.
There are several circumstances.
First and foremost, you can gather customer feedback when you release something new.
For instance, when you release a batch of new arrivals, you don't know the customer's feelings.
Ask, or do something that can gather your potential customers' feedback; this is a great way to refine your marketing strategy.
Gather customer feedback at different stages of the funnel. As we know, customers are likely to leave the company if they are not satisfied with the company, product, or service.
At each stage, the customer has different needs. As such, when the customer decides to leave the company, you can gather the reason why they have abandoned you.
1. Post-order Feedback Survey
Our first example is related to e-commerce websites or online products.
When customers order from you, the first thing you want to do is thank them.
Second thing?
Get their feedback using a post-purchase survey.
It can be automated through triggered email a few minutes/hours after the order. Like the example below.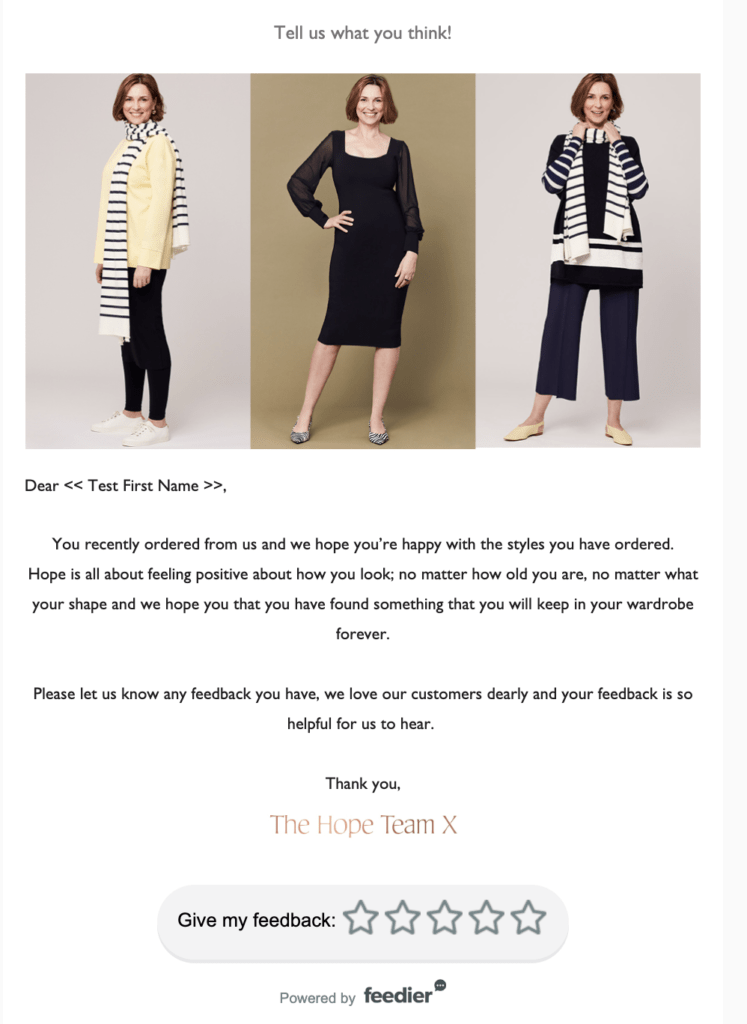 But you can also directly request the feedback on the website.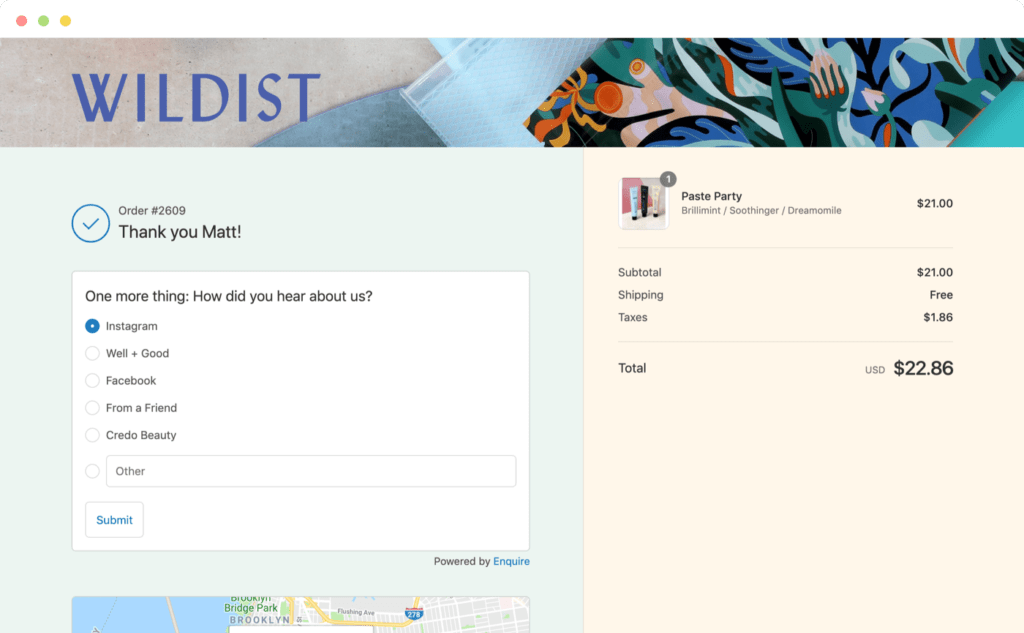 In fact, any feedback tool that offers iFrame embedding would do the job as you're able to insert the snippet onto your confirmation page.
In Feedier, you get the iFrame code from the Share tab directly.
This type of survey is very useful for three things:
Understand where/why your customer is coming from and ordering on your website
Understand what could have hampered him/her from ordering
Gauge a ballpark satisfaction. This will have to be fine-tuned once the customer receives/uses the product.
2. Cancellation Feedback
Next up, the cancellation feedback.
You can go the classic way and embed a feedback form on the cancellation page.
Or you can be a little be more creative. Like the guys at lemlist do (I quite like it to be honest).
The goal here is to understand:
what is driving your customer to churn away: have you done something wrong or is that something unrelated to you
whether the customer what a right fit in the first place or not
3. Content Readers
Content marketing is growing at a crazy pace.
There're more and more brands developing their content marketing strategy. Which is why you have to stand out from the crowd in yours.
How?
First, by collecting feedback from your readers. Make sure to check up with them about the quality of the article, what they like and dislike about it, and what they would like to see next.
The best way to achieve that is by collecting feedback using a subtle widget on your website.
4. Webinar Participants
You have decided to host online events in order to leverage your website/application audience or to simply grow your audience.
That's a very good idea.
The essential idea of that is to automate the process of sending a feedback request after the event is closed, or throughout the event, in order to understand more about the motivations of the participants, and how they found out about it in the first place.
You can request the feedback directly from the live-event, using a simple poll, or you can use a more advanced feedback form and send it by email afterward.
Pro tip: make sure to only send it to the actual participants, not those who signed up but did not attend.
I have covered more extensively the topic of post-event surveys for webinars in a separate article.
5. Conversion Pages
A study found that 94% of negative website feedback was design related.
Modern design creates positive first impressions — especially when we are talking about fancy-looking websites jammed with creative animations.
But bad design can completely turn down your visitors. Most of them will make a snap judgment when landing on your website.
Make sure your website doesn't look like it was built in 2002 with some simple fixes.
Make sure your images look like they were taken this decade, and your fonts are either modern or timeless. There's nothing quite like the laugh I get when I see Comic Sans on a website.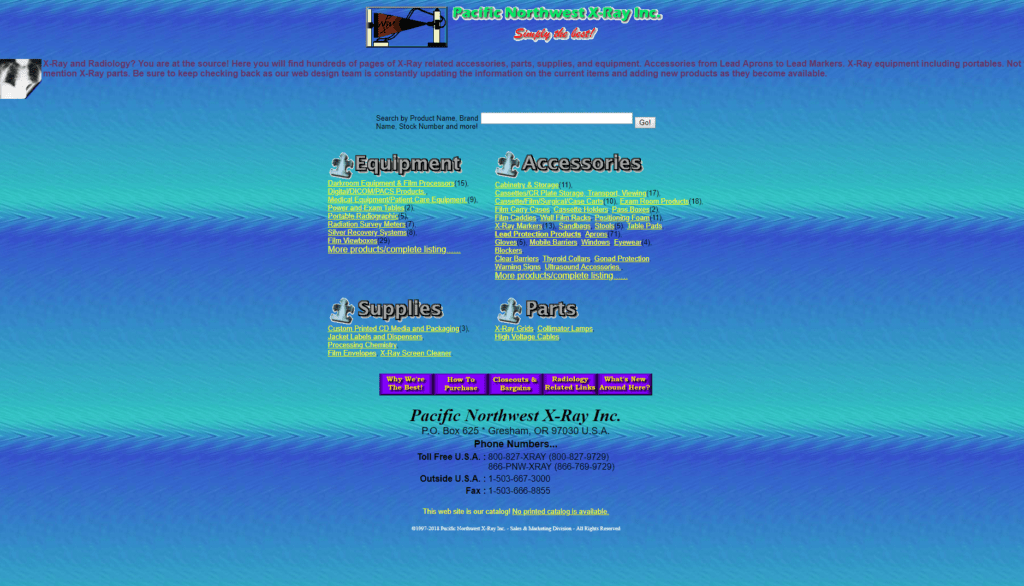 [Want to laugh your head off? More on old-looking websites here]
Fine-tuning your conversion pages is a good idea. ?
Whether you're talking about pricing page for a SaaS, product page for an e-commerce website, or contact page for a service-like website, ensuring that most of your visitors convert — ie. take the action you want them to — sounds like something I'd focus on.
Collecting on-site feedback is part of the process. Aside from looking at the quantitative data — using tools such as CrazzyEgg and Google Analytics — you want to look at the qualitative data.
Collect the words. Understand the WHY.
And there is nothing better than asking for it. On-site feedback is your best friend.
E-commerce Product Page
Last up on our list? The case of e-commerce feedback.
You're spending tons of time on your website. Adding new products, improving the copies of existing ones, and still, you're not getting the expected conversion rate?
Why?
Two reasons that immediately come to mind:
You're not attracting the right person on your website (I'm afraid I can't do much, except telling you to go back to the persona definition)
Your product pages don't contain the information your prospect needs to convert.
The first thing you can do to figure out is to insert a website widget on your product page and ask your visitors what could prevent them from converting.
You can configure this widget to only shows up after 15 to 20 seconds on the page.
Pro tip: Insert an incentive for people to give you their feedback. It will not only increase your response rate, but also your conversion rate. A voucher would be very relevant. You can do that on autopilot with Feedier.
Why Would You Collect Website Feedback?
How do you use feedback to improve your website and business?
I have some answers for you.
1. Monitor and Analyze the Website
You have to monitor and analyze your website and determine if the customer's feedback is valid.
Check the customers' feedback and understand the customers' expectations.
For instance, if you receive feedback about a poor experience on the layout, decide how to make adjustments to streamline navigation.
Make it easy for your customers to find what they are looking for.
2. Manage Customer Feedback
When you get customer feedback, there should be a central platform to manage it.
This means you have to analyze the feedback and group it into different departments.
At Feedier for instance, we let you tag your feedback answers, and push them directly to your project management tools.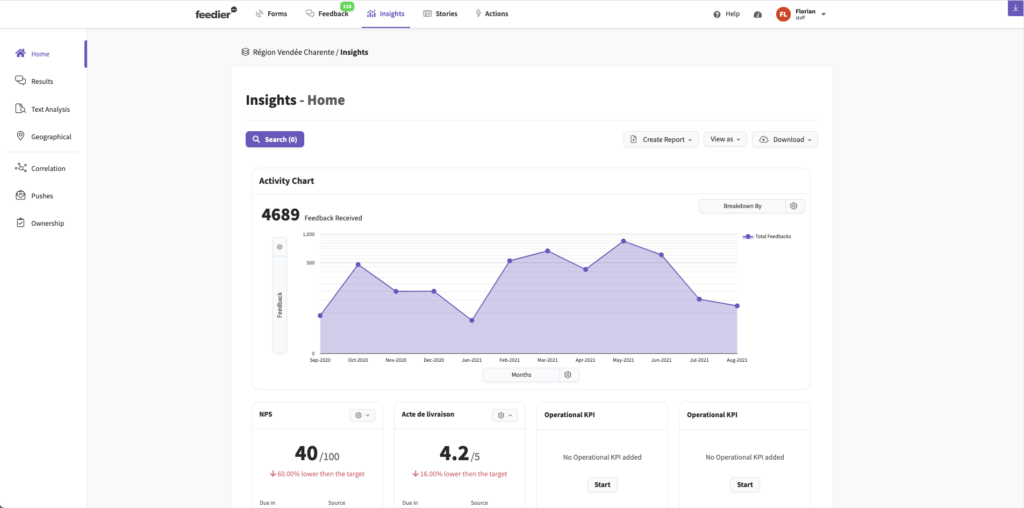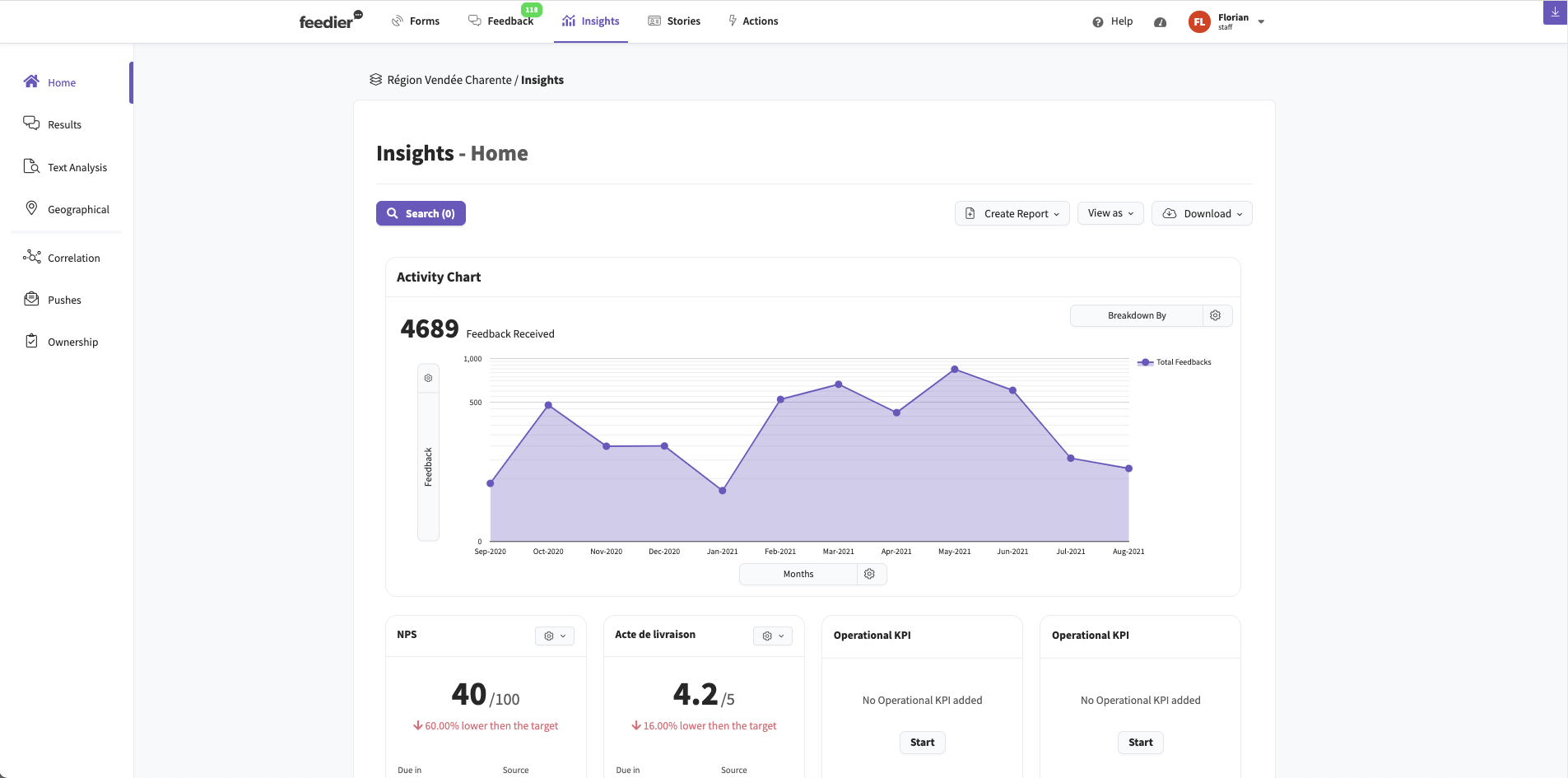 3. Improve Your Products or Services
Negative feedback will help you improve and move in the right direction. Constantly improving your products or services will increase your conversion rate.
Components that cause frustration spoil a users experience.
If there is a complaint about slow delivery, find a way to process the order quickly and speed up the shipping.
4. Build a User Persona
Based on the data you gather from your customers, you will figure out who they are, what they want from you, and what may stop them from engaging with you.
This information will help you create a simple persona of your customer.
Customer personas enable you to optimize your business as they help you identify customer needs and improve their experience of your brand.
You will know their ages, gender, job, salary, and interests. The user persona will help you create a seamless marketing strategy and improve your business.
Make My Persona By Hubspot is a great tool to build them online.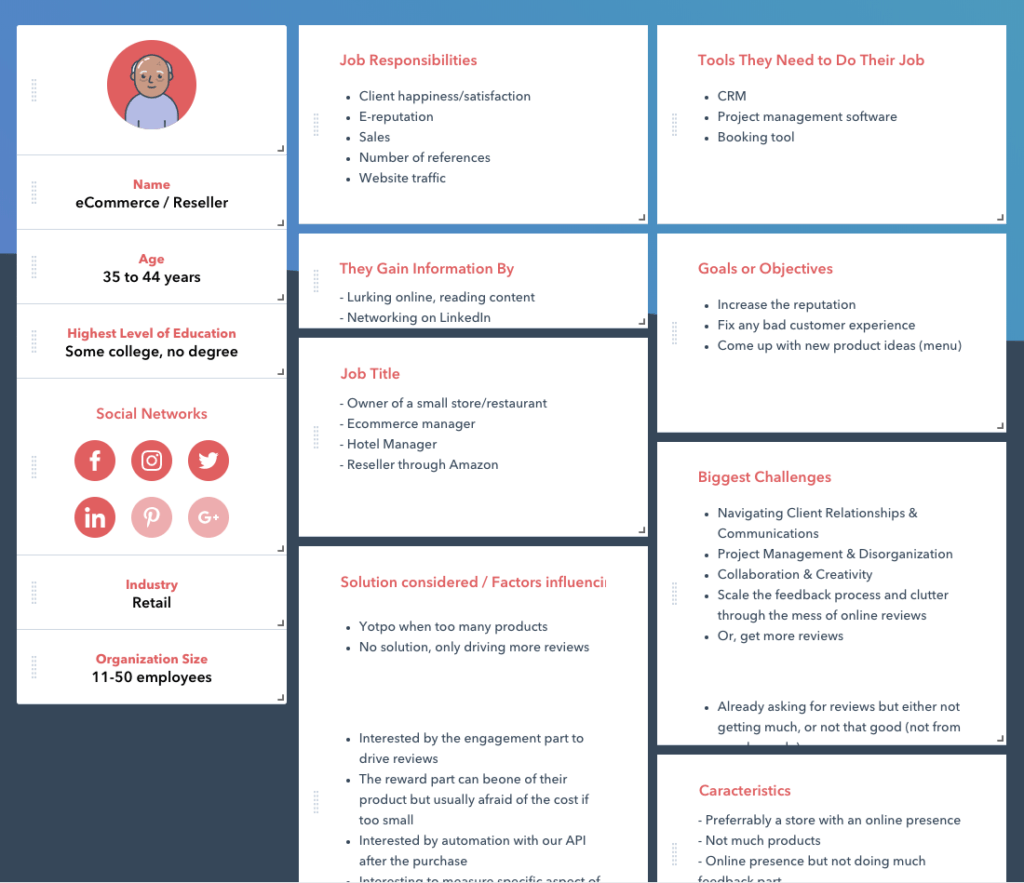 5. Improve credibility
If you make customer feedback public in the form of ratings or reviews, it increases your credibility and builds trust with potential customers.
As we know, shoppers are likely to refer to previous customers views about your products and the service you offered.
Feedback from existing customers helps potential customers decide if the products or service is worth purchasing.
Customer feedback is the social proof of your products or services.
6. Boost conversions
Website feedback will definitely affect your business conversions, especially the positive customer feedback.
Customers are likely to make a purchase decision based on the feedback left by others who already bought the same products or services.
At Feedier, we do it in a very simple way. You can request a testimonial or a review from the satisfied customers (based on their feedback and ratings), at the very end of the feedback form.
Easy, simple, and efficient.
9 out of 10 shoppers buy based on product reviews. If most of the product reviews are positive, they are inclined to purchase the item as they want to have the same exciting experience.
As such, you can use these product or service reviews as a point of conversion, and act upon the feedback they provide.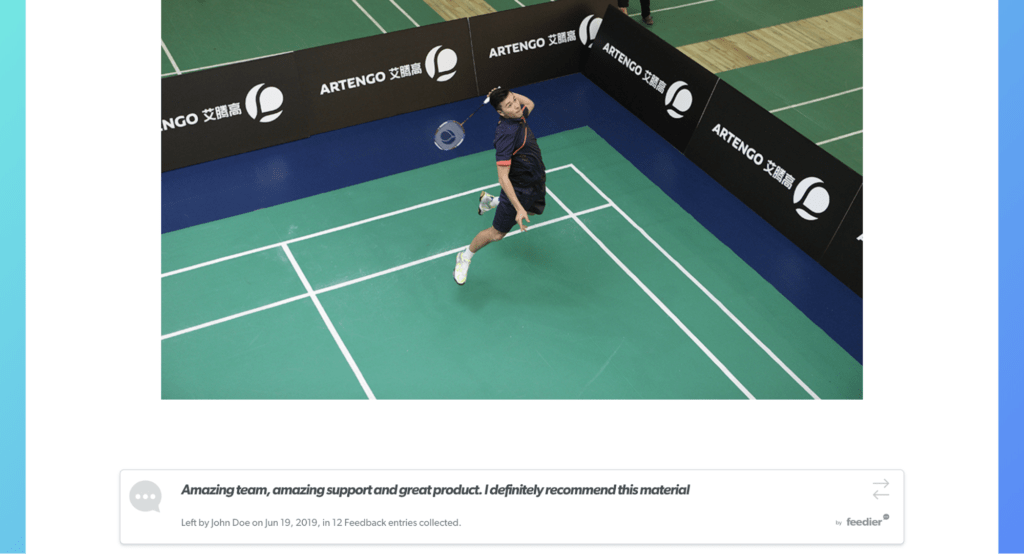 Guess what? Those testimonials can be dynamic. As soon as you get a new one, you can get them up on your website without 10 clicks.
How to Start Collecting Website Feedback?
3+2 steps. Easy and quick.
Go to feedier.com/go
Sign up for a free account
Create your first Feedback Carrier (Feedier's way of saying form)
Deploy using one of the methods mentioned above (website widget, email, etc.) and enjoy.
Talk with a Feedback Expert from the Feedier team to get even better
Conclusion
In a nutshell, you will find the best insights from your target persona and customers on your website.
Given the importance of the customers' satisfaction and product reviews, it's time for you to put the above tips into practice.
Make the most out of Business Experience today