In this article, Alberto from Mexired shares his experience using Feedier to collect training feedback.
Read on to learn more about the power of training evaluation through attractive forms.
---
I want to share my experience using Feedier in my training company.
This tool has made possible for me to track the performance of my pool of instructors. It has helped me to get a clear view of how the teachers are delivering the seminars.
Now I can get direct feedback from the seminar attendees.
I own this company, Mexired, which is focused on training all forms of digital marketing: Google Ads, Facebook Ads, SEO, Social Media Marketing, Email Marketing, Google Analytics, you name it.
As a company, we have lots of people taking the seminars, either in person or online via live webinar service.
It's very important to have a clear view of how the attendees are perceiving the quality and performance of the instructors. In other words, it's very important to collect post-training feedback.
So, What's The Problem?
Back in the day, I didn't know how my seminars were conducted.
Because I can't attend them all. I travel a lot. And my home city is miles away from the place where the seminars are taking place. So most of the time I "keep myself in the dark".
Most of the time I do receive good reviews from past attendees. But only when I get to speak to them on the phone or by email. But other times, in rare cases, I get some pretty angry comments about something that went out of place.
This then is when my headaches begin.
I just kept telling myself: if only there was a way to keep track of my student's sentiment.
I tried by asking them on email. Some responded, some not. I did have some feedback. But the data wasn't organized in a way that I could visualize in the long term.
I needed a better solution. Tried Google Forms, Survey Monkey, etc. I tried a lot of apps.
Then I found Feedier. ?
How to Create Training Feedback Form with Feedier?
When I got to know Feedier, already knew that I needed to get a better grip on reality.
Too many opinions, too many feelings.
They're almost always wrong. When you meet a person, in person, you know how is he or she feeling about your product.
But on the internet is so easy to interpret things wrong.
Facebook has figured out how to capture feelings on a massive scale. But they're a multimillion dollar company. Such feats are almost impossible for small to medium companies.
Feedier can help them. It's so easy to use. You can create simple surveys and send them to your clients. The interface is so friendly.
So I decided to do it. To integrate Feedier as my feedback machine.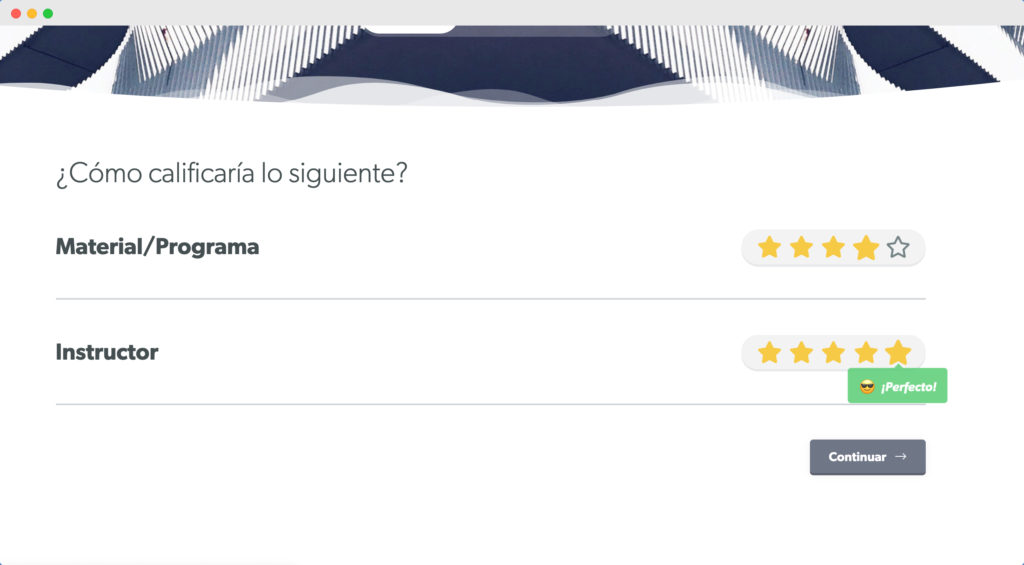 The first time I tried Feedier I knew it would help me to get a better overview of my business.
My main objective to be able to systematically ask my students about various aspects of their experience at my academy.
Measuring Instructors Performance
The first thing I looked for ways to get sure that the app speaks fluently the language of my clients (Spanish that is). Feedier, being based in France, has a very international approach.
So Spanish is well implemented as well a lot of other languages.
So I created the first survey and I was surprised by how easy it was.
First, you can set up the ratings, those are five-star selectors. This data is super useful to accumulate metrics. So you can measure apples to apples in the long run.
I tried to keep it simple. Just two questions. How do you rate the program/material of the course taken? And how you rate the instructor performance.
Here is a preview from my Feedier dashboard where I can configure and preview my feedback training survey.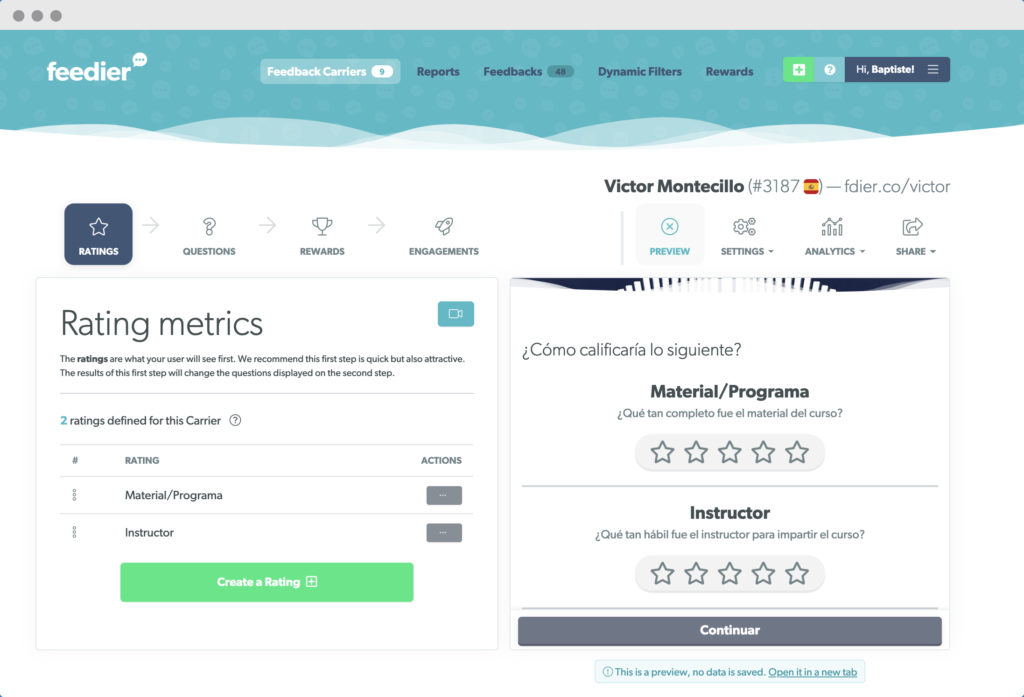 The next step is to set up open-ended questions. The qualitative data.
This is where you get the substance. Here you can get the specifics where a problem is found. Questions are displayed one-by-one to the user. And there is a cool animation between each of them.
You can adjust settings for each question. As well as set conditions and duplicate them. You are in control here. You can even add HTML and images to each question for a more explained experience:
Then you have the rewards. You can incentivize your users to complete the survey. And there is quite a lot of different reward types for you to offer.
At the end of your survey, you have the option to set engagements. They are ways for your user to help you promote your business. Feedier gives you various types of engagement:

Check out your social accounts.
Be added to a mailing list.
Click to an external website.
Ask to give a five-star rating in a platform such as Amazon.
Give a testimonial.
Ask for a referral.
In my case, I chose to ask the user to check out my company social accounts and give a testimonial about my service.
The cool thing about Feedier is that you can set a condition that only users with a good satisfaction ratio would see these engagements.

How Did it All Go Through?
Pretty well I must say.
The survey worked since day one. And the team is constantly making progress and improving the product.
Now I can look at the "grades" of my teachers and say I am in a good "class". Every instructor has gotten an A (myself included ?):
Each instructor has it's own "carrier" (Feedier's lingo for a survey).
And each of it has it's own shortened URL, which I share by email each time a seminar is finished (post-event survey).
It's now integrated into my system and on each instructor profile.
For each survey completed, I get an email notification.
And if I want to check out the answers I click on the link and get an overview of how my instructor is doing. I extract a beautifully formatted outline PDF.
From there I can dig into each entry and each question.
Always looking for insights into the performance of my team and how I can make things better.
If there is something a client is not happy with, I share the details with the instructor and work in how can we resolve the issue.
Training Feedback Recommendations
My students like a lot that I value their opinions and that my company works all the time to deliver them a better training experience.
And a funny thing has happened. Now some of my clients are asking me about the tool I use for conducting surveys. I tell them is called Feedier.
Most of them haven't heard of Feedier before.
The tool that they use the most is Google Forms. But what they are attracted about Feedier is the friendly UI and the smooth animations. I show them the back-office of Feedier and the fall in love at sight.
Right now I'm helping one of my students to set up her first survey. As an e-commerce business, she wants to reduce cart abandonment rate and boost loyalty. And I tell her that Feedier can help her achieve those two factors.
There is a Feedier widget that you can install on your site and get instant feedback. Also, you can boost loyalty with coupons. And there is an engagement for coupons that you can add and the end of any survey.
The one thing that my friend liked the most is the post-purchase survey. She sends a survey each time a client receivers its goodies.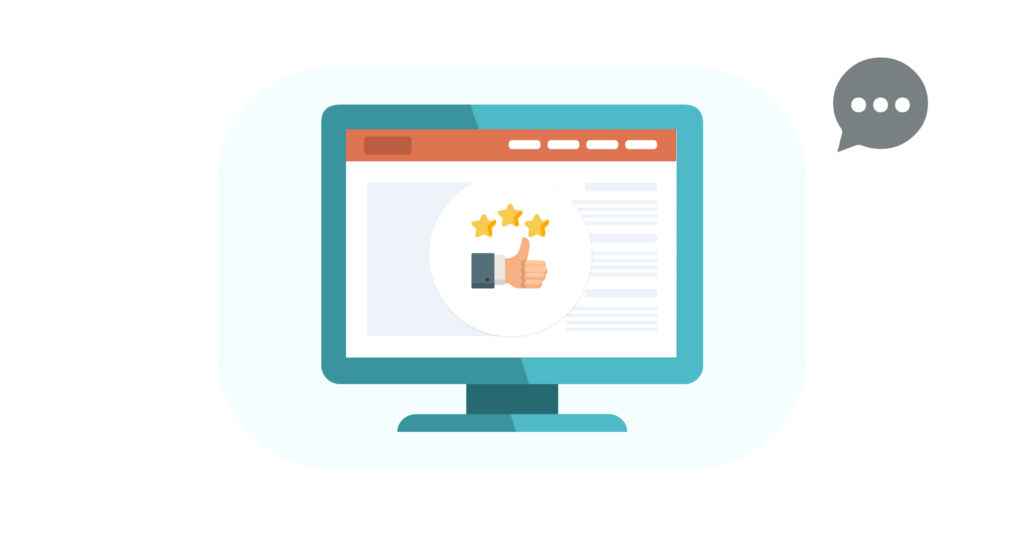 The benefits are two-fold. First, the client feels good that his/her opinion is taken. Second, my friend gets valuable feedback about how her store is doing.
Now her store is receiving 30% more orders because of this engagement. And now she is recommending my academy to all her peers. Because getting feedback is an integral part of digital marketing.
Wrapping Up
Given my success in getting feedback for my marketing academy, I plan to push things forward. My team and I are assessing the creation of a new course. One focused on getting feedback from users.
And the tool we will be using in this course will be Feedier for sure.
Google Analytics gives you feedback based on clicks and time spent on site. But the devil is in the details. You need a tool that lets you know when a problem is arising. And that kind of information should be delivered fast.
I recommend every business to have systematic feedback integrated on their business. It could be really a lifesaver (for the business that is).
Feedier has done a great job for me and for my students. So you can't go wrong with it.
Feedier is always adding new features, integrations, and support. The app is pretty mature by now. It has an API, webhooks and Zapier capabilities. So as a marketer you have plenty of options for capturing and exporting feedback.
Make the most out of Business Experience today