Team collaboration is crucial when it comes to increasing productivity, creativity, and facilitating progress.
However, finding the best tools to collaborate is not always simple, especially when it comes to large organizations with distributed teams. The pandemic and the remote work certainly don't help either.
That's why we gathered for you the best tools that will help you improve team collaboration and communication.
The tool used here is Feedier, it's an intuitive platform that automatically collects real-time feedback, provides clear quantifiable insights, and facilitates actions at scale.
Real-time alerts and assignments
Assign the right data to the right person in your team. This is your opportunity to act fast by immediately putting your finger on what's working well for your business and what's not.


Divide the tasks effectively in your team and you'll see the productivity level go higher and higher every day.
Automatically-sent reports
Whenever you assign the data to one of your team members, Feedier will instantly send an email containing a link that allows them to view all the information. They will be shown a complete detailed report.
In addition to all the answers to the questions, the report includes the participant's location and the average time spent on each part of the feedback form.
Automatic SMS/emails
Connect with your own service to send an email or an SMS at the right time. Build unlimited integrations with the apps of your choice and connect Feedier to your workflow.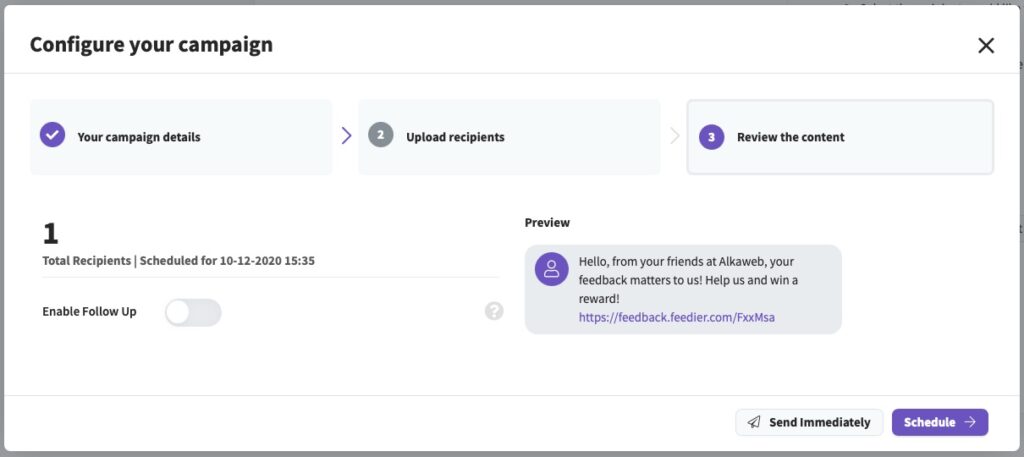 Whenever you receive feedback or create a new form, a trigger will be pushed to let you access the same data as our API.
Track progress
Add a status (To be contacted, In progress, Contacted, Resolved) to every Feedback that you receive.


This will help you boost the collaboration in your team by having a better work organization and by following the progress in real-time.
Detect success factors
Create multiple User Stories to compare satisfaction with filters and dig deeper into the insights that you receive. This is your chance to identify the key success factors of your company and detect the strengths that make you stand out from the crowd.

Get a competitive advantage by turning your data into real insights and taking action in real-time.
Make the most out of Business Experience today