In 2020, companies are very interested in knowing what their customers think about their products or services in order to make better business decisions. Survey research can be conducted in multiple ways but surveys are proven to be one of the most effective and trustworthy research methods.
Survey Research is the process of conducting research using survey responses. It is now becoming the number one tool that market researchers use to gather data, especially that online survey tools and platforms are now becoming more and more accessible.
This method allows companies to collect, analyze, and use data that can contribute to a more effective business model, better marketing strategies, and improved customer service.
Get your survey done!
The number of platforms that you can build your survey on is unlimited. You may think that they are all the same and that they all offer the same features, but they are actually very different.
It's in the tiny details where you'll find the most differences, the little things that help surveys fit your business's needs, and make customers want to fill them out especially when it comes to:
Design
Response rate
Reports and insights quality
Here are our top pics for you:
SurveyMonkey:
The first thing that comes to our mind when hearing the word survey is SurveyMonkey, which is very normal seeing that they have revolutionized the old paper survey industry.
The perks: Creating a survey with SurveyMonkey is pretty easy and simple, the steps are clear and not at all complicated. You also get recommendations throughout the setup and the onboarding on how to optimize your survey and collect better data. Their questions bank contains hundreds and hundreds of questions that you can inspire from which makes the task even easier for you.
The drawbacks: Design-wise, the forms created on SurveyMonkey are kind of outdated. They lack that attractive and engaging part that customers are expecting to see in 2020. This will not encourage the respondents to continue until the end of the survey.
Plus, they somewhat trick you into paying and upgrading your account by constantly recommending paid features and tricks to improve your survey. If you don't pay, you will not even be able to export the data which is extremely inconvenient for your research.
Google Forms:
If you have a Google account, you most certainly have head of Google Forms before. Initially released in 2008, it quickly became the core and center of the Google Drive office suite, along with Google Docs, Slides and Sheets.
The perks: It's completely and one hundred percent free and you don't even have an option for a paid subscription, all you need is a Google account to use it. Its usage is very simple and quick so it's very convenient for scholarly researches.
The drawbacks: Google Forms is not just simple, it's too simple. There's nothing interesting or special about the forms that you get from it. The design is flat and barely customizable, there are too many questions per slide and it's not possible to add graphics or other media.

Here again, there is a lack of interactivity and engagement, the experience is totally neglected, which makes it even harder to get the participant to answer all of your questions.
Medallia:
Medallia acts as both a SaaS Customer Experience Management (CEM) and Enterprise Feedback Management (EFM) solution designed especially for financial, hospitality, and retail companies.
The perks: The main benefits of Medallia are a convenient dashboard, in-depth insights of real-time data, and comprehensive analyses of feedback. Furthermore, the software evaluates customer feedback from social media platforms such as Facebook and Twitter as well as popular review websites such as TripAdvisor, together with solicited feedback from surveys and call centers.
The drawbacks: Medallia is not that user-friendly and you may need some coding knowledge to make it completely functional. The configuration is kind of confusing and complicated and it's possible to waste a lot of time trying to figure out how to make it work.
You also don't get much control over the customization of the form. Since their main targets are large implementations and large complex enterprises, it can turn out costly for small businesses.
Qualtrics:
Qualtrics Research Core is an enterprise market research platform that is designed to help users make better business decisions.
The perks: The platform is a pioneer in using AI for analysis of survey data to predict market trends. Any type of qualitative research can be handled by Qualtrics. Customer insights, strategy planning, and R&D to name a few.

Making surveys can be done without the need for any coding thanks to its drag-and-drop interface. Users can also choose from more than a hundred pre-made templates and question types.
The drawbacks: It is so robust that a new user can struggle with its functions. Plus, the number of options to build questions can be overwhelming if you just want to use the product to create simple surveys. It is also kind of costly and the features are limited in the free version.
Feedier:
Feedier is a collaborative Feedback management platform that turns feedback into action with engaging and gamified forms.
The perks: Feedier is a solid survey alternative if you're looking for creating the best experience for your respondent and want to give them a reason to actually make it to the last question.
With Feedier, you will provide a top-notch experience and collect actionable data without scrambling too much with a complicated setup. Feedier has Unique engaging funnels optimized to map Satisfaction, collect Insights, give an optional Reward, and push an Action to the participant.
The biggest advantage for your research is that it comes with extended reporting tools including pie charts, bar graphs, advanced filters, tags, keyword managers, and Excel exports that you can share with your team.
The drawbacks: Feedier is not suitable for long forms that contain 50 questions or more, it works best for shorter forms as its mains focus is delivering an engaging and enjoyable experience.
It is also a collaborative platform, so it's a better fit operational teams rather than just one person who works individually.
Now that you have chosen the option that fits your needs the most, here are some advantages and disadvantages that you need to be aware of before you start conducting your survey research.
Advantages:
Make smart decisions: You're wondering whether the sales decline is caused by the design of your product or is it rather their quality that's creating the problem? The best way to answer that is by asking directly your customers.
The data collected from the survey research will give you insights that guide you on the right path to make the right decisions. It will make it possible for you to know on which aspect of your product or service you should focus more.
Engage your customers: Getting in touch with your customers and asking for their opinion through surveys will make them feel valuable and important. The goal is to involve them in a deeper, more sustained relationship with your company which will make it possible for you to boost their engagement at every level.
Get data insights easily: Collecting significant data with surveys is not only easier but it's also better! You will be able to give a meaning to every single collected data particularly when using online platforms as they contain highly advanced analysis tools.
You can get insights thanks to meaningful statistics and charts to dig deeper into the responses. The qualitative research techniques of other market research methods may yield some interesting answers, but the ability to analyze them becomes a much more difficult and possibly inaccurate process.
Test easily: They say that prevention is better than cure and they are not wrong! Conducting a survey research will allow you to gather opinions about your products before launching or making changes to see if you're on the right path. This will help you and your team save a whole lot of money, time, and effort to focus on making the right decisions.
Reduce the cost: Compared to the other existing research methods, surveys are not expensive at all. Especially that now conducting an online survey research is easier than ever thanks to the highly interactive and functional platforms.

Even with incentives, the cost is often far less than the cost of running a focus group or a phone interview.
Get more responses: Sample size is one of the most underrated aspects of all types of research, including market research. Far too many companies make the mistake of assuming their small sample of only a few dozen participants is enough to make any firm conclusions.

Surveys allow you to reach thousands of possible participants if necessary, which ensures a more accurate sample in which to draw conclusions.
Disadvantages:
The sample choice
Having a representative sample that will allow you to get significant data and drew the right conclusions is not as easy as it seems… Survey research is prone to researcher error, where assumptions are made about the sample that may not be accurate.

For example, if a researcher puts out a call for responses on social media, they're going to get responses from friends and family, which will make the answers biased and not completely reliable.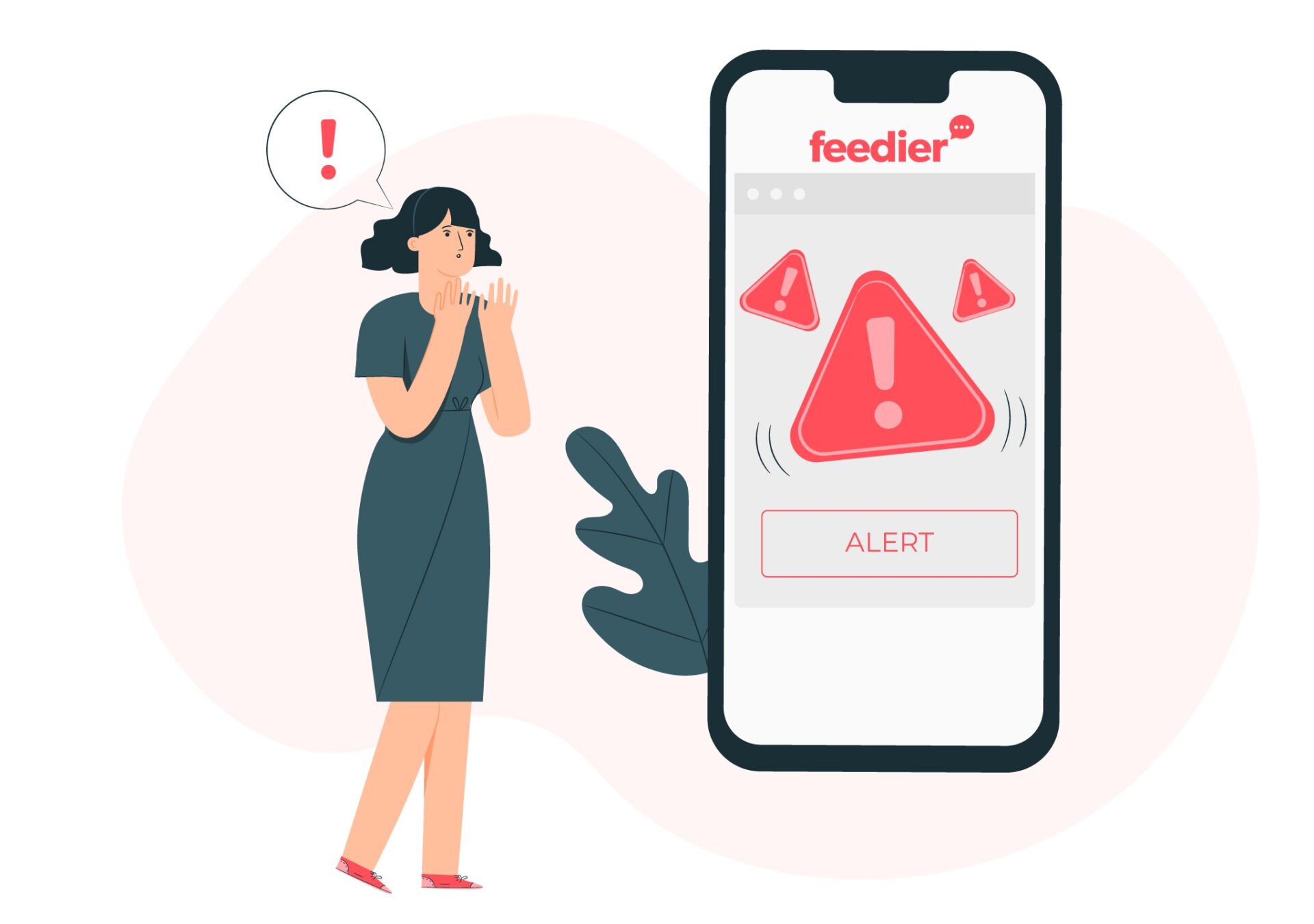 The solution? Talk to your clients and only to your clients! They are the ones who will give you the most accurate and helpful responses in order to build a successful strategy.
It will also make the task easier for you since you most certainly already have a database containing all the information that you need to contact them.
The lack of automation
All the technologies that are available today are here to make our lives easier so we better take full advantage of them! Automation is one of the most interesting tools that exist today and, unfortunately, surveys don't allow you to benefit from it.
Here is our advice to you: Switch to a Feedback forms software that will not only make it possible for you to create, send and schedule SMS or email campaigns to ask for responses, but will also help you to target intelligently, follow up and measure performances.
The abandonment rate
Who likes to take surveys? no one actually! In fact, the majority of customers report that they've abandoned a survey halfway through. And some research suggests that average response rates hover around 26%, while others say a response rate between 10-20% is reasonable.
Unfortunately, these numbers make it hard to get significant and generalizable results for your research and, thus, your company will not be able to make confident, data-driven decisions that save time and money.
Pro tip: The truth has to be said, surveys are boring! If you want your respondents to make it until the end you need to give them a reason to. The solution here is to use interactive, gamified, and attractive forms.
To end on a high note
Now that you have all the information that you need to conduct a successful survey research, it's time to get the work done!
You want a platform that gathers all the solutions and tips mentioned in this article? Use Feedier! Book your Demo here.
Make the most out of Business Experience today