You might think that users don't like surveys or feedback forms, but the fact is that 68% of customers claim as soon as they felt a company's indifference, they stopped purchasing products or services.
Feedback matters. Collecting feedback shows your customers that you care about their opinion. Besides, it is the best source of valuable information for improving your services and can lead to improving your very own feedback forms. No need to do market research, you just have to listen to your customers the right way.
The problem is that when users come across boring surveys, they won't continue and fill it out completely. Making the information collected ineffective.
Here's how you can quickly improve your feedback forms.
Problems with surveys (why are they less successful than feedback forms?)
Bad user experience/user interface of your survey:
If you do not provide users with a compelling experience and design, you will lose their attention. Using a design that is not responsive, modern, or dynamic will make your participants give the survey up and get easily bored. We are no longer in 1998.
Surveys are too long compared to feedback forms:
To how many surveys do you reply per week? Likely 0.
Make it short, your customers will thank you later. Any survey that has more than 10 questions can make the whole experience tiring for the user.
By the way, if you create a feedback form, start learning how to collect tons of feedback from it with our ebook :
Not using the progress bar can also be a mistake. Whenever the survey has more than one page and there is no progress bar, the user will most likely just press the X button and it's done. Your customers and users deserve to know how long the survey will take and it's your job to make the journey shorter (using conditions for example).

Feedback forms on the other hand, ask a maximum of 7 questions, based on previous answers. This makes the user journey quick and the data you collect more valuable.
Not targeted and not personalized:
Personalization, as you know, is the path to your users' hearts. Using standardized surveys with unoriginal questions is obviously a bad bet. For example, if the data about the participant's name, email, or date of birth is already known: do not ask it again. You are causing frustration and wasting their precious time.
Non-actionable Surveys:
Surveys that are not instigating any action at the end are missing an opportunity for your business, and for the participant they will face a dead-end. Not to mention that it is bad for the ROI. It's a must to push action at the end of the questions in order to close the loop.
Moreover, as you know the participant's satisfaction, you can push specific actions like asking for a testimonial if the participant is delighted or a link to the support if the opposite were true.
Waste of time:
Without the right incentive to complete the survey, respondents will not waste their time to give free information, even if your business is cool. Meaning decisions could be made by a non-representative share of your customers. Again, how many surveys did you complete last week? Likely 0. If you had a chance to get an Amazon coupon, a free beer in your favorite bar or participated to plant a tree for every survey you'd have filled, it would be different.
Wrong insights:
Making decisions from data collected with a low response rate can lead you in the wrong direction. That is exactly why we need to use feedback correctly, the goal is to improve your response rate by stopping surveys and trying a new approach: innovative Feedback forms.
Using gamification to create better feedback forms
What is a feedback form?
A feedback form has 4 main goals:
To measure satisfaction in real-time and in an accurate way
Collect insights to make better decisions with better responses
Create a relationship with your participants through specific actions
Stop wasting your participant's time: limit your questions and add an incentive in exchange
How can gamification of your feedback forms be of any help?
Gamification is the application of video game elements (point scoring, rules of pay, fun) to another domain of activity as a way to encourage people to engage with your product or service.
That's why adding gamification strategies to your forms will turn a boring moment into a short and interactive experience that will feel like a game.This engaging way of collecting feedback enables users to have fun while providing you with relevant information.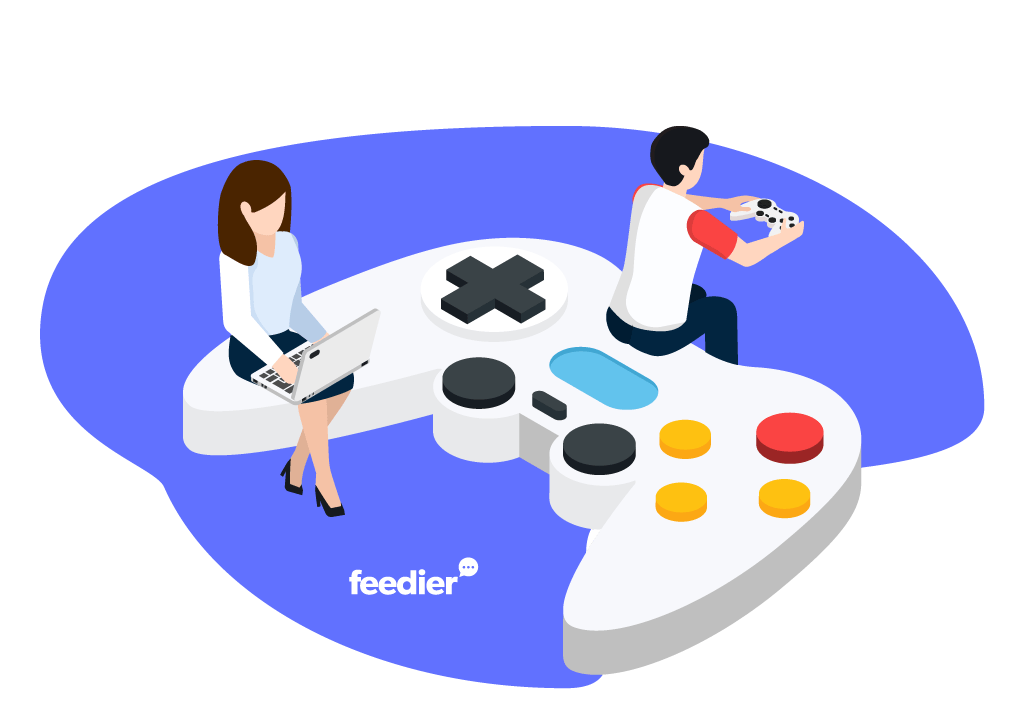 Platforms such as Feedier which are based on gamified feedback forms will enable you to create an interactive form that provides users with:
Experience
Points
Rewards
Levels
Animations
This type of feedback form will attract more users to complete the whole form and find it enticing at the same time.
4 steps to collect valuable feedback today
1. Accurately measure satisfaction with ratings
Measure satisfaction first by following up with a real-time score of every aspect you want to measure and improve. Engage the participants with short questions and lead them step by step through the form.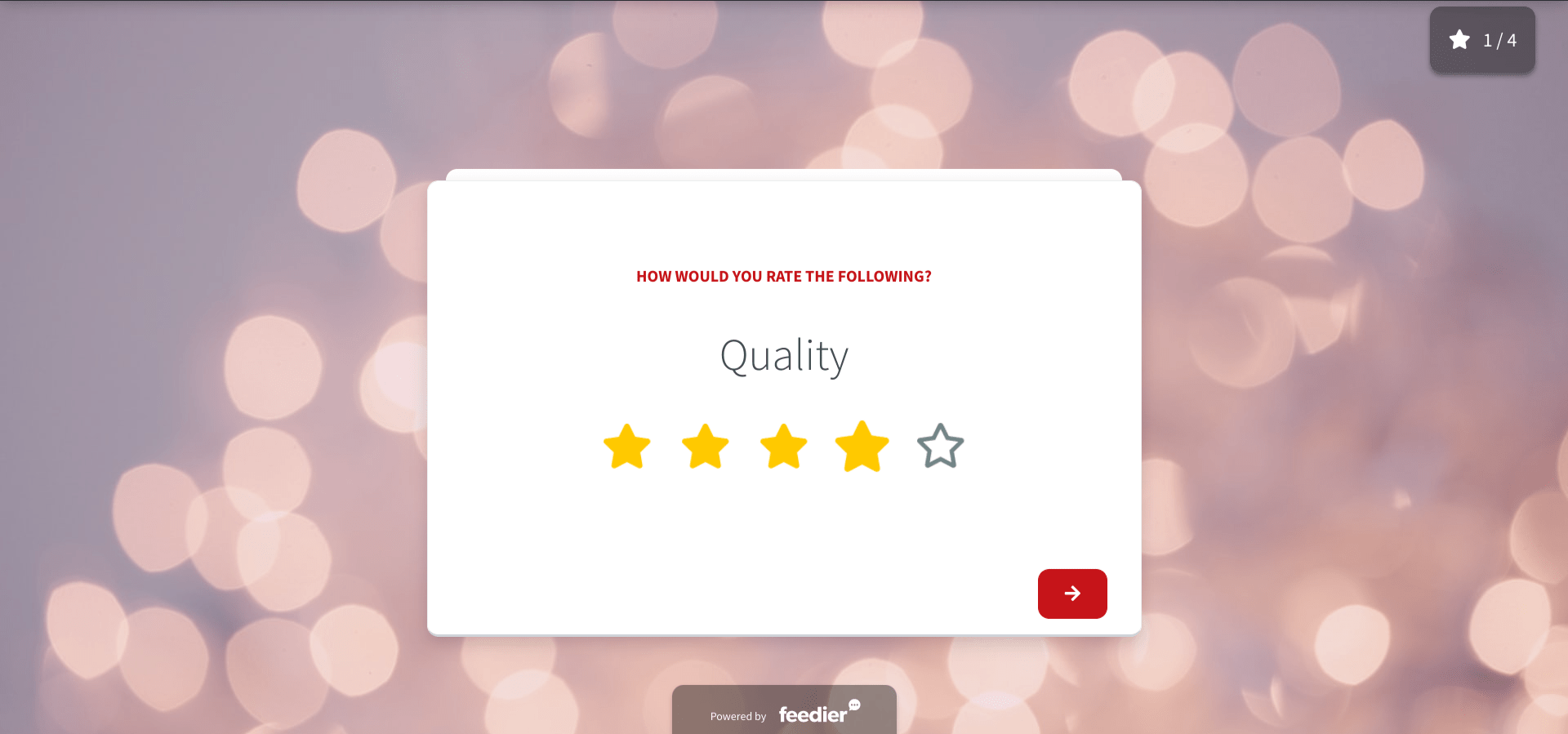 2. Collect insights through the right questions
Do not stop on satisfaction, figure out how to get better with targeted and unique insights. What you can do is: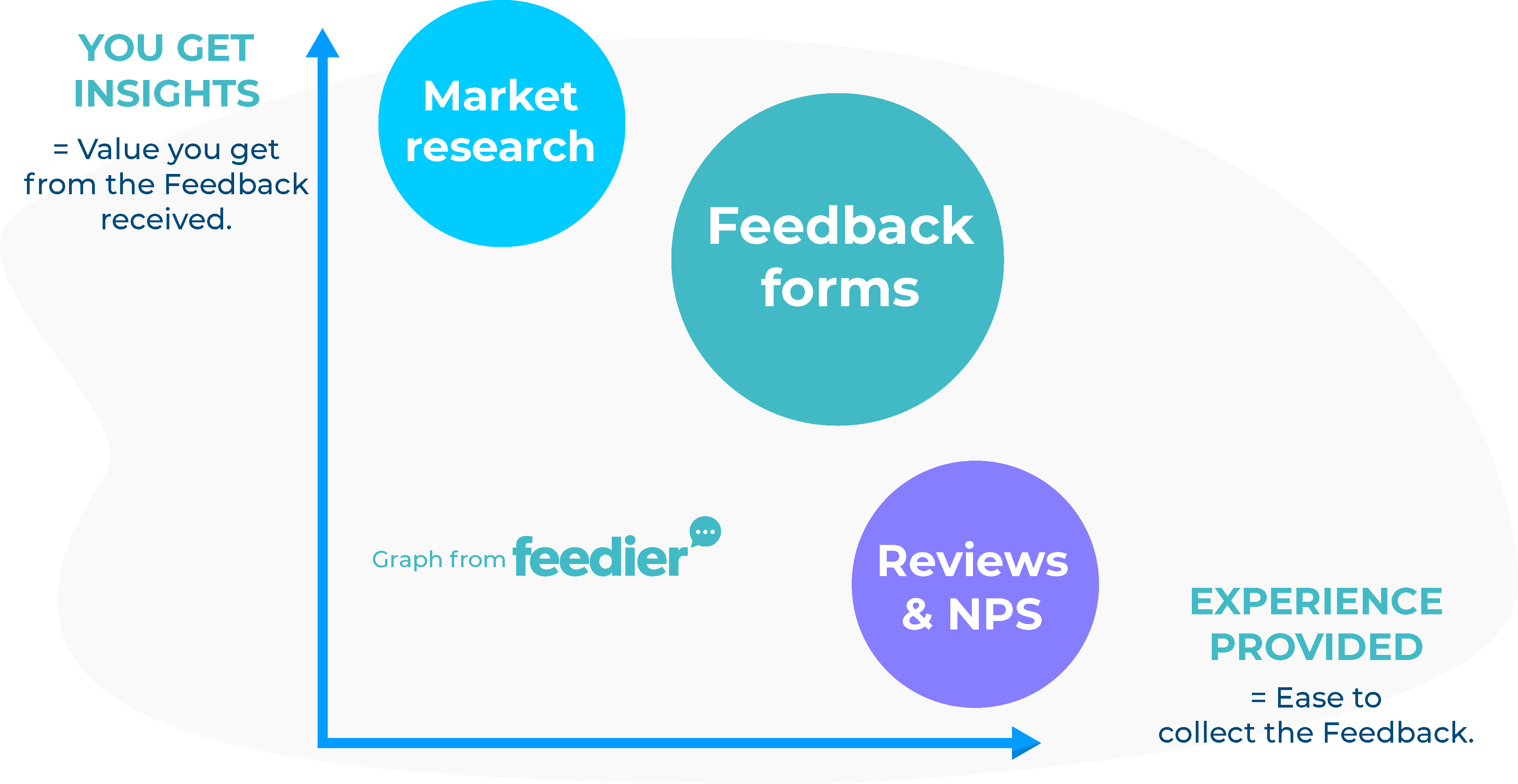 Market research platforms give you a lot of insight but provide a terrible experience to your participants. On the end of the scale, review platforms give you a ton of Feedback consisting of ratings between 1 and 5 but it's so much that it becomes non-valuable.
Feedback Forms sit in the middle of these.

In order to get more valuable feedback, you need to use platforms that provide both a good end-user experience and clearer insights to innovate.
Add conditions
Create few but targeted questions
Craft attractive questions (with fewer text questions as possible)
Customize the questions as much as possible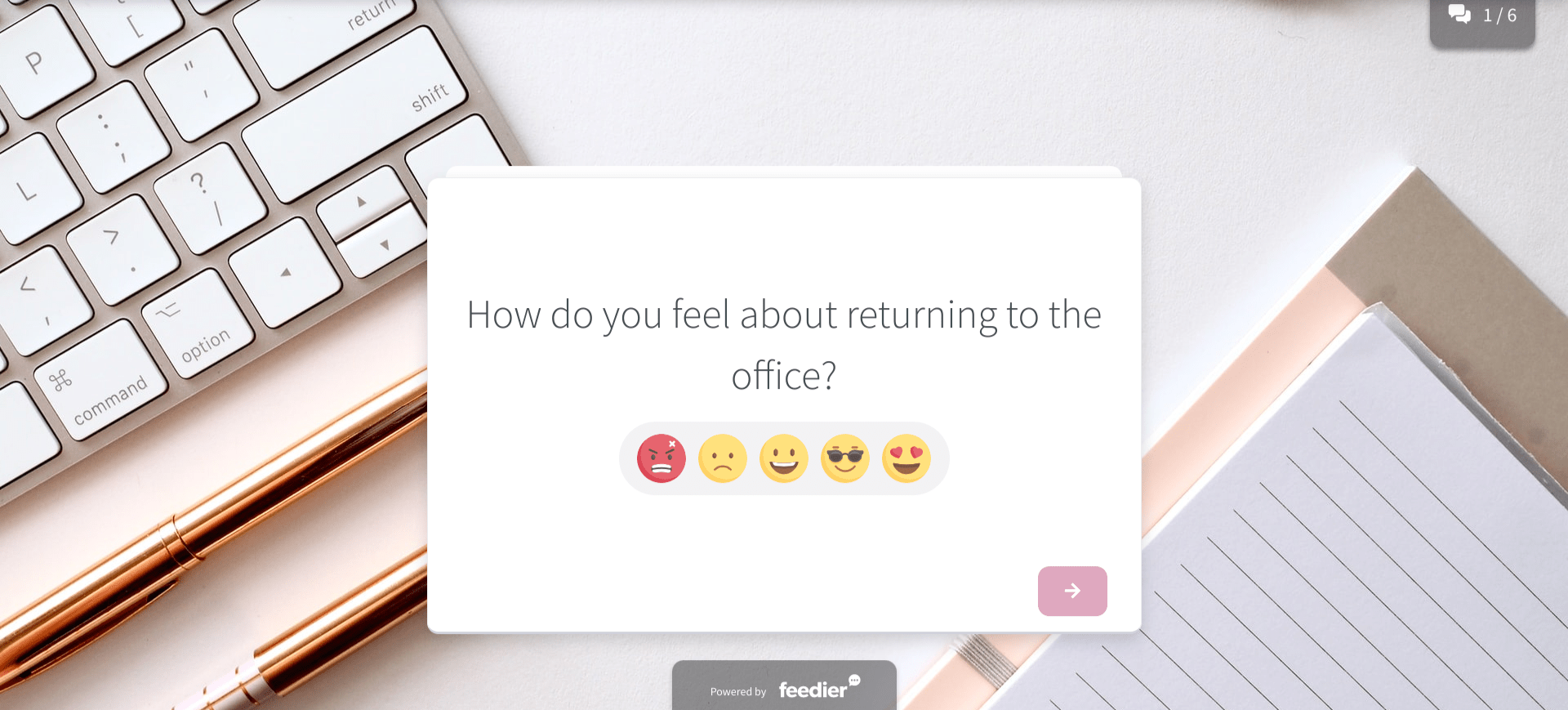 Avoid text questions as much as possible. Use image pickers, dropdowns, emoji question types to make the experience better. Plus, it will give you some nice graphs.
3. Reward your respondent for their time
With the gamified form, you can increase your response rate, value your participant's time, and create loyalty through rewards. Rewards are the perfect way to get a lot more responses and you can do that by vouchers, downloadable files or even a personalized thank you message.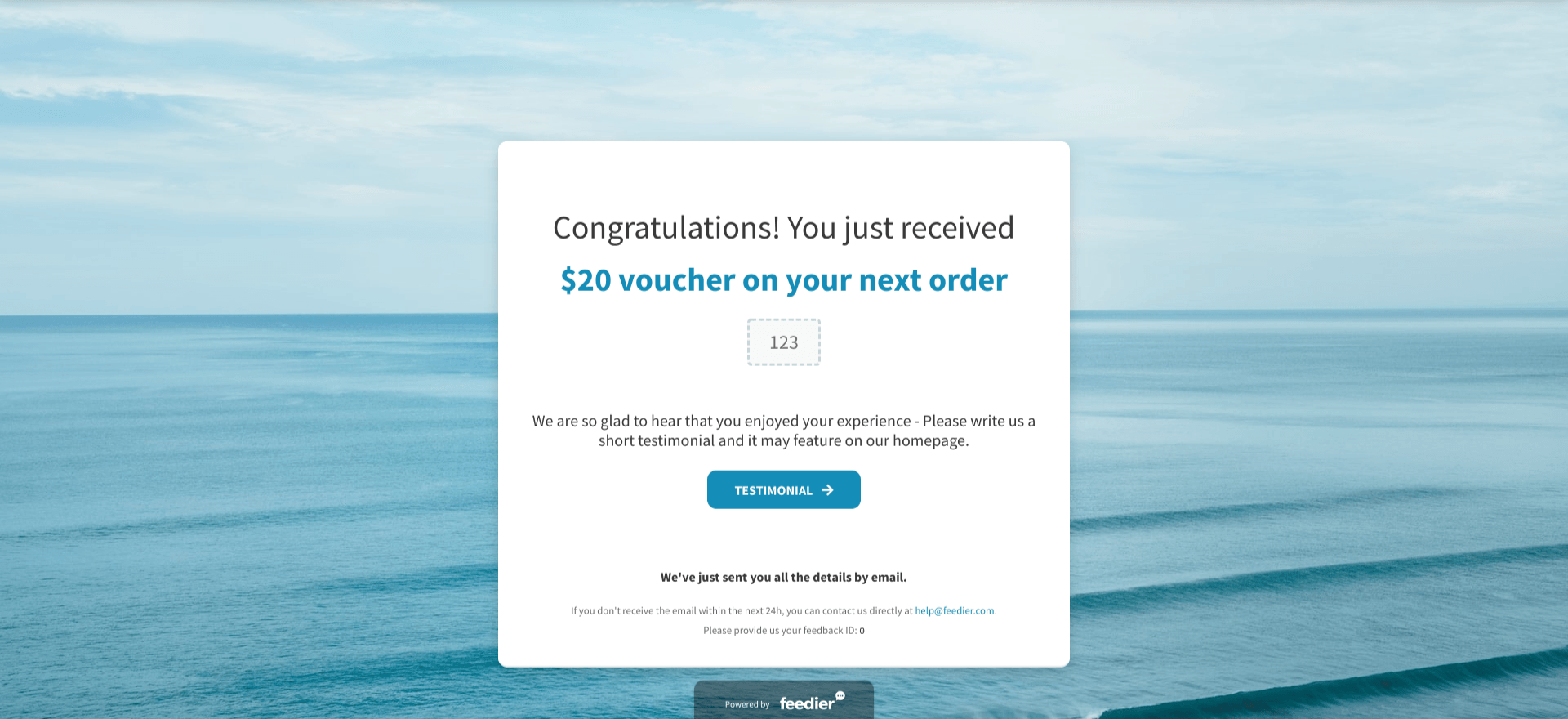 4. Include a call-to-action
After every Feedback, ask the participant to take action. They can:
Review the product/service
Submit a testimonial
Bring new subscribers for your newsletter
To learn more, download our ebook to know how to collect and organize your feedback data:
Make sure that the participant doesn't get stuck with no call-to-action. With a call-to-action, you'll get a return on investment from your Feedback forms. The testimonials that are collected can then be used on your website, reviews, or as hot leads.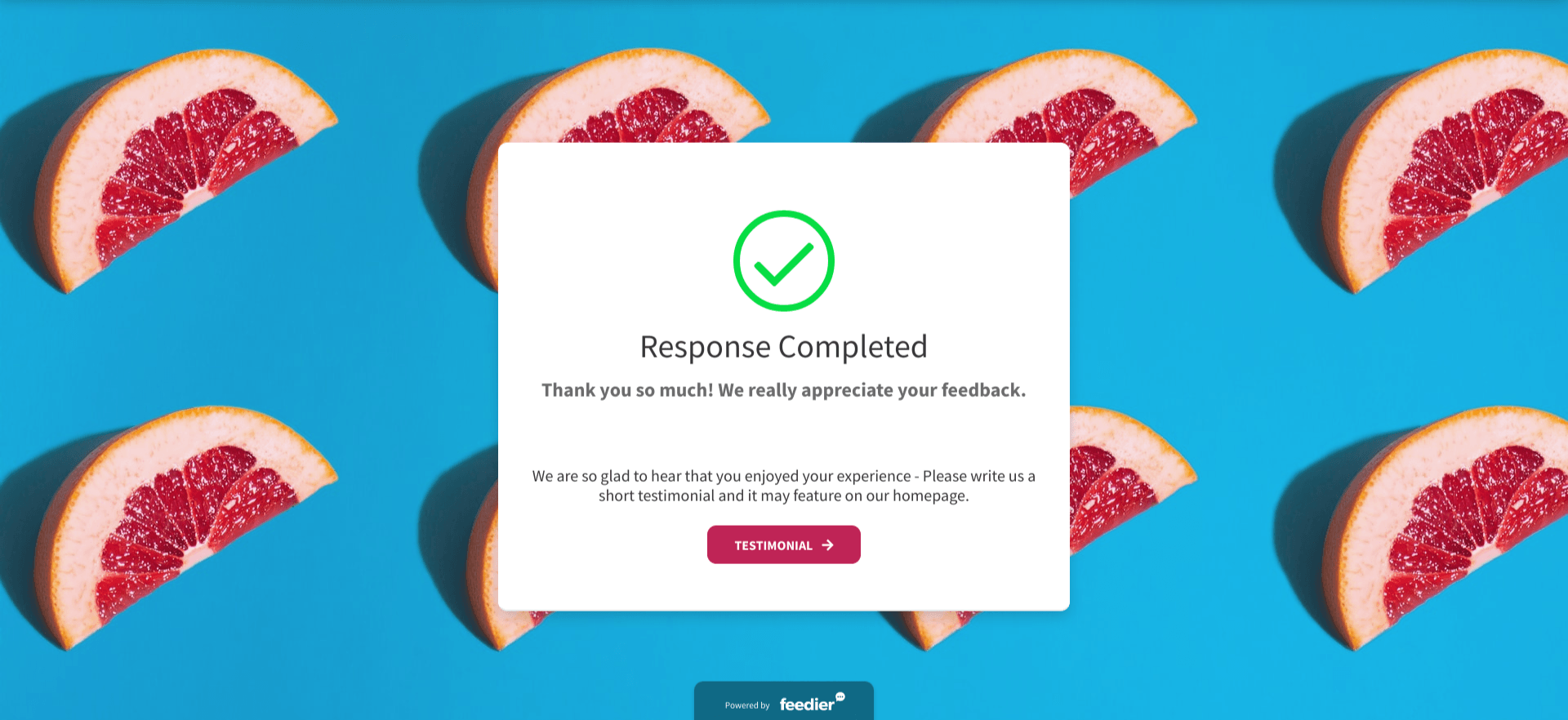 Some Final Thoughts
The best way to find out what your customers like and dislike is to ask them directly, right? That is why feedback forms are your chance to gather credible, truthful, and honest information from your partners (users, customers, staff).
With these tips to improve your feedback forms, you will be able to create an entertaining form that will keep your users' attention until the very end.
Elisa is a digital marketer at PickWriters so she has a master's degree in Psychology but she has dedicated her career to marketing. Her expertise in psychology enables her to provide valuable insights into the field of marketing. Elisa consistently improves her marketing knowledge and keeps up with all the recent trends by attending conferences, educational workshops, and taking training courses.

Make the most out of Business Experience today