We hear it all the time that you need to get customer feedback.
Yes.
But how? How do you collect feedback?
The value your company places on customer feedback is what will separate you from a good or great company.
Feedback is the Breakfast of Champions

Ken Blanchard
But feedback is only effective when you are able to get it right. In other words, feedback is helpful when you manage to get it from the right person, in a timely manner and format.

Building a successful voice of the customer (VoC) program requires patience and commitment. Knowing how to unlock and read the signs of user inputs is what sets apart a surviving company from a thriving one.

Having such an organized program in place will ensure that your team gets the right amount of feedback but also the true benefits of those responses.

It will lead your team to define the customer experience your customers want. Yes, it turns out those customer insights are effective.
Here are six tips to get better feedback from your customers. You'll also find a creative bonus at the end! ?
1. Define Your Feedback Strategy
If there is one thing that you must do, it would be defining what you actually want feedback on.
We have all received and seen this generic question "Don't hesitate to give us your feedback".
Turns out no one replies.
Why?
because it doesn't speak to anyone. It is not attractive nor helpful to anyone. Instead, think about what you want to get out of this feedback campaign:
Improve a specific feature?
Offer better onboarding?
Improve your conversion?
Narrow it down to your feedback strategy and focus on that.

Then, ask questions in a tone of voice your customers will relate to. Your questions should be simple to understand; no industry jargon or complicated terms.

All in all, this will give you actionable and helpful feedback.

2. Use The Right Customer Satisfaction Metrics
The second thing you want to do is define what success means for your company. There are all types of customer satisfaction metrics and they serve different needs.

There is no one size fits all. Yes, I know, it's too bad.

But have no fear, you can easily learn those metrics and pick up the best ones for your company.

Use The Customer Satisfaction Score (CSAT)
CSAT measures the true satisfaction of your users. Although the CSAT has proven to be very effective in some cases, it can also be very misleading.

The customer is asked the following question: "How would you rate your overall satisfaction with the service you received?" with the following one to five scale:

Very unsatisfied
Unsatisfied
Neutral
Satisfied
Very Satisfied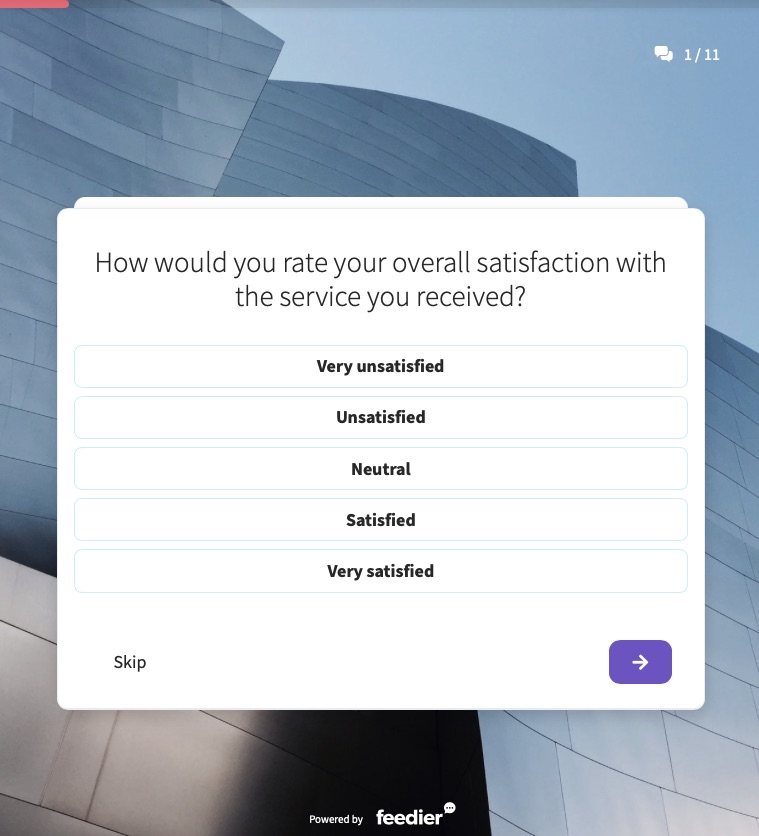 The calculation of the CSAT score is done by dividing the number of responses above 4 (4 and 5) with the total number of responses.

It has been demonstrated that using the two highest values feedback surveys is the most accurate predictor of customer retention.

Learn More About The Net Promoter Score (NPS)
The Net Promoter Score, also known as NPS, is a metric used to measure customer satisfaction and loyalty of your customers.
They are asked about their likeliness of recommending your product or company to a friend or colleague, on a scale of one to ten.

Customers are then categorized, and the NPS score is worked out by taking off the number of detractors from the number of promoters.

The NPS metric is very useful. But it can't be used as a sole metric to measure your company's growth. It is one of many indicators that should be reviewed.

It is useful to identify trends over a significant period of time.

NPS is a numerical question, and numerical scales are subjective and interpretive.
which makes it very different from one company to another, and doesn't make much sense to benchmark.
This isn't to say disregard the NPS score from your customer success KPIs. But be mindful to add it to your basket of metrics.
This isn't to say disregard the NPS score from your customer success KPIs. But be mindful to add it to your basket of metrics. Tweet
NPS gives you a quantitative idea of what is going on in your customers' minds, but it doesn't give you the WHY.
It is therefore crucial to follow-up and get into the why with your customers.
Why Does The NPS Work And Doesn't For Others?
It can be very effective for some companies.
What works best for us is running an NPS survey and then inviting the promoters to leave us a review online.


Will Cannon, Founder of UpLead
And irrelevant for others.
I don't get why NPS asks to score from 1 to 10 when the score is interpreted on a 1 to 3 scale. Why not directly ask a question with 3 choices? People on the internet score things very differently. If you check mobile app reviews, you can see that a review "The app was great, but the x feature was bad." can be anything from 1–5 stars depending on the users' mood.

Hannu Jaakkola, founder of Sitebot
The scoring method is also controverted.
For some reason, NPS thinks that a 6 should be equal to a 0. Nobody else thinks this way. Remember, if you worked at a company like Intuit, all that hard work to get everyone to move from a 0 to a 6 would not be rewarded. Your executive would not get their bonus. It's as if you didn't do anything.

Jared M. Spool
If you're going for the NPS, you can either use generic customer feedback tools such as Feedier or NPS-only tools such as Satismeter.
Use The Customer Effort Score (CES)
The last metric we are going to cover is the Customer Effort Score, usually referred to as CES.

The CES measures the easiness of using your product and service.

How much effort do your customers have to make in order to get the true benefits of your offer? Do they have a hard time performing the different actions?

Relying on the CES is useful when:
The client has just been in touch with support
The client has just upgraded, ordered a product or renewed their subscription
A new feature has been released or your company wants to get an overall customer experience metric
The 3 metrics presented above can be used to measure overall satisfaction as well as satisfaction in specific areas of your business, product, or offer. You could imagine doing a CES only on pricing, in order to make sure that your pricing plans resonate with your prospects.
There are additional metrics you can use in order to understand your customers, some of them being:
Churn rate and customer loyalty: How long are your customers staying with you?
Number of active users and number of activities per week
Number of referrals per user
3. Optimize For The Right Feedback Channel
Once you have identified your metrics of success, it's important to identify the right channel(s) to collect those feedback.

Do Your Homework
There are different questions you can ask yourselves.

Where Are Your Customers Staying?

The first thing to figure out is where your customers are staying. You don't want to send them feedback requests through email if none of your customers read their emails.

Similarly, if you own a Facebook Group with your users and you manage to foster a community of engaged users, you would want to get their feedback through the Facebook Group. It would save them an email in their inbox, and they would be thankful for that, but it would also feed your group with more engagement.

If you are requesting SaaS feedback, i.e., your customers are actual users of your application, consider using in-app widget to request relevant feedback.
Which Channel Can You Leverage Without Coming Off as Spammy?

The same way you want to be relevant to your customers, you also want to make sure that they will engage with your message.

Which is why follow-up is key.

Sending too many messages is not ideal either. Make sure to have a cohesive approach across the organization, and inform all your colleagues about the requests. You don't want to sound redundant.
Improving feedback quality is an important issue that also needs to be addressed, but in terms of feedback quantity, it may seem trite to say it, but the best way – indeed the only way – to increase the amount of feedback you are receiving is to ask for more of it. And the best way to maximize the amount of feedback you are receiving is to build the request for feedback directly into your systems and processes so that it always occurs automatically on every appropriate occasion.


Quotes Rick Adams (Twitter|LinkedIn) in his upcoming book "Practical Customer Success Management: A best practice guide for managers and professionals".
Let's get into the different channels you can use to get feedback from your customers.
Get Customer Feedback Response By Email
The first channel, and the most obvious one, is email.

Email works great when you are in regular contact through the channel and they expect to see your messages.

You can ask your customers' feedback questions directly in the email.

Make sure to A/B test email copy and subject line.

33% of email recipients open emails based on the subject line alone.

Ask Customer To Fill Out a Feedback Survey
Besides asking for feedback through direct email, you can also ask your customers to fill out a survey. Consider channels such as:

Website Survey
Text Message Survey
In-App Survey
Direct link to the survey through Email, Social Media, or online communities
Customer Support Survey
If you are going to use feedback survey, the first thing you want to do is identify the right customer feedback tool for your use-case.
Using surveys would allow you to get more structured and organized feedback, all in one place. You could also reap the benefits of integrations with other tools, such as your customer relationship management software.

Use a Website Feedback Widget
As you have seen, surveying your customers can be done through different channels. One of the most effective on-site
For instance, if you want to obtain direct feedback from your customers ordering on your website, you could trigger a pop-up on the order confirmation page.
Another example is the release of a new feature in your web application. You could wait for a special event to occur and request the feedback at this point. Tools such as Intercom allow you to get feedback through chat-messaging, and tools such as Feedier would allow you to embed your feedback form in the widget.
This would be obviously automated. If you have a large user base, you should consider whether you need to ask for feedback to every single customer or not.
Collect Feedback From Customer Support Session
One quick piece of feedback you can receive is immediately after a support ticket is closed.

This would not only help you determine the effectiveness of your support team and their answers, but also the cadence at which your customers expect you to answer.
Leverage Online Forums And Social Media Feedback
Being active on social media and online communities is another way to get feedback, which is usually set aside.
Crowdsourcing feedback on niche/industry and associated engaged and active forums works fantastically well and is frequently overlooked. An example of this in action that I've recently discovered is Indie Hackers and Failory In this example, it's mainly for entrepreneurs and developers but has wider marketing and business appeal also.

Lee Wilson, Head of SEO, Vertical Leap
You can not only seek feedback by engaging with communities, asking questions, and even dropping link to your actual feedback surveys.

Consider adding value to the community before immediately pushing for feedback. You don't want to come across as too selfish.
Communities such as Reddit have special requirements and a minimum number of engagements is needed before being able to post. It cuts through the spam.
Besides leveraging communities, you can also build an engaged base of fans on social media. Not only can you actively seek feedback, but you can also listen to and wait for the feedback from your customers to come in naturally.
We will touch on this in section 5.
4. Ask For Feedback From Customers The Right Way
Building a feedback machine means that you provide a cohesive customer experience. Your feedback requests seem natural to your customers, and they are able to answer them smoothly.
You get what you ask for.
If you are not able to ask for the right feedback question, you will not get the expected feedback.
Ask For Feedback At The Right Time
The first thing you want to do is ask for time-relevant feedback. In the same way you would not want to receive a Christmas offer during the summer, your customers don't want to receive irrelevant feedback request.
For instance, in the case of customer service feedback, you would want to send your request right away, as soon as the support ticket is closed. Sending the request 3 days after the ticket has been closed would not make any sense, the customer has moved on by then.
In the same way you would not want to ask for feedback in the middle of the checkout process, you don't want to interrupt your customer halfway through the flow.
A great moment to ask for feedback is right after a customer service conversation. You are already in a conversation with the user, so it feels natural to ask for feedback—not about the specific customer service intervention but about their experience with your tool in general.

Stefan Debois, Founder and CEO, Survey Anyplace
Respect Your Customers' Time
I hate the feeling of my time being wasted. Don't you?

Always be respectful of your customers' time when asking for feedback.
You could even be even kinder with your customers and incentivize them for their feedback, and their time.

This is usually referred to as survey incentives. This is a surefire way to build relationships with your customers and show them how much you value their time.
When challenged with collecting customer feedback, we've tried a number of methods to get the job done. One creative thing we have done is offer a giveaway contest for small gifts like $25 Amazon gift cards. We say that five respondents will win and send the survey to hundreds of customers. By offering a prize, we see a much higher survey participation rate.

Keller Tiemann – https://leadsurance.com
But it also depends on what you're asking for. If this is for simple feedback, an incentive would not be that helpful.

Either way, ask straightforward questions and strive to make the customer experience as cohesive and easy as possible.

Karolis from Zest.is told us about a survey they ran before Christmas 18' which turned out to get a 19% survey completion rate.
We didn't use any specific tactics, it was a straight & transparent ask for help to make their experience better. The key is the bond between our users and us. We connect with our users from when they join Zest, and because we get to know each other well, the survey is like a favor for a friend. The feedback we received was much more in-depth, honest and actionable than we could ever imagine. This is essential for any small startup as you have the means to communicate with your users and build an unbreakable tribe who will assist you in your journey.


Karolis from Zest.is
5. Be Proactive And Actively Listen
Besides actively seeking for feedback, you have to also listen and monitor the feedback that comes in.
Your customers are talking about you and your competitors on social media and across other relevant channels. This is great!
This is another opportunity to get feedback and improve your customer satisfaction.
Which is why you want to be proactive, and answer every comment that comes your way!
Tools such as Mention or Awario are great for social monitoring.

You can also monitor other websites, such as blogs, local listings, and so on. If your customers are not happy with the resolution to a negative experience, they are likely to voice their displeasure. Make sure to answer, understand their dissatisfaction.
You might even be able to turn their disagreement into an opportunity.
Another good tool isGoogle Alerts, which not only lets you monitor reviews but also provides information on feedback about competitors.
6. Keep Track Of Your Customer Feedback
Collecting the right feedback is one thing.
But you also want to exploit those customer inputs and reap their benefits.
There is no rule of thumb for feedback analysis. What you can do is allocate part of your time to going through the feedback and informing the team about what your customers are saying.
If the feedback tool you are using provides a reporting dashboard, that is even better. It will save you time and provide you with better insights.
7. Bonus: Creative Ways To Collect Feedback
This section was offered as a bonus by Nichole Elizabeth DeMeré, B2B SaaS Consultant, and it's completely in-line with our mission at Feedier.
Let's get our feedback.
There is SUCH a need to engage people in creative, fun, enjoyable ways with every customer interaction. You can't just shoot off a survey and expect people to answer it unless there's some kind of incentive to do so. There are just too many demands for our attention.
The secret to collecting any feedback, from anyone, for any reason, is to make it a rewarding experience that engages customers while giving you the answers you need.
The secret to collecting any feedback, from anyone, for any reason, is to make it a rewarding experience that engages customers while giving you the answers you need.

Tweet
Sure, you can do that with swag bribes, but you can also do that by making the feedback process fun in and of itself. Here are a few feedback methods to try.
1. Conduct Informal Facebook Polls
When your questions are relatively easy, you can get a lot of engagement by posting them in a poll on Facebook. The key to making it fun is in the phrasing. Be funny, be informal, be human. For open feedback, try hosting a Facebook Live video and asking for the feedback you need that way (be sure to write your questions in the comments too, for people who can't turn the audio on).


2. Ask In an Instagram Live Video
A live video from Zendesk popped up in my push notifications the other day. I clicked it to join and ended up having a really fun time chatting with them as they showed everyone their office and introduced us to team members.

All in a live video. It was so much fun and friendly. And, after the call, they asked for my address so they could send super cute brand swag to me.

After that – they could ask me any question and I'd gladly answer because they engaged me first.
3. Benefits From In-Real-Life Events
As a B2B consultant, I've worked with a lot of SaaS startups doing customer research. One of the primary ways they get really good feedback is going to events and talking to people in person.
Here's what happens at these events:
Conversations happen naturally when you speak to people about what you do at events.
If you're a speaker, people will often come up to you with questions and feedback afterward.
Ask current customers and prospects visiting your booth to take a survey or have an in-person interview.
Offer a fun giveaway to people who meet your ideal customer criteria and answer your survey questions.
Participate in event hashtags to invite attendees to your booth or speaking engagement.
Design your booth to stand out from the crowd. Booths are like landing pages. You have to give people a reason to come, stay, and hang out for a while. Think of it this way: what is the benefit to the customer of spending time at your booth? Make sure that benefit is clear and big enough to be seen across the floor!
Post Photos of Customers With Your Product
According to Thehomedweller, sharing photos of your customers with your product is a very effective way to collect feedback. A photo is also a review, especially if there is a comment below it.
How to get photos of satisfied customers with your product?
Ask them about it.
Just ask your customers to send you pictures with your products.
Make a special section for such photos on the site, and if it is about social networking, just create an open album where users can upload photos themselves. Such sections and albums are often viewed because they clearly show that there are real customers satisfied with the quality of service.
Plus, the opportunity to brag about a new purchase and show yourself off will attract many visitors.
Wrap Up
All in all, you will get the best feedback by iterating and testing different methods. There is no one-size-fits-all. Experiment and learn through your customers' actions to see what is best for your company.
But, take it from me, as long as you are proactive and learn from your mistakes, you will go a long way!

All in all, you will get the best feedback by iterating and testing different methods. There is no one-size-fits-all. Experiment and learn through your customers' actions to see what is best for your company.

Tweet
Good feedback has the power to close the loop and build better relationships with your customers.

Now, this is your show!

In an upcoming article, I'll cover customer feedback questions to stand out from the crowd and nail your customer feedback process. Subscribe below to get an update.

In the meantime, what have been the best method you have seen so far?