For some companies, inclusion and diversity are just the latest trends in human resources. For others, it's a way of doing business.
Focusing on inclusion and diversity initiatives and fully integrating them into the company's core values not only propels the company forward but also helps the workforce, customers, and the community thrive by creating a cycle of positivity that benefits all parties involved.
This is also valid for the transportation industry, a sector that has been considered for decades exclusive for men and specific ethnic groups and ages.
Today, diversity and inclusion are not a choice anymore, they are rather an obligation if a transportation company wants to grow and generate long-term profits.
Diversity and inclusion, a general definition:
Before getting into more details, let's start by understanding the meaning behind diversity and inclusion and the difference between the two terms.
Diversity, in general, includes the full range of differences that make each human being unique, differences that may be combined with each person's particular background, experiences, and perspectives.
Diversity involves obvious factors, such as age, gender, sexual identity, ethnicity, and physical appearance. It also includes less visible factors, such as thought patterns, religion, nationality, sexual orientation, and beliefs.
Inclusion, on the other hand, is about building on these differences by valuing and involving everyone, contributing to a common goal.
Diversity and inclusion in the transportation industry: an overview
It's without any doubt, gender diversity that is the main area transport companies fall short. In fact, this sector has one of the lowest female workforce participation rates across all industries.
Traditionally viewed as a "manly" industry, it's difficult to change the perception that the industry is oriented towards a masculine skillset with key roles such as forklift operators (a type of vehicle categorized as a powered industrial truck) and drivers, being typically occupied by men, making it difficult to attract and retain women at all levels.
In 2019, 85% of transportation occupations are male, making them the more common gender in the occupation in the US.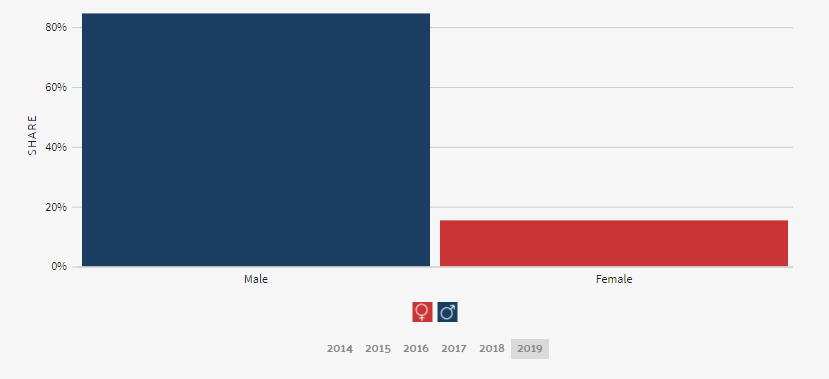 The issue doesn't stop at gender diversity. The transportation industry is also suffering from an aging workforce that is caused by difficulties attracting younger people.
A report issued by the Bureau of Transportation Statistics, showed that many of those working in the transportation sector in the US are near retirement, which leaves the industry with a large number of vacancies.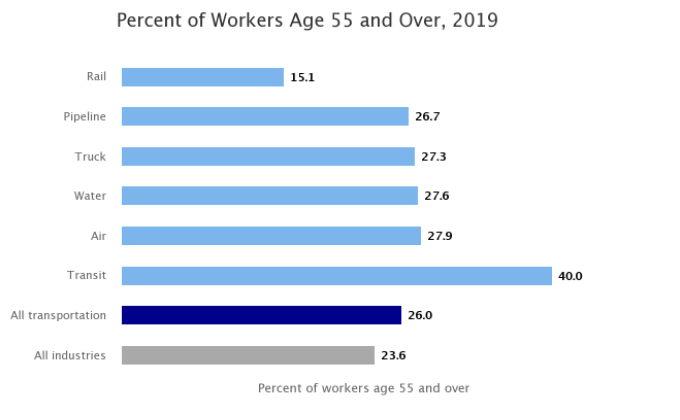 Furthermore, the transportation industry also suffers from a lack of racial and ethnic diversity. In the same year, 56.3% of transportation workers are White (Non-Hispanic), making that the most common in the occupation.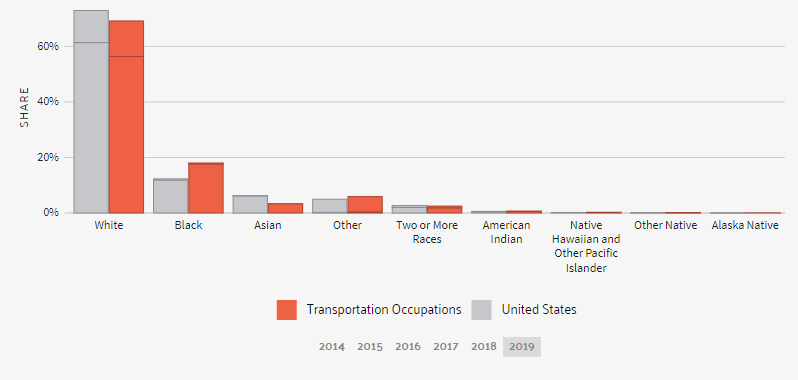 Why should transportation companies implement more diversity and inclusion?
There is no doubt that more diverse and inclusive businesses perform better.
Inclusion and diversity are a source of competitive advantage and a key enabler of growth in any industry.
Research by McKinsey in 2018 looked at more than 1,000 companies covering 12 countries, measuring not only profitability but also longer-term value exploring diversity at different levels of the organization.
The report confirms the strong correlation between diversity, which is defined as a greater proportion of women and a more mixed ethnic and cultural composition in the workforce and company financial performance.
The transport industry is no exception. In fact, the whole sector is experiencing changes in the workforce because more people are leaving the transportation workforce than entering. Driving more inclusion, either when it comes to gender, ethnicity, or the age of the workforce will help attract more people and widen the scope of recruitment.
The image that the entire industry reflects is important, especially that now we live in the social media age where nothing goes unseen. If a company is considered racist or not inclusive enough, it will certainly get called out.
Multiple organizations across the globe are fighting against the lack of diversity in this specific industry like "Black Truckers United" in Arizona, USA that gives a platform to discuss diversity and racism in the industry.
Listening to what employees have to say is crucial. If you don't give them the chance to express themselves and to consider their points of view, they will end up either leaving your company or giving you very bad feedback on platforms like Indeed and Glassdoor.
The key here is to be proactive and to use a VoC platform. A VoC tool will help you collect the voice of your employees and will give you accurate insights that will make it easier for you to understand your workforce and their needs.
Furthermore, creating an inclusive culture is the most sustainable way of helping people feel safer, happier, and more productive at work.
Research conducted by Great Place To Work, has shown that when the workforce feels like everyone in the company is treated fairly regardless of race, gender, or age, they are:
9.8 times more likely to be happy to go to work
6.3 times more likely to be proud of their work
5.4 times more likely to want to stay a long time at their company
In other words, if a transportation company wants to provide a good experience for its customers, it needs to start by creating a great experience for its workforce.
This is where an experience management platform like Feedier can save your day.
Feedier helps transportation companies drive business growth and efficiency by monitoring and managing efficient employee experience programs. With Feedier you can create a culture of inclusion and diversity, improve employee happiness and productivity, and elevate employee experience as a pillar to your financial success.