Customer loyalty and satisfaction are incredibly important for every business and directly correspond to your customer churn, brand reputation, and revenue. However, achieving them requires a solid understanding of what satisfaction and loyalty encompass and a lot of effort. 
Luckily for you, at Feedier we understand customer loyalty and satisfaction like no one else. It allows us to provide our customers with everything they need to capture customer feedback and improve their overall business experience via an intuitive and agile solution and build positive experiences to improve user satisfaction, engagement and loyalty. 
In this article, we'll explain the difference between customer loyalty and satisfaction, how to measure them, and improve each one. 
What is the difference between customer loyalty and customer satisfaction?
Customer satisfaction is when the customer is happy with your services and products, and it's the culmination of a pleasant customer journey from first awareness to purchase. But how does it differ from customer loyalty?
Customer loyalty depends entirely on whether a past customer is willing to come back for repeat business. In other words, it's about your continued journey together. However, it's entirely predicated on whether the customer was satisfied with their experience in the first place.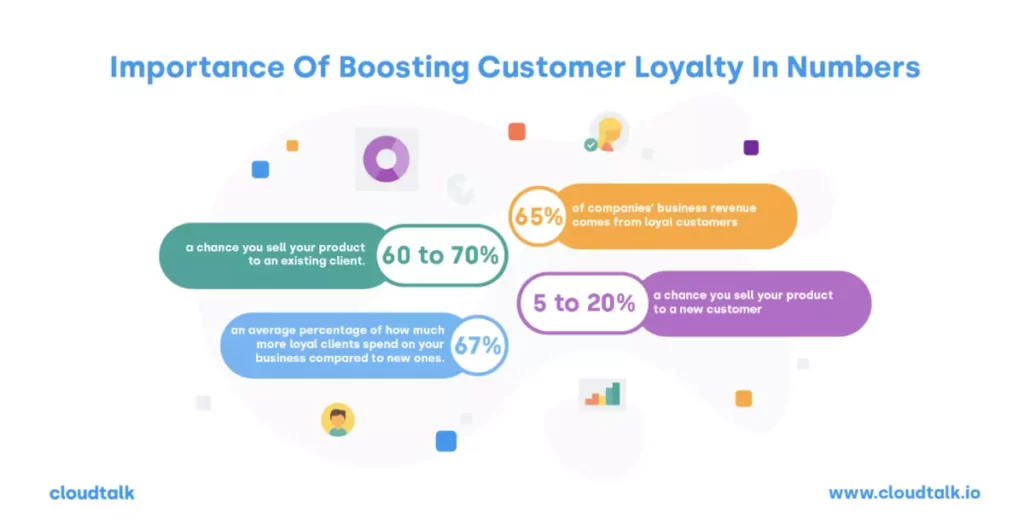 Since customer loyalty is created from the satisfaction customers get from their interactions with your business and its various communication channels, omnichannel marketing is crucial for building brand loyalty. It gives your clients the chance to experience your branding and messaging across multiple channels, thereby leading them to create a stronger bond with your company.
How to measure customer satisfaction?
Customer satisfaction is not something to be taken lightly. Companies often overestimate the quality of their services, causing churn and loss of revenue in the long run. So, if you want to improve your customer satisfaction, you first need to measure your current performance and then plot a course for future development.
Customer satisfaction is linked to the customer's experience with your company. As we pointed out earlier, your customers must have good and positive interactions throughout their journey to create quality customer experiences.
A typical client journey consists of:
Interactions with live chat support or chatbot
Navigating your company's website
Communicating with your company through social media
Speaking with a call center support representative over the phone 
Email correspondence
In the past, there were only a few communication channels to worry about. But nowadays, there are many more you need to stay on top of, including email, social media, your website, and others. That's where omnichannel marketing comes in.
Our recommended ways of measuring customer satisfaction include:
Measure the KPIs at the right touchpoints of the end-customer journey
Centralize all your customer feedback data in one dashboards accessible by all your team members
Integrate a feedback management platform with your existing business tool
Perform benchmarking with all your feedback data and with correlated verticals for maximum improvement
To get started with evaluating your customer satisfaction, first choose the engagement channels you want to focus on. From there, you can begin to evaluate your customer satisfaction score (CSAT). 
Customer Satisfaction Score
You can use a mixture of data collected through your operational systems (helpdesk software and CRM for example) along with customer feedback to get a better understanding of how satisfied end-customers are and how likely they are to recommend your services. Thankfully, most cloud-based business tools nowadays offer open APIs suited, integrated with a feedback management platform, can create workflows that are easier and more productive to improve your overall operations and improve your overall end-customer experience.
You will want to define key events in the customer journey for gauging customer satisfaction. Your feedback requests will be based around these key events. This should not be a reactive approach where requests for feedback are only sent out at the end of the user's journey but instead throughout the journey strategically.
By using a series of short questions and micro surveys, you can develop a score for each customer that places them in one of three categories.
Scoring Breakdown
At the top of the scoring system (a score of 9 or 10) we have 'promoters'. These are customers with the highest level of customer satisfaction and they are so happy with the service being offered to them that they would recommend your brand to others. This shows brand loyalty.
Next are what we call 'passives' (a score of 7 or 8). These are neutral customers. That is to say they are satisfied with the level of service but not over excited about it and likely will not promote it to others.
Last are detractors (with a score between 0 and 6). These are customers that are unsatisfied to the point that they might even dissuade others from trying your services.
How to measure customer loyalty?
As was the case with customer satisfaction, measuring loyalty is equally important. However, this may require a bit more work than you might think. Feedback and reviews can be misleading when taken on their own, so the best way to figure out where you stand is to evaluate historical data from your sales as well.
Analyze the data that you have collected using smart correlation software. As pointed out earlier this can be achieved by connecting each of your data points using their APIs. The feedback that you have collected becomes more actionable when you can see client history and sales data along with it.

The metrics you should keep an eye on include:
Customer Lifetime Value – This tells you how much a customer has spent with your company since their first purchase. You can calculate this as Customer Value times Average Customer Lifespan.
Retention Rate – How long have they been your customers?
Number of referred users – How many people have they recommended your brand to?
Implement an Experience Management solution. This allows you to compare the feedback that you received in the past with feedback made after improvements have been carried out.

Calculate the Net Promoter Score (NPS) and use it to find room for improvement in your customer experience. One of the easiest ways to do that is by incorporating a customer feedback survey on your website and mailing list, or using an NPS tool.

NPS = Percentage of promoters (scores 9 and 10) – Percentage of detractors (scores 0 to 6). The NPS is not expressed as a percentage, but as an absolute number lying between -100 and +100. The average NPS score across all industries is +32.
Ways to build customer loyalty
Now that you know what customer satisfaction and loyalty are and how to measure them let's talk about improving your scores. Here's where you should start:
Collect customer feedback
Collecting direct customer feedback is one of the first things you should do, as it provides you the necessary insights to make good business decisions. As a bonus, it also shows your customers that you value their opinions.

We have found that satisfaction chart increase response rate.This allows you to ask about the level of satisfaction in a concise manner while ditching long and boring forms that might lose an end-user's attention.
These customers are more willing to invest in your business and continue having a relationship with you and your products. You can find customer satisfaction feedback templates to get the most out of your feedback requests on our site.

Provide Omnichannel Customer Support

According to statistics, companies that provide strong omnichannel customer engagement retain on average 89% of their customers, compared to 33% of companies with weak omnichannel customer engagement. Having an overarching service approach and a consistent customer journey through each channel helps to bring a consistent message to customers. Serving customers according to their preferences and needs will guarantee a positive customer experience, thus building loyal relationships with them.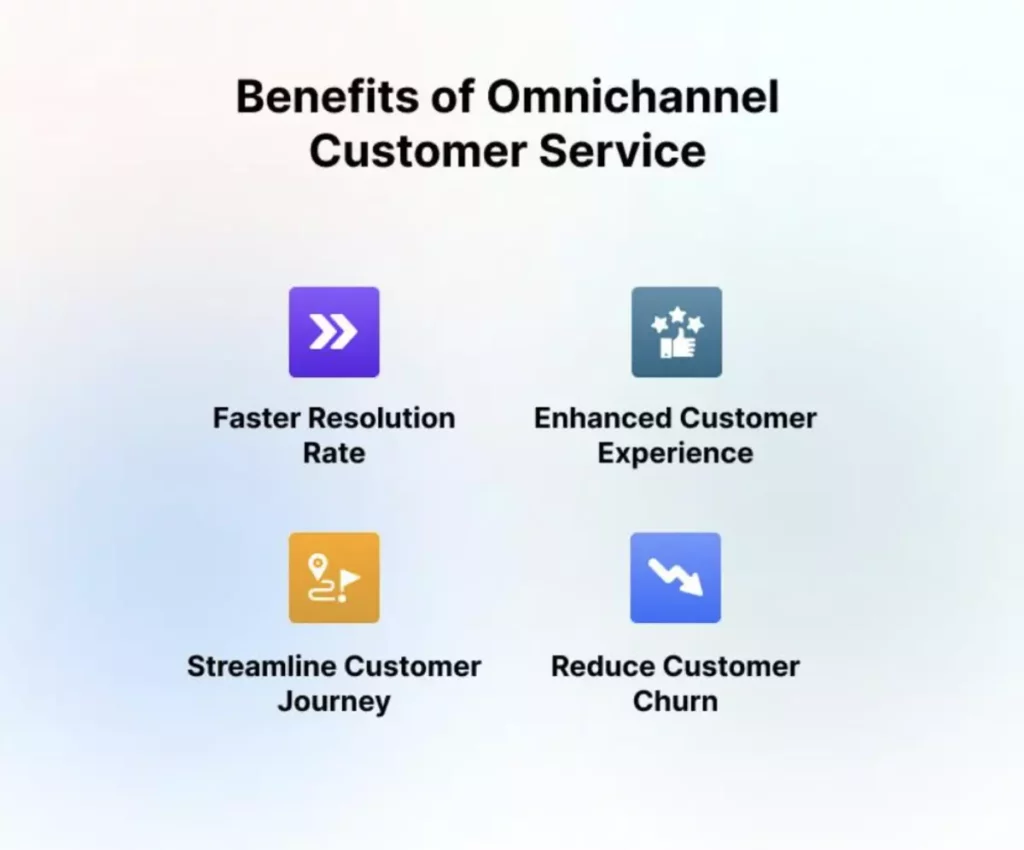 Reward loyal customers

Loyal customers spend more on purchases and have higher conversion rates. It is important to show them how much you appreciate their business by having a loyalty program.
There are several different types of loyalty programs, ranging from points-based to loyalty-based. The point loyalty program is the most common. Points are earned for different types of actions carried out, such as making a purchase, visiting stores or downloading an app.Customers are taught that the more they buy or interact with the company the more rewards they stand to earn. Learn more about the different types of customer loyalty programs and which one is right for you.

Engage proactively with customers
Engage customers at the right times throughout their journey in order to maintain good communication for better feedback.
Good customer engagement looks like this:
Provide good customer support while they are making a purchase via live chat.
Address your customers' concerns in a pleasant and meaningful way
Ask for feedback at various stages in their journey, from first contact to buying something. By asking your customers about their needs and pain points, you show them that you are willing to go the extra mile to keep their business and improve their lives through your offerings. We provide you with interactive surveys for higher user engagement. You can implement automated emails that are triggered by purchases.
Alert them to your rewards programs to help them plan for future purchases and to take advantage of the offered rewards.
Be consistent with the level of customer engagement being provided for overall brand quality. When everyone works together to provide the same level of positive client interactions across these various channels, you establish brand consistency through customer engagement.
Measure customer loyalty regularly
Remember to check in with your customers regularly to see how they are doing. You can automate the process of sending feedback forms to get their input on their latest purchase. When they have met the requirements for your loyalty program, invite them to join as a sign of your appreciation.

Personalize the customer experience
It is vital to create a positive customer experience for each person. Standard customer experience strategies won't always cut it and can leave customers feeling like they are going through a generic process.
Instead, your customer experience strategy should make them feel unique and like they are being heard, not just part of a herd.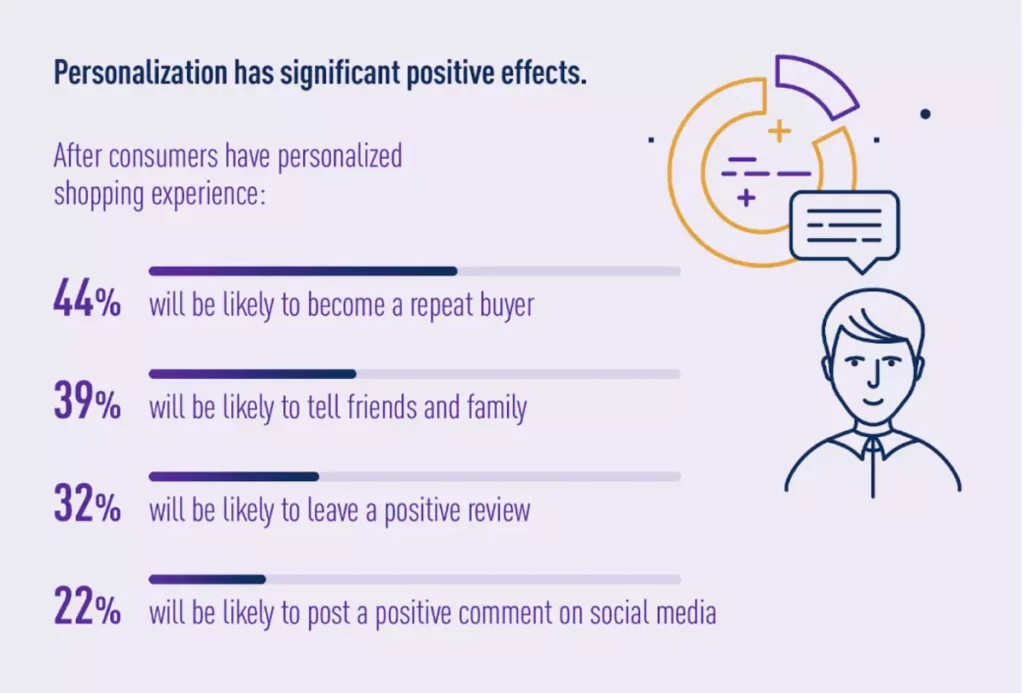 How to personalize the customer's experience:
Use email marketing to send personalized emails during the customer journey. This can be in the form of a welcome email, thank you email or reminders about rewards programs.
Capture feedback in real-time. You can engage customers in real-time during the right moments in their journey using live chat tools and follow-up emails. This makes feedback requests more relevant to each specific customer's own timeline to provide a unique customer satisfaction experience.
The Bottom Line
Customer satisfaction and loyalty play big roles in extending each customer's lifetime value.
You can create happier customers while building customer loyalty by creating a positive customer experience throughout their purchasing journey. This leads to improvements in your customer satisfaction score and overall Net Promoter Score and more customers willing to tell others about their excitement with your brand.
---
Matej Mešár is a copywriter with a journalistic background based out of Bratislava, Slovakia. Currently, he has his sights set on the SaaS sphere.
He works for CloudTalk, helping to create compelling messaging in support of the next generation of cloud communication.
Make the most out of Business Experience today