We have shared our vision about why we think feedback must be done differently, and how we do it, but today, I'm excited to share with you something even bigger.
Our mission is simple: make the surveys less boring, more engaging and attractive for the end user.
The end goal?
Providing you with more feedback, more accurate and better insights.
We have different ways and axis that are aimed at fulfilling this mission.
In short:
we create a win-win relationship between our clients and their feedback respondents with our unique reward system management
we have the segmentation built at the heart of our feedback system (to ask only relevant questions), we don't want to waste anyone's time
we have engagement systems built-in to go further than simply collecting feedback — you can collect reviews from your satisfied customers for instance
we focus on design, it is all about offering a stunning experience
We create gamified surveys that works.
With that in mind, we decided to sit back and think about how we could help our clients do it better, segment better, and provide a better experience to their end respondents.
Let me walk you through some of our recent changes.
Ask Segmented Questions
We have added a notice next to every question in order to warn you about the potential harm of your question.
If your question isn't segmented, we will point it out.
Whether you want to add a simple if/then condition flow or a segmentation based on the satisfaction of your respondents, that's your call, but we want you to segment, and ask relevant questions.

Less questions, means happier respondents, mean better results. We believe that the more targeted your questions are, the happier your users will be, as well as the quality of the results. This is why we highly encourage you to segment!

Grade Level: Find Out Where Your Bottlenecks Are
Besides educating you on the segmentation of your question. We also provide a Goodwill grade, which is essentially a way for you to know how likely you're to get actionable data, ie. collect feedback.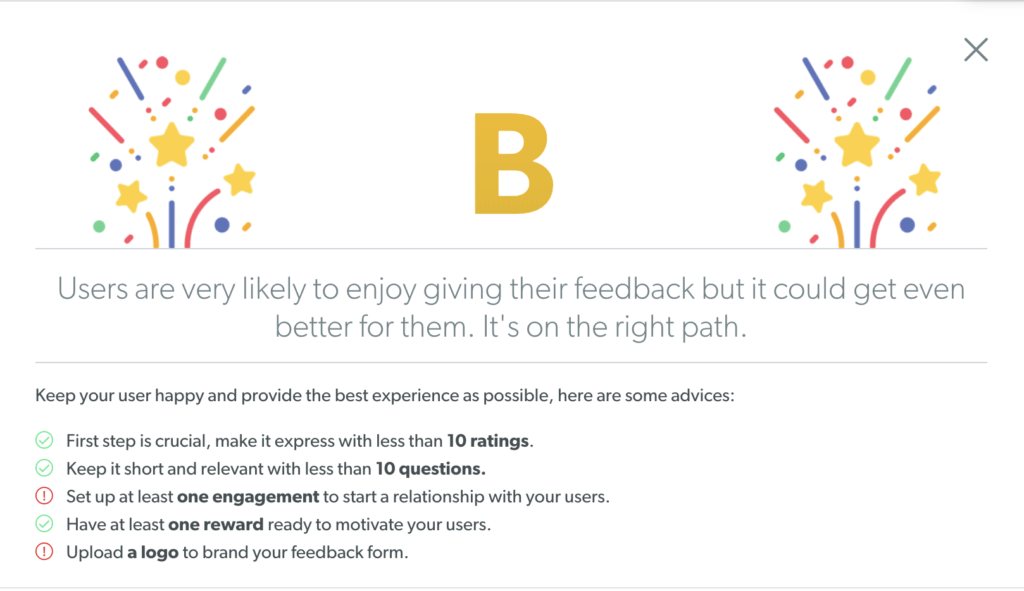 A: Users are very likely to enjoy giving their feedback and have a great experience doing so. Expect a high engagement ratio.
B: Users are very likely to enjoy giving their feedback but it could get even better for them. It's on the right path.
C: Users are likely to enjoy giving their feedback but might not see a difference with other classic survey tools.
D: Users are unlikely to enjoy the experience they are having giving their feedback and a drop in engagement is forecastable."
E: Users are very unlikely to have a good experience and enjoy it and you might see consequences in the results.
Back to school 😄
More To Come
This is only the tip of the iceberg, there is more to come and to expect.
Live editor, so you can create and see your Carriers (aka. our surveys — but better) in real-time
Bot creation: you tell us your need, we come up with the right questions
Always more insights…
Hang tight, it's going to be a fun ride…
---
Also published on Medium.