Demographic survey questions allow you to segment your customers according to their age, gender, profession, level of education, etc.
They are essential because they give you an idea about your respondents' backgrounds which helps your team visualize the people who are filling out your forms, especially when analyzing the results.
However, obtaining that information is the tricky part. It involves asking questions about your customers' personal lives and how they became the people they are today. Not every customer is willing to share that information.
Demographic survey questions and their importance
Demographic survey questions are important because it is crucial to know exactly who completed your survey. If you are targeting a specific audience you will be able to uncover whether you are reaching it or not.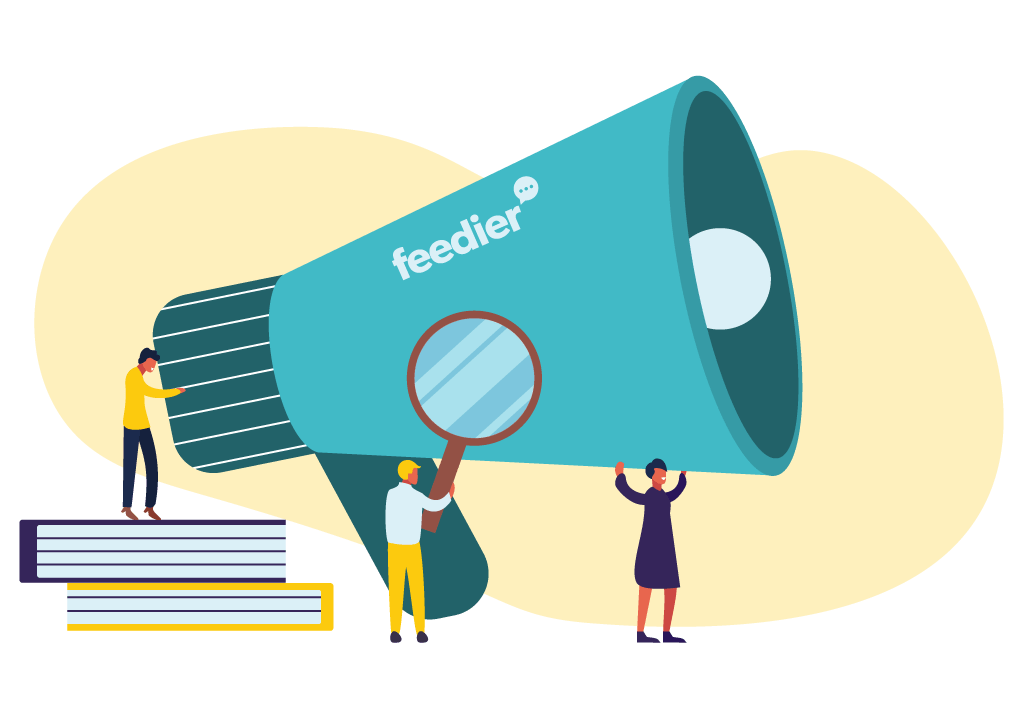 Also, if you are sharing your survey with a large number of respondents, you will be able to differentiate between groups, which helps you when analyzing the data.
For example, you might find that your customers are generally satisfied with your customer service. However, aggregated data can uncover the fact that your customers who live in Mexico are not at all happy. Demographic survey questions will allow you to dig deeper into the situation and fix the problem.
Demographic Survey questions that you need in your survey
1. Gender:
Asking about gender is one the most important demographic survey questions and it can be essential when segmenting your customers or your leads.
However, this demographic survey question is the hardest one to ask, because gender is a sensitive topic. The way you phrase the question and the answers options is extremely important.
For example using the word "sex" instead of gender is a big mistake and can make your customer uncomfortable.
Also, the question should be more "what gender do you identify with?" rather than "what is your gender" in order to give the participant more flexibility.
It is also essential to add more options than Male and Female, like "Prefer not to say" or simply a short answer space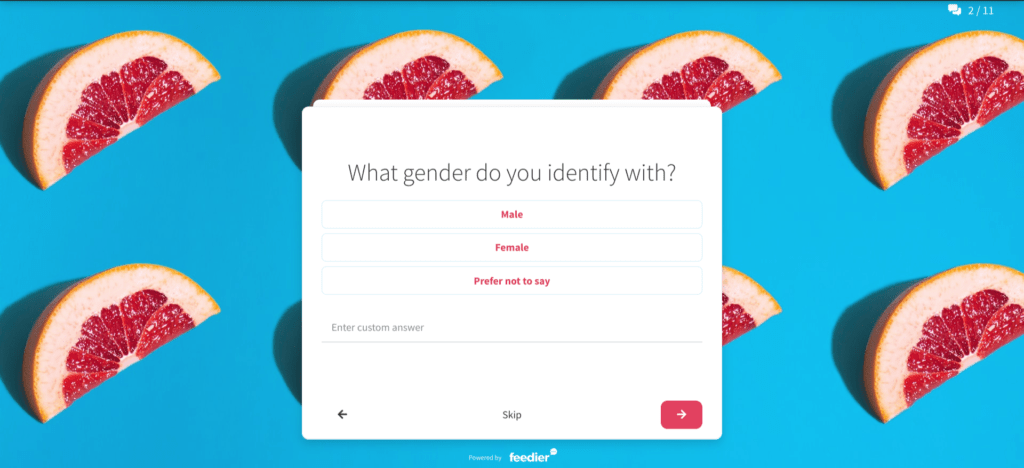 What gender do you identify with?
Male
Female
__ (Short Answer Space)
Prefer not to say
2. Age:
Asking the participant about their age is one of the most asked demographic survey questions and it often appears at the beginning of the survey.
The age of the person answering the survey will determine whether they fit in your target audience or not.
Many companies target their products and services based on their average customer's age.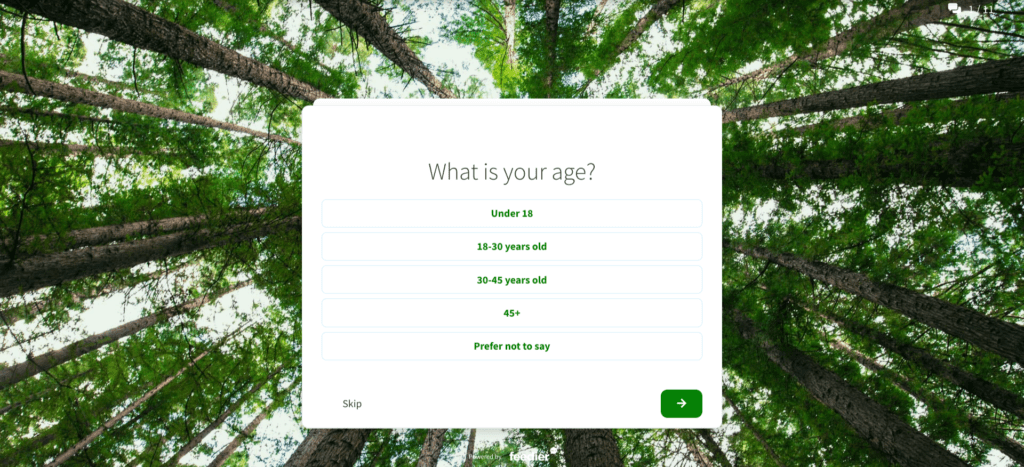 What is your age?
Under 18 years old
18 – 30 years old
30 – 45 years old
45+
Prefer not to say
3. Education
Asking about the participant's education level is an essential demographic survey question. Depending on the type of product or service that you offer, the answers can give you meaningful and actionable insights.
It is important to include a short answer space. Some of your customers may have chosen a different career path and the answers on your survey should reflect that.
In most cases, education demographic survey questions ask about the highest level of education or the highest degree obtained.
=> Pro tip! Demographic survey questions can be quite boring and repetitive for the participant. Want to engage the respondent and make them go until the end of the survey? Add a GIF to add a fun and an interactive touch!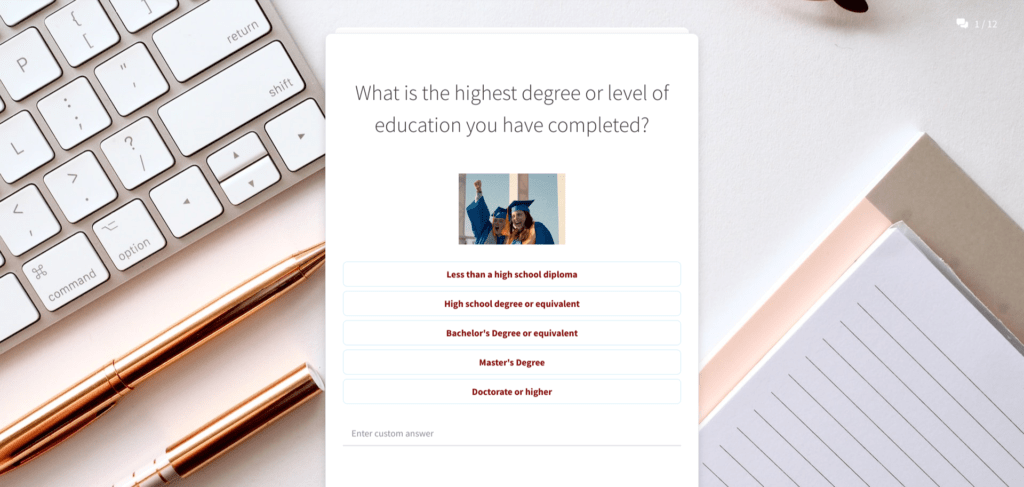 What is the highest degree or level of education you have completed?
Less than a high school diploma
High school degree or equivalent
Bachelor's Degree or equivalent
Master's Degree
Doctorate or higher
__ (Short Answer Space)
4. Employment
Another important demographic survey question is about the employment status.
Employment questions can address a wide range of topics, such as industry, organization type and size, job title, years of experience, income, and so on.
Asking about someone's yearly income is yet another sensitive issue and many people consider such questions too invasive. That's why you should avoid asking such questions directly unless it's absolutely essential to your survey.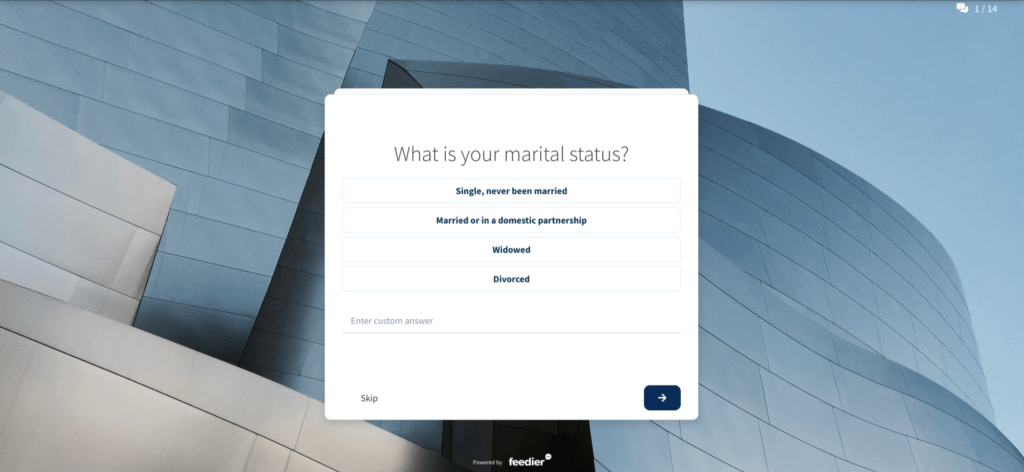 What is your current employment status?
Employed Full-Time
Employed Part-Time
Seeking opportunities
Retired
Prefer not to say
__ (Short Answer Space)
5. Marital Status
Marital status gives you an idea about who your participants are daily interacting with. If they're married, their buying decisions may be influenced by different factors compared to someone who isn't.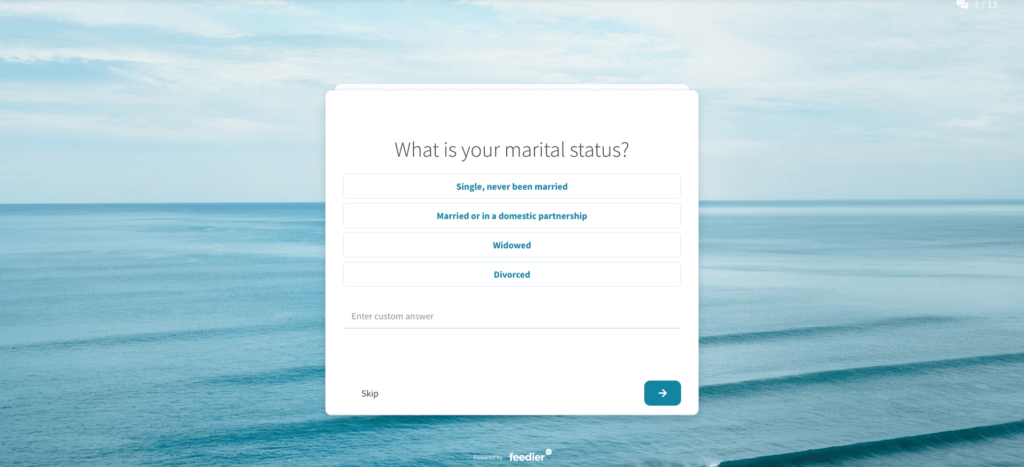 What is your marital status?
Single, never been married
Married or in a domestic partnership
Widowed
Divorced
__ (Short Answer Space)
Make the most out of Business Experience today