Whether you're trying to measure your employees', your customers' or your B2B clients' satisfaction, gathering Feedback shouldn't be a one-time process. It is a long-term procedure that needs to be implemented periodically.
In fact, Feedback is not linear, it is rather a cyclic process. That's why it is essential for every company to make continuous feedback a regular practice.
Why is constant Feedback important?
For Employees:
Your employees are an asset to your company, and this asset should be taken care of. Thus, every company needs to implement a mechanism where the employees are made aware of the things they are doing really well and of the improvements that should take place…
The dynamic nature of the work environment, constant employee growth, and skill development make it necessary for every company to review and update employee goals and the overall performance process regularly.
In fact, Feedback is a two-way process, managers should not only take time to constantly give Feedback to their employees, but they also should give the opportunity to their employees to express their opinions.
Satisfied employees are happy to come to work and willing to go the extra mile for their employer because they love their jobs and want to advance the company's mission. That's why it's crucial to check up on them and to see how they are actually feeling. And what's a better way to do that than asking them directly?
Still not convinced? Here are some facts that will make you change your mind:
According to Forbes, 89% of HR leaders agree that ongoing peer feedback and check-ins are key for successful outcomes. Employees want to be reminded that their work has purpose and meaning. That's why employee engagement should not only be entrusted to the HR department but instead, be a central part of the overall business strategy.
An exhaustive report by The Engagement Institute underscores the importance of employee engagement. As a matter of fact, disengaged employees cost U.S. companies up to $550 billion a year. This is another reason why communication is crucial to a healthy organizational culture. Employees will tell you what they need to be engaged if you simply listen to them.
A finding by Gallup punctuates the fact that Highly engaged teams show 21% greater profitability. Why are engaged teams more profitable? Those teams who score in the top 20% in engagement realize a 41% reduction in absenteeism, and 59% less turnover.
For customers:
Customer feedback is an insight into what is working well about your product or service and what should be done to make the experience better. Their opinions help you ensure that the end product will actually meet their expectations, solve their problems, and fulfill their needs that are constantly changing over time.
Thus, if your hope is to improve continuously through customer feedback, you must keep their feedback flowing. Here are some interesting statistics about the subject:
90% of CEOs believe the customer has the greatest impact on their business. customer satisfaction doesn't just impact the business' bottom line, it also impacts team motivation and retention rate. Businesses need money to survive. To make money, businesses need customers. Ideally, these customers are happy, tell their friends about you, and keep coming back.
52% of marketers adapt their strategies and tactics based on customer interactions and Feedback. In fact, creating a successful Feedback loop enables you to continuously make changes to your products and services in order to boost your value proposition and adapt it to the customers' needs.
According to recent research from Deloitte, companies with a customer-centric business model are 60% more profitable than companies for which customers aren't a primary focus. That's why listening to your customers should be placed in the heart of your strategies.
For B2B clients:
Just like in B2C businesses, getting constant Feedback from your clients is an essential competitive advantage to make sure that you are satisfying their unpredictable needs and their ever-changing expectations.
As a matter of fact, continuously asking for their Feedback is a form of motivation that helps to build a long term relationship with them. Your clients will feel valued which will encourage them to regularly share their honest opinion on your products and services.
72% of buyers expect B2B companies to personalize their communications. If you thought only B2C marketers have to deal with personalization, you don't really know your B2B clients. There are enough indications that B2B companies will switch quickly to a competitor if they believe their requirements are more heard there. And what's a better way to create personalization than constantly listening to your clients and regularly adapting your strategy to their needs?
According to Bain and Company, Increasing B2B client retention rates by just 5% can increase profits by between 25% and 95%. Instead of spending all your time and money on chasing down new clients, you can also focus on nurturing the ones that you already have. And, what's a better way to that than constantly making them feel valued and heard?
85% of B2B small and medium-sized enterprises say that online feedback has been beneficial to their business. Imagine the impact that regular and constant Feedback can have on your company.
How to implement an effective Constant Feedback strategy?
Now that you are aware of the importance of constant Feedback, here are the steps that you should follow to actually benefit from the data that you collect:
Create engaging forms that get more responses:
Who has time to answer long and boring surveys? NO ONE! If you are planning to constantly get Feedback, you need to attract the participant and actually give them a reason to answer all the forms that you send them.
When surveys will fail, Feedback Forms will save your day! They are gamified, interactive, and highly engaging. Using an all-in-one Feedback management platform like Feedier will make the task easier for you by helping you provide a great experience. Here are the steps that you should follow:
Measure satisfaction:
Ratings are the first thing that your participants are going to see in your form. This is how you give them the opportunity to easily rate different aspects of your business. This step shouldn't take a lot of your participant's time so try not to use more than 6 ratings. Here are some examples that you can use:
For Employee Feedback:
Work Environment
Work Schedule
Opportunities for personal developments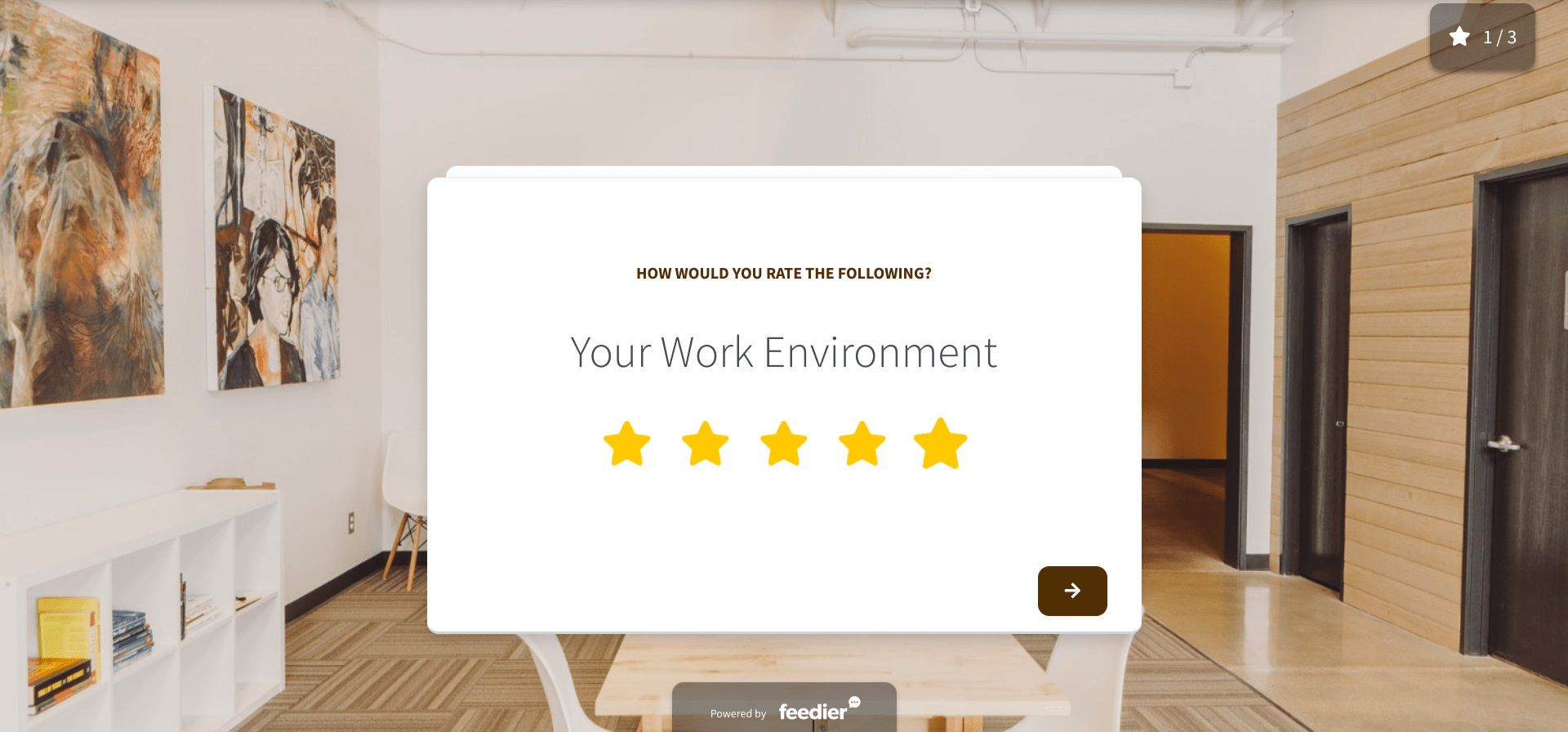 For customer Feedback:
Quality
Value for money
Reliability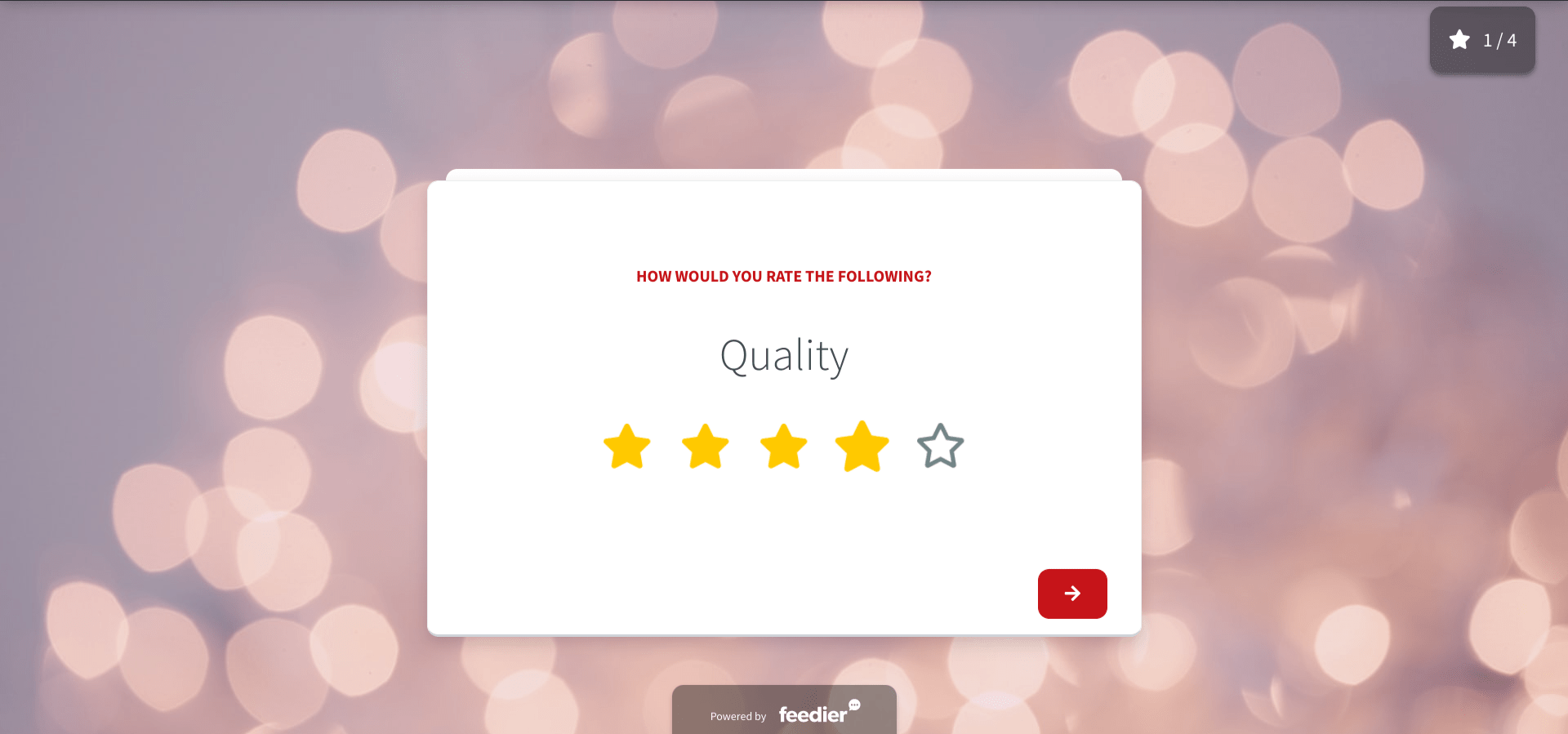 For B2B Client Feedback:
Professionalism
Being treated as a valued client
Support and friendliness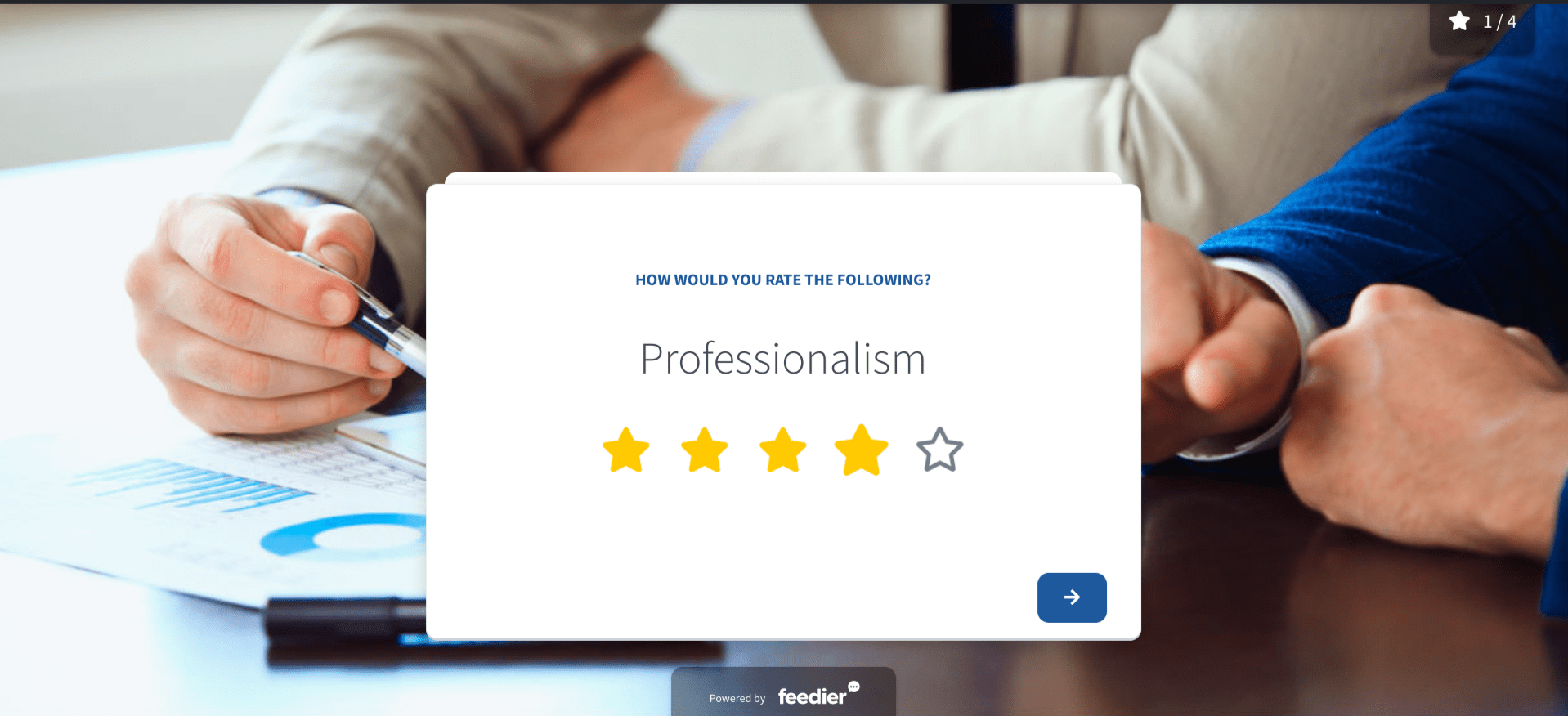 Get valuable data-insights:
The form's most important part is the Questions, as they allow you to get valuable insights and precise ideas on what is working well and what is not exactly blowing your employees' minds. Want to make your form fun and engaging? Here are some examples that you can use:
For employees:
How do you feel about your work in general?
How well does our company offer adequate opportunities for promotions and career development?
To what extent do you feel like your superiors try to help you to achieve your goals?
For customers:
How long have you been our customer?
And how likely are you to purchase from us again?
What made you choose us over one of our competitors?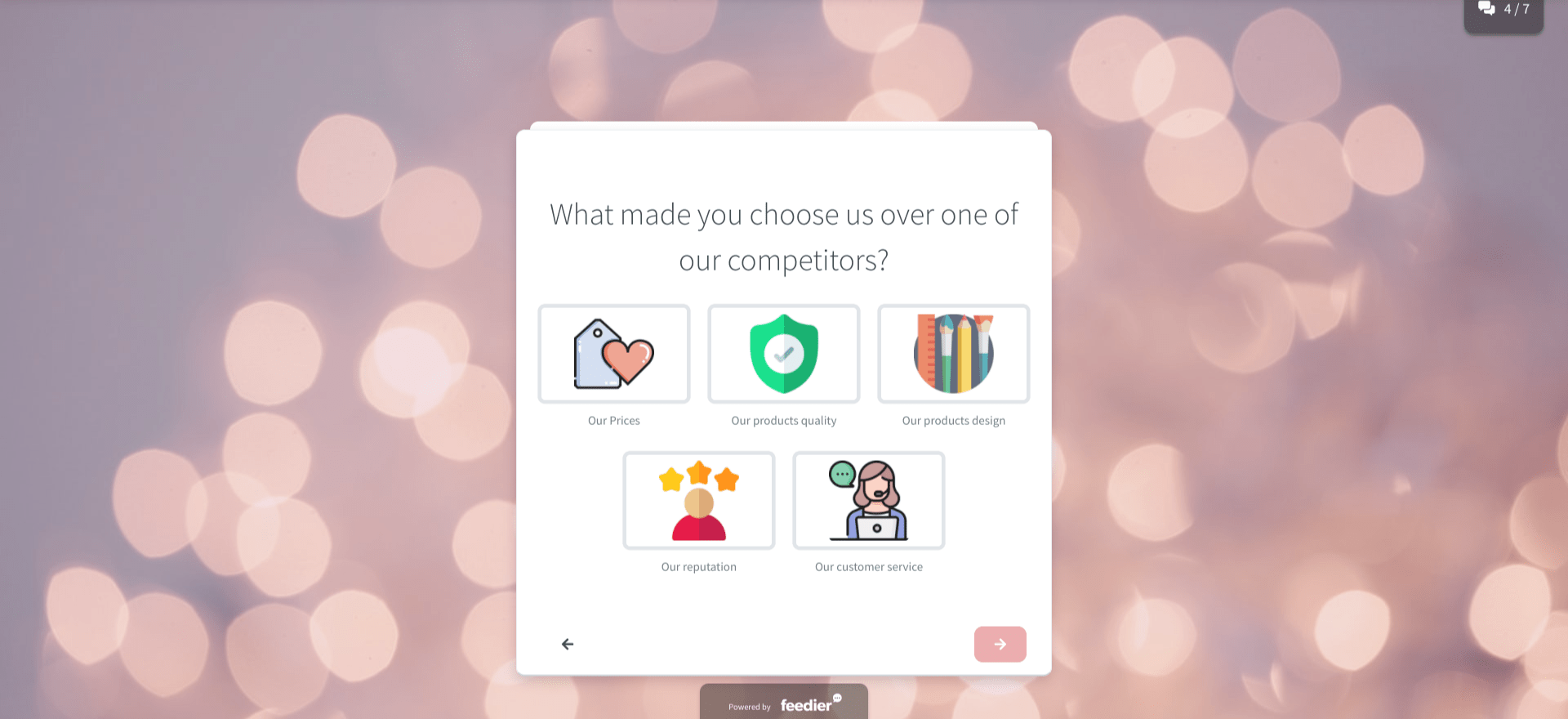 For B2B clients:
Please rate the overall communication throughout the process
Did you feel that we understood your requirements effectively?
How did we help achieve your goals?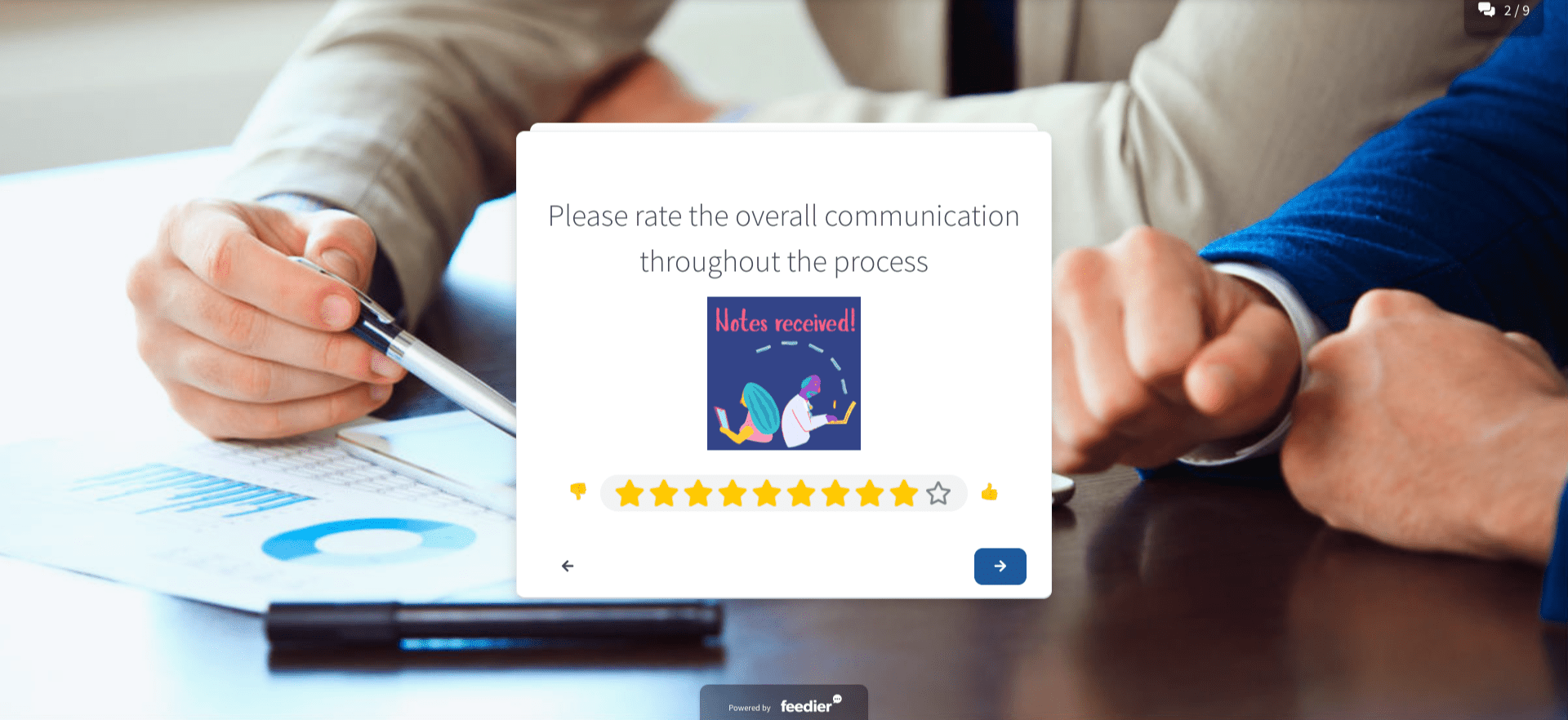 Automate the process:
Getting continuous and constant Feedback is certainly beneficial for your company and can help you benefit from regular growth. However, repeating the same tasks over and over again every time you want to send out a new Feedback form is no piece of cake. That's when automation joins the party.
With Feedier, you can get a completely automated process of sharing pulse Feedback forms at the right time by scheduling an email or SMS campaign. This will allow you to regularly get Feedback without wasting your time and effort. Whether you're trying to reach your employees, your customers, or your B2B clients, automation will definitely make the task easier for you.
Make the most out of Business Experience today